Hiura set for first taste of Miller Park
Brewers' No. 1 prospect has been waiting 'since the first day' for home debut
ATLANTA -- The Miller Park faithful are about to meet Keston Hiura, the hitting savant coming off his first Major League home run in Sunday's 3-2, 10-inning win over the Braves at SunTrust Park. The Brewers promoted Hiura, their No. 1 prospect and No. 15 in all of baseball per
ATLANTA -- The Miller Park faithful are about to meet Keston Hiura, the hitting savant coming off his first Major League home run in Sunday's 3-2, 10-inning win over the Braves at SunTrust Park.
The Brewers promoted Hiura, their No. 1 prospect and No. 15 in all of baseball per MLB Pipeline, on Tuesday in Philadelphia for the fifth game of a 10-game road trip. One week later, he is set for his home debut in the opener of a quick, two-game series against the Reds.
Hiura said he's been thinking about this moment "ever since the first day I was there, when I signed my contract after I got drafted. … There's definitely a lot of excitement, and I know a lot of the guys are excited to get back after a road trip. But it's going to be a lot of fun to experience Miller Park as a player now. I'll just soak it all in and enjoy the moment."
His assessment of his first week in the big leagues?
"So far, it's been a little up and down," Hiura said. "First day was obviously unbelievable. Everything else has settled down a little bit. Now, it's just getting back to playing my game and understanding me as a player. Not trying to do too much. I'm trying to figure those things out right now."
Hiura started hot, smacking a 103.6 mph single off the right hip of Phillies right-hander Jerad Eickhoff in his first Major League at-bat. He walked in his next at-bat, then added another single before the night was over to become the eighth player in Brewers history to tally multiple hits in his first career game, and the first in two decades (since Kevin Barker in 1999). Before that, it was Geoff Jenkins in 1998, when he homered off Orel Hershiser. Before that, it was Dale Sveum in 1986.
Random stat of the day: I was surprised that only eight players in Brewers history have tallied multiple hits in career Game No. 1. Keston Hiura was the first in 20 years. Hitting is hard.https://t.co/lANnXXWHbL

— Adam McCalvy (@AdamMcCalvy) May 19, 2019
Hiura also delivered two hits in Friday's series opener at SunTrust Park, and two more in Sunday's finale. He'd struck out in each of his first four career at-bats with the bases loaded, so Sunday also marked his first career RBI.
"The challenge for a player coming to the big leagues is it's a better league," manager Craig Counsell said. "That's the biggest challenge -- it's a better league with pitchers more capable of doing what they want. That's the challenge for any hitter, and vice versa for any pitcher coming into the league and playing at the highest level with guys that are more quick to expose your weaknesses and your holes. They'll attack them right away and do a good job of it."
"At the end of the day it is the same game," Hiura said, "and I definitely realize that and have taken it that way. But now it matters more, and the smallest opportunities mean everything so you've definitely got to be able to capitalize on those and make those plays and do your job."
Yelich part of Hooton Foundation's record membership
Brewers right fielder Christian Yelich is among a record 42 active Major Leaguers on the advisory board of the Taylor Hooton Foundation, which advocates against performance-enhancing drug use by American youths. It's the fourth straight year that the foundation had at least one representative from all 30 teams.
As a member of the advisory board, Yelich is participating in the foundation's 2019 public service campaign, "All Me," with public service announcements in print in team and league publications.
"It's something I was part of in Miami, too," Yelich said last year, "and got to go to a school to tell kids you want to know that you can look back and know you gave it all that you had, and it was you. Everything you did was through hard work, and you earned everything that came from the game, good and bad. What you laid on the line is what you've got, and you can be happy about it.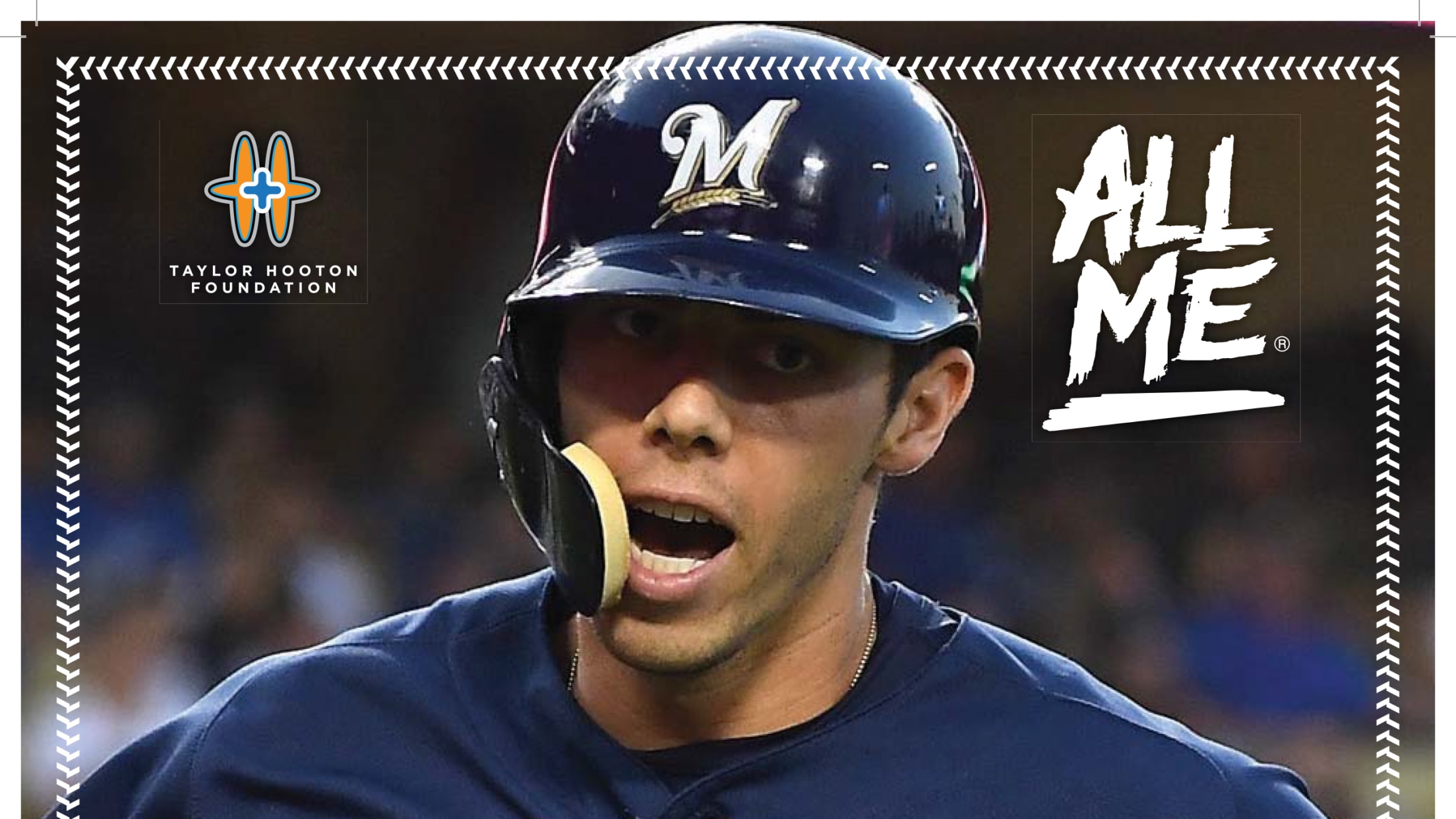 "I told them, 'You'll always know. When you look back on things years from now, you'll know whether you did it the right way.' That was always my thing: Have no regrets. Whether you make it or you don't, you'll have a clear conscience -- and you'll be healthy. That's the biggest thing."
The Taylor Hooton Foundation was formed in 2004 by friends and family after Hooton's death at 17 years old following his use of anabolic steroids.
Last call
• Third baseman Travis Shaw is tentatively scheduled to depart for a Minor League rehab assignment on Wednesday to test his sprained right wrist. Shaw took about 75 swings in the batting cage Sunday morning without issue, and he is scheduled to hit on the field at Miller Park on Tuesday.
"We've got to cross a couple of hurdles still, but that's what we're looking at," Counsell said.
• Catcher Manny Piña remained back in Milwaukee after traveling there for an examination of the right hamstring injury that landed him on the 10-day injured list. With continued progress he could resume some activities late this week, Counsell said.
• With off-days Monday and Thursday this week, the Brewers may rejigger their starting rotation for the weekend series against the Phillies at Miller Park, Counsell said. For now, Freddy Peralta will continue to work out of the bullpen.