Cain frustrated by lack of production at plate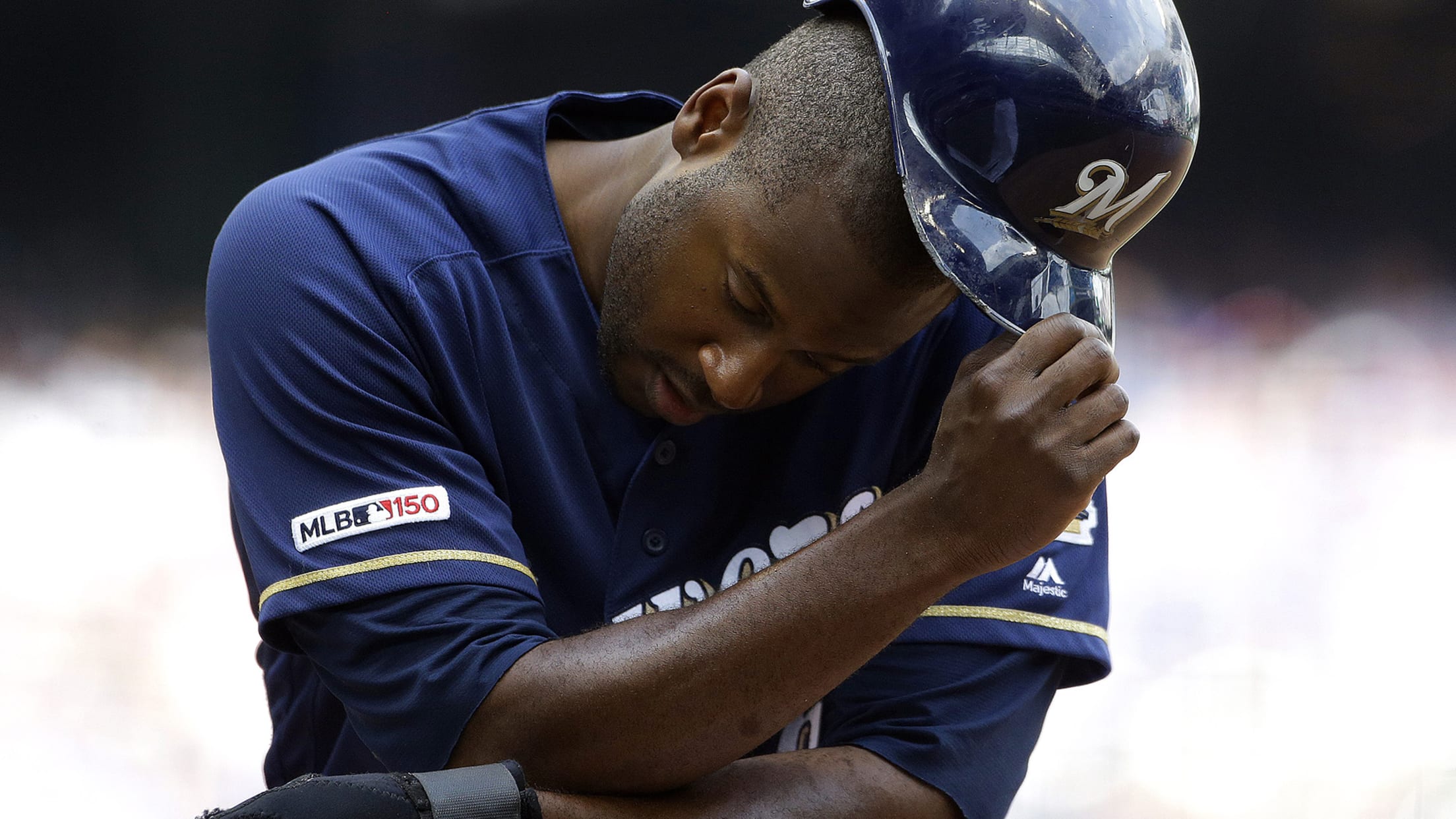 CHICAGO -- Lorenzo Cain's thumb feels great since he underwent cryotherapy treatment in June. The rest of his body? Well, he's getting through it, just like everyone in the big leagues in August, he said. More than anything, the 33-year-old Brewers leadoff man is frustrated that his results have not
CHICAGO -- Lorenzo Cain's thumb feels great since he underwent cryotherapy treatment in June. The rest of his body? Well, he's getting through it, just like everyone in the big leagues in August, he said. More than anything, the 33-year-old Brewers leadoff man is frustrated that his results have not reflected what he says feels like a surge at the plate since the All-Star break.
"I feel like I came out swinging the bat well in the second half, but it's still more of the same thing," said Cain, who got another day off on Sunday as the Brewers stacked their lineup with left-handed hitters against the Cubs' Yu Darvish.
Cain, in the second season of a five-year deal that represents the richest contract for a free agent in franchise history, does get some credit for 10-point jumps in batting average and on-base percentage since the break. But his .319 OBP in the second half is still way off Cain's career-best .395 a year ago, when he finished second on the team with 71 walks.
He's one of a number of Brewers hitters slumping on the team's current road trip. Cain entered Sunday with three hits in his first 17 at-bats on the trip.
"As a team, we haven't been getting it done," Cain said. "We haven't been swinging the bats well. Me, I haven't been swinging the bat well, really, all year. It's been a grind all year. It's been very frustrating up to this point. But we have to get going. Hopefully something changes here soon and we can start winning some ballgames. This is definitely not where we want to be."
He added, "Things haven't been going my way. I've been lining out, or not hitting the ball well. I just haven't found that in-between. I've been a little overaggressive this year, as far as the entire year. But I feel like I've been swinging the bat better in the second half. There's just not much to show for it."
Statcast offers tools to quantify Cain's frustrations. His weighted on-base average, a catch-all metric that tells us more than whether a player simply reached base, is .295. But his expected wOBA, which adds exit velocity, launch angle and, on certain types of batted balls, sprint speed to the equation, is .329, which would put Cain in the top 50 players in the National League. It's still not what he expects -- last year Cain tied for 18th in the NL with a .359 wOBA -- but it's indicative of some bad luck. The 34-point difference between actual and expected was highest on the team.
Cain's .285 batting average on balls in play is another measure of bad luck. Last year, his BABIP was .359.
"Since he got his thumb addressed, I think he's been a pretty similar player to what he was," Brewers manager Craig Counsell said. "He's had a poor-luck season, and that's reflected in the numbers. He was flirting with a .400 on-base percentage last year -- that's the difference. It's probably not all made up by bad luck, but since his thumb's fixed, I think his at-bats and quality of contact have been pretty similar."
Last call
Left-hander Brent Suter's rehab assignment on Sunday was transferred from the Rookie-level Arizona League to Double-A Biloxi, where he will continue his comeback from Tommy John surgery. Suter pitched twice in Arizona -- once for each of the Brewers' two teams -- striking out four in two hitless innings.