Grandal steals show in Hollywood return
Catcher homers, drives in three as Brewers snap losing streak
LOS ANGELES -- The Dodger Stadium faithful cheered Yasmani Grandal upon his return Friday. The ovation came a few hours after L.A. executives presented him with his National League championship ring in a modest but meaningful ceremony in a tunnel outside the visitor's clubhouse, and a few minutes after the
LOS ANGELES -- The Dodger Stadium faithful cheered Yasmani Grandal upon his return Friday. The ovation came a few hours after L.A. executives presented him with his National League championship ring in a modest but meaningful ceremony in a tunnel outside the visitor's clubhouse, and a few minutes after the Dodgers played a video with highlights from a four-year tenure capped by back-to-back berths in the World Series. It was all a little surprising, said Grandal, who had seen other former Dodgers return to less fanfare.
Then he did exactly what he is supposed to do in the Brewers' 8-5 win over his former team, and he gave those fans a reason to boo.
Grandal tallied three hits and three RBIs, including a two-run home run that gave the Brewers the lead for good in the fifth inning. Then he ushered five relievers, including Josh Hader, through some harrowing final frames for a victory that snapped the Brewers' three-game skid.
"It was probably one of the best moments of my career," Grandal said of the fans' salute. "I'm very thankful for that. Somewhat surprised. I've seen guys who played here for a long time and did great things here, and they didn't really get that. It was surprising and emotional at the same time. I had to breathe a little bit and step into the batter's box."
Grandal singled home a run in that first plate appearance as part of a two-run opening inning for the Brewers, who would need to take two more leads to claim a series-opening win after starter Corbin Burnes surrendered three home runs for the third time in as many Major League starts. Brewers second baseman Hernan Perez provided one lead with a two-run home run in the fourth inning, and Grandal provided another with a two-run home run in the fifth.
The homer, off Dodgers starter Julio Urias, continued Grandal's recent hot streak. He is 15-for-27 with four home runs since beginning his Brewers career 0-for-12.
"These guys, they are relentless, they don't quit," said Dodgers manager Dave Roberts. "They fight, they put at-bats together a lot like we do. They have strength in the bullpen with Hader. They get big hits, they win pitches. Tonight, the difference, hanging breaking ball that we couldn't get there to Perez, who hits a homer, and Grandal, you leave a changeup up, and another two-run homer.
"When we did made a mistake, they took advantage of it."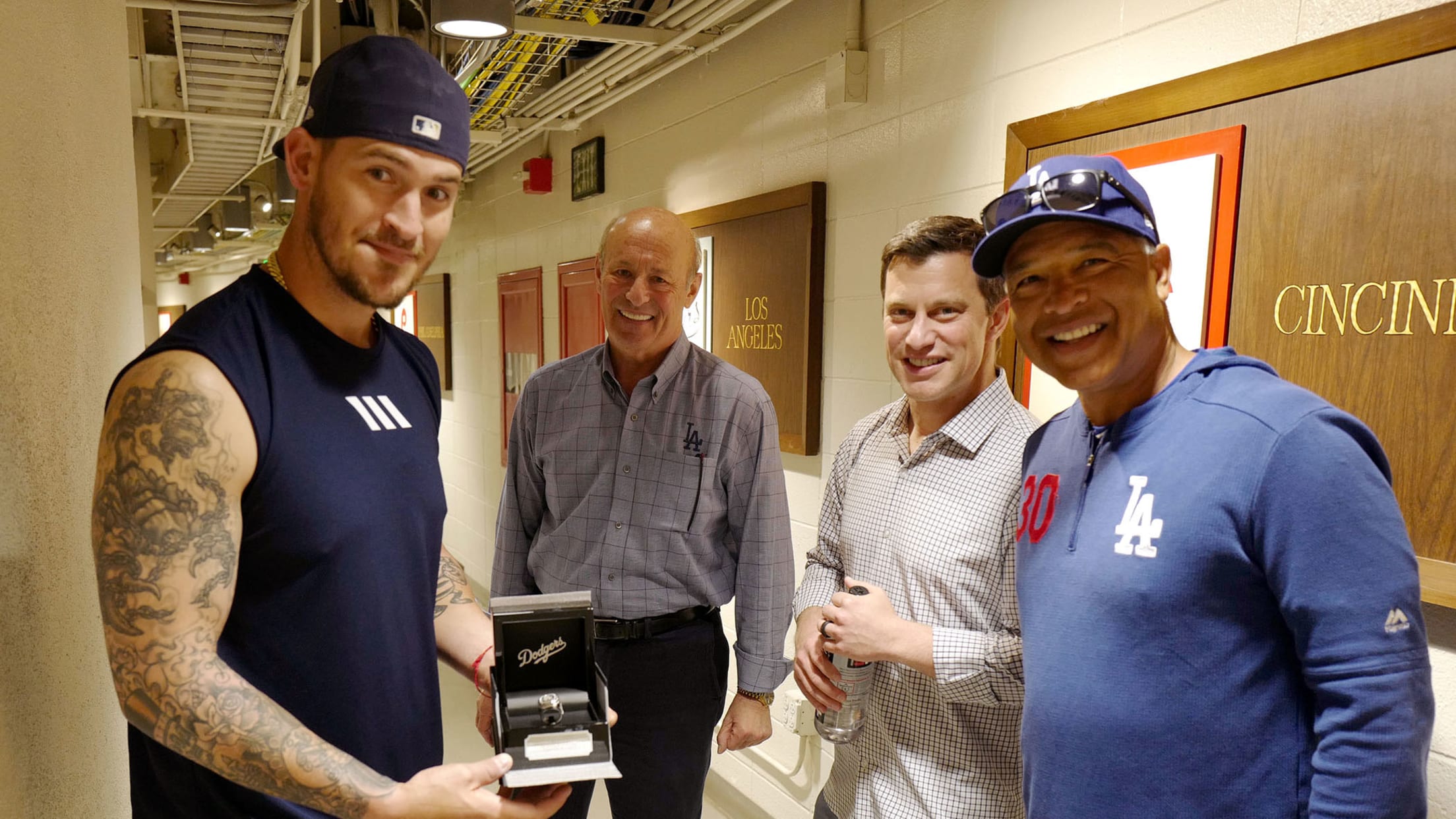 Roberts was part of the Dodgers contingent, with president and CEO Stan Kasten and president of baseball operations Andrew Friedman, that presented Grandal with his ring.
Grandal, who signed a one-year deal with the Brewers in January, was appreciative, but said his sights are on a greater prize.
"I've got two of those. Those rings don't really matter," he said before the game. "What matters is the other one. Hopefully the next time I get there, I'm able to finish it out."
The Dodgers, of course, defeated the Brewers in the National League Championship Series, but they lost to the Red Sox in the World Series.
Grandal said when last season ended, he knew there was a good chance he would be returning to Dodger Stadium as a visitor. As expected, L.A. made him a qualifying offer in order to reap draft compensation should he decline and sign elsewhere in free agency, but they did not offer a multiyear contract for him to return, in part because they have three catchers among their top 10 prospects. As expected, Grandal declined and entered the open market.
When he lingered in free agency longer than anticipated, he did wonder whether the Dodgers might get involved. They didn't, but Brewers GM David Stearns made an aggressive pitch for Grandal to join Milwaukee on a one-year contract.
The veteran catcher signed for $18.25 million on Jan. 14.
"To tell you the truth, the first time I spoke to [Stearns], he was the one that kind of reeled me in," Grandal said. "Pretty much within the first 10 minutes I spoke to him, I was in. … He made it easy. It was an easy decision."
Both teams started the season well, winning eight of their first 10 games, before sliding this week. The Brewers got swept in Anaheim before rebounding Friday. The Dodgers have now lost five games in a row.
"It seems like right now we're both searching, trying to figure it out," said Grandal. "I know just by watching [the Dodgers] play the past week or so and watching video on them that they're not all there. Obviously, I know the ability they have to control a game, and I know the ability we have to control a game. It comes down pretty much to who's hot and who's not."