Davies struggles to start Crew's tough stretch
Right-hander allows 6 runs (4 earned) over 4 innings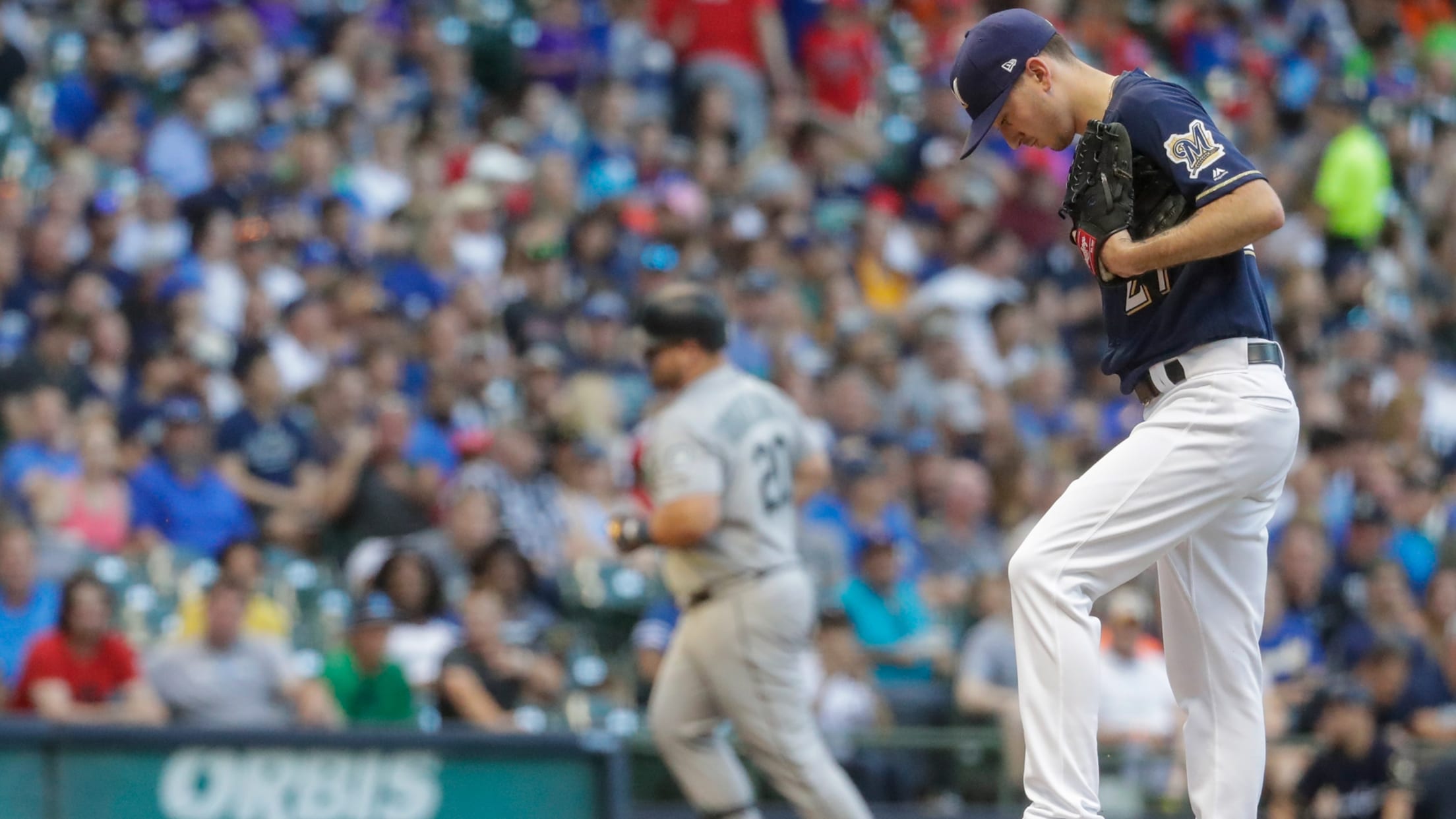 MILWAUKEE -- This was not the way Zach Davies and the Brewers drew up the start of a 13-game, 13-day sprint to the All-Star break. With innings in demand, Davies was out of the game before the start of the fifth in an 8-3 loss to the Mariners at Miller
MILWAUKEE -- This was not the way Zach Davies and the Brewers drew up the start of a 13-game, 13-day sprint to the All-Star break.
With innings in demand, Davies was out of the game before the start of the fifth in an 8-3 loss to the Mariners at Miller Park that wasted a vintage night from Ryan Braun and perpetuated Milwaukee's recent rotation struggles. In the team's last 30 games, Brewers starters have a 6.55 ERA. Only the Pirates have fared more poorly in that span. Milwaukee has not stacked consecutive quality starts since June 6-7.
Until recently, Davies was either manager Craig Counsell's strongest starter or a close second to hard-throwing Brandon Woodruff. But now he's sagging. Including Tuesday, when Davies was charged with six runs (four earned) on six hits and a pair of walks in four innings -- including a four-run third -- he has allowed 15 earned runs on 29 hits in his last 16 2/3 innings spanning four games. In Davies' last two outings, he has been charged with nine earned runs over 6 2/3 innings.
"I think I just need to go back to my mentality I had before, being aggressive, controlling the game myself," Davies said. "And not being passive. That's the biggest change I see in myself right now. It happens to everybody. There are times where you're going to doubt yourself, where you think that somebody else knows what's best for you and you don't rely on yourself.
"That's not pointing fingers. It's just, you're lost a little bit and you think somebody else can help you instead of just looking at yourself and knowing that's the person who is going to change it."
The Brewers probably have another short start on tap on Wednesday, when Adrian Houser rejoins the rotation after making his last 14 appearances in relief. He will be on a limited pitch count. Chase Anderson, scheduled to start Thursday, has been out of the game before the start of the sixth inning in eight of his nine starts.
Davies expressed the opinion that it's "just bad timing" that so many of Milwaukee's starting pitchers are struggling at the same time. While he works to get back on track, president of baseball operations David Stearns and his staff are getting deeper into plans for the July 31 Trade Deadline, which offers an avenue to add a starter if Stearns is willing to pay the price in prospects. In an interview over the weekend, Stearns said it is too early to handicap the Brewers' likelihood of adding an impact starting pitcher.
"I think we went on a pretty good stretch there throughout May and into June, to show guys that, 'Hey, this isn't a weakness of our club,'" Davies said. "We have times that are down, but we'll correct it. It will get back to normal."
Most of the damage against Davies came in the fourth inning, when Seattle strung together four consecutive extra-base hits, including Daniel Vogelbach's two-run home run on a fastball for a 4-1 lead. The Mariners extended their advantage to 6-1 in the fourth with a pair of unearned runs after third baseman Mike Moustakas' throwing error.
"The last two starts, [Davies] hasn't been sharp," Counsell said. "But the game is a different game if we put up a zero in the fourth. We gave them two runs. It's a different game in my opinion. That's the inning that cost us as much as anything."
Braun didn't pitch, but he did a lot of other things to help on Tuesday, when Lorenzo Cain was away getting the same cryotherapy treatment that has helped Braun overcome a nagging nerve issue in his right hand. Braun had three hits including a pair of doubles, made a sliding catch to end the first inning and threw a runner out at home in the seventh, when Jimmy Nelson made his first appearance in relief since September 2014.
Nelson pitched two scoreless innings despite allowing two hits and four walks, in part because of that assist from Braun, who threw home to retire Omar Narvaez for the second out of the seventh inning, and the call stood upon review.
"I would highlight his defense tonight," Counsell said. "Two big plays, saved runs both times. The big thing, we need him against left-handed pitching. I feel like the last two games, the day game in San Diego and the game here, he's starting to do a really nice job against left-handed pitching. That's something we really need. It's really important. To see that coming around, that's a good sign."