Cubs' home opener rescheduled for today
Game against Pirates to start at 1:20 p.m. CT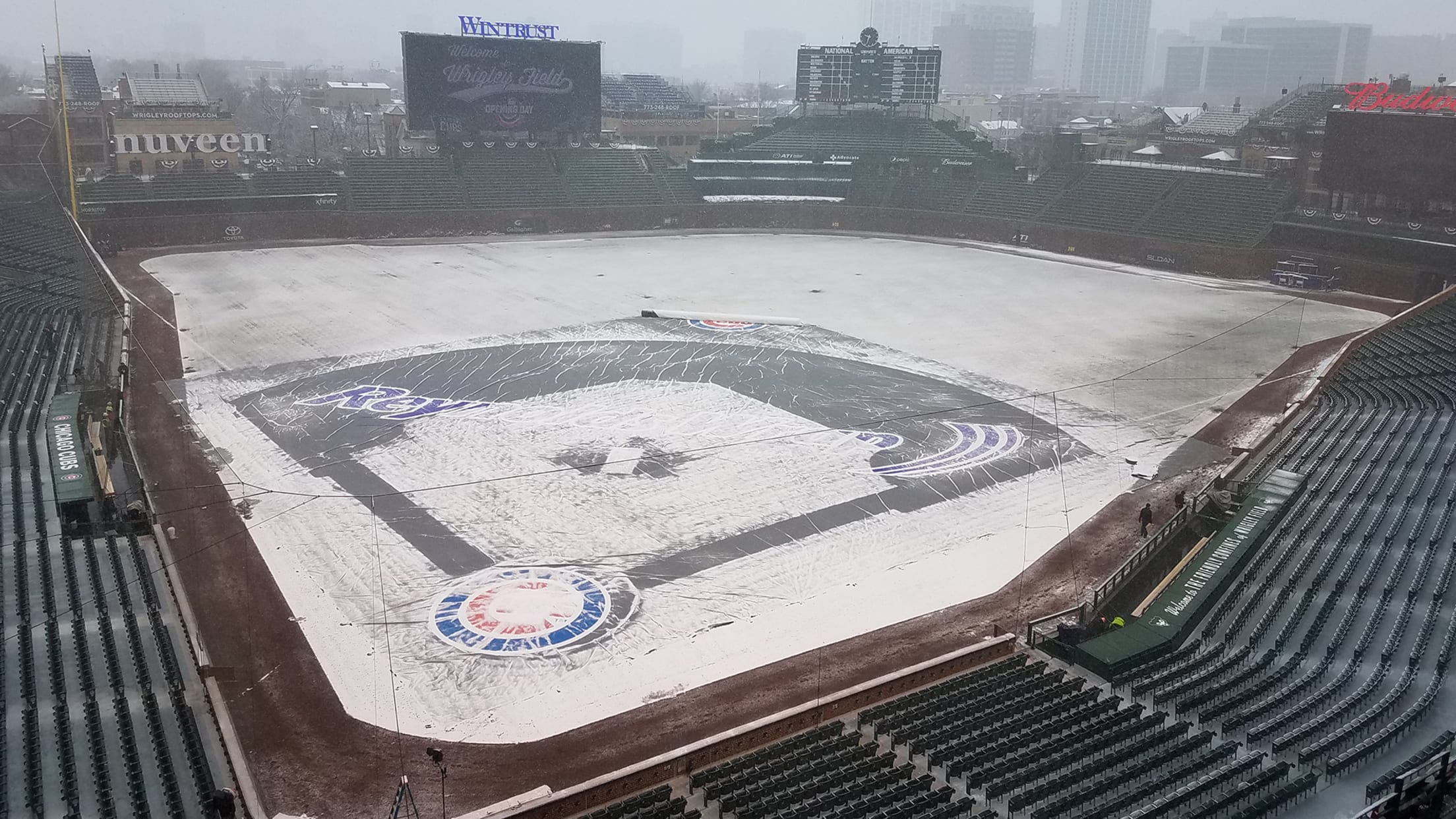 CHICAGO -- C.J. Edwards, Javier Baez, Kristopher Bryant and Jose Quintana got to play in the snow on Monday instead of playing for the Cubs.The players threw snowballs and slid on the slick surface at Wrigley Field before the Cubs' home opener against the Pirates was postponed. The inclement weather
CHICAGO -- C.J. Edwards, Javier Baez, Kristopher Bryant and Jose Quintana got to play in the snow on Monday instead of playing for the Cubs.
The players threw snowballs and slid on the slick surface at Wrigley Field before the Cubs' home opener against the Pirates was postponed. The inclement weather and tough field conditions forced the move. The two teams will play today, which was an off-day for both teams.
"On the way out [to the ballpark], I had no idea if I was going to the Cubs Convention or Opening Day, so I think it was the right thing to do," Chicago manager Joe Maddon said of the postponement. "I woke up and saw everything going on, and you look at the [weather] map and you look at Tuesday being an open day and a much better forecast and I thought it would be a prudent thing and we did it."
Both teams will stay with the same starting pitchers, so Tyler Chatwood (0-1, 1.50 ERA) will go for the Cubs and Ivan Nova (0-1, 6.10 ERA) for the Pirates. Chatwood went out to play catch in the snow after the game was called.
The Pirates now have games scheduled for 13 straight days, with 26 games scheduled for their next 27 days, but they are no strangers to the frigid weather they encountered Monday morning. The game-time temperature was 40 degrees or lower for seven of the Bucs' first nine games this season. It was 35 degrees when Jameson Taillon threw out the first pitch of his one-hit shutout against the Reds on Sunday in Pittsburgh.
April 9, 2018
"We've been able to have success with what we've been doing," starter Trevor Williams said on Friday. He paused, looking forward to the Pirates' next series this coming weekend. "I think all of us are ready to get to Miami."
The Pirates' average game-time temperature this season has been 39.6 degrees, but manager Clint Hurdle doesn't expect his team's recent experience in the freezing cold will give them any sort of advantage over the Cubs.
"I don't think so, no," Hurdle said. "They've played in cold weather before."
The Cubs were just happy to be back at Wrigley. They are the only Major League team to not play a home game this season.
"Opening Day is always very special, but we've already played nine or 10 games and we're into the season already," Maddon said. "When you open at home, it's always different. You'd rather go out there with just your uniform on as opposed to five layers of clothing, too. I think [Tuesday] I'll be able to go out there with just my jersey on and not have to put my hoodie on."
Edwards, who is from South Carolina, doesn't see snow very often, but he considered it a good sign.
"In '16 it happened when I was with [Triple-A] Iowa," Edwards said. "It snowed, hailed, everything [for the home opener]. I'm using my superstitions to think '18 will be like '16."
In case you weren't aware, Edwards did join the Cubs in a regular role in 2016, and the team won the World Series.
Snow much fun. ❄️⚾️#OpeningDay #EverybodyIn pic.twitter.com/lotqsTATlX

— Chicago Cubs (@Cubs) April 9, 2018
Maddon wasn't surprised some of the players were frolicking in the snow.
"If you've never seen snow before, you're going to get out there and do something," Maddon said. "If you're from Hazleton [Pa.], I really don't need to see it."
Monday's game was scheduled to begin at 1:20 p.m. CT, and the Cubs initially pushed the first pitch back to 2:20 p.m. CT. Just after 11 a.m. CT, as the Wrigley Field grounds crew cleared off the tarp with shovels and snow blowers, the Cubs announced the postponement.
The gates at Wrigley will open at approximately 11:20 a.m. CT on Tuesday and the Opening Day ceremony will begin around 12:45 p.m.
Tickets for Monday's postponed game will be honored for Tuesday's makeup game. No ticket exchange is necessary.
"I think we were expecting [a postponement]," Cubs closer Brandon Morrow said. "I thought we were still going to get the game in. I thought [the snow] was supposed to stop around 11, noon, and I know how quickly they can clear a field with some equipment. I was hoping we'd get in. But that's why we have [Tuesday] off [on the schedule]."