Maples an intriguing bullpen option
Injuries open relief spots, but righty's success depends on command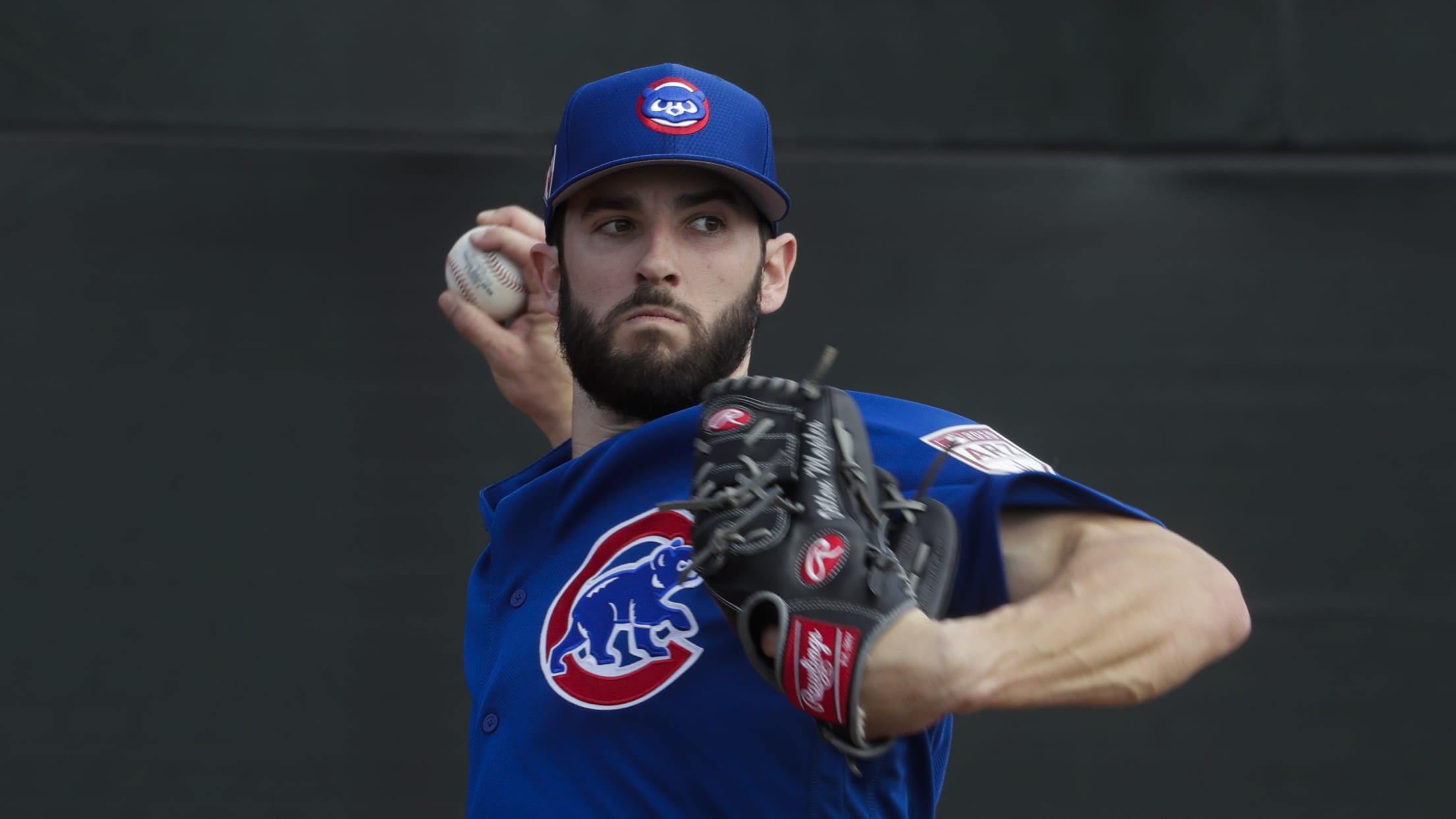 GLENDALE, Ariz. -- The Cubs' mental skills coaches have been preaching the value of visualization to the team's players this spring. It is a key component within the methods taught by former pitcher Bob Tewksbury, who was hired over the offseason as a coordinator for that department. Dillon Maples is
GLENDALE, Ariz. -- The Cubs' mental skills coaches have been preaching the value of visualization to the team's players this spring. It is a key component within the methods taught by former pitcher Bob Tewksbury, who was hired over the offseason as a coordinator for that department.
Dillon Maples is one of the latest disciples.
"I just started doing it probably a week ago," Maples said on Friday morning. "At first, I wasn't crazy about it. It was tough for me to concentrate. I'm picturing bad things. But, I feel good about where I'm at with it right now, and, if I stick with it, I think it'll yield good results."
The practice involves breathing exercises, closing your eyes and concentrating on picturing successful scenarios. See the batter, imagine the pitch and focus on the positive result. Do it again and again with a different game scenario in mind. That way, when the player takes the field and encounters various situations, they have already mentally worked through adversity and saw success.
An improved mentality is important to the 26-year-old Maples, who boasts the kind of arm that baseball evaluators dream on. There is the high-octane fastball and the elite slider, but there is also that invisible vertical rectangle that has been a source of torment for the righty. For all the talent oozing out of his right hand, Maples has yet to harness the command of the strike zone that would unlock his potential.
And that is where the "bad things" can creep into his mind during the mental exercises.
"It's tougher than you think," Maples said. "It sounds easy on the surface, but once you start to sit down, you see some things you don't want to see sometimes."
As Maples speaks, he can surely see the empty lockers of the players no longer in camp. He can also see that Brandon Morrow (right elbow) and Xavier Cedeno (left wrist) are poised to open the year on the injured list, with Pedro Strop (right hamstring) and Tony Barnette (right shoulder) also dealing with health troubles. There could be a vacancy or two in the Opening Day bullpen, and Maples might have the most intriguing arsenal among the options.
In parts of two seasons in the Majors, Maples has 20 strikeouts in 10 2/3 innings but a 10.97 ERA with 11 walks. In the last two Minor League seasons, he averaged 15.4 strikeouts per nine innings but had 76 walks in 102 frames. Even in the Cubs' 11-9 win over the White Sox on Friday, Maples struck out one in one scoreless inning but also walked one batter and hit another.
It is not hard to identify what Maples must change to finally emerge as the kind of bullpen weapon Chicago needs.
"Just throw a few more strikes," Morrow said. "I mean, his stuff's better than everybody. I think his breaking ball probably rates as possibly the best pitch in all of baseball based on spin rate, movement and velocity."
In his brief stay in the Majors last year, Maples' slider had an average spin rate of 3,073 RPM, which ranked fourth overall among pitchers with at least 50 results, per Statcast. The 2,811 RPM on his four-seam fastball was first among all pitchers with at least 25 results. In terms of pitch speed, the fastball checked in at 97 mph on average and the slider was 88.1 mph.
Beyond the mental adjustments, Maples has also moved to the third-base side of the pitching rubber and opened up his stance slightly. The goal, according to pitching coach Tommy Hottovy, is to help Maples avoid flying open and have his pitches find the strike zone more consistently.
"He looks more comfortable. He looks more like he feels like he belongs here," manager Joe Maddon said. "I watch him out there, and if something goes wrong, it doesn't freak him out maybe like it had in the past. He's able to regroup and make a better pitch the next pitch. I've seen improvement."