6 suggestions for Starters Election vote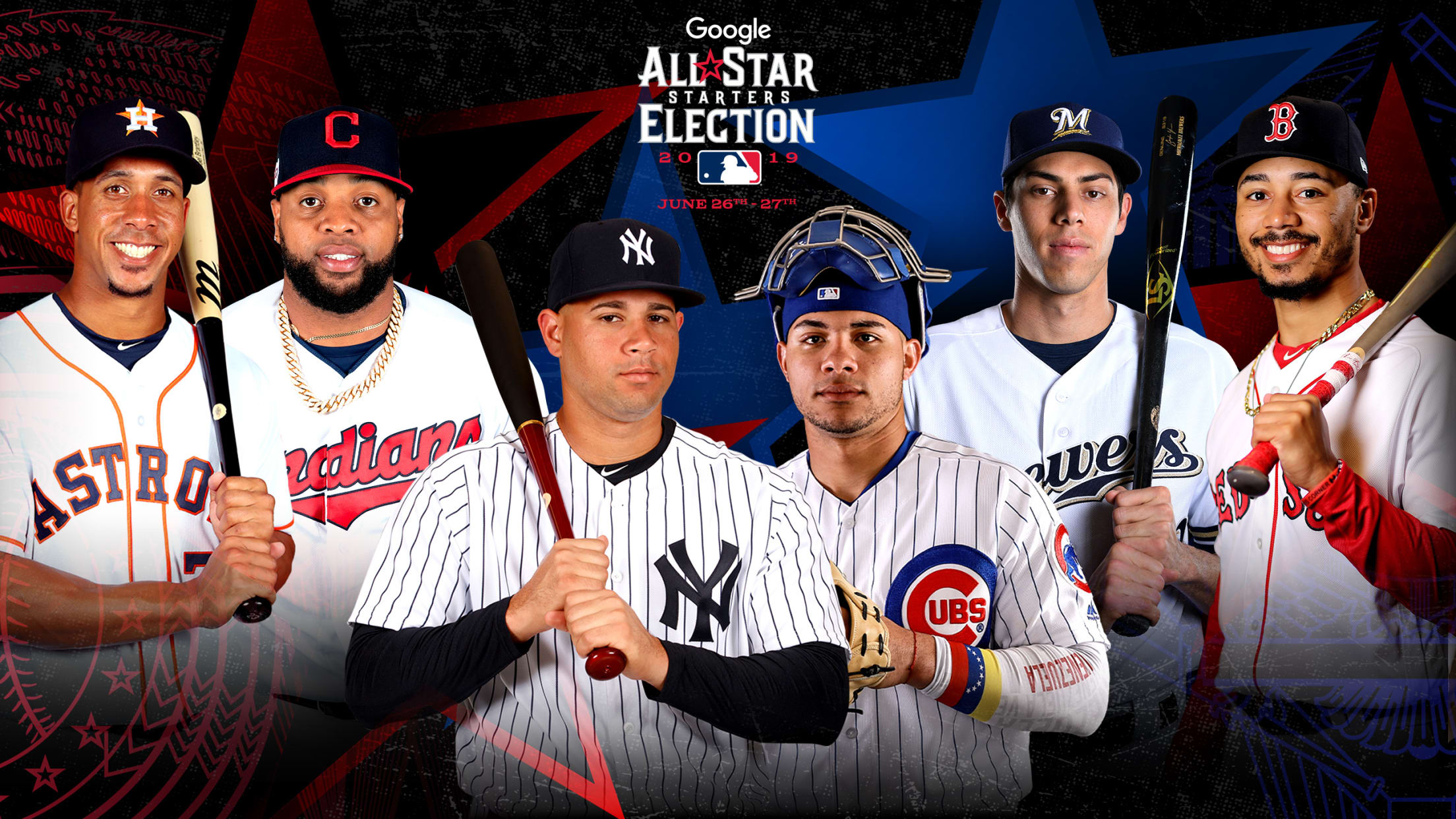 These are all of the finalists for the Starters Election, which is open now and runs through Thursday at 4 p.m. ET. • VOTE NOW! The winners will be unveiled on ESPN on Thursday night starting at 7 ET. Players who do not get elected starters are not automatically added
These are all of the finalists for the Starters Election, which is open now and runs through Thursday at 4 p.m. ET.
The winners will be unveiled on ESPN on Thursday night starting at 7 ET. Players who do not get elected starters are not automatically added to the team as reserves -- they will be determined through a combination of "Player Ballot" choices and selections made by the Commissioner's Office. All-Star pitchers and reserves will be announced on Sunday, June 30, at 5:30 p.m., also on ESPN.
Mentally preparing for the Starters Election? Readying your fingers and your brain for the 28-hour voting period that will decide which position players get to start the July 9 All-Star Game presented by MasterCard?
We're here to help. With the field of finalists set, here are six methods you can use to fill out the 2019 Google MLB All-Star Ballot when the Starters Election begins Wednesday at noon ET.
1) The Good Banter Ballot
If you're after fun storylines, connections and trivia, here's the ballot for you:
Carlos Santana and Michael Brantley: They were Indians teammates from 2010-17, which the Cleveland crowd would appreciate.
Anthony Rizzo and Kris Bryant: They can relive the 5-3 that ended the Cubs' 108-year curse at Progressive Field in 2016, which the Cleveland crowd would not appreciate.
Carlos Correa, Javier Baez and Eddie Rosario: All three are Puerto Rico-born, just like All-Star ambassadors Francisco Lindor and Sandy Alomar Jr., who was the All-Star MVP the last time this game was in Cleveland.
Brian and James McCann: An all-McCann backstop plan? We McCann make it happen!
Jose Altuve and Ozzie Albies: At 5-foot-6 and 5-foot-8, respectively, they are the two shortest players on the ballot, and how can you not be romantic about short All-Stars?
Cody Bellinger and Kyle Schwarber: Because Bellinger has a 1.633 OPS and Schwarber a 1.618 OPS at Progressive Field (the two highest marks of any players on the ballot), so you know good things can happen for them in that building.
Mookie Betts and Christian Yelich: For those who believe the reigning MVP Award winners should get an automatic invite to the starting lineup.
Alex Bregman: Same with the reigning All-Star Game MVP.
Nelson Cruz: Because who else is going to take an in-game All-Star selfie with an umpire?
2) The All-Surprises Ballot
How about two teams of guys who, for one reason or another, weren't necessarily absolutes to advance to this stage of the voting when 2019 started?
American League:
C James McCann: .581 OPS last year
1B C.J. Cron: Designated for assignment by the Rays last November
2B Tommy La Stella: Below-average career OPS+ before this year
SS Jorge Polanco: League average career OPS+ before this year
3B Gio Urshela: Career .589 OPS prior to '19 and was at Triple-A
OF Austin Meadows: Had not fully lived up to prospect potential in Pirates organization
OF Joey Gallo: Was a .203 hitter before this year
OF George Springer: No other true surprises to fill this spot, but Springer's rate stats are all well above his career norm
DH Hunter Pence: Veteran reinvented his swing at age 36
National League:
C Brian McCann: Offensive uptick at age 35
1B Josh Bell: Career .436 SLG before this year
2B Ketel Marte: .389 career SLG before this year
SS Dansby Swanson: .667 OPS from 2017-18
3B Josh Donaldson: Limited to 52 games last year
OF Cody Bellinger: Shook potential platoon label to become an MVP type
OF Joc Pederson: SLG is about 100 points higher than career average
OF Jason Heyward: Has exceeded last year's homer total already
3) The Slugfest Ballot
C'mon, we aren't here for a pitchers' duel. The crooked Cuyahoga River flows near Progressive Field, and we want some crooked numbers to go with it.
These were the guys leading their fellow finalists in slugging percentage at the time of this writing:
AL
C Gary Sanchez, .634
1B C.J. Cron, .538
2B DJ LeMahieu, .488
SS Jorge Polanco, .542
3B Hunter Dozier, .592
OF Joey Gallo, .653; Mike Trout, .649; George Springer, .643
DH Hunter Pence, .608
NL
C Yasmani Grandal, .544
1B Josh Bell, .640
2B Mike Moustakas, .583
SS Trevor Story, .547
3B Nolan Arenado, .588
OF Christian Yelich, .744; Cody Bellinger, .699; Charlie Blackmon, .643
4) The Young Guns Ballot
If you want starting lineups that represent the increasingly young man's game baseball has become, here's the youngest guys eligible at each position:
AL
C Gary Sanchez, 26
1B Luke Voit, 28
2B Jose Altuve, 29
SS Gleyber Torres, 22
3B Alex Bregman, 25
OF Austin Meadows, 24; Joey Gallo, 25; Mookie Betts, 26
DH J.D. Martinez, 31 (yeah, the DH group is pretty old)
NL
C Willson Contreras, 27
1B Josh Bell, 26
2B Ozzie Albies, 22
SS Dansby Swanson, 25
3B Kris Bryant, 27
OF Ronald Acuna Jr., 21; Cody Bellinger, 23; Albert Almora Jr., 25
5) The Old(er) Dudes Ballot
On the other hand, if you want the starting lineups to prove that the older crowd can still get the job done, go with this ballot:
AL
C Robinson Chirinos, 35
1B Carlos Santana, 33
2B DJ LeMahieu, 30
SS Jorge Polanco, 25 (yeah, the AL shortstop group is pretty young)
3B Hunter Dozier, 27
OF Josh Reddick 32; Michael Brantley, 32; George Springer, 29
DH Nelson Cruz, 38
NL
C Brian McCann, 35
1B Anthony Rizzo, 29
2B Mike Moustakas, 30
SS Trevor Story, 26
3B Josh Donaldson, 33
OF Nick Markakis, 35; Charlie Blackmon 32; Jason Heyward, 29
6) The "This Means WAR!" Ballot
Wins Above Replacement isn't a perfect metric, but it's as good a catch-all stat as we've got. So if you just want to vote for arguably the most deserving players (what a concept), sorting the WAR leaderboard works well enough.
This is a moving target, and there are multiple means of calculating WAR, but, as of this writing, these were the leaders in the FanGraphs tally:
AL
C Gary Sanchez, 2.1
1B Carlos Santana, 2.5
2B DJ LeMahieu, 2.3
SS Jorge Polanco, 2.8
3B Alex Bregman, 3.3
OF Mike Trout, 5.3; Joey Gallo 3.2; George Springer, 2.7
DH Hunter Pence, 1.7
NL
C Yasmani Grandal, 2.9
1B Freddie Freeman, 3.0
2B Ketel Marte, 3.6
SS Trevor Story, 2.9
3B Nolan Arenado, 3.3
OF Cody Bellinger, 5.3; Christian Yelich, 4.7; Ronald Acuna Jr., 2.7