Roger Dean Chevrolet Stadium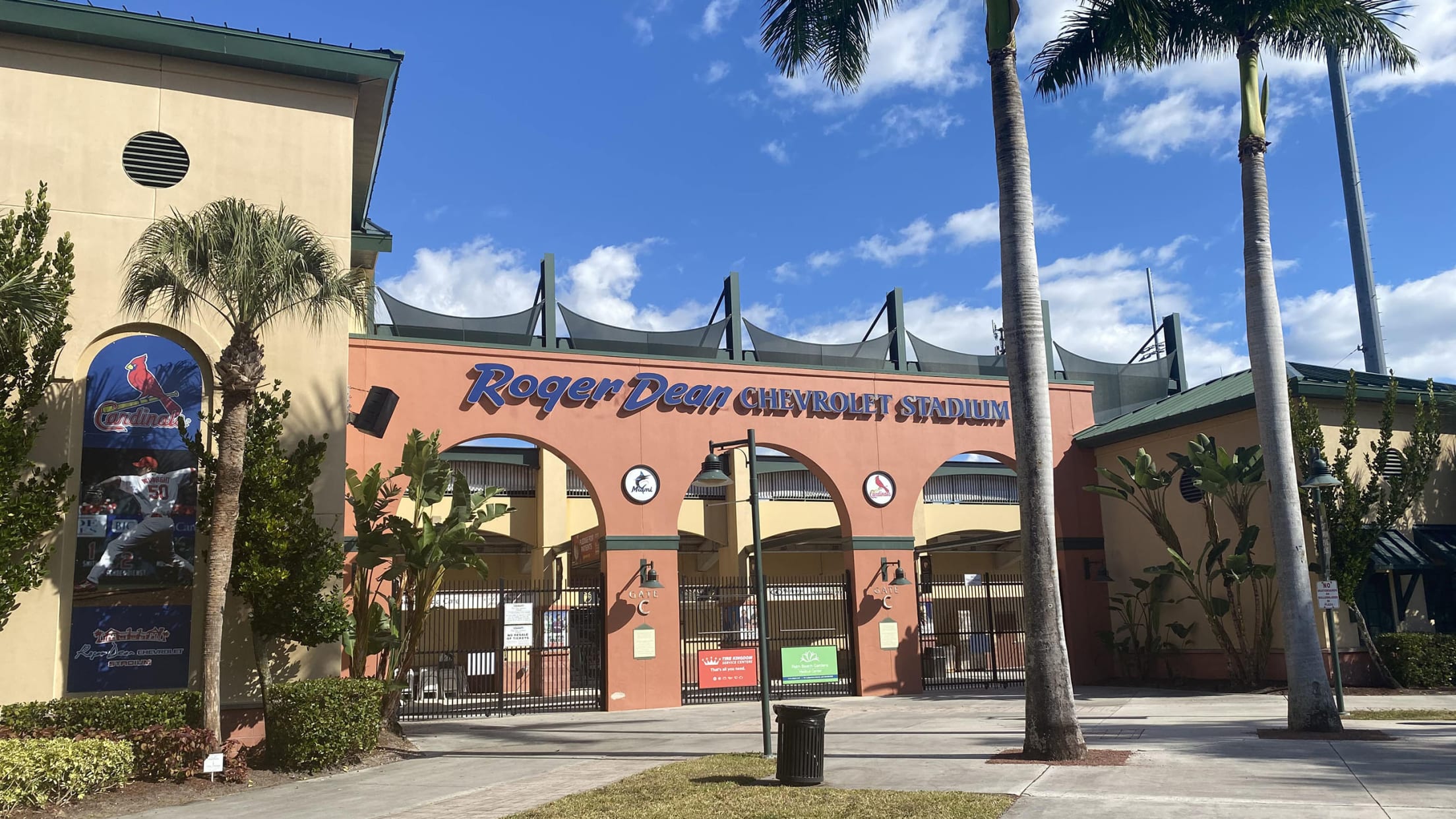 About Roger Dean Chevrolet Stadium - Jupiter
Roger Dean Chevrolet Stadium is located on approximately 110 acres within the Abacoa Coummunity of Jupiter. Abacoa is located on Donald Ross Road, approximately ¼ mile east of Interstate 95. Roger Dean Chevrolet Stadium was specifically designed to house two Major League Baseball teams, Roger Dean Chevrolet Stadium is the Spring Training home for the St. Louis Cardinals and Miami Marlins and houses each organizations Florida State League Class A Advanced affiliates.
The ballpark features field box, bleacher, Corona Beach House and luxury suite seating. There are six luxury suites with indoor and outdoor seating. The Cassidy Cool Zone is the outdoor covered party deck area located in right field. The Corona Beach House is the stadiums newest addition featuring all-inclusive tickets with drink rail and four-top table seating. In addition, concession stands are located throughout the concourse with a variety of food and beverage options.
For a more detailed A-Z Guide of all things at Roger Dean Chevrolet Stadium, please visit Roger Dean Chevrolet Stadium A-Z Guide.
Ballpark Information
Roger Dean Chevrolet Stadium
4751 Main Street
Jupiter, FL 33458
(561) 775-1818
Open Date: February 28, 1998
Ownership: Palm Beach County
Season: Spring Training is held during the months of February and March. The Florida State League's Jupiter Hammerheads and Palm Beach Cardinals make their home at Roger Dean Chevrolet Stadium from April through Labor Day. Special events and family festivals are also held at the stadium.
Capacity: The stadium features luxury suites, reserved box seats, bleachers and Corona Beach House. The ballpark seats approximately 6,800 fans. During the 2021 season, the stadium will operate at 21% capacity (~1,500 seats) to ensure proper health & safety protocols.
Cassidy Cool Zone Party Deck: Groups from 30 to 300 members can take part in a pre-game meal on the party deck, located in right field. For the 2021 season, the Cassidy Cool Zone with be available for a maximum of 30 people per game.
Moss Construction Luxury Suites: Six air-conditioned luxury suites provide 320 square feet of interior entertainment including Wet bar, refrigerator, sink, ice maker, 50 inch LED television, bar stools and additional chairs. Each suite offers indoor and outdoor seating and are available with private entrance and elevator access. During the 2021 season, suites will be available for a maximum of 13 people.
Season Tickets: For the 2021 season, full season ticket packages will not be available. Tickets will be available on an individual game basis instead.
Special Events: Roger Dean Chevrolet Stadium is more than just a stadium...It can be rented out for the day to host a company picnic, meeting, fundraiser, graduation ceremony or a private function.
Concerts: The stadium hosted its first concert in May, 2000 when Electric Light Orchestra (ELO) performed on the main diamond.
The facility is also the host to two of the largest high school baseball tournaments in the country each year, the USA Baseball Junior Olympic Tournament in June and the Baseball America / Perfect Game Baseball Wood Bat Championship in October.
Seating Chart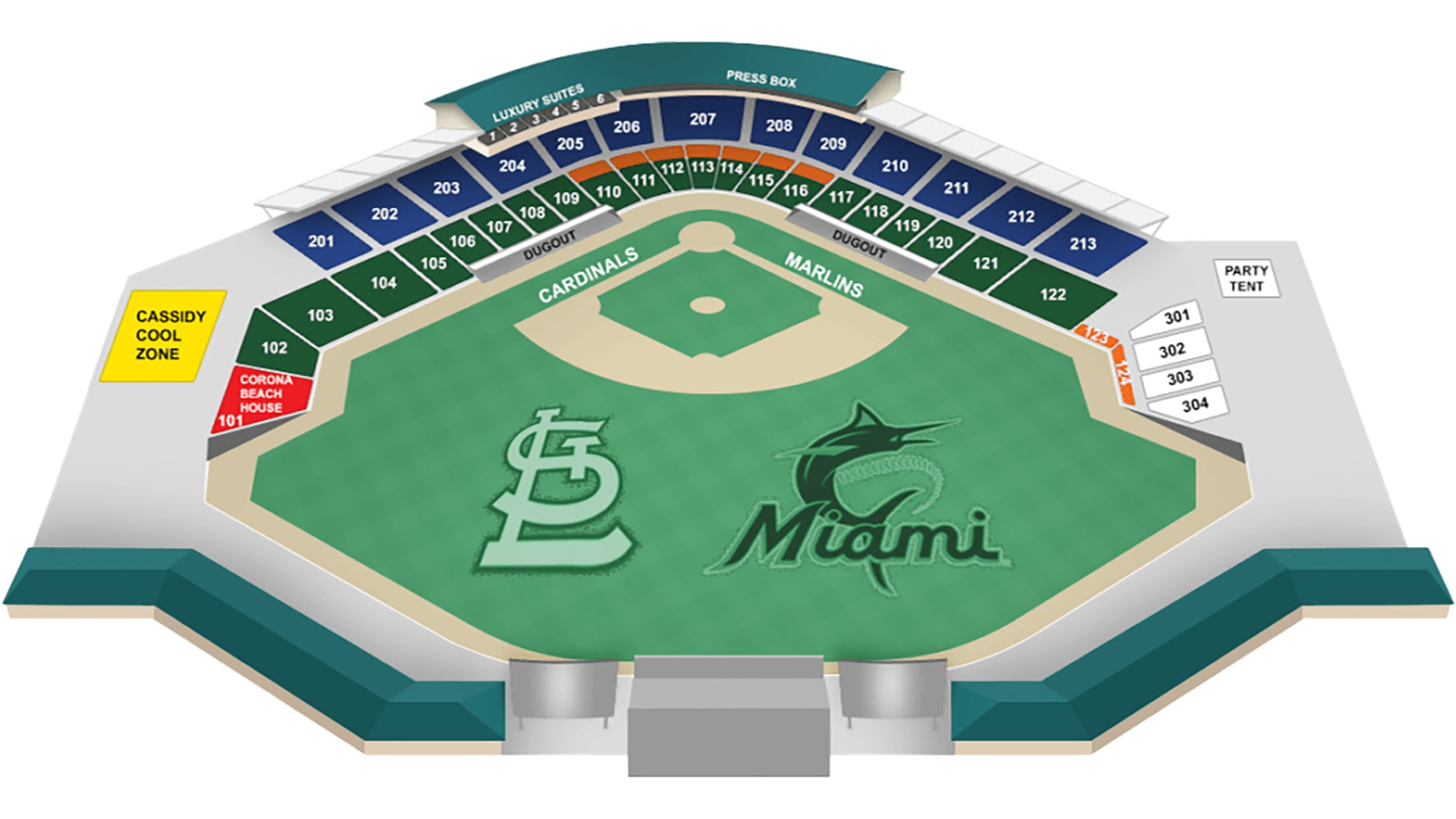 Directions & Parking
From Interstate 95:
Exit at Donald Ross Road (Exit 83) and travel east one half mile to Parkside Blvd. At the light, make a left and follow Parkside to University Blvd. Continue straight through the intersection and the stadium parking will be on your right.
From Florida's Turnpike:
Exit at Jupiter-Indiantown Road (Exit 116) and enter Interstate 95 South. Follow directions "From Interstate 95".
Parking:
Preferred Parking: Single-game parking passes are available in the Abacoa parking garage (Season Pass Garage), and in three grass lots to the West and North of the stadium (Lots C, D & E). Parking in these areas is $10 per game (CASH only). Individual parking passes may be purchased at the Roger Dean Chevrolet Stadium ticket office, online at Tickets.com (Keyword: Roger Dean Chevrolet Stadium Parking) or by phone at (561) 775-1818.

Overflow Parking: Additional parking lots will be utilized as needed. These lots include the Florida Atlantic University parking lot (Lot A on Map), two Abacoa Parking Garages (Lots F & G on Map), and three surface lots (Lots H, I & J on Map). Signage and personnel will be utilized to direct guests to these facilities as needed based on attendance levels.