Analyzing Strasburg, Pham, Kendrick, Pineda deals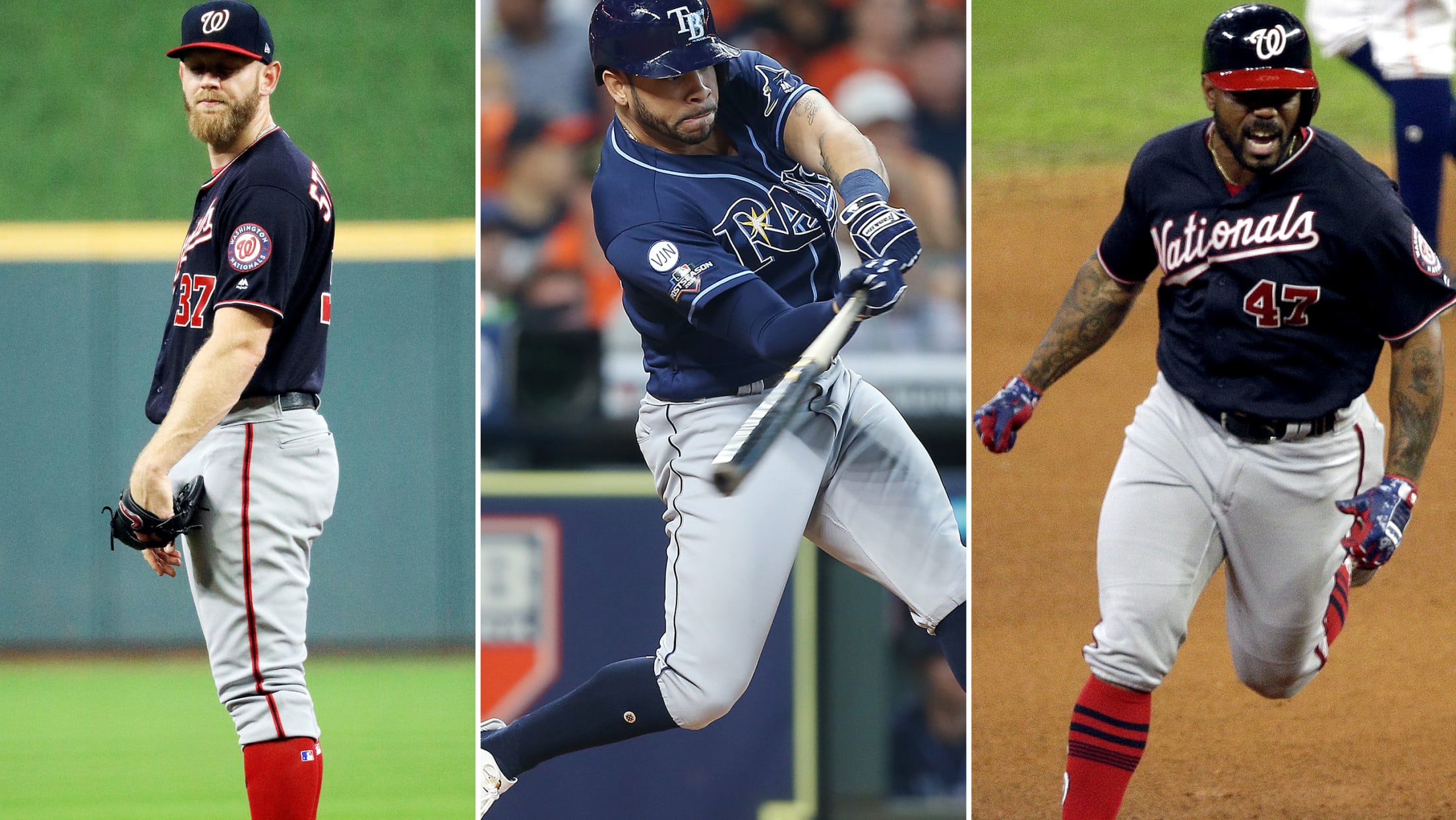 When you think of the offseason, you think of the biggest names and the largest deals -- understandably so -- but there's obviously a lot more that goes into it. As we did last year, we'll keep a running list of each one, with the latest moves at the top.
When you think of the offseason, you think of the biggest names and the largest deals -- understandably so -- but there's obviously a lot more that goes into it. As we did last year, we'll keep a running list of each one, with the latest moves at the top. We're probably not getting into every single non-roster invite, but you never know. Baseball fans are insatiable.
Dec. 9, 2019: P Stephen Strasburg returns to the Nationals
Seven years, $245 million
A few days after the World Series, Strasburg did as expected, opting out of the remaining four years and $100 million on his contract. (Nearly half of that was deferred, so the present-day value was more like $88 million.) We knew he'd get more than that, and we figured it was likely he'd return to the Nationals. We just didn't expect it was going to be this much more, to the extent that Washington will pay Strasburg nearly $10 more annually over his age 31-37 seasons than the Phillies will Bryce Harper.
It's not the same situation, obviously. The Nats had Juan Soto ready to step in for Harper, and they couldn't replace Strasburg as easily. And even though there's a ton of deferrals in this one -- reportedly $80 million -- they come with interest, so it should pay him the actual present-day value of $245 million. Still, it is, for the moment, the largest pitching contract in baseball history both cumulatively and annually, at least for a few days until Gerrit Cole blows it away. There's no opt-outs or options, so Strasburg, who was picked No.1 overall by the Nats in 2009, will likely be pitching in DC through his age-37 season.
Obviously, if Strasburg pitches like he did in 2019 -- 209 innings of 3.32 ERA ball, with 36 1/3 more innings of 1.98 ball in their postseason run -- he'll earn this, and more. Prior to 2019, it felt like he'd be underrated compared to his success, perhaps because of the No. 1 hype and the presence of Max Scherzer next to him, and he was, by nearly any measure, a Top 5 starting pitcher this year. He's already shown he can adapt to somewhat lessened velocity by throwing his elite curveball more than ever (31%), which gives you hope for how he might age. You can't find pitchers this good, so when you have one, you pay what it takes to keep them.
The question, of course, isn't one of talent, but one of durability. Strasburg hadn't made 30 starts or thrown 200 innings since 2014, and he'll turn 32 next July. When the Nationals gave Scherzer seven years and $210 million after '14, he was a year younger and had made 30 or more starts in each of the previous six seasons. There's considerably more risk here; coming off a mere 130 innings in 2018, it wasn't even clear he'd want to opt out at the end of 2019.
This all keeps the team's biggest strength together, as the rotation quartet of Scherzer / Strasburg / Patrick Corbin / Aníbal Sánchez are all back in 2020, and the team had previously brought back Howie Kendrick. We don't know what will happen to Anthony Rendon, or who plays first base, or how the Nats will ever fix that bullpen. But it would have been a disaster, both competitively and emotionally, had both Strasburg and Rendon departed. It certainly didn't come at a discount, and it didn't come without risk. It was simply a deal that needed to get done.
Dec 6., 2019: P Jordan Lyles signs with Rangers
Two years, $16 million
Texas already added Kyle Gibson to a rotation headed by Mike Minor and Lance Lynn, and now it's added Lyles, who has slowly been working his way up the transaction ladder from "released by the Rockies in August 2017" to "claimed on waivers by the Brewers in August 2018" to "traded back to the Brewers, July 2019." Now he's earned a two-year deal despite a just-okay 2019, where he threw 141 innings (his most since 2013) of 4.15 ERA ball.
It's fair to note he was much better in 11 starts with Milwaukee, contributing a 2.45 ERA, though the underlying metrics didn't support much of that being sustainable (his strikeout rate actually dropped from what it had been with Pittsburgh), and it's interesting to see that after using his changeup about 6% of the time through the end of August, he used it nearly a quarter of the time in September. Lyles can be a competent fourth or fifth starter, and he's not being paid to do much more than that. If unexciting, it's still necessary. The Rangers may yet be one arm short of a full rotation.
Dec. 6, 2019: Padres trade OF Hunter Renfroe and 2B prospect Xavier Edwards for OF Tommy Pham and IF/P prospect Jake Cronenworth
The 2020 Padres get better, and the '20 Rays get worse. It's obviously considerably more complicated than that.
Let's start with the Padres, who finished 36 games out in the National League West in 2019. There's almost nothing a team can do in one winter to try to overcome that kind of deficit, but they've been trying, signing Drew Pomeranz and trading for Jurickson Profar, Zach Davies, and Trent Grisham. Now they add Pham, who brings some badly-needed on-base skills (.367 and .369 the last two years, while the Padres had a .308 OBP in 2019, fifth-worst in baseball). Over the last three years, he's been one of the 25 or so best hitters in baseball. There's open disagreement about his defense, as he was +1 in Defensive Runs Saved and minus-11 in Outs Above Average, and it's fair to note that he'll be 32 in March and has gone from a 144 OPS+ to 127 to 119 over the last three years. This isn't without risk.
Still, he's clearly better than Renfroe -- the 80-point gap in OBP from 2019 is enormous -- and he might be the best or second-best Padres hitter right now. Meanwhile, Cronenworth is quietly fascinating as a ready-now prospect who hit .329/.422/.511 in Triple-A last year, might challenge Profar for second base time and actually threw 7 1/3 shutout innings as well. The Padres are better today than they were yesterday, though they still have lineup questions at four spots (catcher, first base, second base and center field), as well as a big rotation need.
As for the Rays? Well, Blake Snell didn't like this very much, though he's probably underrating how strong of a prospect Edwards is. Otherwise, follow the numbers. Renfroe is something like $5 million cheaper than Pham, using estimated arbitration numbers, four years younger and under control for two additional years. That all fits the Tampa Bay aesthetic. Despite the 33 homers, his hard-hit rate was lower than Pham's, though he's got a cannon of an arm and rated as a plus defender in 2019.
If it was just Pham for Renfroe, it would be a clear loss for Tampa Bay. It's not, obviously. Edwards is MLB Pipeline's No. 72 overall prospect, an elite speedster who combines excellent bat control (he struck out only 54 times in 561 Class A plate appearances last year) with absolutely zero power (a single homer in two seasons). He's only 20, and he's not close to helping the Rays. San Diego making a win-now push, and Tampa Bay churning assets for the future? It's the most "these teams" trade you can think of.
Dec. 6, 2019: 1B/2B Howie Kendrick returns to Nationals
One year, $6.25 million with a 2021 mutual option
Kendrick is going to live forever in Washington if only because of the two-run go-ahead homer in the seventh inning of Game 7 of the World Series, the blast that put the Nationals ahead for good on their way to their first World Series title. That somewhat overshadows just how fantastic he'd been all season, however, putting up a huge .344/.395/.572 (142 OPS+) year in his age-35 season. It was no fluke, either; looking at an advanced Statcast quality-of-contact metric, Kendrick was the fourth-best hitter in baseball this year behind only Mike Trout, Cody Bellinger, and Christian Yelich.
That comes with some caveats, namely that he did it in 370 plate appearances, not full-time play, and that he'll be 37 next July. No one really believes he belongs on any list of "baseball's real five best hitters." But the fact that we can even talk about it that way tells you a lot about how fantastic he was, posting a 13% strikeout rate that was well better than average and pairing it with a 48% hard-hit rate that was also well better than average.
He's not great defensively at this point, and he's not going to play every day. He won't, or at least should not be, the full-time first base replacement for Ryan Zimmerman, should the Nationals legend not return in 2020. But there's a spot for a veteran like Kendrick on just about every single team. No one will appreciate him as much as Nats fans do.
Dec. 6, 2019: P Michael Pineda returns to Twins
Two years, $20 million
Let's make sure we get the record straight here -- while it's announced as "two years and $20 million," it's really "two years and $17.6 million," because he won't be paid over the first 39 games of the season while he finishes out the 60-game suspension he picked up last September for violating baseball's Joint Drug Prevention and Treatment Program. That knocked him out of the remainder of the regular season and the postseason, which ended up being a big blow for a contending Twins team; as you may remember, they had to start Randy Dobnak in Game 2 of the ALDS. (It did not go well.)
When he returns in May, he'll join a Twins rotation that has José Berríos and Jake Odorizzi at the top and a whole lot of question marks behind them. The suspension ended what had been a solid rebound season for Pineda, who had injured his elbow in 2017 with the Yankees and signed a two-year deal with the Twins that December knowing that he'd miss all of '18 recovering. He pitched well, too; after a poor April (6.21 ERA), he posted a 3.46 ERA in 20 starts between May 1 and the end of his season. There were 130 pitchers who tossed 100 innings in '19, and only seven of them had a lower walk rate than Pineda's 4.7%.
Assuming that Pineda, heading into his age-31 season, can replicate something along the lines of what he did last year -- and there's no reason to think he can't, since his ERA, strikeout, and walk numbers were almost identical to his career marks -- this is a good add for a Twins team that obviously needed the rotation help. The thing is, they still need the rotation help, not just because Pineda won't be available right away, but because you can't just insert Devin Smeltzer, Dobnak and Lewis Thorpe in the Opening Day rotation. What's next?
Dec. 6, 2019: C Alex Avila signs with Twins
One year, $4.25 million
In 2019, Minnesota had righty Mitch Garver post a massive breakout year, smashing 31 homers in a mere 359 plate appearances, pairing him with Jason Castro, a 32-year-old left-handed bat who posted a league-average 101 OPS+. Castro's now off to free agency, so the Twins have replaced him with Avila, a ... 32-year-old left-handed bat who posted a league-average 100 OPS+. Castro was an above-average, but not elite, pitch framer. Avila is an above-average, but not elite, pitch framer. Castro had an above-average 46% hard-hit rate. Avila had an above-average 49% hard-hit rate. If you're thinking there's maybe not a terribly larger difference in Garver's backup, you're right. The Twins retain one of the best catching situations in baseball.
Dec. 5, 2019: OF Jake Marisnick traded from Astros to Mets
Astros receive two Minor League prospects
The Mets' defense needed an upgrade, to put it charitably, especially once they'd declined their 2020 option on the slick-fielding but often-injured Juan Lagares. That left them with an outfield full of lefty swingers (Michael Conforto, Brandon Nimmo, Jeff McNeil if he's not playing third base) and a right-handed masher who is a poor defender in J.D. Davis. If Nimmo is going to play center, as he reportedly will, then a replacement for Lagares, a new right-handed defensive ace, was a necessity.
Enter Marisnick, who has spent the last 5 1/2 years in Houston doing exactly that. Outside of an outlier 2017, he's never really hit, posting a .232/.285/.396 cumulative line for the Astros, though he did pop 36 homers over the last three seasons. Mostly, that's been about the strikeouts, because over those three years, his 33.1% whiff rate is one of the 10 highest in baseball. But he can fly (he's got 95th percentile Sprint Speed) and he's a fantastic oufielder -- over the last four years, his +39 Outs Above Average is tied for ninth, and that's a bigger deal than it sounds, since he's never been an everyday player.
If this sounds a little like last year's Keon Broxton acquisition, in terms of getting a high-strikeout fast strong-fielding righty outfielder, well, it sure does, and that didn't work out terribly well. But with Lagares gone, it was still a need this club had, and he's a solid choice to fill it. For Houston, this also frees up some outfield room for Kyle Tucker and Myles Straw or both, given next year's 26-man rosters.
Dec. 5, 2019: C Omar Narváez traded from Mariners to Brewers
Mariners receive Minor League pitcher Adam Hill and a competitive balance pick
Last year, Milwaukee had the best hitting catcher (over the last three years) in Yasmani Grandal, but he departed to the White Sox via free agency, so instead, they replace him with the second-best hitting catcher in baseball (tied, anyway) over those same three years in Narváez. The appeal on the surface is easy -- in a world where very few catchers can offer any offense at all, the Brewers just added the soon-to-be 28-year-old who hit 22 homers, and who had a 119 OPS+ in 2018 and a 120 OPS+ in '19. They did so for a minimal cost, because Narváez is projected to earn only about $3 million in arbitration and because Hill isn't exactly a highly regarded prospect.
If it feels like there's a "but" here ... there is. The defensive downgrade from Grandal to Narváez is obvious and enormous, particularly in framing, where there's an 18-run difference -- nearly two wins -- between Grandal's plus-13 and Narváez's minus-5. Paired with Manny Piña, a good defender, maybe that's a match that can work.
The more pressing question might be ... can he actually hit? Or perhaps more accurately, will he continue? There's no arguing the fact that he's been 20% better than average over the last two years, and that's a big deal. It's just a little confounding that he's been able to do so without any actual hard-hit abilities. If you were to look at his Baseball Savant page, you'd see a lot of blue-for-poor colors, including an 8th-percentile exit velocity.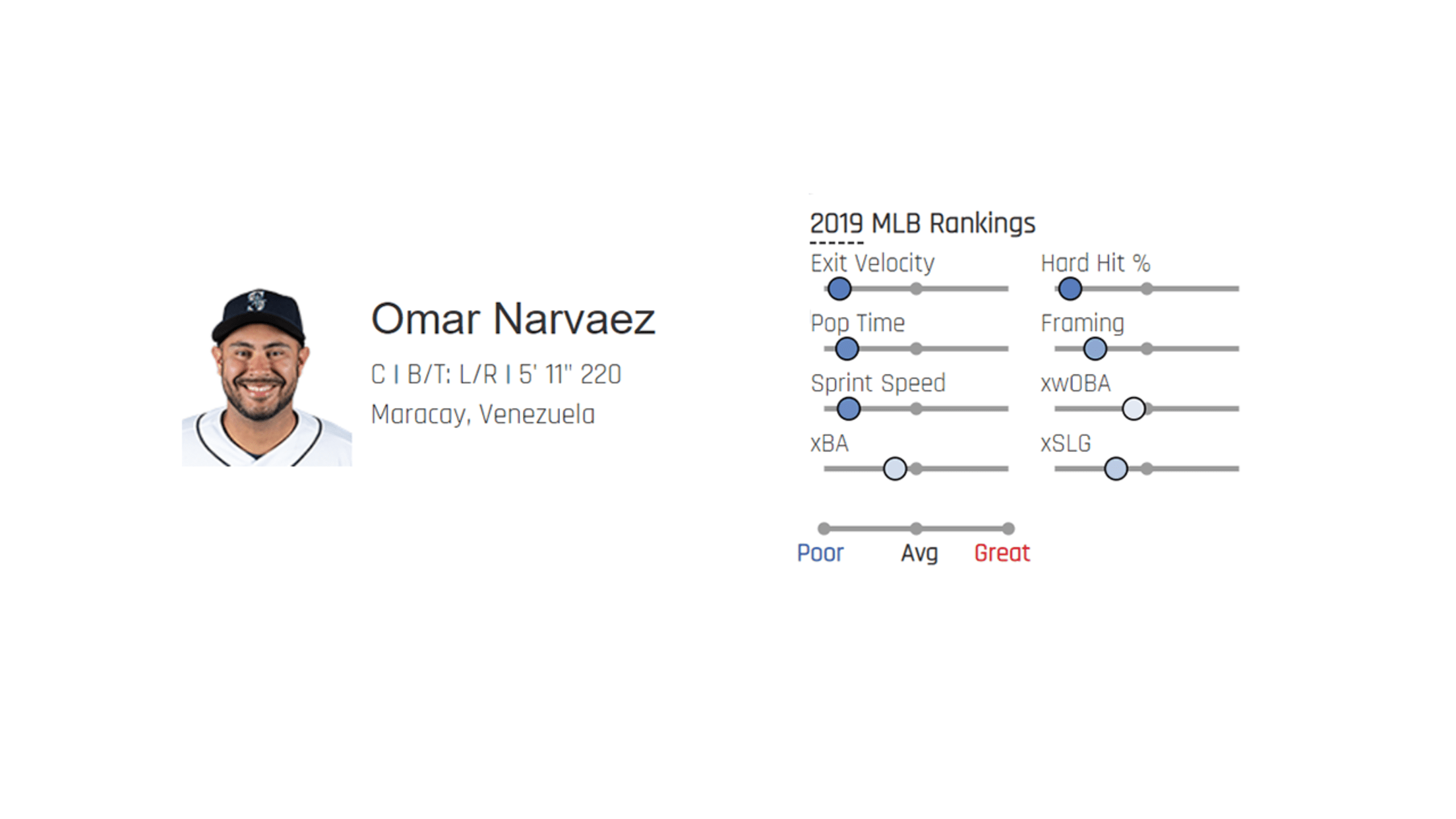 Again, none of that matters if he keeps producing. You win games on doubles and homers, not on exit velocities, and moving from Seattle to Milwaukee is generally an upgrade in terms of hitter-friendly parks. It at least gives you pause, though. How did Narváez do it -- and can he keep it up?
Dec. 4, 2019: Phillies sign P Zack Wheeler
Five years, $118 million
The sting of seeing Cole Hamels sign with a division rival lasted for, oh, about three hours, right up until the report that Philadelphia had signed Wheeler away from another division rival, the Mets. For all the talk about how good Wheeler could be, let's start with how good he's already been. Over the last two years, he's thrown 377 2/3 innings with a 3.65 ERA, and he's been worth 8.9 Wins Above Replacement -- and that number is tied for 10th best among starters. Maybe you don't love WAR for pitchers, maybe you don't really think he's a Top-10 starter. That would be perfectly reasonable. But it's unarguable that he has already been an above-average pitcher.
Of course, "above-average pitchers" don't generally get $118 million, and that's where the projection comes in, because this is what teams pay for now. Wheeler's 96.8-mph fastball is in the 94th percentile for velocity. His 91.2-mph slider is second-fastest among starters only to former teammate Jacob deGrom. Wheeler's 32.2% hard-hit rate is in the 82nd percentile, and as MLB.com's Andrew Simon wrote, there are some very interesting comparisons in terms of pitch type, movement and velocity between Wheeler and Gerrit Cole -- the kind that make you wonder if some team could do for Wheeler what the Astros did for Cole once he left Pittsburgh. It's not hard to see the "fewer sinkers and more high four-seamers" plan working here, too.
Maybe the Phillies are that team, and maybe they aren't. But what they are is a team with a thin rotation behind Aaron Nola, especially with Jake Arrieta coming off surgery and not looking anything like the ace he once was, and what they've done here is sign the third-best pitcher on the market, which in and of itself makes this a step forward.
The total dollars might seem like a lot for a pitcher who hasn't necessarily accomplished a ton yet, but he's been better than a Madison Bumgarner or a Dallas Keuchel for the past two years, and he's likely to continue to be. That's why the White Sox reportedly offered even more.
Dec. 4, 2019: Orioles trade P Dylan Bundy to Angels
Orioles receive four Minor League pitching prospects
More than eight years ago, Bundy was the No. 4 overall pick in the 2011 draft, behind Gerrit Cole and Trevor Bauer, just ahead of Anthony Rendon and Francisco Lindor in the top 10. It's been a long, winding road, from 2013 Tommy John surgery to various shoulder, ankle and knee problems since. That said, Bundy has been healthy enough to pitch 503 innings over the past three seasons, with a slightly below-average 92 ERA+ to show for it. But it's always seemed like there's more in there -- as we wrote in July, he seemed a wonderful change-of-scenery candidate, thanks to Baltimore's weak supporting staff and hitter-friendly home ballpark.
He'll get that change of scene with the Angels, who desperately needed to add something like three starters this winter to a very thin depth chart. That can and still should be Gerrit Cole, but it was never going to be only him, and Bundy, somehow, represents durability to them. The question, then, is whether the Angels can find a little more production to go with it. There's still some evidence that his slider can be one of baseball's better ones, and there might be some untapped potential yet in his other secondary pitches -- if he might use them to stop relying upon his crushable four-seamer so much. If he's their fourth starter, this is fine. He won't be until they get Cole. They really need to get Cole.
As for Baltimore, we didn't list the prospects because you won't have heard of any of them. Their rotation right now might be headed by John Means, a presumably-healthy Alex Cobb, and ... Asher Wojciechowski? It might be another long season in one of baseball's most beautiful ballparks.
Dec. 4, 2019: Braves sign P Cole Hamels
One year, $18 million
The Cubs chose not to offer Hamels a one-year, $17.8 million qualifying offer, for fear he might accept it. So instead, the Braves have come in and signed him to essentially the same offer, adding a necessary veteran starter -- replacing Dallas Keuchel, really -- to a group led by Mike Soroka, Mike Foltynewicz and Max Fried.
Hamels, obviously, isn't Gerrit Cole or Zack Wheeler, and he might not even be Madison Bumgarner. Then again, that's not what you're signing up for on a one-year deal, and even at 36, which he'll turn on Dec. 27, there's more to Hamels than his 2019 numbers might indicate. On the surface, "3.81 ERA in 141 2/3 innings" seems fine, if unremarkable, though you're surely scared off by the "2.98 ERA before a June 28 oblique injury and 5.79 after." At his age, that kind of late collapse would be worrisome.
It still is, to some extent, except that just this week, Hamels detailed to local Chicago media that he "rushed back into [his] throwing program and was just never able to get my shoulder the right strength," coming back perhaps sooner than he should have as the Cubs were in a tight playoff race. Hamels was shut down in mid-September -- "which jump-started my body again and my shoulder," he said in the same interview -- and then returned to dominate the Cardinals on Sept. 28, striking out eight in four scoreless innings.
You could see the difference in his four-seamer velocity, too. It was at 91.6 MPH through his injury, then dipped to 90.9 MPH from his return to the September break. In that final start, it was back up to 91.4 MPH.
If the Braves get the same Hamels we saw in 2019, they get a slightly above-average pitcher for a rotation that could use another one. If they get the healthy version we saw before he got injured -- and he'll have a framing upgrade from the below-average Willson Contreras to the excellent Tyler Flowers and solid Travis d'Arnaud -- they'll have added a lot more than that, and likely an upgrade on Keuchel.
Dec. 2, 2019: Marlins trade for 2B Jonathan Villar and claim 1B Jesús Aguilar off waivers
Orioles receive pitching prospect Easton Lucas for Villar
Last year, Miami had the fewest homers and second-fewest runs scored. The Marlins' offense was about as effective as the 1993 expansion team was. It wasn't good enough, obviously, and this club was always going to need to add some bats to support what's become an interesting young starting rotation. On tender day, the Marlins added a pair of interesting ones.
Let's start with Villar, because his path to Miami was a surprising one. He'd bounced around from Houston to Milwaukee to Baltimore, sandwiching some good seasons (62 steals and a 117 OPS+ in 2016, 40 steals and a 109 OPS+ in 2019) around a disappointing 2017-18, where he'd hit just .251/.310/.379 (83 OPS+). There's some evidence that he over-performed his expected Statcast metrics in 2019, but even so, 40 steals and 24 homers from a middle infielder deserved more than a non-tender from a non-competitive team in Baltimore. He's a nice add for a reasonable price, even if, somewhat surprisingly, he may play third base and outfield for Miami.
It's a little different for Aguilar, who had a breakout 2017-18 seemingly out of nowhere -- 51 homers and a 127 OPS+ as Villar's teammate in Milwaukee -- before collapsing somewhat in 2019. Aguilar struck out less (22%, down from 30% and 25% in 2017 and '18, respectively) but found himself worse off for it, as his hard-hit rate dropped from 43% to 38% as his ground-ball rate jumped from 35% to 42%. All told, he hit only 12 homers with an 87 OPS+ for the Brewers and Rays, who had designated him for assignment a few days ago. There might be some redundancy here since Miami already had righty-hitting Garrett Cooper, who posted a strong 110 OPS+ season.
There's risk in each player, that you don't get the "good" version of them. But neither cost terribly much in dollars or prospects, and there's something to be said for competence, too. Last year's 105-loss Marlins didn't have enough of it, with Cooper and Brian Anderson their only above-average regulars. Neither Villar nor Aguilar will single-handedly turn this team around. If they're better than Starlin Castro and Neil Walker, that's good enough.
Dec. 2, 2019: 2B/3B Mike Moustakas signs with Reds
Four years, $64 million
"We will have a bigger payroll," president of baseball operations Dick Williams said in October. "We will have money to spend. It will be a nice increase."
Consider this a great start. Last year, the Reds, fresh off of four straight 94-plus loss seasons, tried to make a move, adding Yasiel Puig, Matt Kemp, Alex Wood, Kyle Farmer, Tanner Roark, Sonny Gray, Derek Dietrich, Zach Duke and José Iglesias, later adding Trevor Bauer and Freddy Galvis during the season. It was fun, and it was admirable, but it was never going to be good enough, and it wasn't. The 75-87 Reds finished fourth, depleting some of their farm system to do it.
Surprisingly, however, it wasn't the pitching that faltered (the staff was very good, as Luis Castillo and Gray were each excellent). It was the bats. The Reds scored the sixth fewest runs in the game, and they, along with Detroit, were the only teams to have just a single above-average hitter with at least 400 plate appearances (Eugenio Suarez).
Enter Moustakas, who MLB.com's Mark Sheldon reports finally got the long-term deal he long desired after signing back-to-back somewhat stunning one-year deals. Despite the eye-popping 35 homers, Moustakas was basically the same good-not-great, above-average-but-not-elite hitter he'd been for several years.
Mike Moustakas past 3 years

2017: 113 wRC+, 2.0 fWAR
-- Got 1-year deal

2018: 105 wRC+, 2.4 fWAR
-- Got 1-year deal

2019: 113 wRC+, 2.8 fWAR
-- Gets 4-year deal

— Andrew Simon (@AndrewSimonMLB) December 2, 2019
Perhaps it says something positive about how the free agency market will play out this winter, but that's a big jump from one year to four years without a huge difference in production.
Plus, he won't even be playing third base, the position where he's spent over 96% of his career. Blocked by Suarez at third, Moustakas will play second, where he looked capable in 47 games for Milwaukee in 2019, but also a position he started at just once after June 27. (The ascension of Keston Hiura had something to do with this, surely.) It's good that Moustakas finally got the multiple years he'd previously earned, and there's no question Cincinnati needed to be aggressive to add a bat. It's just a little surprising to see him end up with four years, especially since his primary position isn't even open. However, if that's what Cincinnati needed to do in order to get him, better than than missing out.
Dec. 2, 2019: 2B Jurickson Profar traded from A's to Padres for C Austin Allen and player to be named later
Here's a deal that feels like it's been decades in the making: A decade after San Diego GM A.J. Preller helped sign Profar for Texas as an international free agent, he finally gets his man back, helping to fill the second-base void opened up by his earlier trade of Luis Urias to Milwaukee. Profar has had an odd run of it, going from "highly touted prospect" in 2012-'13, missing almost all of 2014 and '15 due to injury, struggling to stick in 2016-'17, then finally having what looked like a breakout in 2017, hitting 20 homers with a 107 OPS+ for Texas. Traded to the A's last winter, however, his 2019 season proved disappointing; while he again hit 20 homers, his OPS+ dropped to 90, and he had considerable defensive issues throwing the ball.
That added up to Profar becoming a likely non-tender candidate tonight, especially since the second base free-agent market is pretty flush with players. Instead, Preller surrendered the 25-year-old Allen, who didn't do much in 71 scattered plate appearances in 2019, though he had hit 22, 22 and 21 homers over the last three Minor League seasons, respectively. He's likely a better fit in the American League on 26-man rosters, where he can be a 1B/DH/C hybrid. This might also open up room at second for former top prospects Sheldon Neuse and Franklin Barreto, who are blocked on the left side by Matt Chapman and Marcus Semien.
Dec. 2, 2019: C Sandy León traded from Red Sox to Indians
Red Sox receive Minor League P Adenys Bautista
This wasn't about the appeal of Bautista, who had a 10/15 K/BB -- not a typo -- at two levels of Rookie Ball in 2019. It's that León was almost certainly going to be non-tendered, saving the Red Sox an estimated $2.5 million. That's not a large amount of money for any club, especially Boston, and certainly not worth sending out a valuable player over. Then again, it's hard to conjure any amount of defensive value that's worth accommodating León's non-existent bat (he hit .192/.251/.297 in 2019, a 42 OPS+, and he hit all of .192/.251/.297, a 51 OPS+ over the last three years, making him baseball's weakest hitter among those with as many plate appearances), and most of baseball agreed in March when he cleared waivers. If he makes Cleveland's roster, he'll pair with Roberto Pérez to form what would likely be baseball's best defensive backstop duo.
Nov. 27, 2019: P Drew Pomeranz signs with Padres
Four years, $34 million
To say that Pomeranz has had an up-and-down career is somewhat of an understatement, to the point that the Giants demoted him from a weak rotation just a few months ago, but if you've been paying attention this winter, you knew he was going to get paid. We laid it out on Nov. 16, calling him "the next relief ace" after his incredible showing of 50 strikeouts in 106 batters after moving to the bullpen. Pomeranz checked all the usual starter-to-successful-reliever boxes -- massive velocity increase, dropping ineffective pitches, relying heavily on his outstanding four-seamer and curve -- and the list of recent relievers to do the 50-in-106 thing is incredibly impressive, with a near-perfect level of not-being-a-fluke, historically.
As we said earlier this month:
Despite the inconsistent track record, despite the 4.85 ERA this year, Pomeranz is going to be one of the most sought-after relievers this winter. It's not about his career record. It's about what you think he can do over the next few seasons.
We'll admit, however, that we didn't see four seasons coming. Then again, the relief market was dreadfully weak, especially with Will Smith already off to Atlanta, and we probably would have expected something like 3 for $33 million, so really, what's one extra year for barely any extra dollars? If you buy into what he did in relief, and there's plenty of reason to, this would be more than well worth it. As Padres GM A.J. Preller said: "We're clearly buying into him as a guy that can be part of a dynamic back of the bullpen."
We are too. If he truly is "the next Andrew Miller," which is a comparison that seems both overplayed at this point and incredibly apt in this case, 4/$34M five years after Miller got 4/$36M will seem like an absolute steal. Put him next to Kirby Yates in the San Diego bullpen, and the Padres might have something going here.
Nov. 27, 2019: Padres trade IF Luis Urías, P Eric Lauer, and a player to be named later to Brewers for OF Trent Grisham and P Zach Davies
This is a "good old-fashioned baseball trade," as they say, involving a quartet of relatively young players -- Davies is the eldest, and he won't even be 27 until February -- that is somehow both confounding and satisfying at the same time.
Let's start with the pitcher swap, where San Diego gives up five years of Lauer for two years of Davies. There doesn't seem to be a terribly large difference either way here, as neither throws that hard (88.4 MPH for Davies, 91.4 MPH for Lauer), neither misses a great deal of bats, and neither induces an interesting amount of grounders. Thanks in part to solid command, they've each been roughly league-average starters, though Davies has a longer track record. Lauer adds a lefty to a righty-heavy Milwaukee rotation. You could reasonably prefer either player. It's a swap of back-end starters.
But the really interesting part of this comes in Urías for Grisham, a challenge trade of two recently highly-regarded prospects. Urías, 22, hit only .221/.318/.331 in 302 scattered plate appearances over the last two years with San Diego, but .308/.397/.433 over his Minor League career. That's not exactly a long enough look, at such a young age, to put much stock into the numbers; then again, it might say something that the Padres were willing to part with him this quickly, without having an obvious replacement for him at second base. He might get more of a look at shortstop for Milwaukee, where the Brewers had baseball's weakest performance at the six.
Grisham was Milwaukee's first-round pick in 2015, and he might be mostly known for the unfortunate error he made in the Wild Card Game against the Nationals. That said, not only did he hit .300/.407/.603 in 441 plate appearances at two Minor League levels, he drew 67 walks against only 72 strikeouts. When we tried to find some very deep 2020 sleepers recently, the method used had Grisham making the cut. Put it this way: Urías probably has a higher upside if it all goes right, but Grisham has a higher chance of being a solid Major Leaguer.
Really, for as intriguing as this all is, it really leads to: Now what? Milwaukee didn't trade for Urías to not play him, but it's unclear if that means at second base (if star hitter Keston Hiura can't handle it defensively), shortstop (if the Brewers have had enough of Orlando Arcia's under-performance), or third base (if neither Mike Moustakas or Travis Shaw are in the 2020 mix). For the Padres, Grisham gets added to a wildly over-stuffed outfield mix including Manuel Margot, Hunter Renfroe, Wil Myers, Franchy Cordero, Josh Naylor, and perhaps catcher Francisco Mejia, with prospect Taylor Trammell coming -- plus second base is now an open question.
This is a fascinating trade all around. We just don't know what it means yet.
Nov. 27, 2019: C Yan Gomes returns to Nationals
Two years, $10 million
On the surface, this one looks odd. Gomes hit just .223/.316/.389 (a disappointing 78 OPS+) in his first year with Washington. Even though he's still a reasonably well-regarded defender, that's not usually the type of performance that turns into a multi-year deal. But then you realize how quickly catchers are flying off the board, the presumed value of keeping one who already knows your pitchers, and, perhaps most importantly, that the Nationals declined his $9 million 2020 option earlier this month. What they've basically done this year is pay out that option -- the $1 million buyout gets you to $10 million -- and get an extra year out of it.
Nov. 27, 2019: P Kyle Gibson signs with Rangers
Three years, $30 million
Three year deals for somewhere around $30 million worked out so well for Texas over the last two years with Mike Minor and Lance Lynn -- each threw 208 1/3 innings and collected Cy Young votes in 2019 -- that they decided to give it another shot with Gibson, who bounced around both sides of the "being an average starter" line in seven inconsistent years with Minnesota. It's not terribly hard to see the appeal here, however, which we can some up in just a few bullet points. Gibson has:
• Made 25 starts six years in a row, even with 2019's bout of ulcerative colitis
• Increased his strikeout rate from 16% to 18% to 22% to 23% the last four years
• Held his ground-ball rate steady around an above-average rate of 50% while doing so, and
• Increased his sinker velocity from 91.3 MPH to 91.8 to 92.2 to 93.2
Even if he's "only" a league average starter and doesn't get that long-awaited breakout, well, look at the Texas depth chart. They might have only had two reliable Major League starters, in Minor and Lynn. Now they have a third. They probably still need more.
Nov. 27, 2019: P Carl Edwards Jr. signs with Mariners
One year, $950,000
There was a time when Edwards seemed like one of the more interesting young relievers in the Majors, like when he was striking out 52 hitters in 36 innings for the 2016 World Series champs while generating 50% grounders. Then his control betrayed him, as his walk rate jumped from 10% that year -- already too high -- to nearly 17% in 2019, and that grounder rate dropped down to just 24%. It was a bad combination, as were shoulder troubles in both 2018 and 2019, and issues with the legality of his mechanics, and so Edwards found himself spending parts of this past season back in Triple-A Iowa before a trade to the Padres, where he made it into just two games. He only just turned 28, so this is exactly the kind of move a rebuilding team like Seattle should be making -- if he can get himself back to form, he might interest a contender come July.
Nov. 26, 2019: C Stephen Vogt signs with D-Backs
One year, $3 million, with a 2021 vesting option
The mini-run on catchers continues with Arizona snagging Vogt, who overcame a serious 2018 shoulder injury to post a strong 111 OPS+ (with 10 homers in 99 games) for the Giants in 2019. The D-Backs didn't really need a catcher, at least not in the way that some other teams did and do, because young Carson Kelly's first year in the desert after coming over from St. Louis was a resounding success. Still, the lefty-swinging Vogt fills a need by replacing Alex Avila as a lefty-swinging complement to Kelly, giving Arizona a nice option against tough righty pitching (Vogt's career OPS against righties is over 150 points higher than it is against lefties) as well as some positional versatility given that he has some experience at first base and the outfield. Top it off with Vogt's reputation as one of baseball's more entertaining clubhouse members, and this is three million well-spent dollars.
Nov. 26, 2019: C Dustin Garneau signs with Astros
One year, $650,000
You get a catcher, and you get a catcher, and ... well, we have to admit we were a little surprised that Garneau managed to get a guaranteed Major League deal. It's not much -- just $650,000 -- but Garneau is 32 with a mere 381 total Major League plate appearances to his name. In the last two years, he's been claimed off waivers (A's, 2017), designated for assignment four times (A's in 2018 and 2019; Angels twice in 2019) and served time with five Triple-A clubs. While you might be tempted to say this is the latest guy that the Astros see some hidden magic in, the more likely truth is that with Robinson Chirinos and Martin Maldonado both free agents, the only Houston catcher on the 40-man roster is young Garrett Stubbs -- making Garneau a potential backup behind a starting catcher yet to be acquired.
Nov. 26, 2019: P Nestor Cortes Jr. traded from Yankees to Mariners; P Kendall Graveman signs with Mariners
Cortes traded for international slot money; Graveman signed to one-year deal for $1.5 million
The Mariners had 42 players take the mound in 2019 and had a 5.00 ERA -- the fourth-highest in team history -- so you better believe GM Jerry Dipoto is going to keep on churning to find a combination that works. (Actually, given Dipoto's reputation as baseball's foremost wheeler-and-dealer, he'd probably be doing that even if things had gone well this past season.) Neither Cortes Jr. nor Graveman is likely to be a difference-maker, but they might each help to raise the floor in Seattle. Cortes Jr., 25 in December, averaged only 89.6 mph on his fastball in 2019, but with a funky lefty release point, still managed to get through 66 2/3 innings for the Yankees. They weren't necessarily great innings, but he's a flyball pitcher who was hurt by Yankee Stadium -- as Dipoto said, "We do feel his Major League performance has probably been less successful due to what we think is an unsustainably high home run rate" -- and he could serve as a useful swingman for the Mariners.
Graveman was Oakland's Opening Day starter in 2017 and '18 before he went down with Tommy John surgery, then signed with the Cubs to continue his rehab. Chicago, however, declined his $3 million option for 2020, which was somewhat surprising -- they paid him to rehab without getting the healthy season that usually comes along afterward, so that might not say a lot about their confidence in his ability to contribute. Still, he'll turn 29 in December, and in 407 innings for Oakland between 2015-17 he was basically a league-average pitcher. If he can do that again, he might be Seattle's No. 2 starter.
Nov. 25, 2019: C Mike Zunino signs with Rays
One year, $4.5 million, with a 2021 team option
Considering how much of a wreck Zunino's first season with Tampa Bay was -- he hit .165/.232/.312 in 90 games, hampered at times by a left quad injury -- it was worth wondering if the Rays would non-tender him rather than pay him the nearly $5 million he was projected to collect in arbitration. But then Yasmani Grandal signed with the White Sox and Tyler Flowers signed with the Braves and 2019 Tampa Bay catcher Travis D'Arnaud signed with the Braves, too, and ... well, the Rays certainly weren't going to hand over the job full-time to Michael Perez with no safety net, and there's really no other full-time starting catchers on the market. The Rays may yet import a veteran type like Martin Maldonado or Francisco Cervelli to share the load, but considering how thin things look right now, they had to retain Zunino. He's been rated an average-to-above pitch framer in each of the past five years, anyway.
Nov. 24, 2019: C Travis d'Arnaud signs with Braves
Two years, $16 million
A decade after Braves GM Alex Anthopoulos first acquired d'Arnaud -- then bringing him from Philadelphia to Toronto as part of the Roy Halladay deal -- he does it again, giving him a two-year contract to replace the retired Brian McCann as Tyler Flowers's catching partner. For the Braves, it's the continuation of a busy start to the winter, as d'Arnaud joins Will Smith, Chris Martin, Flowers, Darren O'Day, and Nick Markakis as players who have agreed to either return to or arrive in Atlanta. For d'Arnaud, it's the end of a dizzying last twelve months that saw him designated for assignment by the Mets in April, get into a single game for the Dodgers, then pile up enough big hits for the Rays that he was hitting cleanup for Tampa Bay in the American League Wild Card Game.
That tells you a lot about how up-and-down his year was, and it's true about his career too. Despite his first-round (37th overall in 2007) pedigree, and his role in two massive trades (he went to the Mets with Noah Syndergaard), he's had trouble staying healthy enough to ever be a regular catcher, having taken 400 plate appearances in a season just once, back in 2014. For all his Tampa Bay heroics, he was still a league-average hitter in 2019 (98 OPS+) which is about the same as he's been over his career (96 OPS+). Still, 'average hitters' are hard to find behind the plate, and with Yasmani Grandal off the board, the catcher market is thin. The Braves acted aggressively to come up with a second solid catcher, expecting neither Flowers nor d'Arnaud to play every day.
Nov. 22, 2019: 1B José Abreu signs extension with White Sox
Three years, $50 million
A day after signing Yasmani Grandal to a well-received four-year contract, the White Sox signed Abreu to perhaps the least surprising extension in baseball history -- after all, both sides have spent months expressing their respect for one another and their desire to extend their relationship. Since Abreu slugged 33 homers and had a 119 OPS+ in 2019, to say nothing about the well-reported impact he's had on Chicago's young Cuban players, it's easy to understand why they'd be so pleased about having him back.
The question, however, was if this was a necessary deal. After all, Abreu had already accepted a one-year, $17.8 million qualifying offer, so this isn't "a three-year deal" so much as it is "a two-year extension" for his age 34 and 35 seasons. Given the fact that Abreu had made it so clear that he wanted to stay on the South Side, presumably the White Sox could have simply retained him for 2021 and/or 2022 a year from now if they'd wanted to. It's not about the money; it's about the risk that a 33-year-old below-average defender might take a step back or get hurt in 2020, in addition to potentially blocking fast-moving No. 3 overall Draft pick Andrew Vaughn in the process. If Abreu keeps hitting, White Sox fans won't mind this at all. If anything goes wrong in 2020, they'll wonder what the rush was.
Nov. 21, 2019: C Yasmani Grandal signs with White Sox
Four years, $73 million
A few weeks back, we said the White Sox could be "2020's breakout team," because a long-running rebuild that had appeared to have stalled out after 2018 finally bore fruit in 2019, with Lucas Giolito, Yoan Moncada, Eloy Jimenez, and Tim Anderson all arriving and/or having long-awaited big seasons, with Luis Robert, Nick Madrigal, and Michael Kopech all expected to contribute in 2020.
As we said at the time, while it was indeed true that incumbent James McCann had been an All-Star in 2019, every bit of statistical evidence indicates that it was something of a fluky hot start that couldn't be repeated -- to say nothing of his below-average framing numbers. That meant that for a team that seemed to want to make a big move, adding the best available catcher -- arguably the best catcher, period -- would be a big deal on both sides of the ball.
That makes this a really, really big deal. Grandal had a .380 OBP and a .468 slugging in 2019, hitting 20-plus homers for the fourth straight season. He's been a consistent 10-to-20% better than average hitter for six years now; over the last three years, he's pretty easily been the best hitting catcher in baseball. Then there's the pitch framing, which we detailed in a piece counting down his possible homes earlier this week:
Obviously, the other selling point here is his elite pitch framing, which has also maintained a consistent level of excellence. Grandal was second-best at it in 2019, third-best over the last three seasons, and easily the best -- by a huge margin -- since his 2014 full-season debut. (Numbers can vary on this, but by FanGraphs' reckoning, his framing alone has been worth about 11 wins since 2014, an enormous number.)
Put that all together, and Grandal has been a star. In 2019, according to FanGraphs' version of Wins Above Replacement, he was roughly the 20th-best position player in baseball. Over the last three years, he's been 15th. Over the last five years? 12th. You get the idea. This is five straight star-level seasons.
Grandal, by himself, is not enough to put the White Sox into the playoffs. They still badly need at least two starting pitchers, to say nothing of an outfielder. But he improves the lineup, and he improves the pitching staff. It's the largest contract in White Sox history, and a huge move for a long-dormant team that clearly needed to make one.
Nov. 19, 2019: P Chris Martin signs with Braves
Two years, $14 million
Is it too soon to call the Braves the winners of the offseason? Probably, but also they're the only ones who have actually done something. The Braves have jumped all over what was already a pretty weak reliever market by bringing back Martin, originally acquired via trade from Texas last July, after already importing Will Smith and retaining Darren O'Day. Martin's season was unfortunately marred by the oblique injury that knocked him out of Game 1 of the NLDS before he could even throw a pitch, but he'd otherwise been outstanding -- 22 strikeouts against just 1 walk for the Braves, and a wild 65/5 K/BB for the 2019 season as a whole.
Atlanta's bullpen now shapes up to start with Mark Melancon, Smith, Martin, Darren O'Day, Luke Jackson, Shane Greene, and possibly Sean Newcomb, if he's not in the rotation. That's looking like it could be a very strong group, and all Alex Anthopoulos had to do was not wait until after Thanksgiving turkey to get a move on it.
Nov. 13, 2019: P Will Smith signs with Braves
Three years, $40 million, with team option for 2023
Qualifying offer? What qualifying offer? Just hours before the deadline for Smith to accept or reject his offer from the Giants -- which he was reportedly using as leverage to get teams to submit their best offers before he returned to San Francisco for one year and $17.8 million -- the Braves stepped up with a three-year deal for the winter's best reliever, and one who grew up in Georgia, to boot. Over parts of three seasons with the Giants (half of 2016 and 2018/2019, since he missed 2017 due to Tommy John surgery) Smith posted a 2.70 ERA and 193 strikeouts in just 136 2/3 innings, throwing his slider more than 40% of the time. He was at his best in 2019, posting a Top 10 strikeout rate (37.4%), and in 2018-'19 combined, Statcast quality-of-contact metrics have him as a Top 10 reliever.
That, combined with the relatively weak reliever market, makes this a strong add for an Atlanta bullpen that wasn't a strength; Smith, Mark Melancon, Darren O'Day, Shane Greene, and Luke Jackson make for a good start, plus Sean Newcomb, if he's not in the rotation. Entertainingly, the Braves claim that Melancon will remain their closer, with Smith taking important innings ahead of him. We've seen that show before. Bet on it not remaining the same by June.
Nov. 12, 2019: P Adam Wainwright returns to Cardinals
One year, $5 million
In 2017, Wainwright had a 5.11 ERA. In '18, he threw just 40 1/3 innings of 4.46 ERA ball. So when the Cardinals brought him back for '19, his age-37 season, you can see why it was for a mere $2 million, though with plenty of incentives. As it turns out, he was productive enough that he maxed out on all of them, earning $10 million, thanks to throwing 171 2/3 innings with a 4.19 ERA, making him basically a league-average starter. That's more than a little impressive at his advanced age with his limited velocity, and considering his status as a Cardinals legend -- '20 will be his 15th season and 16th year with St. Louis -- bringing him back for another year makes all the sense in the world. This time around, he gets a higher base salary of $5 million, with a chance for $5 million more in incentives. It's a move that makes sense for both sides, so long as the Cardinals don't stop here. They still need pitching depth.
Nov. 8, 2019: Braves bring back P Darren O'Day
One year, $2.25 million, with a $3.5 million option for 2021
O'Day was actually traded from Baltimore to Atlanta in July 2018, but due to right hamstring and right arm injuries, he didn't actually make his Braves debut until Sept. 7, 2019. At 37 years old, that's a rough profile to take into free agency, so a reunion makes sense, especially since O'Day reportedly plans to live full-time in Georgia even after baseball. He was effective enough, anyway, allowing one run in 12 regular-season and postseason games.
Nov. 4, 2019: Braves retain OF Nick Markakis and C Tyler Flowers
One year, $4 million (plus $2 million buyout of previous option) for each
The year is 2049. Ronald Acuña III is hitting leadoff for the Atlanta Hover-Braves. Nick Markakis has returned on his 31st consecutive one-year contract as he approaches his 5,000th career hit. That's a joke, obviously, but it does seem like Markakis is going to be playing for the Braves for the rest of time, doesn't it? So long as he's a platoon option, as he reportedly will be, a low-dollar one-year deal for a reportedly plus clubhouse presence seems fine. The problem will be if this causes Atlanta not to add the offensive improvement it still needs, or if he gets another 600 league-average plate appearances, as often seems to happen.
As for Flowers, Braves fans seem to dislike him because he hit .229 and led the Majors in passed balls, and he shouldn't be anyone's starter. That said, he hit 11 homers in only 310 plate appearances, and he is a truly elite pitch framer. For a few million bucks, that's a fantastic backup catcher.
Nov. 4, 2019: P Chase Anderson traded from Brewers to Blue Jays
Brewers receive Minor League 1B Chad Spanberger
Look, not every move that happens this offseason is going to be earth-shattering, but this one's more interesting than it might appear on the surface. Anderson has started at least 20 games in each of the past six seasons, and over the past three years, his 3.63 ERA (118 ERA+) is an above-average mark. (He also showed a very intriguing cutter.) The 2019 Blue Jays had three pitchers make 20 starts, but both Marcus Stroman and Aaron Sanchez are gone, and Trent Thornton isn't exactly the ace of anyone's rotation. It's merely a start, but for a club that probably needs to add three or four starters this winter, a start matters.
Nov. 3, 2019: P Aroldis Chapman signs extension with Yankees
One year, $18 million added to existing two years, $30 million
When we looked at this offseason's qualifying offer choices, we noted that if Chapman opted out, he'd likely receive one, and "that all sounds messy, though, so the best outcome here might be that the two sides just agree to tack on another year or two rather than go through all of this."
Well, yeah. That's exactly what happened. Despite the fact that Chapman's fastball is down to a career-low 98 mph, that's still 98 mph, and he's compensating by throwing his slider more, up to nearly one-third of the time in 2019. That pitch got him 41 strikeouts and a mere .159 average against, because it has the capability to make hitters who are geared up for the heat look silly. In order to keep one of the 10 or so best relievers around, the Yankees turned his two-year deal into a three-year, $48 million pact.
Mike Petriello is an analyst for MLB.com and the host of the Statcast podcast.