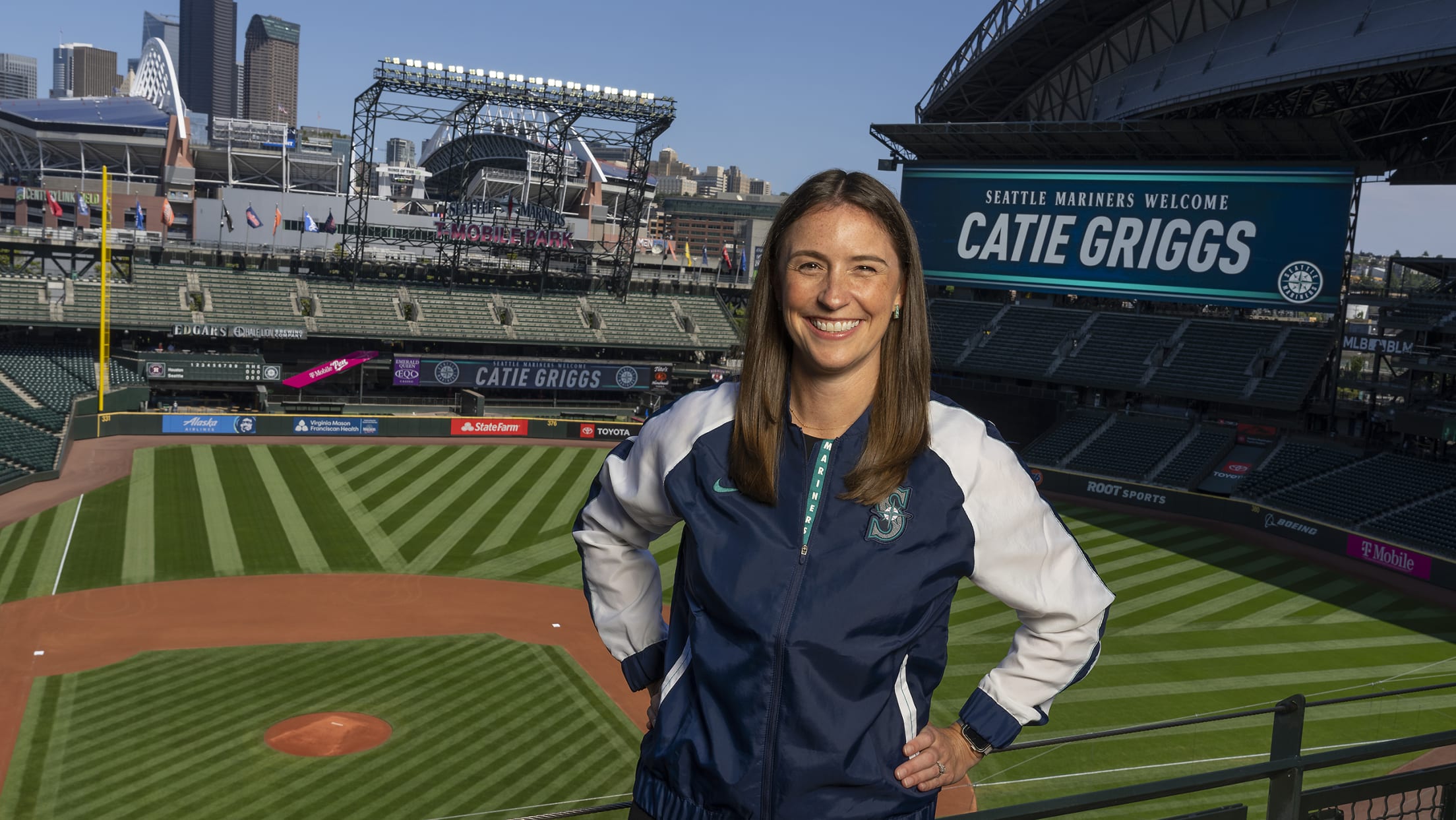 Scroll
Catie Griggs' unconventional road to Mariners
SEATTLE -- Like most in attendance, she was essentially unrecognizable to folks who didn't know her, and even that crowd was limited because she was brand-new to town. A mask and a cap concealed her face, though there was typically a wide grin underneath, especially as the Mariners continued their late-season surge.
On some nights, she picked a spot on the lower concourse along the base lines to observe the speed of the game and mingle with season-ticket members. Others, she was in the Diamond Club, enjoying the fine dining before taking to an up-close seat behind home plate with the high rollers. For one weekend game, she took in the T-Mobile 'Pen, where the casual-fan crowd brought a happy-hour vibe to the standing-room beer garden beyond left-center field. But she also loved the nosebleeds for their sweeping views of the skyline and the playing surface panorama.
She watched the game competition, for sure, but that objective was secondary. The intent behind her self-guided tours of T-Mobile Park after arriving in late August was to listen and observe -- and her purpose was so simplistic.
What audience demographic sat in one portion of the ballpark versus another? How did their behavioral patterns differ as she meandered from one area to the next? What foods and beverages sold well here versus there? In which areas were fans watching the game more attentively versus casually? And at every inquiry, a "why?" followed.
For Catie Griggs, the Mariners' new president of business operations, it all tied back to a basic analysis of addressing consumers' needs and desires. What about the Mariners' game-day product was good and what could be improved? To find out, she believed she needed to immerse herself in the fan experience.
"But also, listen to the fans around me," Griggs said. "And I think that was really, really illustrative in terms of what some of the different experiences were like. … Our fans want this team to win, and all I can tell you is, so do I."
***
When Griggs was hired in late July, coming over from a similar role for Major League Soccer's Atlanta United, she became the only active female president in an MLB front office and the first in Mariners history. But she mostly shouldered that significance and preferred to be graded on accomplishing her goals over her gender. Like many in comparable roles across professional sports, man or woman, she put the highest premium on her team's fans -- and she sought to immediately put her words into action.
Beyond her freestanding game-day adventures through the ballpark, Griggs oversaw two town halls with Mariners fans following the regular season, when passion was palpable and ambition for what's next following a 90-win season was as high as it's been in years.
Behind the scenes, Griggs spent this offseason examining process and function from both 30,000-foot and microscopic views. Her credentials spoke for themselves, in the eyes of John Stanton and Mariners ownership, as did her references. But what stood out most was her intellect and long-term scope. Jerry Dipoto, the team's president of baseball operations, has described Griggs as "one of the most forward-thinking people I've ever worked with."
For a sport presently challenged with growing its audience, particularly among Gen Z and Gen Alpha, Griggs is already pondering the possibilities of expanding the game and the Mariners' brand by addressing every demographic.
"This is not an experience that is exclusively to the domain of people who grew up playing, know how to score keep, anything like that," Griggs said. "Those people are incredibly important and core to what we're doing, but we need to be bigger and broader than that."
***
The fanbase that Griggs inherited in Seattle is far different from the one she left in Atlanta. There, a team was quite literally being built from the ground up, debuting in 2017 and winning its first championship in 2018. Here, an entire region salivates at success amidst the longest active playoff drought in American professional sports, now at 20 years, which naturally has been accompanied with pain and frustration -- including the resignation of former president and CEO Kevin Mather last February, which created the opening that Griggs filled.
As such, there are naturally some believe-it-when-we-see-it skeptics when it comes to off-the-field Mariners hires correlating to on-field success.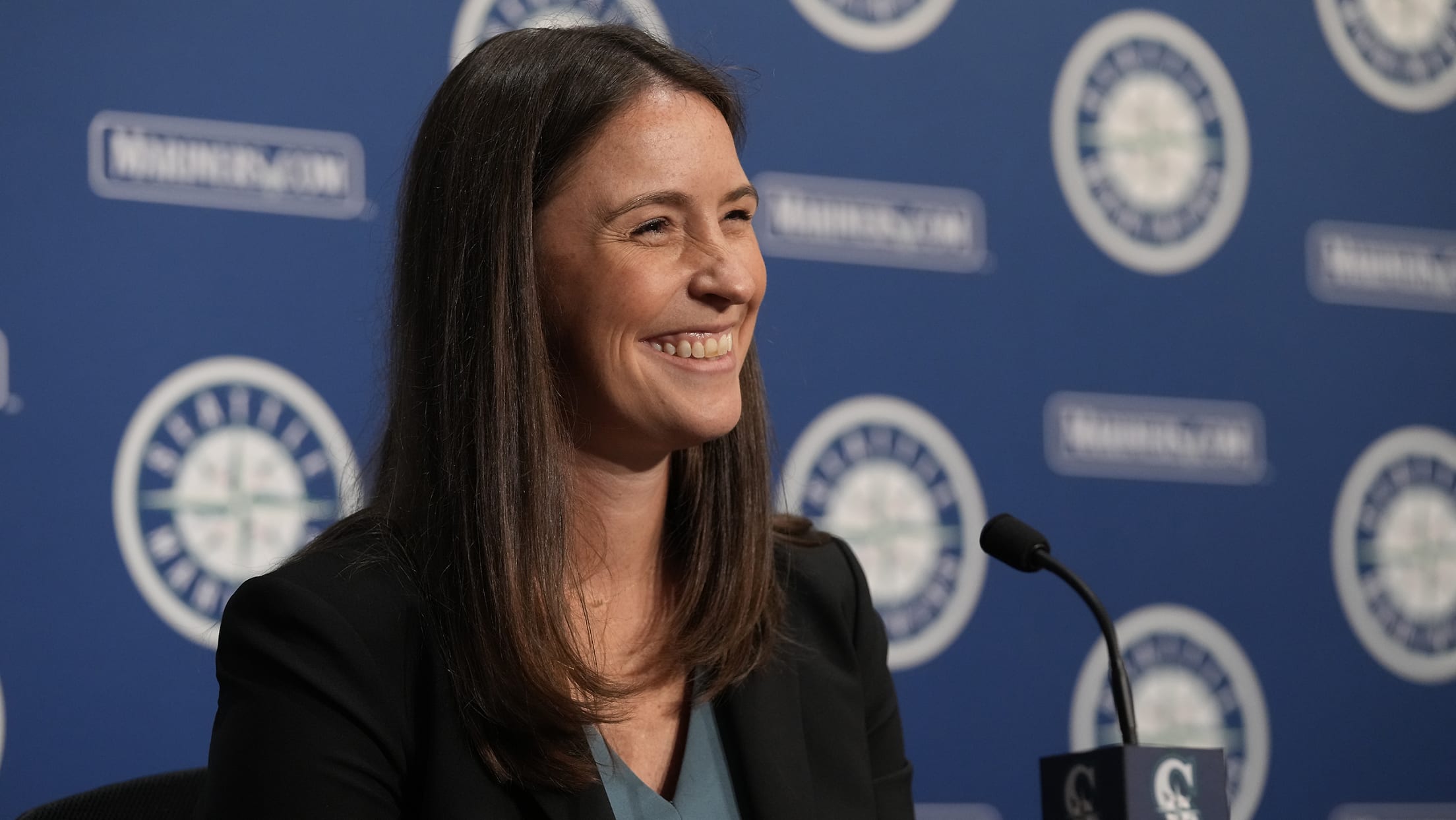 "This community is passionate," Griggs said. "Sometimes, we [the Mariners] may have given them fewer reasons to be engaged than others. But they care."
Winning typically cures all, and while she won't have a hand in baseball-related decisions -- Stanton has reiterated that is exclusively Dipoto's realm -- Griggs does bring a track record of success. Atlanta United FC had a winning record in each of her first three seasons, including the MLS Cup title in year two. Despite being a brand-new club, it has led the MLS in average attendance, by a mile, in every season since its inception, even amid pandemic-impacted restrictions in each of the past two years.
When Griggs took over as chief business officer, ATLUTD had a strong on-field product, led by Josef Martinez, who was the MLS MVP in 2018, and the newly opened Mercedes-Benz Stadium. But Griggs leveraged those natural lures to help build a brand that has elevated near the top of a sports region dominated by college football and the Braves.
"What she's a master at is really creating the relationships across the board from all of the business leaders," said Georgia O'Donoghue, who worked under Griggs at ATLUTD and has since been promoted to the role Griggs vacated. "She was able to really use the resources of the business in a smart way, rather than saying, 'Oh, we're just little Atlanta United over here on the side.'"
In 2019, the Sports Business Awards named ATLUTD its Sports Team of the Year and Mercedes-Benz Stadium the Sports Facility of the Year. The club has also received honors from MLS, including 2017 Marketing Team of the Year, 2018 PR Team of the Year and 2018 Digital Team of the Year -- all of which fall under business ops.
Every ATLUTD home event is also managed by that department, and Griggs oversaw everything from the MLS All-Star Game in 2018 down to the pre-match emails that went out to ticket buyers. Griggs will have another All-Star Game to plan for at T-Mobile Park in 2023, one which she intends to make "a uniquely Seattle event, highlighting the amazing people, food and culture and baseball community that we all have here."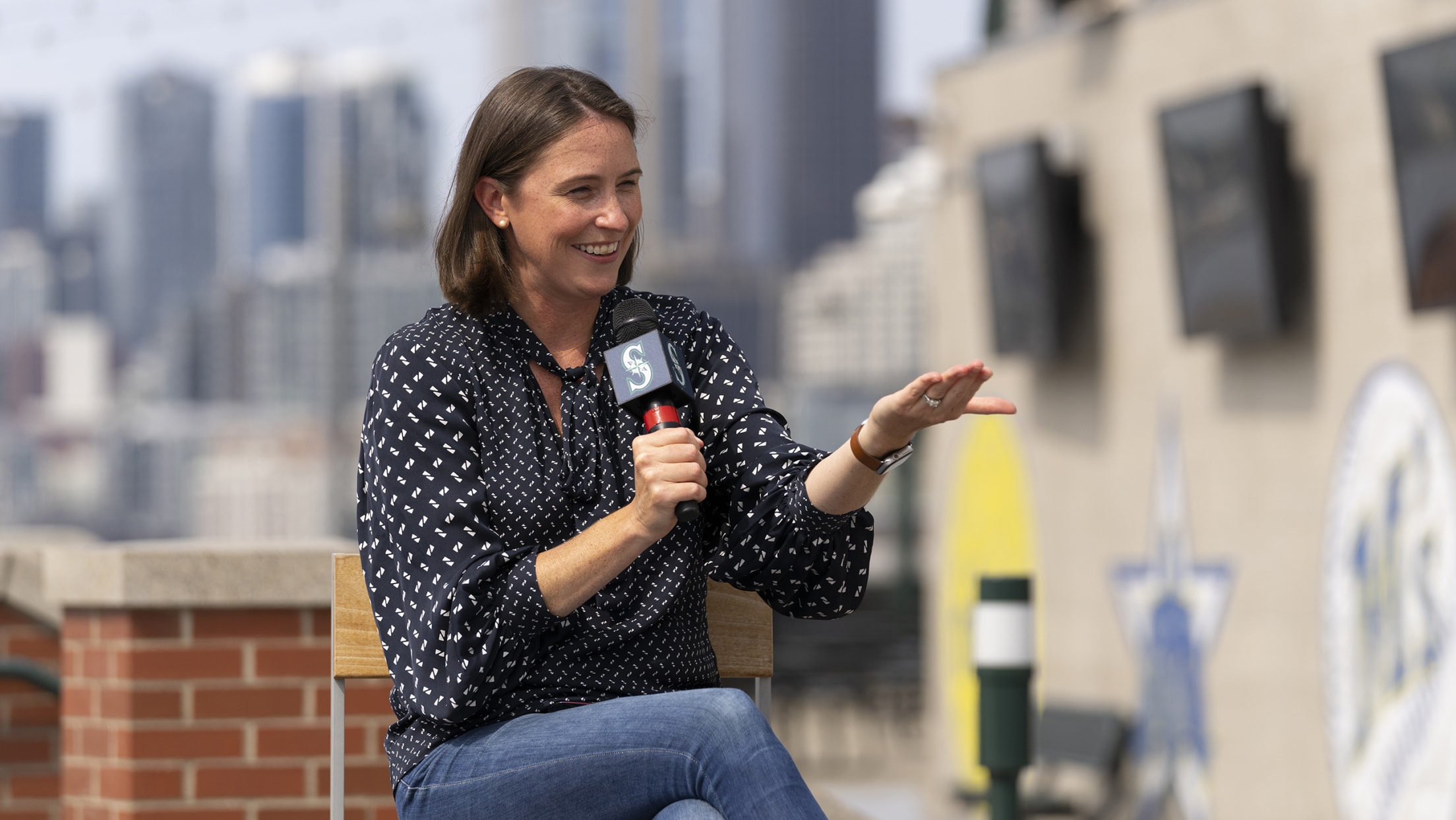 O'Donoghue attested to Griggs' ambition and execution for the All-Star Game they oversaw.
"You want your branding and you want your season-ticket numbers to feel connected to it and you want, you know, the Atlanta United way to be shown, and of course, MLS wants it to be their way and the All-Star way," O'Donoghue said. "It's a hard thing to bridge and I think she did that very artfully."
Griggs also led multiple uniform redesigns, or "kit launches," as part of directives from Adidas to continuously evolve the team's look, a more emblematic component of soccer culture, and especially MLS. For example, the Seattle Sounders go through a similar process regularly.
No, the Mariners aren't changing uniforms tomorrow, or perhaps ever. But in many of her peers' eyes, the kit launches underscored Griggs' ability to advance a brand through something as simple as a new uniform yet as complicated as the possibility of compromising a look fans love.
"What she's really good at is she's able to make sure that people are connecting, and people are sharing knowledge across and to build all that into one big strategy, so everyone is working towards the same goal," said O'Donoghue, who first met Griggs when they were at Turner Sports a decade ago. "In her mid-20s, she was already the smartest person in the room. But you've sort of seen her evolve over time to really get better at that gravitas of, 'I'm not just the smartest person in the room, but I can mold this room to get it where we need it to go. And I can develop the kumbaya moment that needs to happen to get all of the team on the same page.'"
***
Griggs' professional journey began when she graduated early and enrolled at North Carolina State University. She was 14 years old -- yes, fourteen -- the age of most eighth graders, though she skyrocketed through the required curriculum because she was on a far more aggressive and non-traditional timeline: Her own.
Griggs was homeschooled in the Raleigh-Durham, N.C., area beginning at age 11. Once she mastered a subject, she moved on. If she was proficient in algebra in two months, so be it; she then advanced to calculus, and so on. Griggs jokes that one of her early-age character flaws was and remains impatience.
"It's something where there was never anything that I felt was holding me back from continuing to learn and see what was next," Griggs recalled of her early education, applying it to her logic of today. "So, I'd say it's intellectual curiosity driven by, 'I don't see any reason to impose artificial constraints on how far I can go, or, frankly, how far we can go.'"
It was this stage of life in which her love for sports soared. Griggs played baseball and softball when she was younger -- "I'm really terrible at basketball for whatever reason," she jokes -- then she transitioned to soccer because there were more opportunities for girls. Griggs' father regularly brought her and her brother and sister, both younger, to see the Durham Bulls, one of Minor League Baseball's most tradition-rich teams. And of course, ACC basketball in that region is huge -- and Griggs found herself in the student section there sooner than most, before she could legally drive.
"She doesn't wear her intellect on her sleeve," said Sydney Finkelstein, a professor of management at Dartmouth University's Tuck School of Business. "She doesn't show up other people. She doesn't even think she's special in some ways. She's modest in that way; humble, really, which by the way, is a very important criteria characteristic for a leader. I've studied leaders my whole career."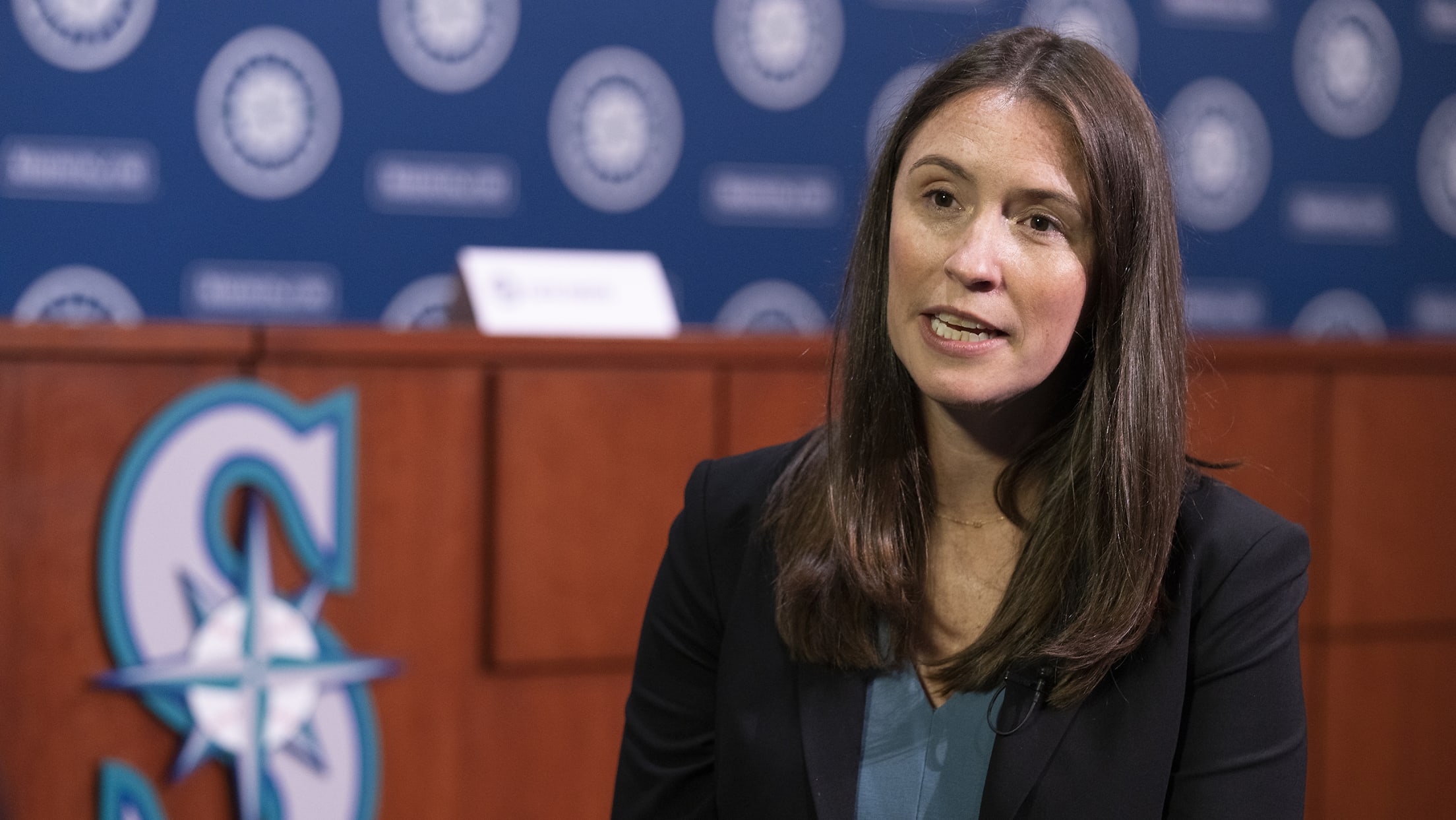 Indeed, Finkelstein is a consultant and speaker to senior executives around the globe, as well as an author of 25 books on executive leadership. He taught Griggs when she was earning her MBA at Dartmouth, where she'd already earned an undergrad degree after transferring from N.C. State at age 17. In between, now with a degree in international relations, she spent two years as a strategy consultant while fulfilling a lifelong dream of living in New York City -- not exactly the path to the top of an MLB front office.
"I'm really interested in why people do what they do, and how do you have an impact on the world around you," Griggs said. "And I think international relations was a sort of intellectual way to dig into that curiosity and how people have done at a really large scale, in terms of how the different governments actually get along. I didn't graduate with a perspective of, 'I'm going to be the next president of a Major League Baseball team,' or even that I'd work in sports."
No, that path manifested after Griggs took a job at Turner Sports immediately after earning her MBA. There, she brokered multiple high-profile broadcast deals for the cable giant while climbing its business ladder. Then, when a longtime mentor, Simon Wardle, called asking Griggs to launch his international consultancy's first North American office, she took a leap of faith by leaving a sea of co-workers at Turner to an island of one at Futures Sport and Entertainment.
But that department grew quickly after Griggs helped land multiple blue-chip rightsholders. (Futures has since acquired MLB as a client after her departure, thanks in part, per Wardle, to Griggs' efforts). Her staff there burgeoned, the projects took on more prominence and competitors took notice. She eventually left Futures for ATLUTD the exact same way she left ATLUTD for the Mariners -- a headhunter came calling with an offer too strong to ignore.
"She might be President of the United States at some point," Wardle said. "The highest compliment I can pay her is she went from managing a team of seven or eight at Futures to managing, I don't know, 75-100 … at Atlanta [United]. But as I told the Mariners' search committee, I did not have any doubt that she would be able to take that step up."
***
Back to present day…
On an overcast winter afternoon, Griggs sits comfortably -- and confidently -- in the Ken Griffey Jr. Conference Room high above T-Mobile Park for an extended interview. She's entrenched among images of the franchise's greatest player, each serving not only as a reminder of The Kid's greatness but also an homage to one of the best stretches in team history. Yet in the grand scheme of the franchise's 45 years, that 1990s run is in many ways a blip.
Griggs only has minor ties to the Pacific Northwest -- her father grew up in Portland but moved well before she was born -- making this territory very green for her, and not for its lushness. And while it's merely been nine months, Griggs has grand ambitions of adding her business acumen to a winning on-field product. Nearly every question she answered for this piece tied back to one theme -- fans -- and she reiterates their desires as her own: Win.
"Joining when I did and starting in late August, seeing the rise, and sort of the energy around this team as we approached the end of the season, and obviously culminating with that final weekend, it was so exciting and so gratifying," Griggs said. "I'm so looking forward to seeing where we go next year.
"The passion of the team, everyone I've worked with, everyone I've gotten to know here on the front-office side, both baseball and business, this is a group of really good people who care deeply. And I am really, really excited about the things we're going to be able to accomplish going forward."
credits:
Daniel Kramer covers the Mariners for MLB.com.