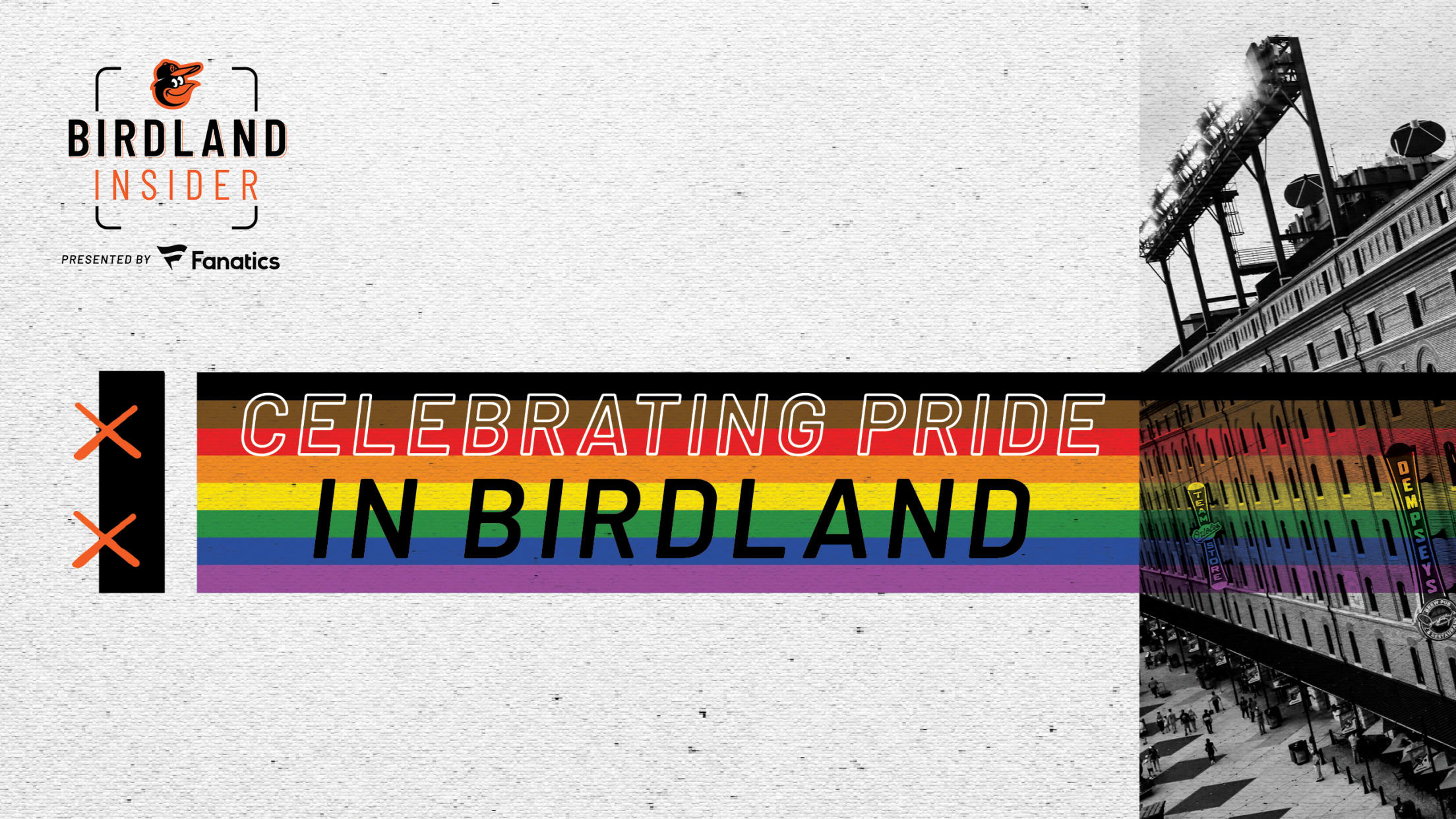 Scroll
Celebrating Pride in Birdland: Featuring Q&A with Greg Bader
More than 50 years ago, the Stonewall Uprising in Manhattan symbolized a major inflection point for the Lesbian, Gay, Bisexual, Transgender, and Queer (LGBTQ) social movement in the United States. We now celebrate LGBTQ Pride Month each June, and this month marks the 50th anniversary of that annual tradition. The Orioles are proud to once again celebrate Pride Month and show our support for the LGBTQ community.
The Orioles hosted the club's inaugural Pride Night in June 2018, complete with an O's pride cap. Billy Bean, Vice President and Special Assistant to the Commissioner, was in attendance to celebrate with the fans during a VIP pregame party on the Budweiser Roof Deck. The club also welcomed retired Major League umpire Dale Scott to throw out the ceremonial first pitch. Scott, who is gay, spent more than 30 years in baseball before his retirement in 2017. The Orioles hosted their second annual Pride Night in June 2019, again featuring an O's pride cap. Portions of the proceeds from each LGBTQ Pride Night ticket package in 2018 and 2019 benefitted Moveable Feast and the Pride Center of Maryland.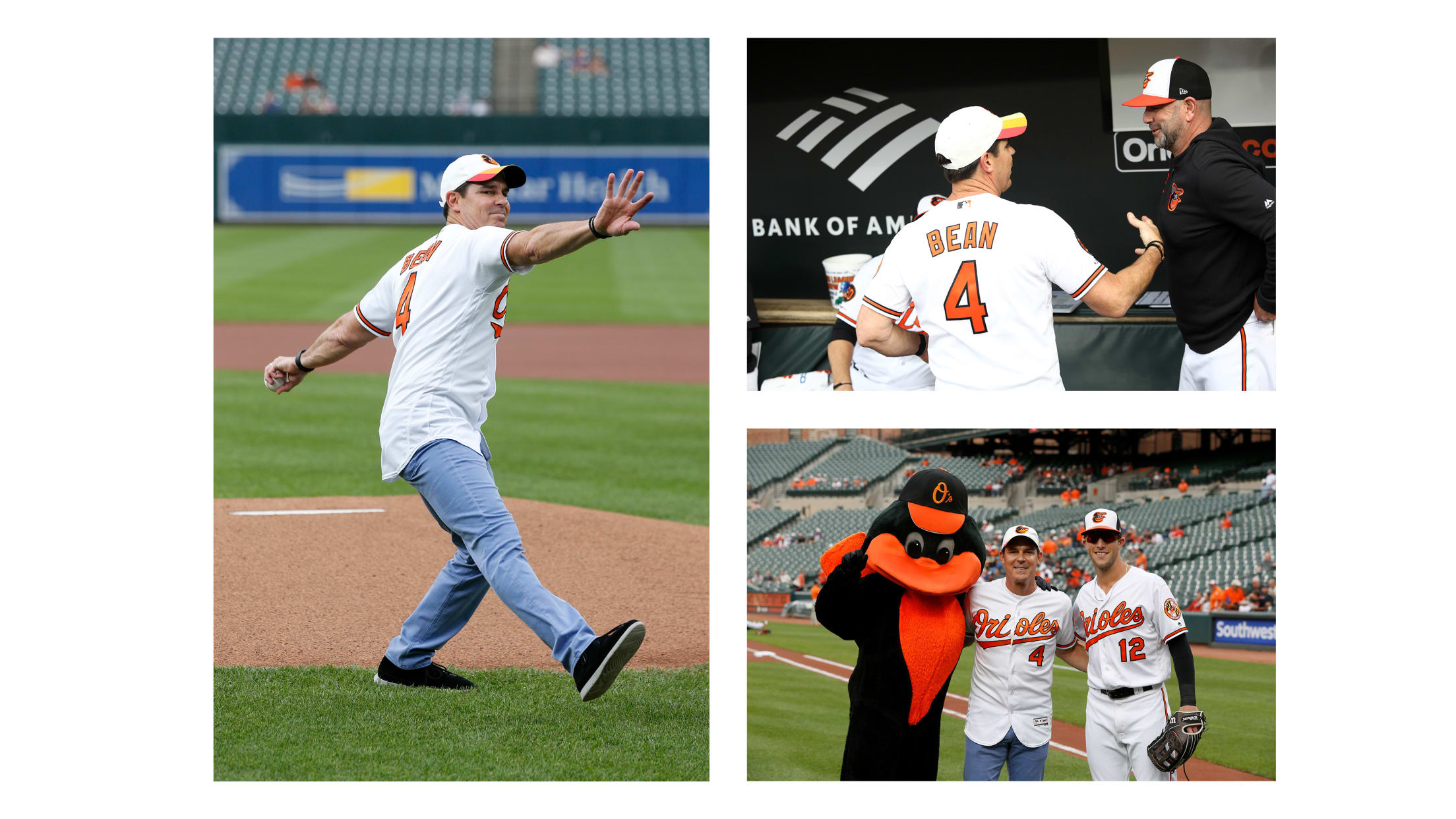 As part of this year's celebration, Orioles Senior Vice President of Administration and Experience Greg Bader took part in a special Q&A with Birdland Insider about Pride Month and the LGBTQ community in baseball.
How do the Orioles strive to make Oriole Park at Camden Yards a welcoming environment for all fans?
It is our goal to make Oriole Park at Camden Yards a place that is safe, family-friendly, and fun for everyone. We have an extremely diverse fanbase and want to make sure everyone knows that we want them to be a part of Orioles Baseball. As an organization, we believe that we should use our platform to actively promote diversity and inclusion, so whether it is through theme nights, music acts, promotions, or team policies, we make every effort to ensure that everyone is comfortable at the ballpark.
How have the Orioles promoted inclusion within the organization - to players & staff members?
We try to be transparent and consistent in our support for those ideals in which we strongly believe. Whether it is calling out systemic racism and stating unequivocally that Black Lives Matter, or whether it is to celebrate Pride and to stand against the bullying of LGBTQ children, or whether it is to celebrate the efforts of the Baltimore-based National Federation of the Blind, we need to communicate both internally and externally that we are about celebrating diversity and inclusion. And if we can do so consistently and repeatedly, and ensure that we are practicing what we preach, we will continue to help further build consensus within the organization.
Oriole Park was designated as an official Safe Place of Baltimore City last season. Can you explain what that means and how it came about?
As we were preparing to hold our 2019 LGBTQ Pride Night, one of our sales representatives, Kaylee Swanson, approached me with an opportunity she learned about through the Baltimore City Police called the Safe Place program. We worked with the Maryland Stadium Authority and the BPD to meet the certification standards to achieve Safe Place status, and Oriole Park is now a place where members of the LGBTQ community can go if they feel they have been a victim of an anti-LGBTQ crime.
The Orioles hosted their first LGBTQ Pride Night in 2018. What made the club decide to host Pride Nights, and how have these efforts been received by the LGBTQ community?
For many years we had worked with members of the LGBTQ community to host group outings at the ballpark, but 2018 represented a season in which we branched out into a variety of official theme nights, including our first official LGBTQ Pride Night – and what a night it was! Seeing thousands of Orioles fans wearing Orioles-themed pride caps – and a line hundreds of people long to buy extra caps with proceeds going to Moveable Feast – is something I will never forget. Most touching of all was having former MLB umpire Dale Scott throw out the ceremonial first pitch and seeing all four umpires come out to the field early to watch him deliver the pitch and then invite Dale to stand with them at home plate for the national anthem. A truly magical evening!
Billy Bean attended the 2018 and 2019 Pride Nights to discuss his experience and the league's efforts with fans. How important is it to have someone like Bean as an ambassador for inclusion throughout the game?
Billy has meant so much to baseball and its position on inclusion, particularly in terms of LGBTQ acceptance. His story is remarkable – a former fourth-round draft choice with high expectations who kept the fact that he is gay a secret throughout his playing career. It's a heart-wrenching story, and at its root is something many of us who are LGBTQ can relate to. Obviously his notoriety added another layer of stress and anxiety that many of us don't face in our own coming out stories, but those of us who are gay or lesbian or bisexual or transgender all know what Billy must have been going through, because many of us experienced something similar, albeit with less media attention.
Over the years, Billy has worked hard on issues pertaining to racism, misogyny, and homophobia, and has worked to ensure that players and staff understand that words and actions have consequences and can do great harm to those both inside and outside of the sport. His leadership on this topic has been immeasurable, and his mentorship particularly to many of us in the LGBTQ community is deeply appreciated.
You joined the Orioles in 1994. How proud are you to see how far the sports world has come since then in terms of accepting and celebrating the LGBTQ community? And what does it mean to you to have played a part in that change?
Sometimes it's hard for me to believe how far we've come in celebrating the LGBTQ community. That's not to say we don't have a ways to go, but when I first began my internship at the Orioles in 1994, the use of homophobic language on and off the field throughout the league was quite common, and the thought of me coming out seemed like an absolute impossibility. Interestingly, I never felt uncomfortable specifically because of the Orioles, as our ownership and management never behaved in a manner that gave me pause, but just as an industry – and by that I mean all sports, not just MLB – the environment didn't seem like I could truly be myself and share that part of my identity with my Orioles family.
When I officially came out to my colleagues and some members of the media in 2007, which I decided to do when my now-husband John and I accepted an invitation to our PR director Monica Barlow's wedding, I was struck by how supportive everyone was. Some folks already knew, while others found out for the first time, but everyone universally was supportive, and my comfort level grew where I could truly be myself and allow my coworkers to get to know me better, after being a pretty private person for my first 13 years in the organization.
Here we are 13 years later, and I'm one of the more senior (older) members of the LGBTQ community within MLB. I certainly don't see myself as having played a part in that change, but I am appreciative for having been able to see that change up close and benefit from that cultural change both inside and outside of the sports industry. If I have in any way provided inspiration to someone within the LGBTQ community, that would bring me great joy and truly be my proudest achievement.
Players and others throughout the game are becoming more outspoken about social justice and equality. How do you think that will change the way the game embraces the LGBTQ movement?
The players are the face of MLB, and as more and more players become outspoken in their support for social justice and equality, including for the LGBTQ community, I do think it will have an impact on public opinion. Just as the Orioles organization is committed to using our platform to promote inclusion and diversity, we hope our players and players throughout baseball will do the same. Having allies on the playing field will help all of us in the LGBTQ community within baseball and in other fields.
What advice would you give a young LGBTQ professional who is looking to begin a career in the sports industry?
Be yourself. I know it's easy to say and not always easy to do, but I hope those LGBTQ professionals who are just beginning their careers know that Major League Baseball welcomes you and encourages you to apply. We are looking for hard workers who are willing to put in long hours and who share in our passion for the sports industry. There are many of us throughout the industry, and we're here to help with any questions you may have.
Earlier this week, Bader participated in the "Working OUT at MLB" virtual panel, a thoughtful discussion about work, life, and the challenge of being a role model. The discussion featured LGBTQ employees from across the league and was moderated by Bean.
Bean, who came out as gay publicly in 1999 after a six-year Major League career, has been pleased to see a "shift in the culture" in terms of LGBTQ acceptance in baseball, a shift that he certainly contributed to in his previous roles as MLB's Ambassador for Inclusion and Vice President for Social Responsibility and Inclusion.
"MLB supports equality, respect, and fairness toward all members of the LGBTQ+ community," said Bean. "Aligning with our League-wide Workplace Code of Conduct that states: MLB has a zero-tolerance policy for harassment or discrimination based on race, gender, color, religion, national origin, age, disability, ancestry, gender identity, military veteran status, or sexual orientation.
"Everyone on the panel is part of the LGBTQ community and out at work, which is something that, when I came back to baseball after my playing career ended, there were very few of us that were in that position," Bean shared. "It also took a while for us to get to know each other a little better. It's really important, the shift in the culture in the office space. I am super appreciative of each and every one of you."
As the Orioles continue to celebrate Pride Month, the Orioles' social media avatar has been changed to an O's Pride logo, and the community resources page has been updated to include resources for the LGBTQ community.
Moveable Feast
Moveable Feast is a Baltimore-based nonprofit that provides nutritious foods and other services in order to preserve quality of life for people with HIV/AIDS, cancer, and other life-threatening illnesses.
Pride Center of Maryland
The Pride Center of Maryland is a catalyst for uniting and empowering sexual and gender minorities in Baltimore and Central Maryland. They offer 30 programs and serve thousands of Marylanders each year to ensure Maryland's sexual and gender minority community have equal access to care, services, and a space where they can be their authentic selves.