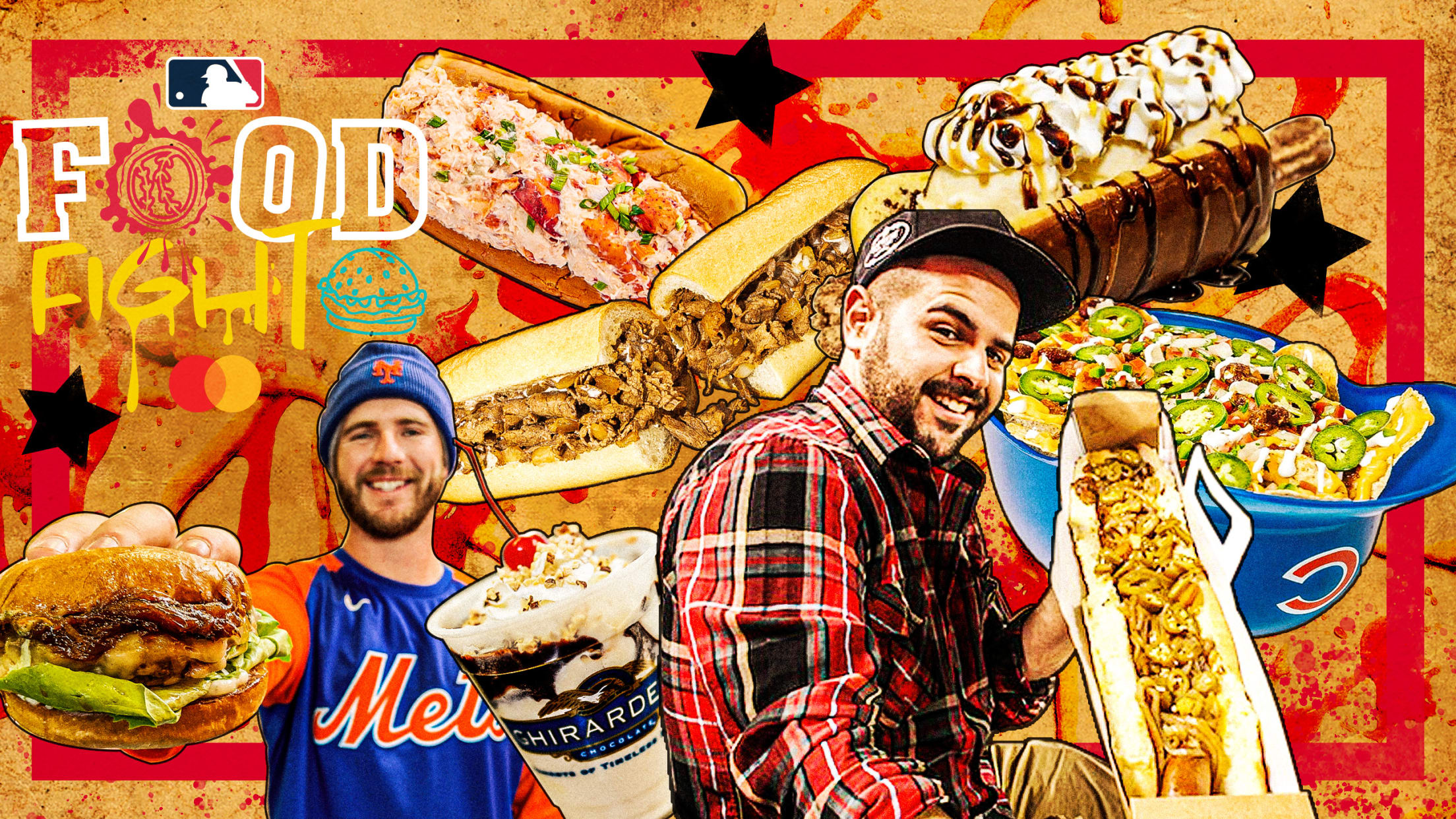 Scroll
Cast your vote for MLB's best food 
Ever since Chris Von der Ahe, the owner of the St. Louis Browns of the American Association (who, confusingly enough, became the Cardinals of today) started selling hot dogs at the ballpark in the 1880s, stuffing your face has been just as big a part of going to the game as the action on the field.
But we are a long, long, long way away from those early days when some tubed meat plopped between bread was enough. Heck, even ballpark nachos -- those crispy chips and nuclear-powered cheese, which were invented in 1976 -- look like quaint home cooking compared to some of the things teams bring out today.
Just as clubs one-up each other in signing superstars in hopes of baseball domination, teams do the same with their foodstuffs. Giant hot dogs, burgers that are also pizzas, entire buckets of chicken fingers and fries -- they've all carved out places in the ballpark grub. But while teams can play in pursuit of a World Series championship, there was no way to figure out which team does its fans proudest with its food options ... until today.
We're happy to announce the start of MLB Food Fight, a bracket competition where all 30 teams put up their ballpark's signature food item against each other for the title of best food in baseball. Oh yeah, and Cracker Jack and popcorn -- those other ballpark must haves -- help round out our bracket for a nice round number of 32.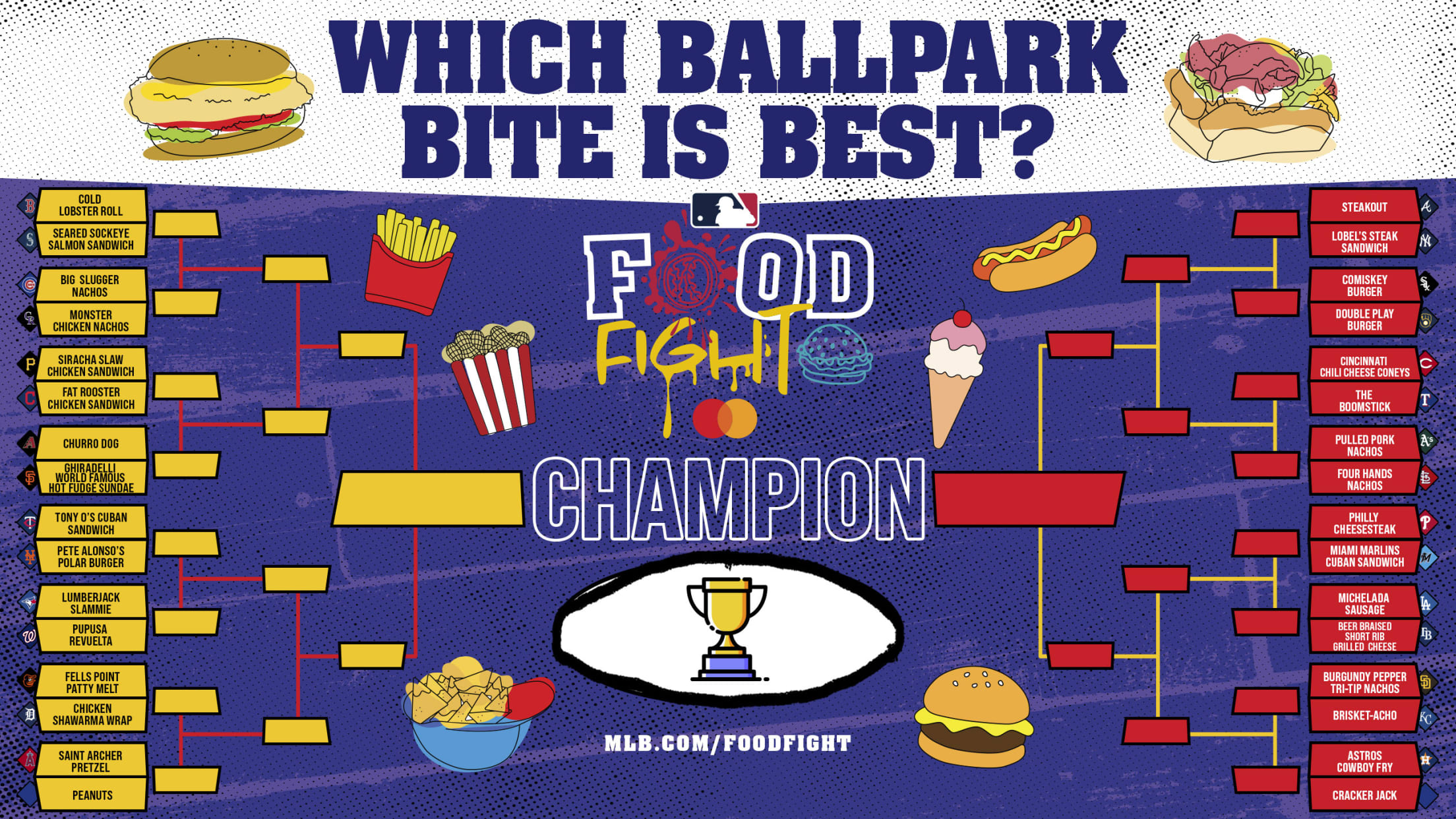 To cast your vote, head to MLB.com/FoodFight, but if you want more information on our head-to-head matchups -- and if you want to get really, really, ridiculously hungry -- read on. As Guy Fieri would say, we're going to Flavortown.
Boston's Cold Lobster Roll vs. Seattle's Seared Sockeye Salmon Sandwich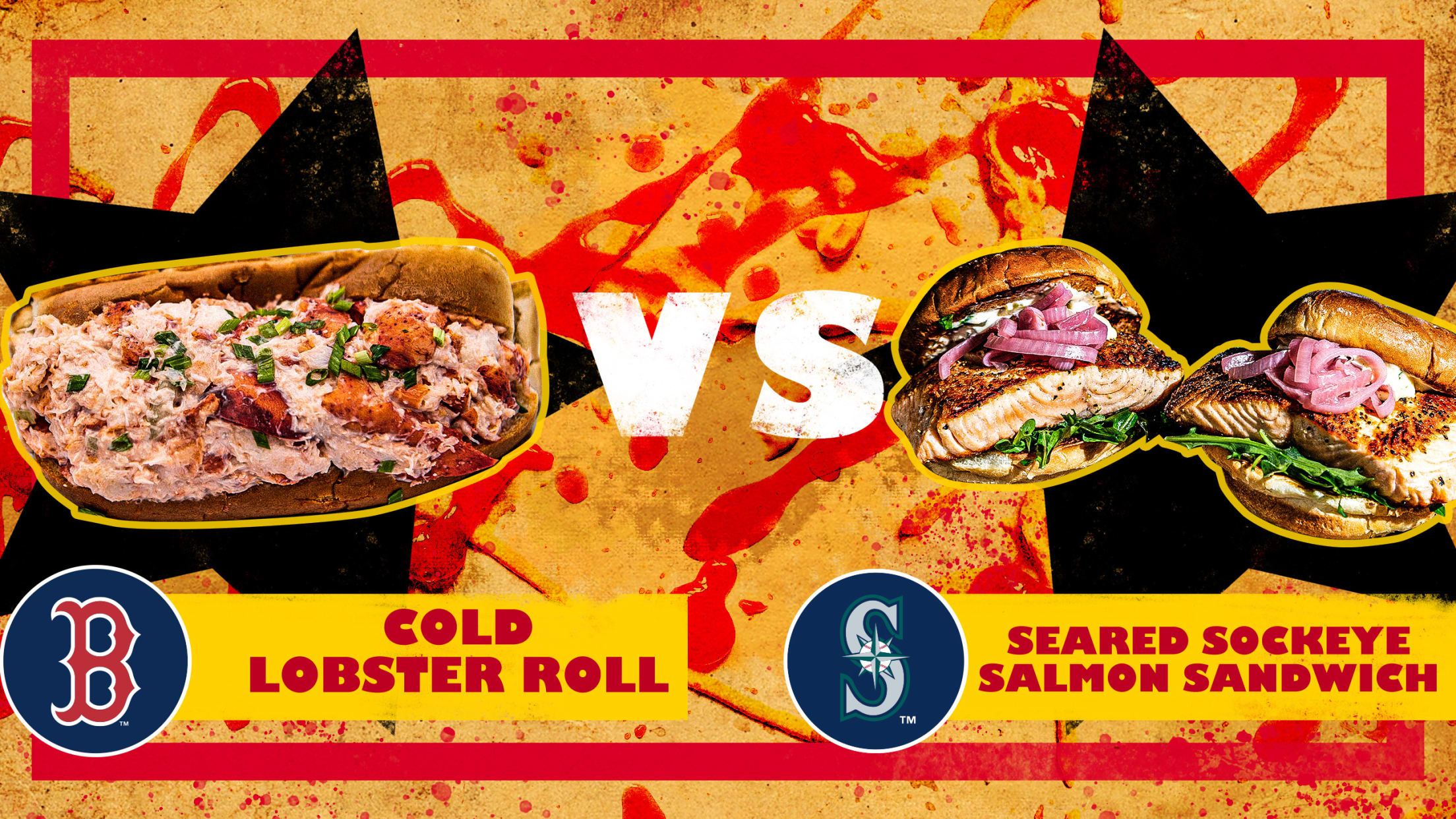 We've got a seafood face-off! In one corner, we have the underwater creature of New England, the humble crustacean, the lobster. The one served at Fenway Park is done classic New England-style: it includes fresh and local Yankee Lobster Co. meat, herbed mayo, celery and is sprinkled with lemon and chives on a brioche bun. (If you want a hot lobster roll, you'll want to head to Connecticut, not Massachusetts.)
Meanwhile, anyone who has been to Seattle's Pike Place Market knows how seriously they take their fish. The Mariners' sandwich features perfectly-seared wild sockeye salmon nestled in a fluffy brioche bun with the freshest arugula, tangy pickled red onion and smooth and spicy house-made remoulade.
Chicago's Big Slugger Nachos vs. Colorado's Monster Chicken Nachos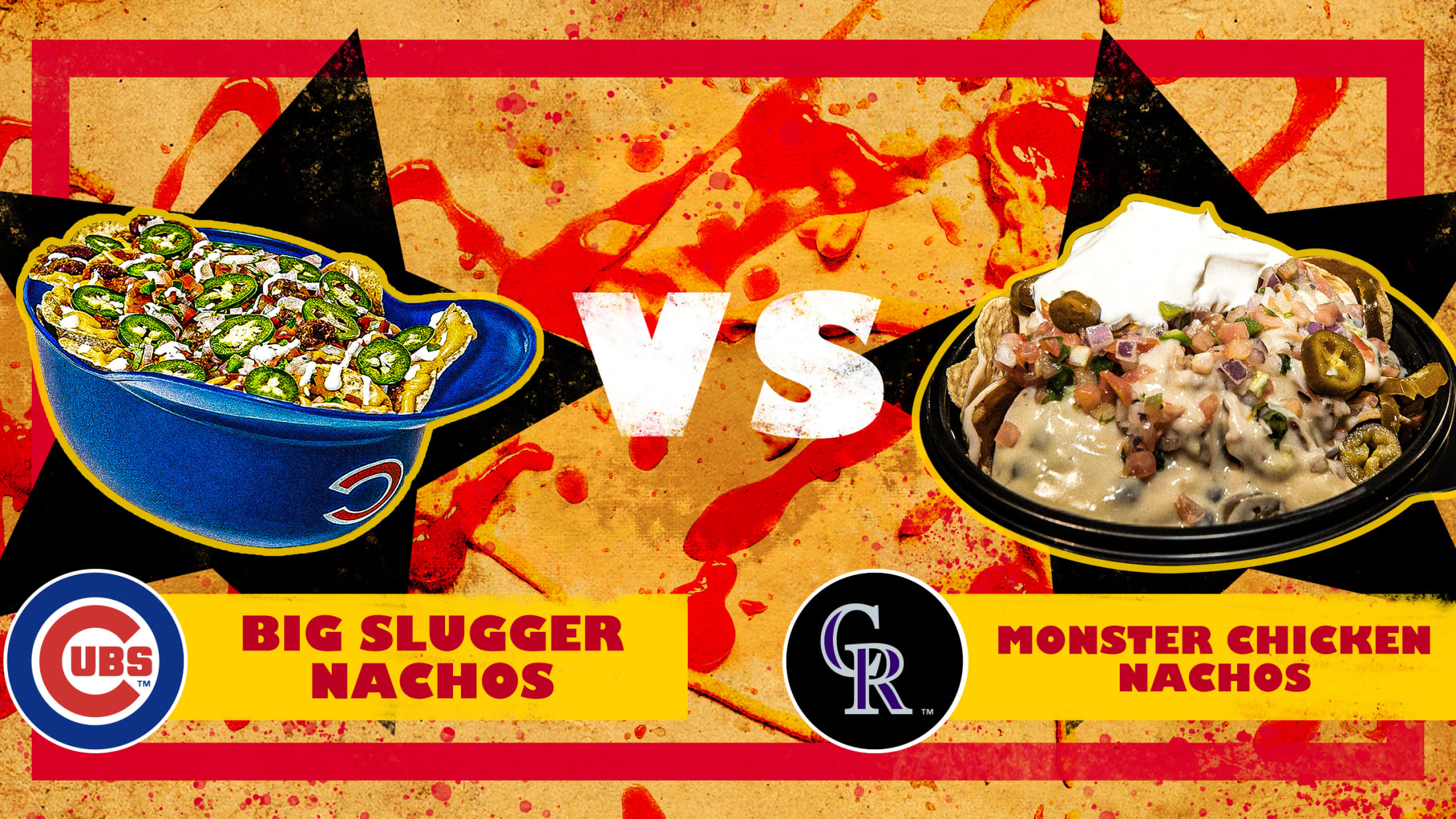 Nacho vs. Nacho and only one can win? Who would make a world so cruel?
The Cubs have the Big Slugger Nachos, which feature beef chili, nacho cheese, house made salsa, pico de gallo, sour cream and fresh jalapeños served in a full size souvenir helmet all coating fresh tortilla chips.
The Rockies counter with their Monster Chicken Nachos, which feature tender, marinated chicken, pinto beans, cheese sauce and the choice of two salsas.
Pittsburgh's Sriracha Slaw Chicken Sandwich vs. Cleveland's Fat Rooster Sandwich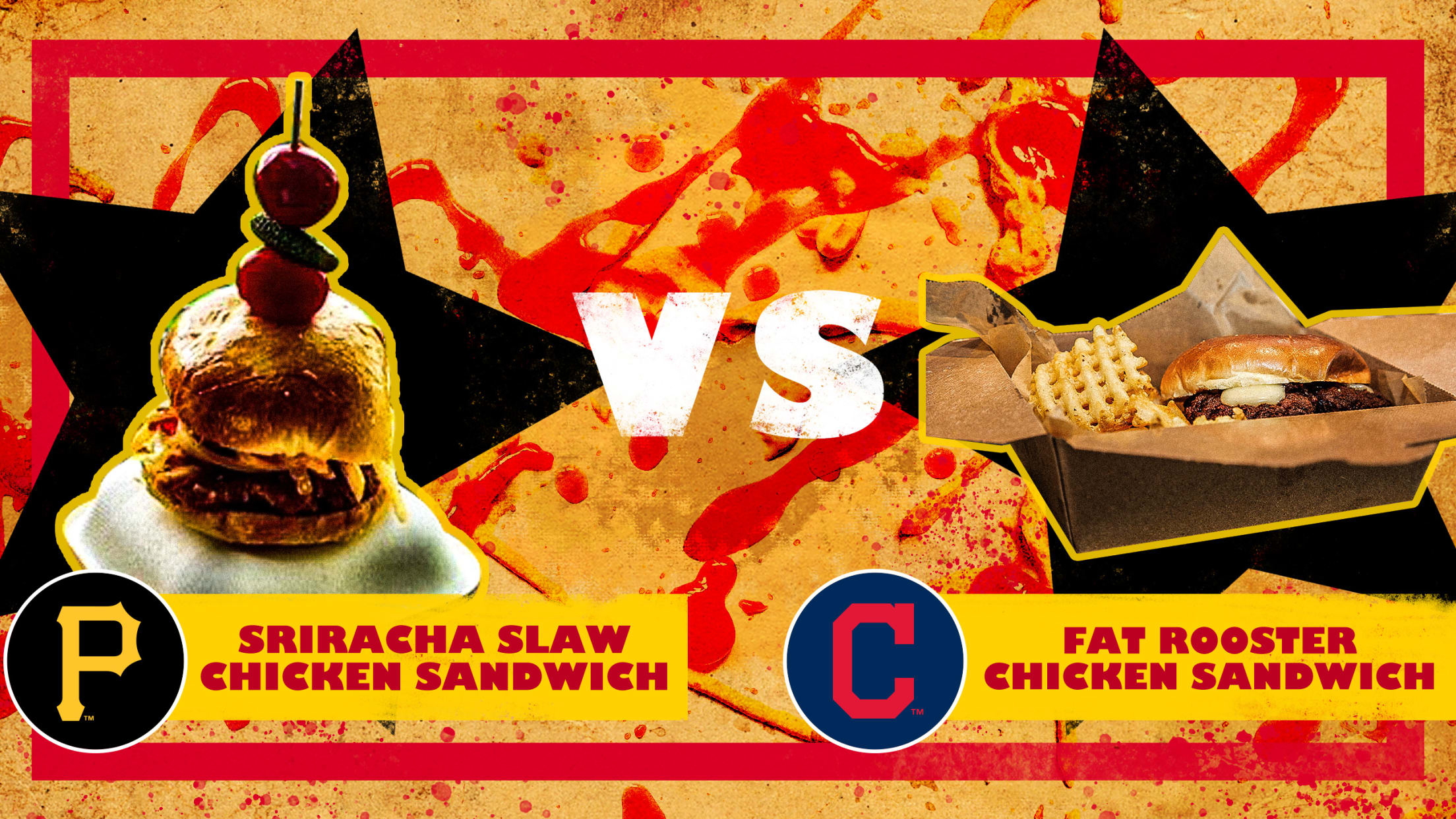 Forget the Clemente Bridge beyond the center-field fence, the first thing you should be looking for when you get to the ballpark is this sandwich. This is a crispy chicken sandwich served with a spicy sriracha jicama slaw and served up on a bakery potato roll.
But if it wants to win, it's going to have to defeat the Fat Rooster. This is a Southern-inspired fresh, made-to-order buttermilk-soaked chicken that then gets its bold flavor from a proprietary blend of spices and is served with house-made pickles and coleslaw topped with honey mayonnaise for a touch of sweetness.
Arizona's Churro Dog vs. San Francisco's Ghirardelli World Famous Hot Fudge Sundae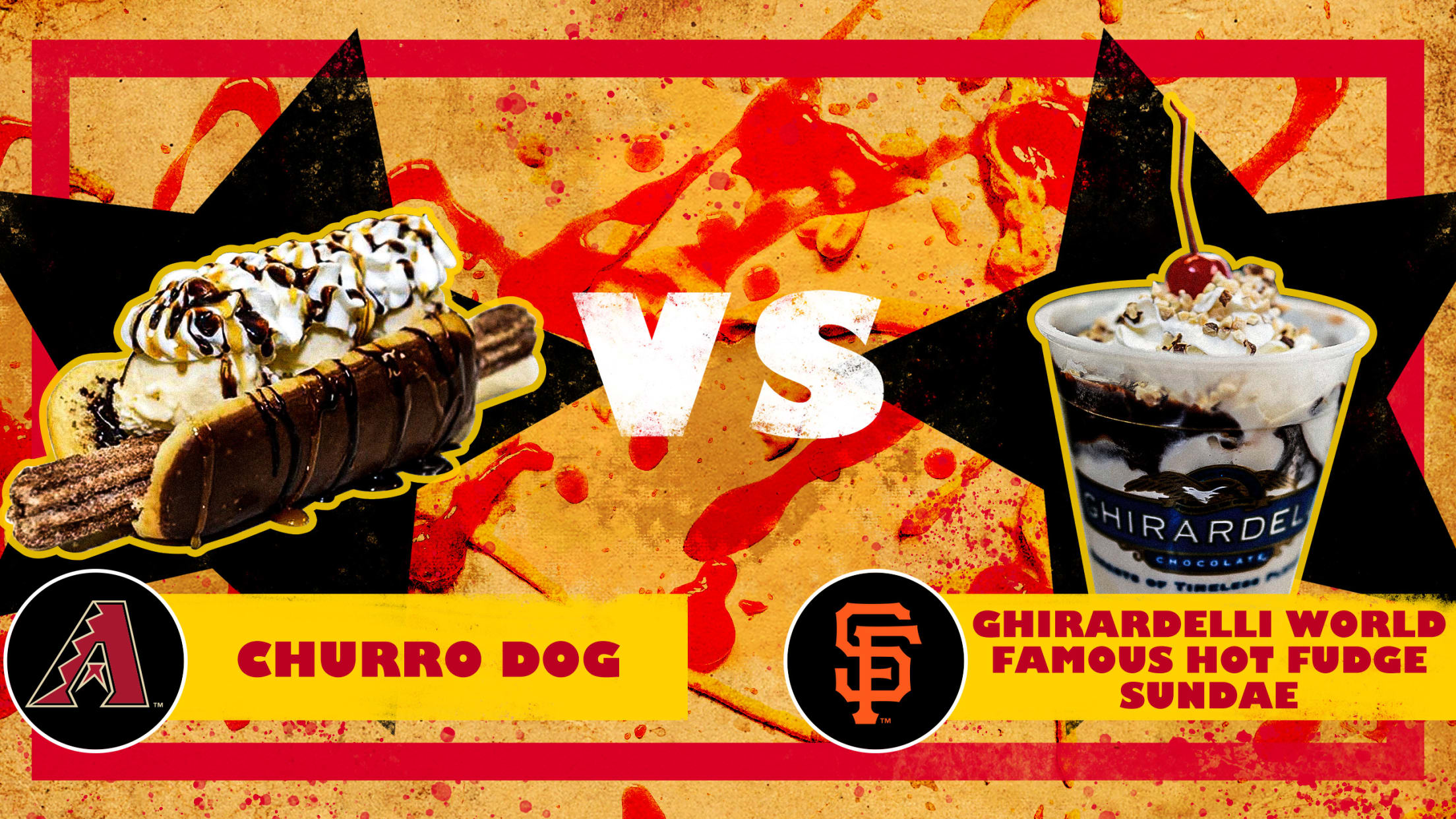 This is a matchup your dentist would not approve of. The Churro Dog is a feat of dessert science, where a churro is fit inside a Long John doughnut with chocolate glazing that is then topped with frozen yogurt.
The Giants counter with their absolutely stuffed classic hot fudge sundae that features vanilla ice cream, handmade hot fudge and is topped with whipped cream, diced almonds and a cherry.
Minnesota's Tony O's Cuban Sandwich vs. the Mets' Pete Alonso Polar Burger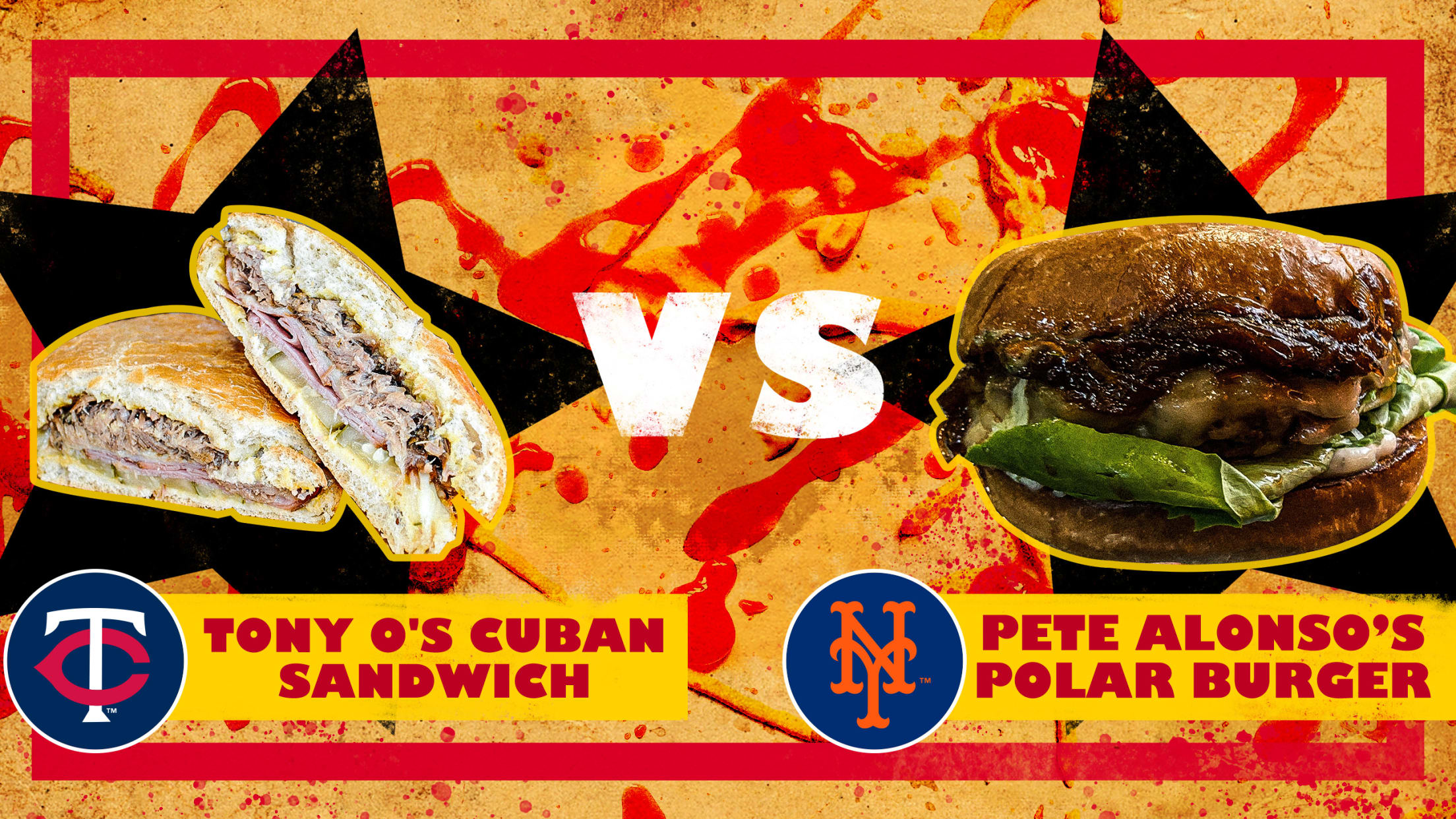 We've got a battle of foods named in honor of ballplayers. The Twins' offering -- named in honor of right-field legend Tony Oliva -- is their take on a classic sandwich. Pulled pork, ham, pickles, swiss cheese and dijonnaise are all nestled inside Telera bread.
The Polar Burger is brand new and debuted just this season. It comes with Pat LaFrieda's black truffle blended burger patty, New York maple spiced caramelized onions, smoked gouda cheese, lettuce, tomato and claw sauce on a freshly baked brioche bun.
Toronto's Lumberjack Slammie vs. Washington's Pupusa Revuelta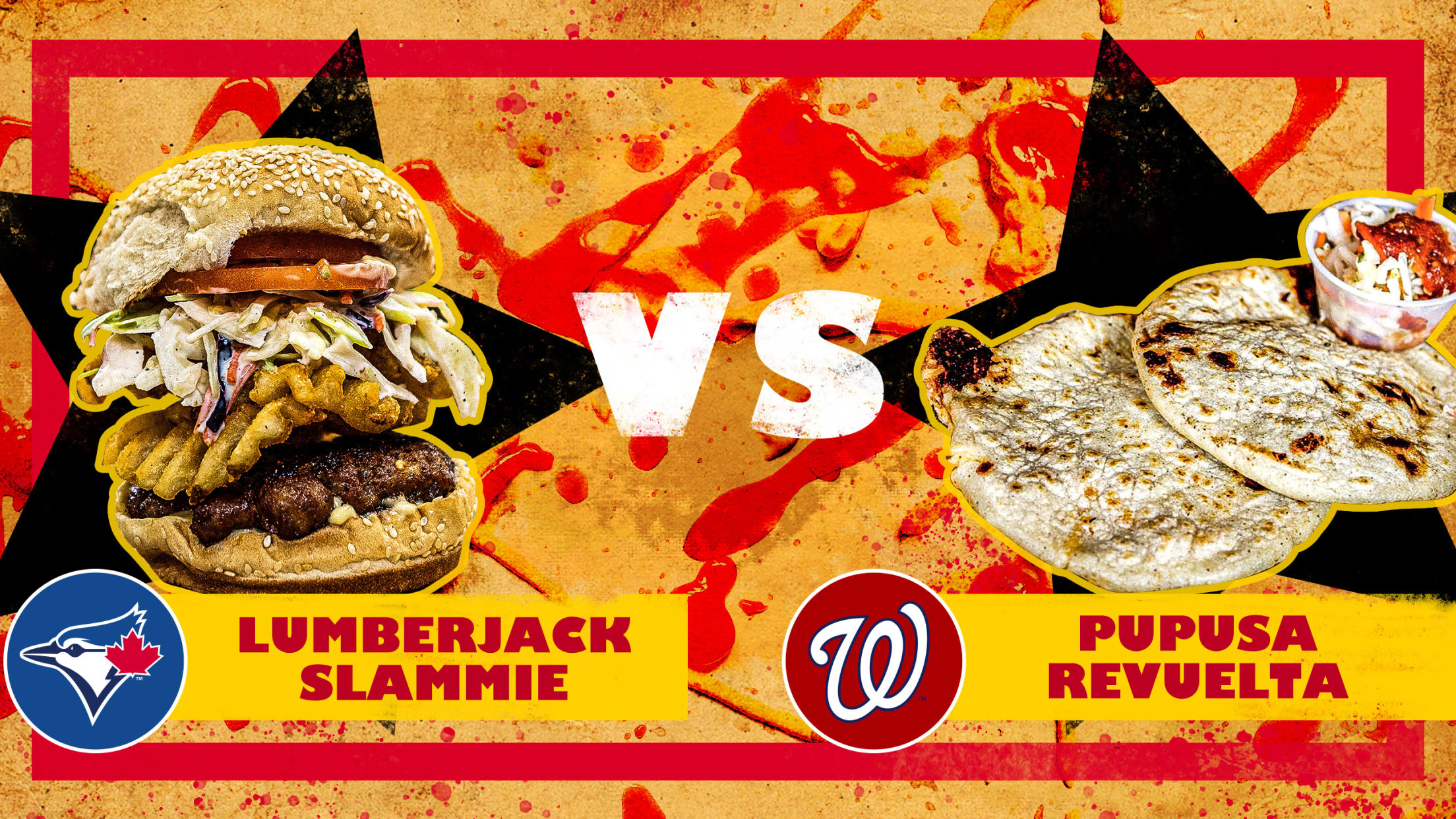 We've got a pork faceoff on this one, and your choice will come down to whether you prefer the classics or entire meals within a bun.
Toronto offers up a griddled spicy pork sausage patty on a big seedy bun, sweet maple spread, creamy cabbage slaw, waffle fries and tomato. This seems like one where you'll need a few napkins -- and maybe a bigger mouth.
Washington counters with ground pork chicharrón and mozzarella cheese all stuffed inside a chewy and tasty pupusa.
Baltimore's Fells Point Patty Melt vs. Detroit's Chicken Shawarma Wrap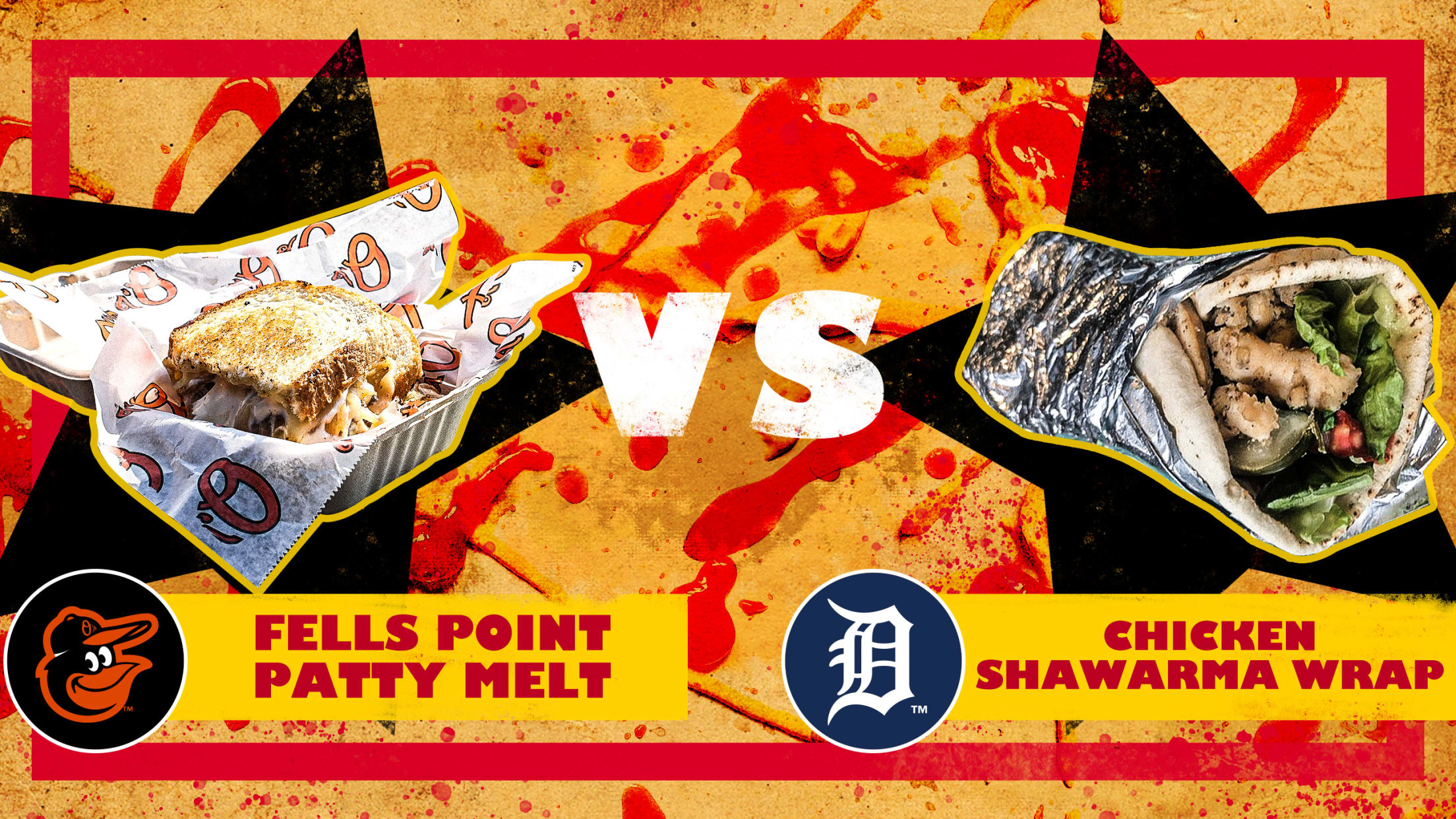 Here's a matchup just made for your neighborhood diner, too.
The Orioles offer up a patty melt named for the Fells Point neighborhood. It comes with a beef patty, toasted sour dough, American cheese, fried onions and patty sauce.
The Tigers counter with their chicken shawarma wrap, featuring marinated chicken breast, tomato, lettuce, pickles and garlic sauce wrapped in a locally sourced pita.
The Angels' Saint Archer Pretzel vs. the Wild Card Peanuts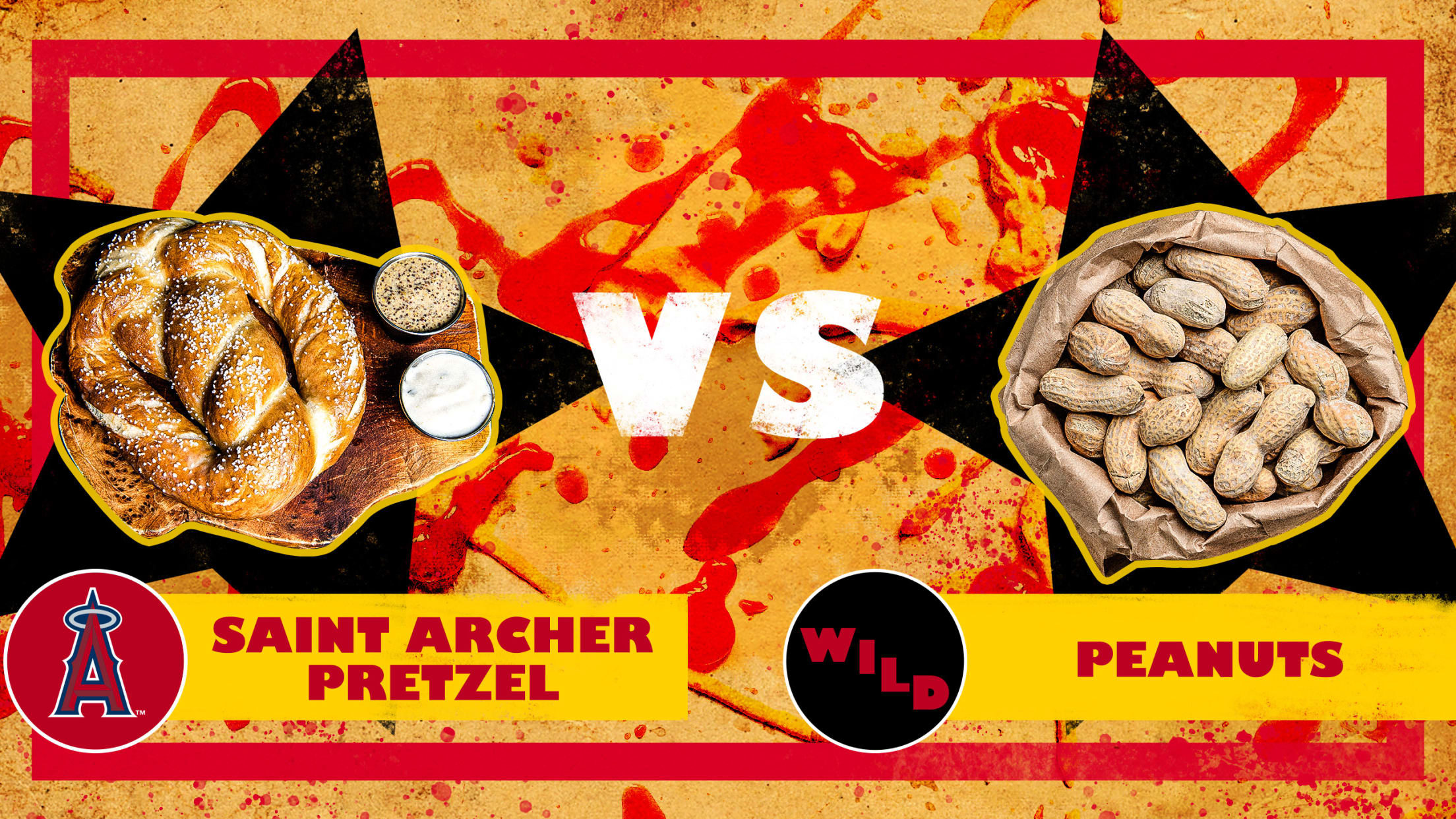 It's a head-to-head battle of ballpark snacks! While you've likely had plenty of stadium pretzels, the Angels' offering takes it to the next level. These pretzels are hand rolled daily by an in-house pastry team and comes paired with warm jalapeño cheese sauce and Saint Archer Blonde Ale mustard. And if you're looking for a meal, you're in luck: Each pretzel weighs nearly one pound.
Can the pretzel defeat the old standby, the ballpark peanut? While peanuts may be nothing fancy, few things can compete with something as satisfying as cracking one open and scattering the shells while you happily munch away.
Atlanta's SteakOut vs. the Yankees' Lobel's Steak Sandwich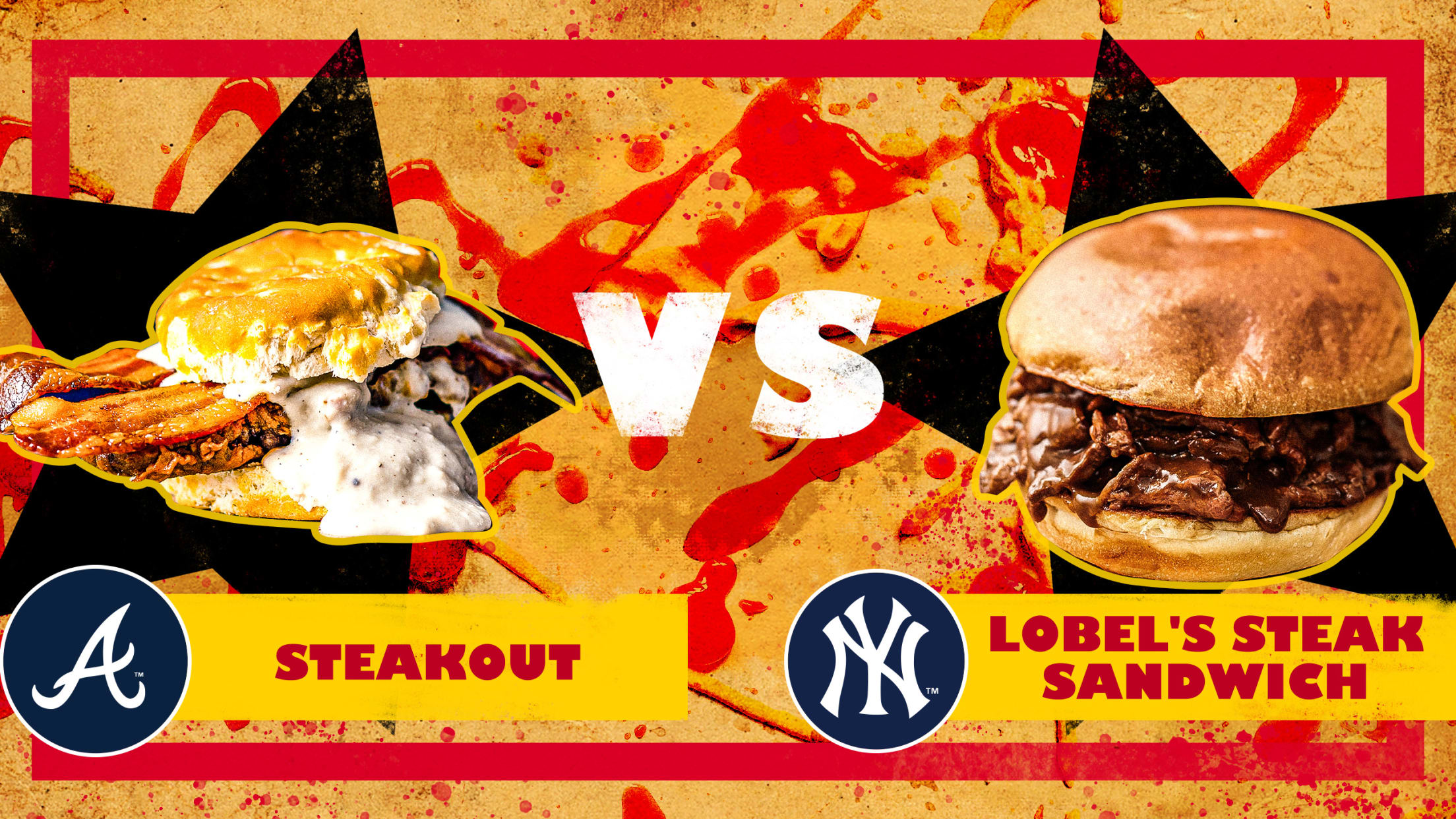 We've got a steak out here! In one corner, Atlanta offers a Southern staple: A chicken fried steak with smoky bacon topped with country gravy on a buttery biscuit.
New York offers up one of Yankee Stadium's fan favorites. It begins with a thinly sliced USDA Prime NY strip steak that is tossed in a gourmet blend of scratch gravy and served on a toasted brioche bun.
The White Sox' Comiskey Burger vs. Milwaukee's Double Play Burger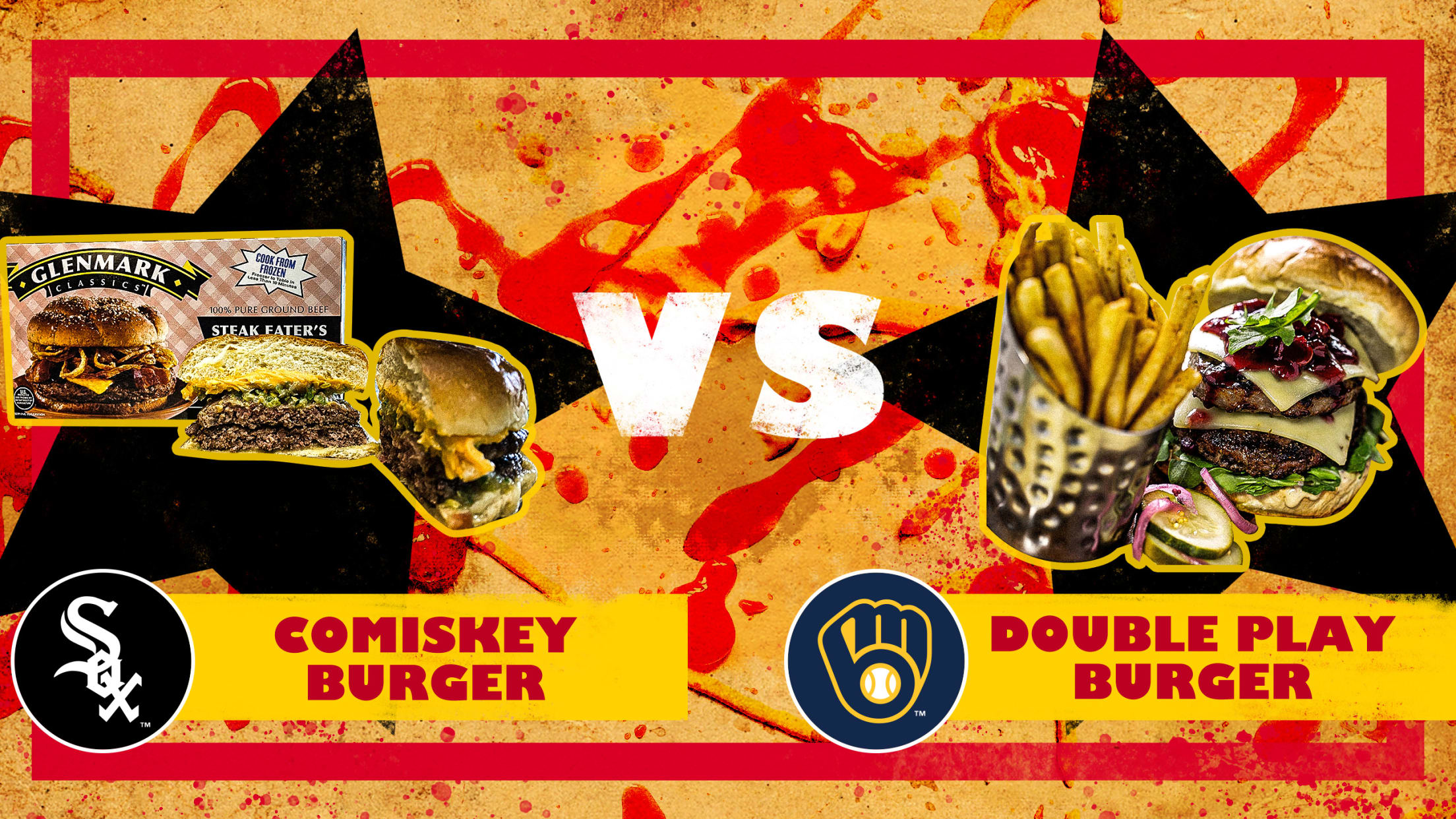 Two burgers enter, but only one burger can leave.
Chicago offers up the Comiskey Burger -- named after legendary White Sox owner Charles Comiskey. The sandwich features two double 1/4 pound Glenmark "Steak Eater" beef patties along with a special blend of "Chitown Pico" that's made of tomatoes, relish, sport peppers and cheese spread. That's all placed between a buttery brioche roll.
The Brewers' option is a double burger as well, but with a decidedly Milwaukee twist. The burger features one angus beef patty along with one Johnsonville brat patty. Those are then topped with slices of Havarti cheese, ale mustard, cherry compote and arugula on a brioche bun.
Cincinnati's Chili Cheese Coney vs. Texas' Boomstick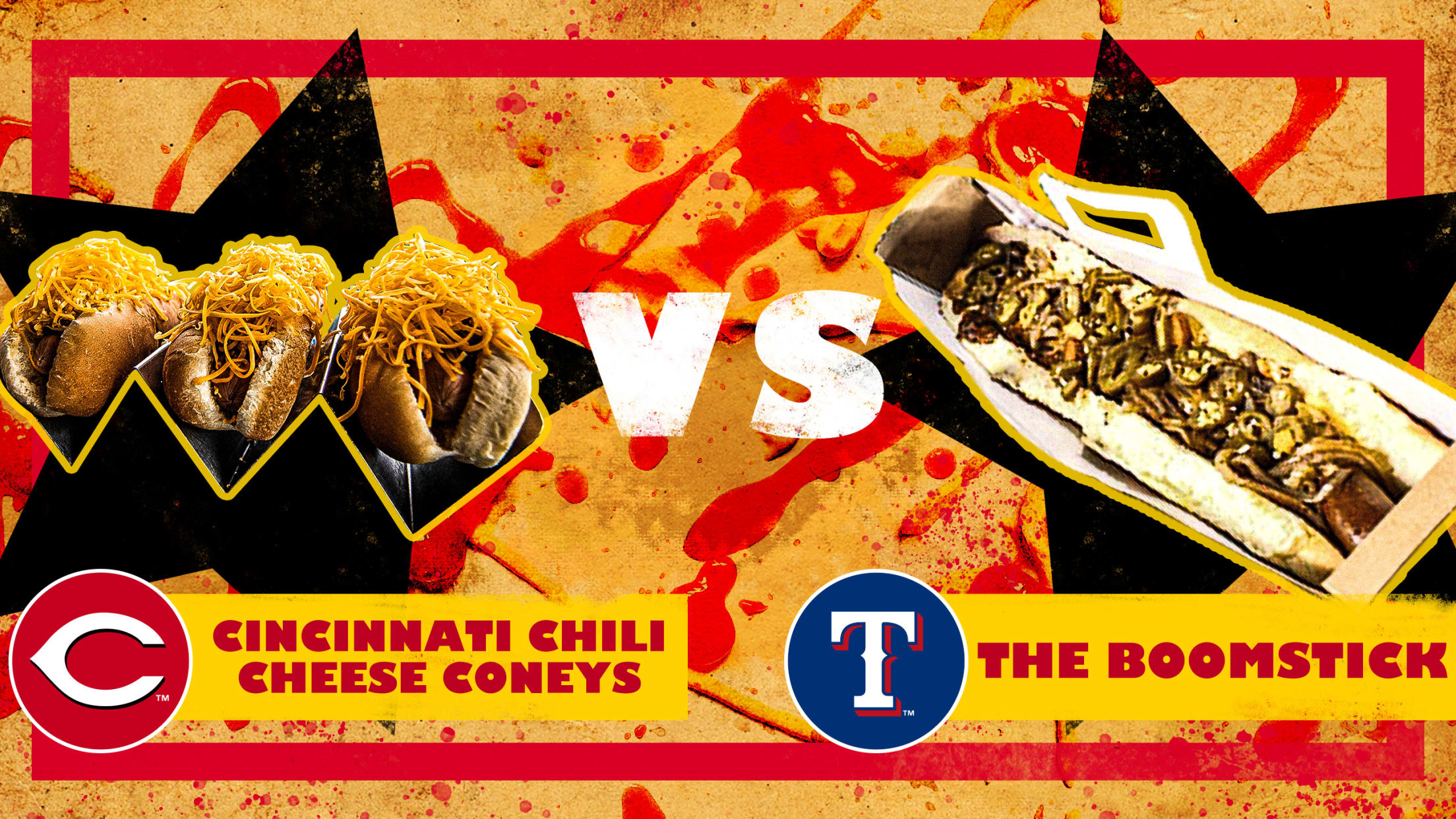 It's a battle of iconic hot dogs! Cincinnati's chili cheese coney is a longtime city staple that features a specially made hot dog in a steamed bun with mustard that is then covered with Cincinnati's signature secret-recipe chili. Diced onions and a heaping mound of shredded cheddar cheese is then added on top.
Texas offers up The Boomstick, originally named for when slugger Nelson Cruz was on the roster. This is something that most definitely should be shared, but hey, do you. The Boomstick is a 2-foot all-beef hot dog, smothered in chili, nacho cheese, jalapeños and caramelized onions, all on top of a massive potato bun. Add it together and it weighs in at three pounds!
Oakland's Pulled Pork Nachos vs. St. Louis' Four Hands Nachos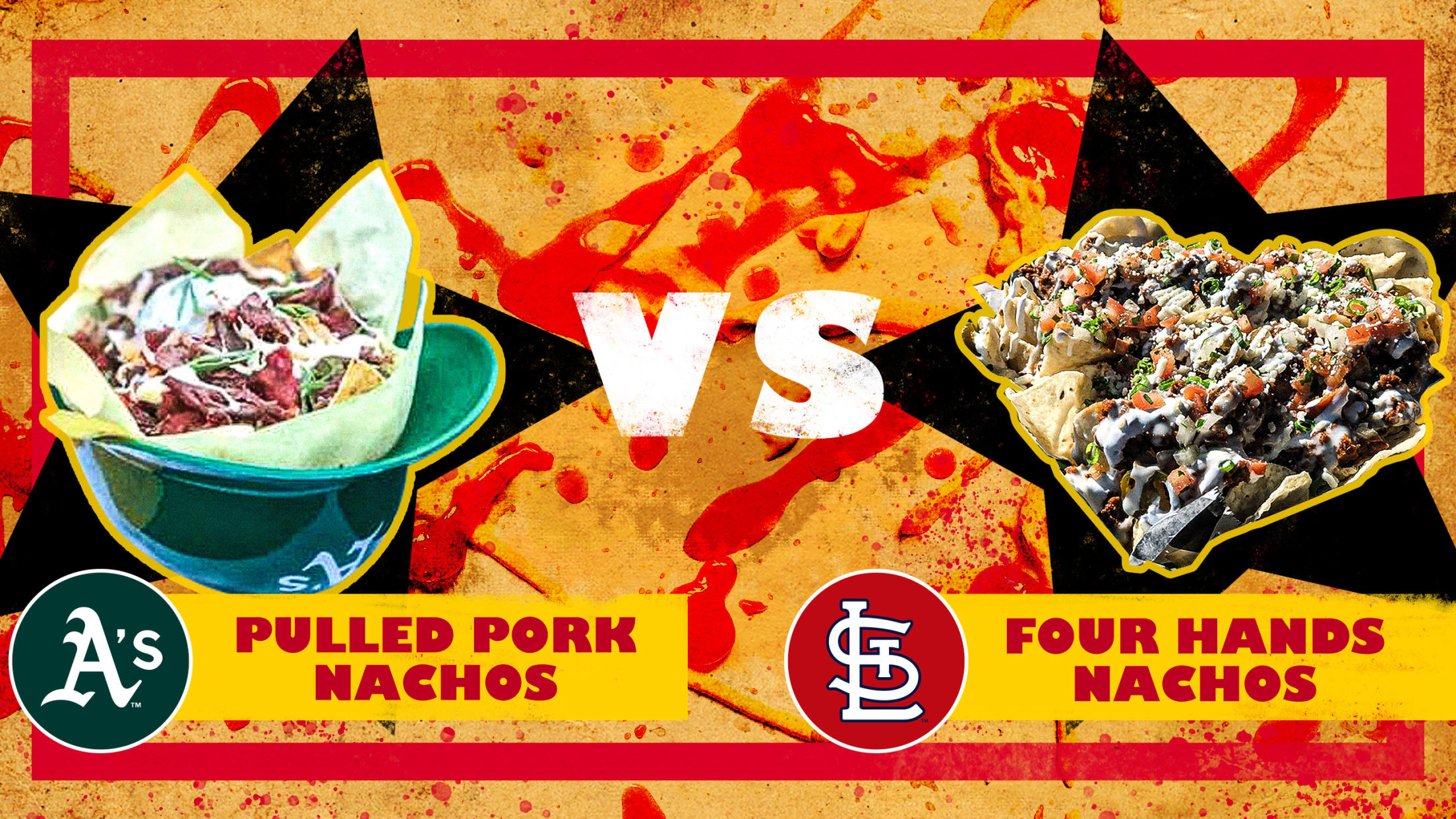 The greatest finger food that would most definitely be neater with a fork. (But anyone who eats nachos with a fork is either on a date or is a narc.)
Oakland's offering comes loaded with pulled pork, house-made queso, cilantro, jalapeño, guacamole, sour cream and salsa in an A's helmet. It's like a crunchy and savory sundae!
The Cards offer up their take, which features fresh corn tortilla chips topped with white cheddar cheese, pico de gallo, pickled jalapeño peppers, crumbled cojita cheese, sour cream and green onion and -- in a twist -- a choice of pulled pork or beef to top it off.
Philadelphia's Philly Cheesesteak vs. the Miami Marlins Cuban Sandwich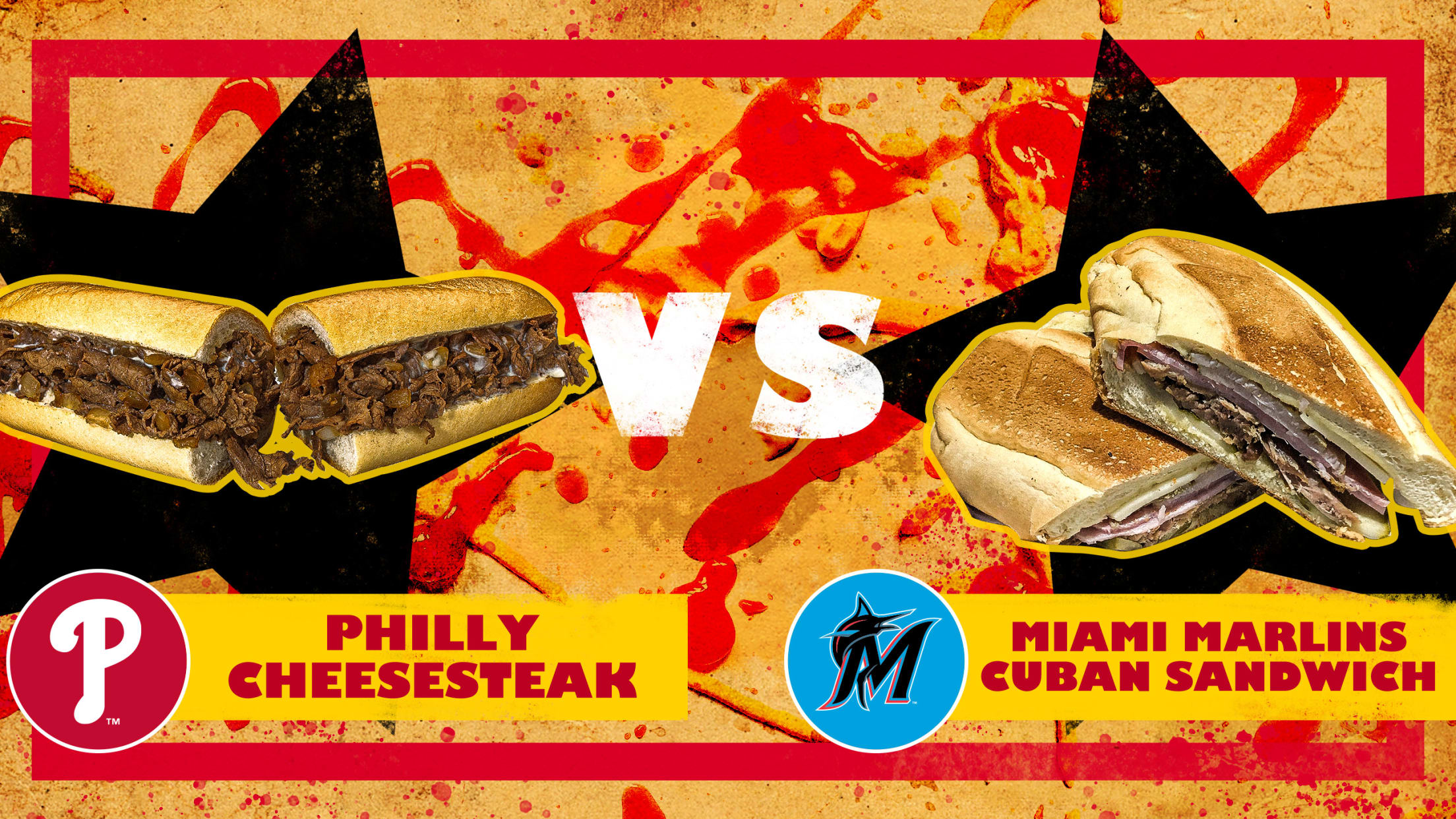 This is going to be a tough vote because these aren't just stadium specialties but regional ones, too. How could the Phillies offer up anything other than a cheesesteak -- a sandwich made of thinly sliced rib-eye and melted cheese on a long roll. Cheez Whiz, American & provolone are the most traditional types of cheese, though it's going to be up to you if you're going "wit' or "witout" (meaning with or without onions).
Miami counters a touch of local influence with their classic Cuban sandwich that the city is famous for. The sandwich is made with boneless pork, ham, swiss cheese and whole grain mustard all on a classic Cuban roll.
Los Angeles' Michelada Sausage vs. Tampa Bay's Beer Braised Short Rib Grilled Cheese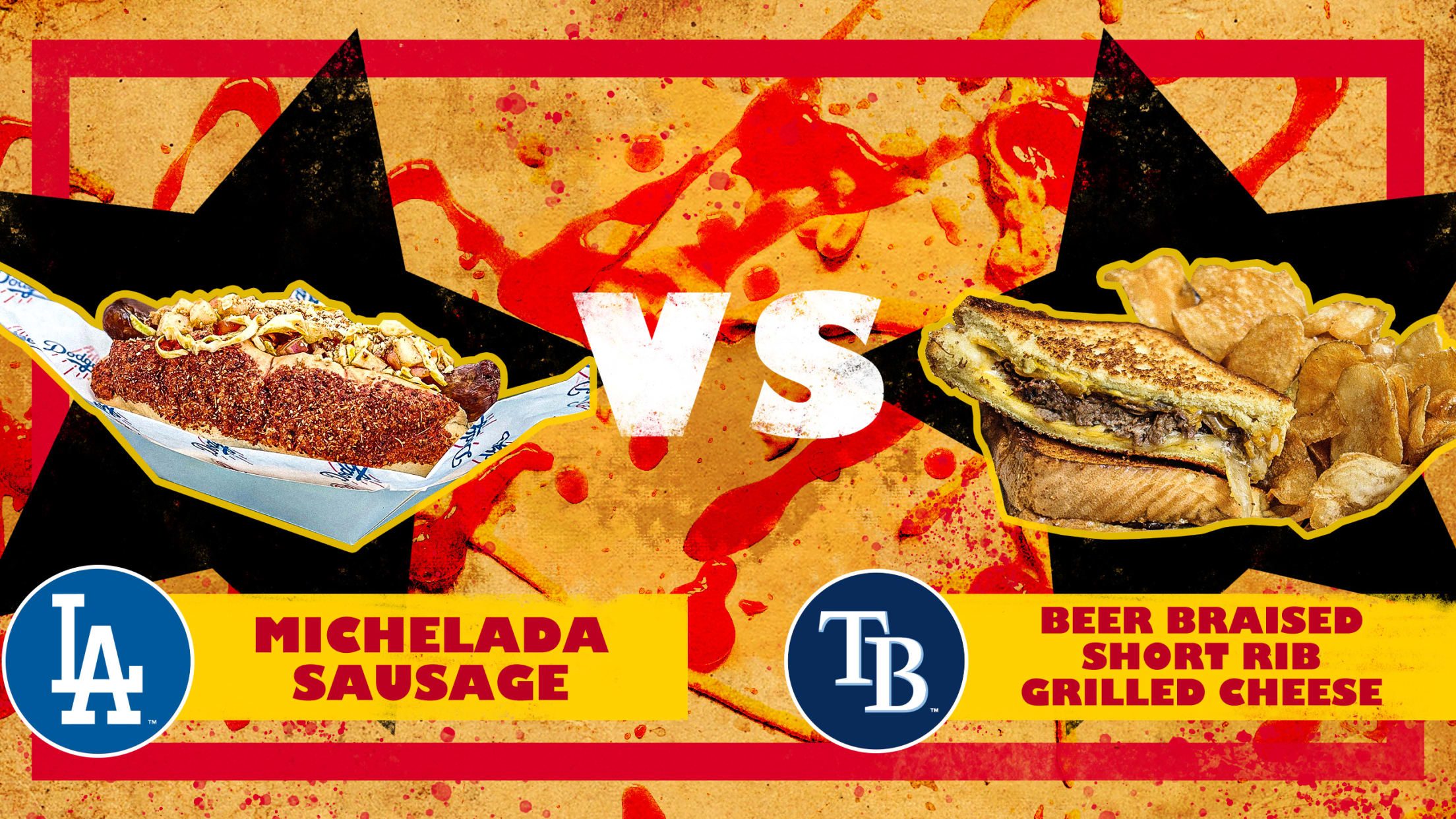 We've got some delicious beer-drenched specialties in this matchup. The michelada is a Mexican drink made with beer, lime juice, sauces, spices, tomato juice and chile peppers that you can find across L.A. So, this sausage is the ballpark food version of the beverage. It features a Dodger Stadium exclusive Michelada-spiced sausage with citrus slaw and is finished with tajin and chamoy nut crumble.
The Rays, who are respecting their Devil Rays past by not putting seafood into the fight, offer a grilled cheese featuring beer braised short ribs, cheddar, Havarti and swiss cheeses, caramelized onions, horseradish cream and sourdough bread. Even better? It comes with a side of kettle chips.
San Diego's Burgundy Pepper Tri-Tip Nachos vs. Kansas City's Brisket-Acho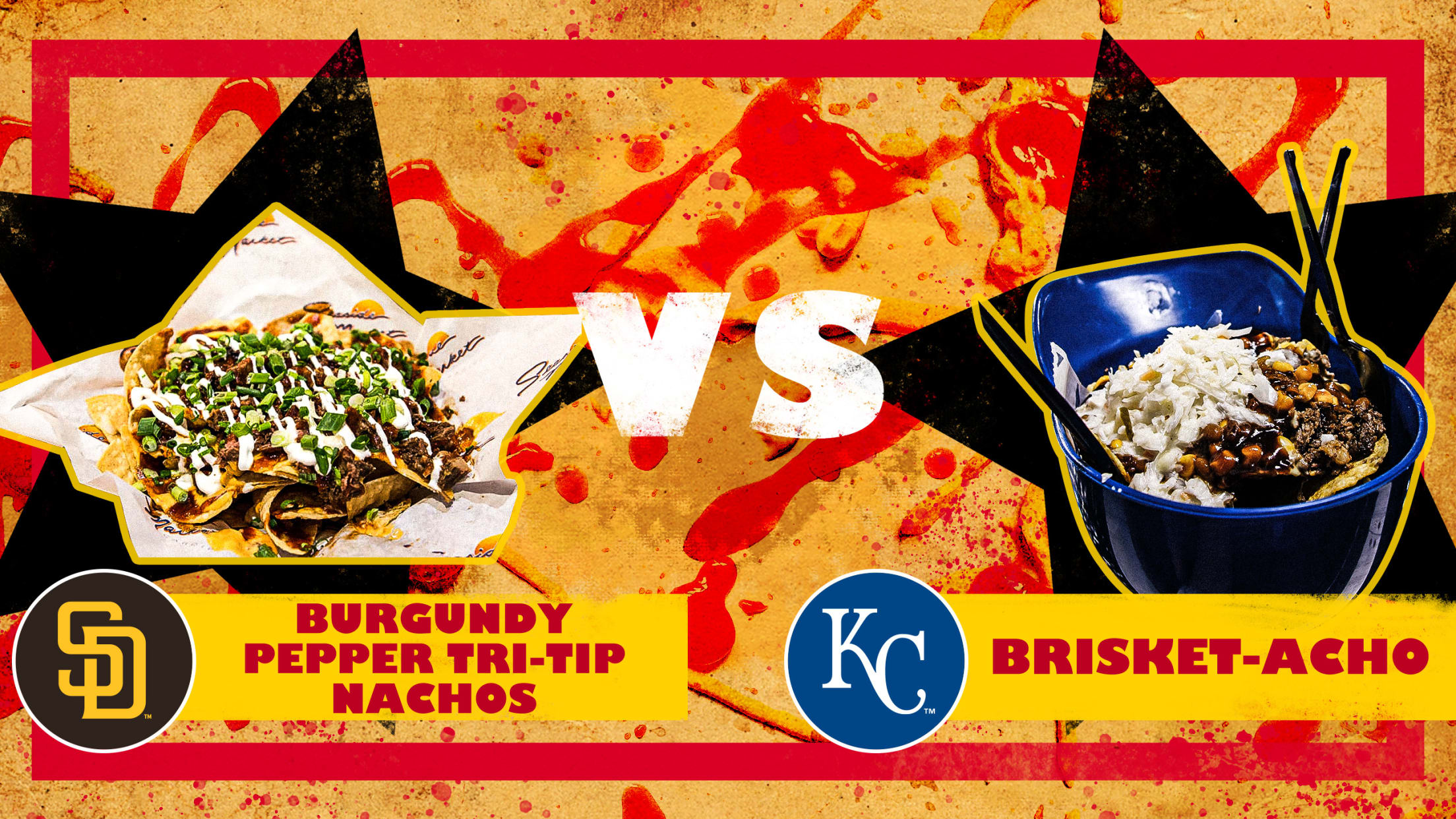 Two barbecue takes on nachos? There are gonna be some hurt feelings when this matchup is over.
The Cardiff Tri-Tip is a San Diego favorite, so of course they put a large portion of chopped up tri-tip on their nachos. They're then served with cheese sauce, drizzled BBQ sauce, sour cream and sprinkled green onions to finish it off.
Kansas City offers up the brisket-acho, which debuted during the Royals' postseason run in 2014. This dish features their signature smoked and seasoned in-house chopped beef brisket layered with homemade baked beans and cheesy corn. It's then topped with coleslaw and Sweet Baby Rays BBQ sauce and comes served on a bed of tortilla chips in a souvenir helmet.
Houston's Astros Cowboy Fry vs the Wild Card Cracker Jack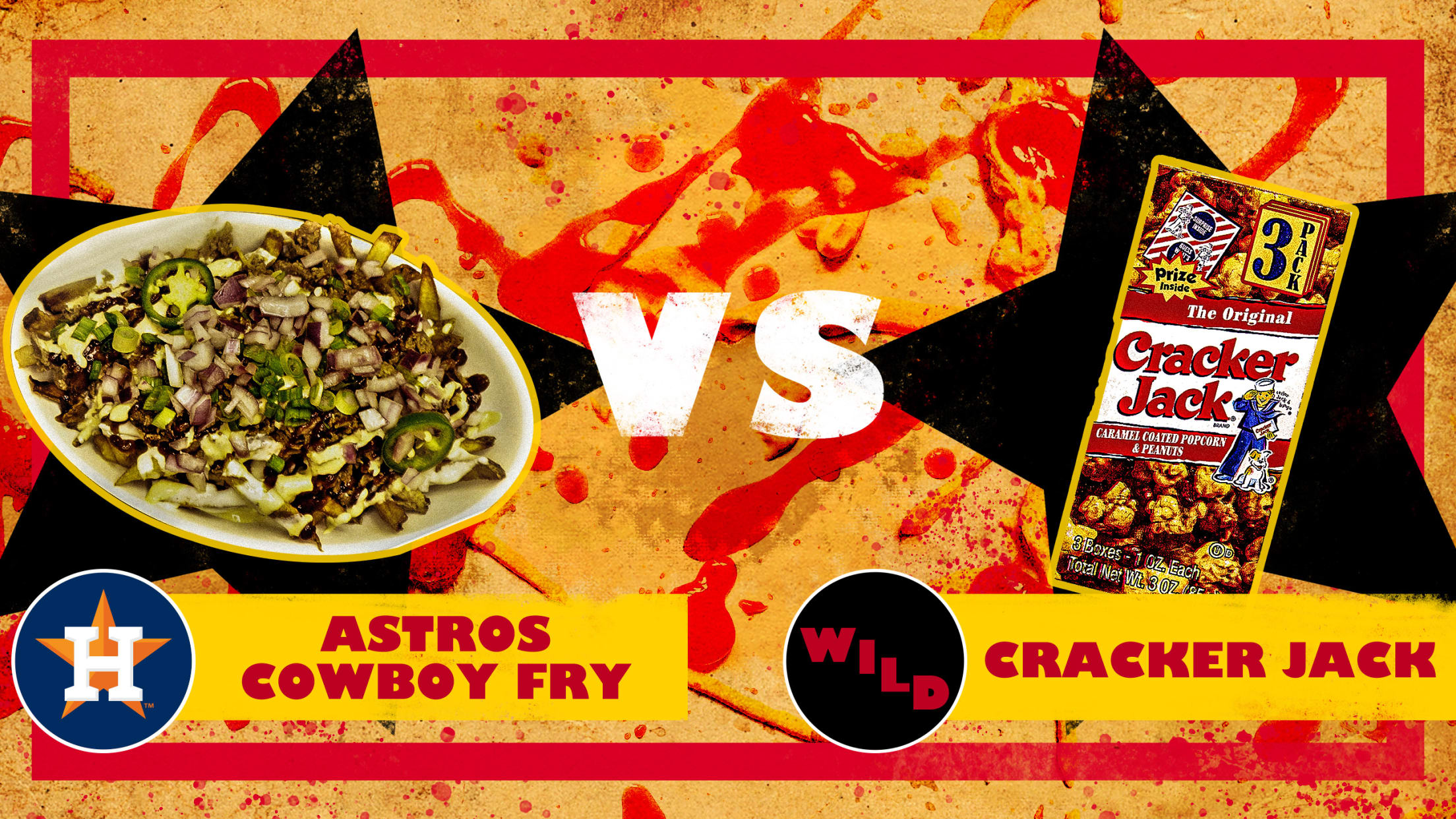 It's the first sighting of fries on the list -- which is an upset in itself. The Astros serve up fresh-cut fries topped with queso blanco, brisket, jalapeño ranch, diced green onions, pickled jalapeños and onions. All of that is then drizzled with some BBQ sauce to finish it off.
But can that defeat the caramel corn and nuts of Cracker Jack? I mean, after all, it's in the song we all sing every seventh inning stretch.
Make your voice heard and help the best food win. Vote at MLB.com/FoodFight.