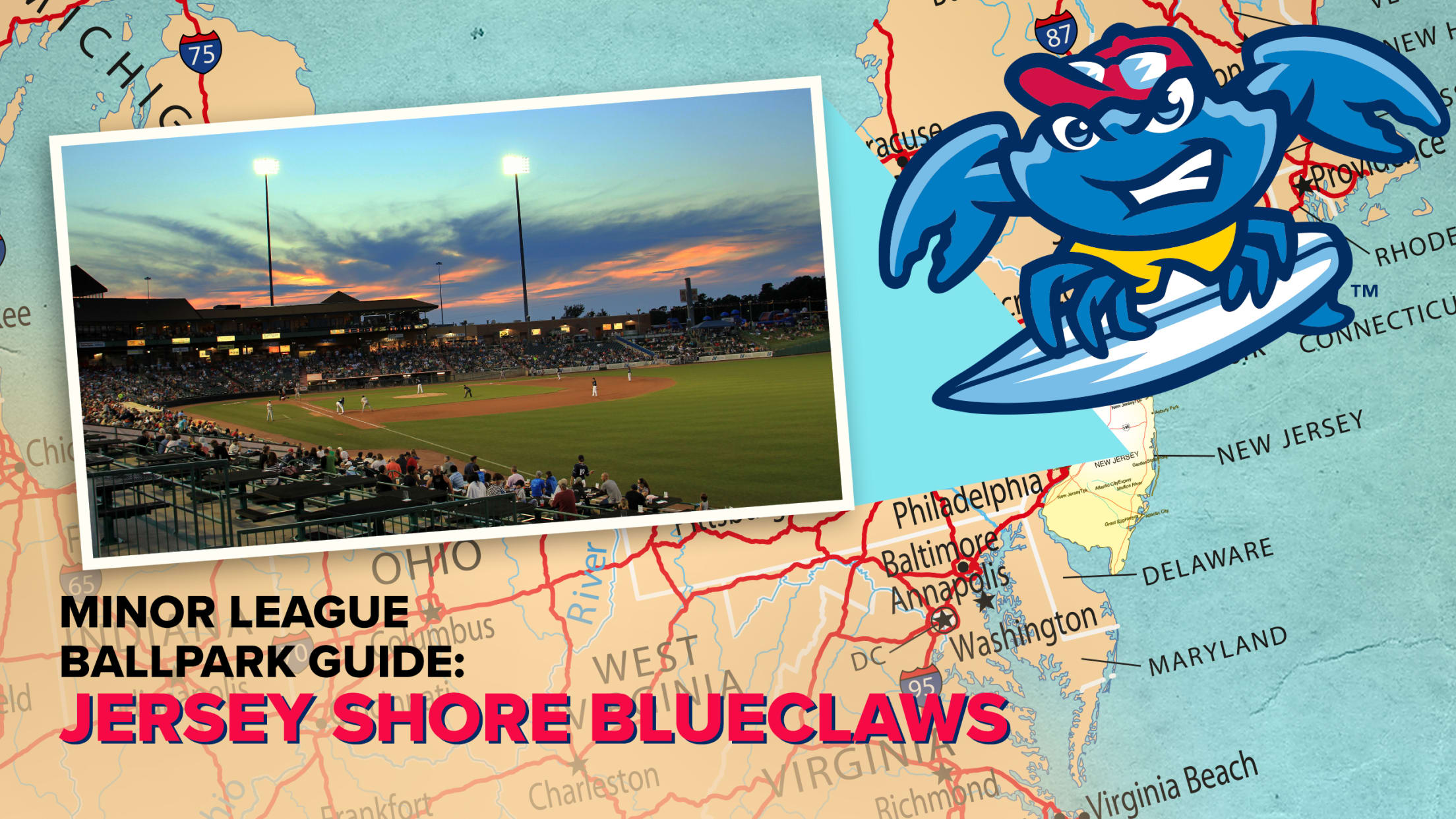 Scroll
Visit the Jersey Shore's ShoreTown Ballpark
Welcome to ShoreTown Ballpark in Lakewood, N.J., where "down the Shore everything's all right" as Tom Waits wrote and Bruce Springsteen sang. Here, the boardwalk comes to the ballpark, offering the chance to test your skills and win prizes at carnival games, put your feet up by a fire on a breezy summer evening and eat one of New Jersey's favorite foods while the ingredients race around the outfield.
Jersey Shore BlueClaws (High-A affiliate of the Philadelphia Phillies beginning in 2021; had previously been the Phillies' Single-A affiliate since 2001)
Established: 2001, as the Lakewood BlueClaws
Ballpark: ShoreTown Ballpark (opened 2001 as GPU Energy Park)
League: South Atlantic League
Notable Alumni: Cole Hamels, Ryan Howard, Carlos Ruiz, J.A. Happ, Carlos Carrasco, Rhys Hoskins, Alec Bohm
Championships: 2006, 2009, 2010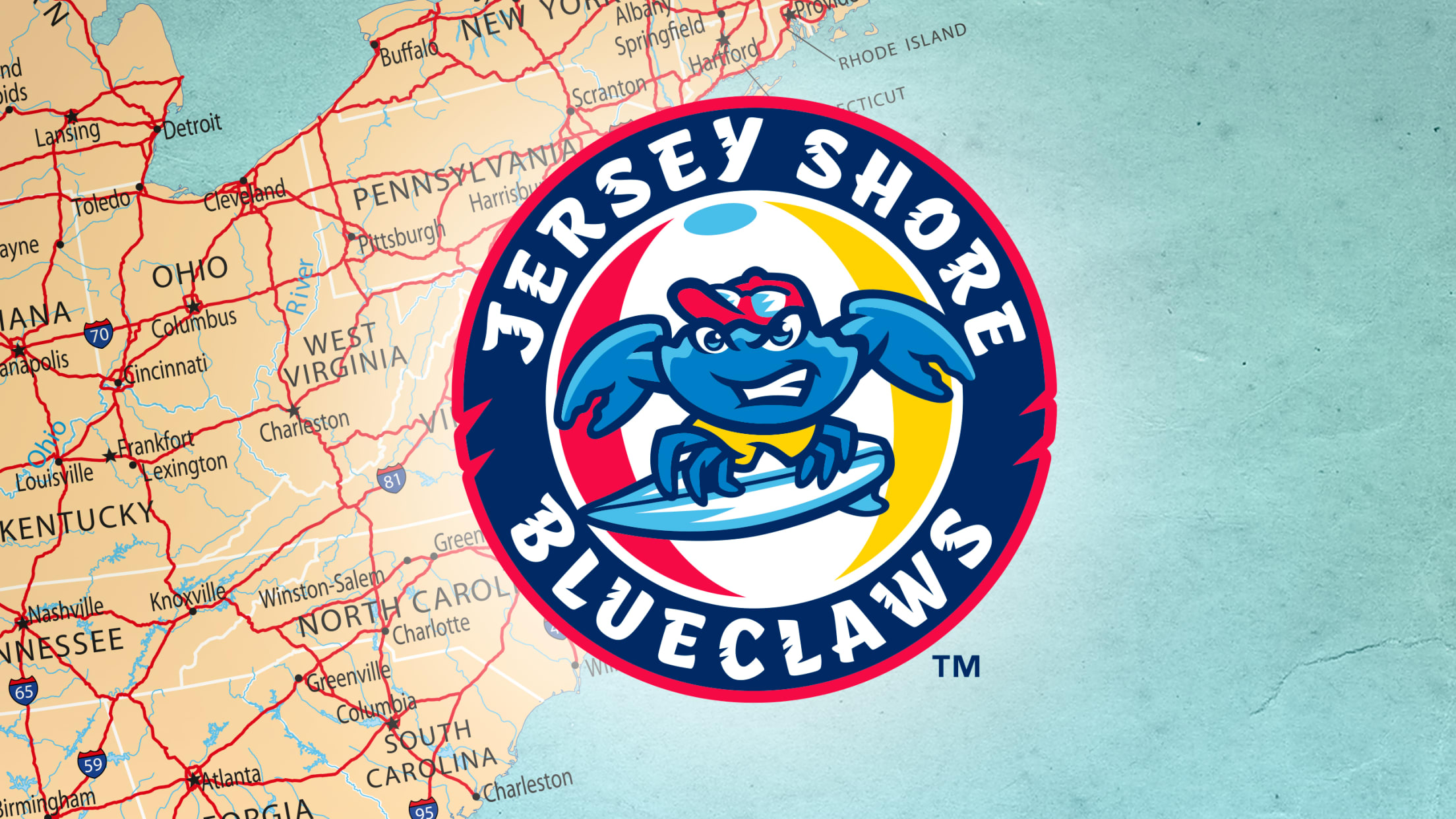 Affiliated Minor League baseball came to eastern New Jersey in 2001, when the Cape Fear Crocs were moved from Fayetteville, N.C., and the Phillies' South Atlantic League affiliate was transferred from Kannapolis, N.C. At the time, they were known as the Lakewood BlueClaws, the name they went by until a rebrand before the 2021 season. The team plays about 10 miles inland from the Jersey Shore and 61 miles from Philadelphia's Citizens Bank Park.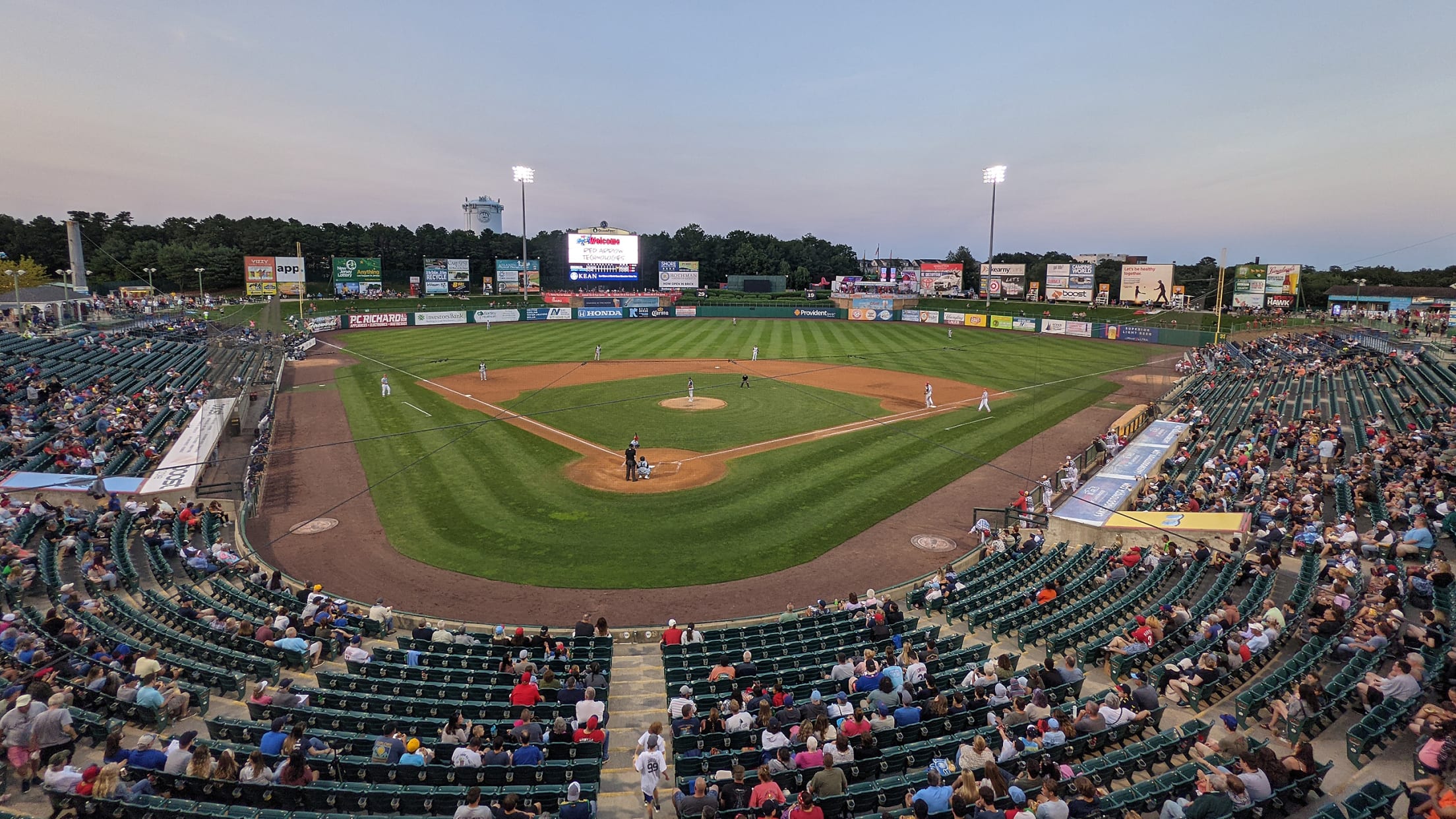 ShoreTown Ballpark
Google Maps
Jersey Shore BlueClaws roster
Jersey Shore BlueClaws schedule
2 Stadium Way
Lakewood, NJ 08701
732-901-7000
Capacity: 6,588 (plus general-admission berm seating)
Dimensions: left field, 325 feet; center field, 400 feet; right field, 325 feet
With 106,000 residents, Lakewood is the most populous township in Ocean County, one of the Garden State's fastest-growing counties. Lakewood has led that charge, with an increase of nearly 100,000 residents since the 2000 Census. More than half of the population is made up of Orthodox Jews, and Lakewood is home to the largest yeshiva outside of Israel.
ShoreTown Ballpark was built on a corner lot covered by pine trees along Cedar Bridge and New Hampshire avenues and remained the only attraction in the immediate area until recent development brought in other retail establishments and a few eateries. A true suburban ballpark, it's not one you'll walk to – other than from your car, across the expansive parking lot.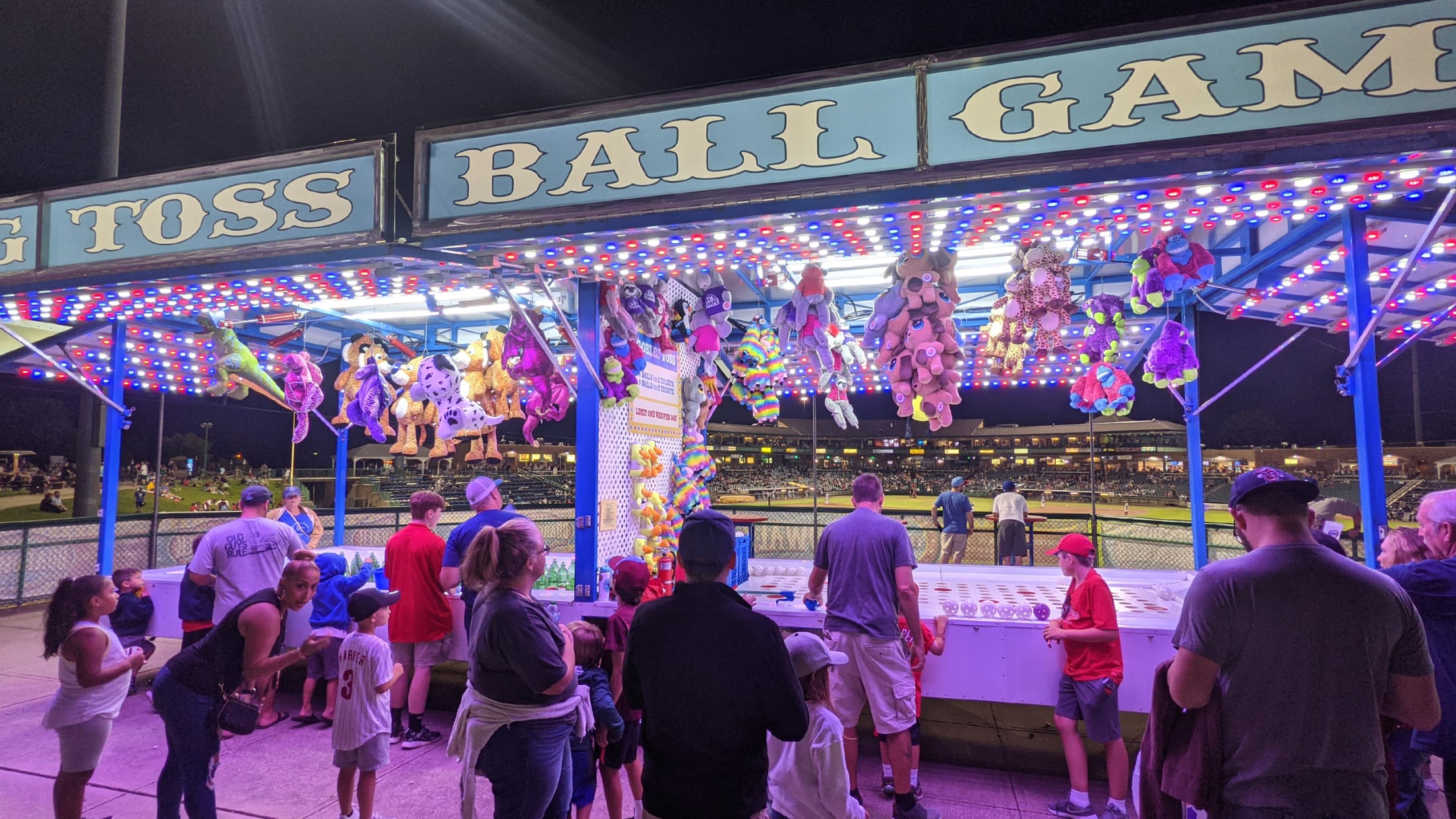 Features
They couldn't build the ballpark on the boardwalk, but they brought the boardwalk to the ballpark. Out in center field, you'll find classic amusements like balloon darts, hoop shoot and ring toss, as well as that stadium staple, the speed pitch. The left-field corner features the Sand Bar, a biergarten and stage for in-game concert performances, and the right-field corner boasts a nine-hole mini golf course. The holes on the course are named for former players who reached the Major Leagues – nine "Holes of Fame" honoring the likes of Ryan Howard, Cole Hamels and Rhys Hoskins.
A 360-degree concourse provides an uninterrupted view of the field, with grass berms in left and right field sloping down to the fences. Five lifeguard chairs are available on a first-come, first-served basis and six firepits – three near each foul pole – can be reserved with a purchase of five tickets.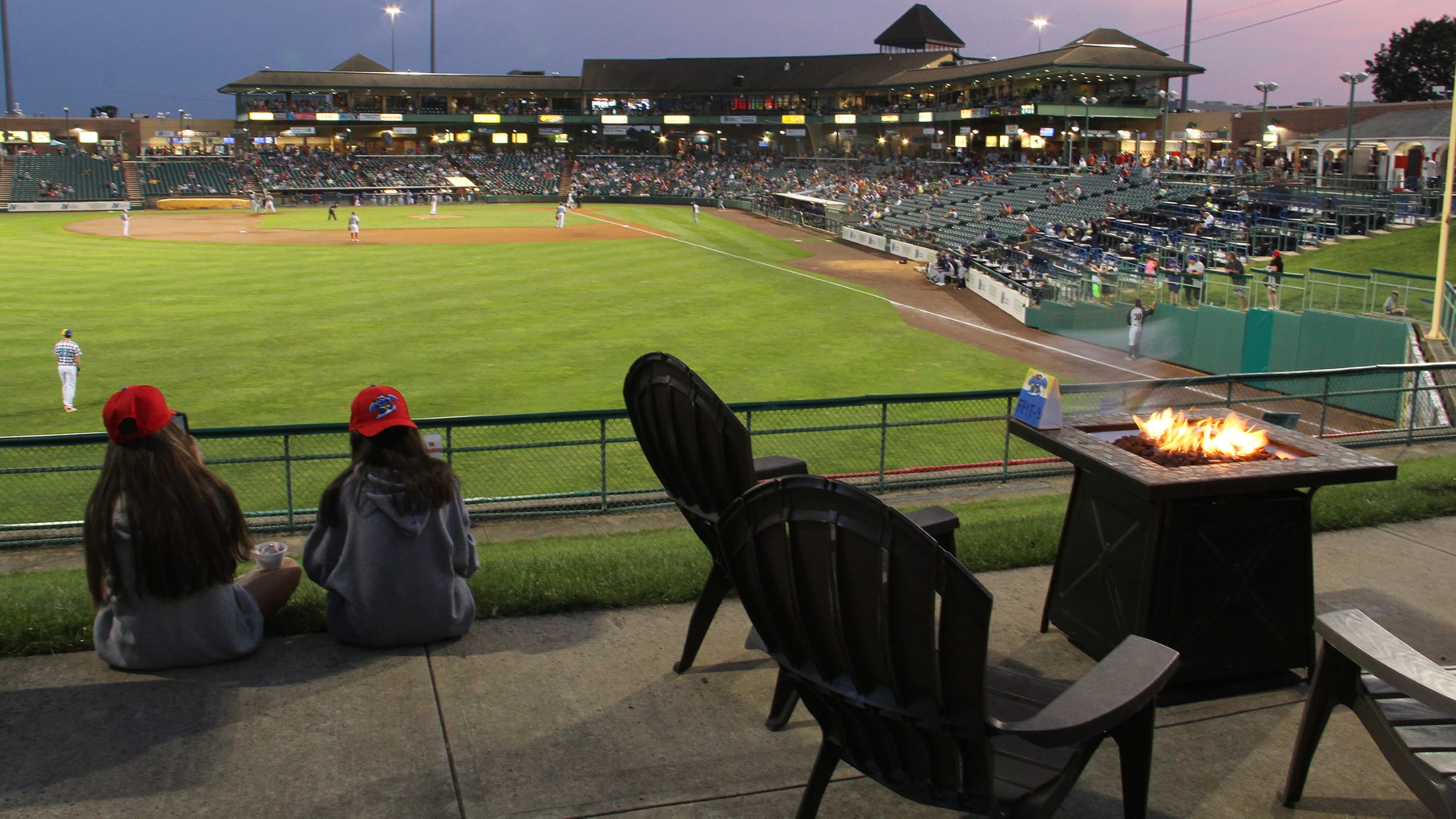 Concessions
Two summer staples, pizza and soft-serve ice cream, are available next to the mini golf course in the right-field corner. In a nod to the BlueClaws' parent club, Philly cheesesteaks are offered from a cart behind home plate on the main concourse, and a BBQ cart – Sauced – has pulled pork or pulled chicken sandwiches and mac and cheese (which can be topped with either meat).
For a true taste of New Jersey, grab a pork roll, egg and cheese sandwich from either of the main concession stands on the first- or third-base concourse. Get it before the end of the third inning and enjoy it while watching the Pork Roll, Egg and Cheese Race, where mascots representing each ingredient sprint around the outfield. Wash it down with a local beer from 732 Brew on the main concourse or a 26-oz. souvenir Beer Bat ($22 for domestic beer, $24 for premium).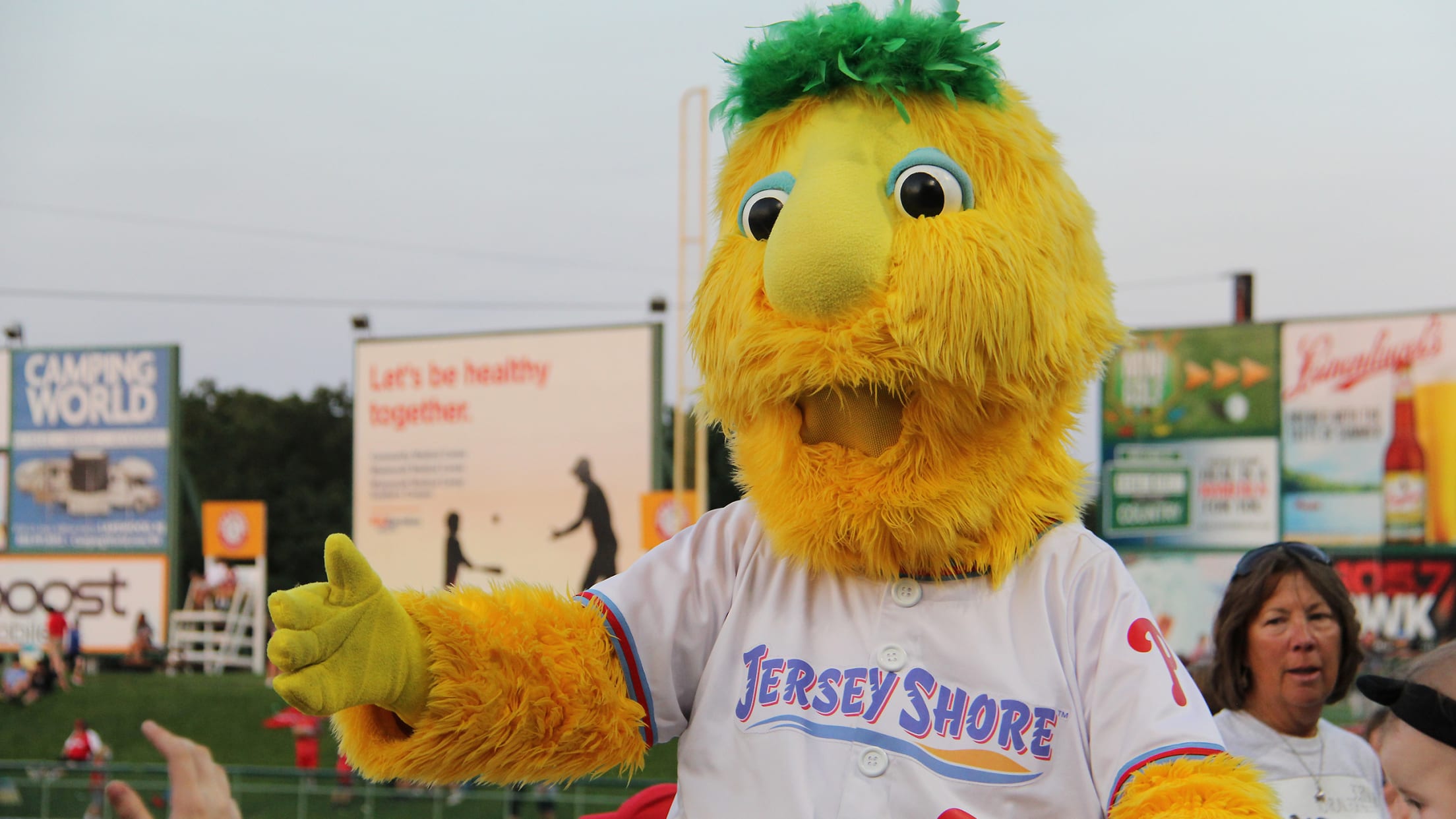 Mascot
Buster has been a regular at FirstEnergy Park from Day 1. A lover of crabs – he won't eat them! – and baseball makes the BlueClaws the perfect fit for the 6-foot-2 "Downy soft" character. Several times a year, he'll welcome his friend from Philly, the Phanatic, to the Shore.
Local Attractions
If you're going down the Shore – it doesn't matter from which direction you're coming, in New Jersey you're going "down the Shore" – you're probably going to want to see the Atlantic Ocean. Scuttle over to Point Pleasant Beach, 10 miles east of ShoreTown Ballpark, where Jenkinson's Boardwalk boasts an aquarium, rides, games, bars and restaurants. For less-crowded strolling, shopping and dining, check out Arnold Ave., which runs due west from the boardwalk and has a small-town Main Street feel.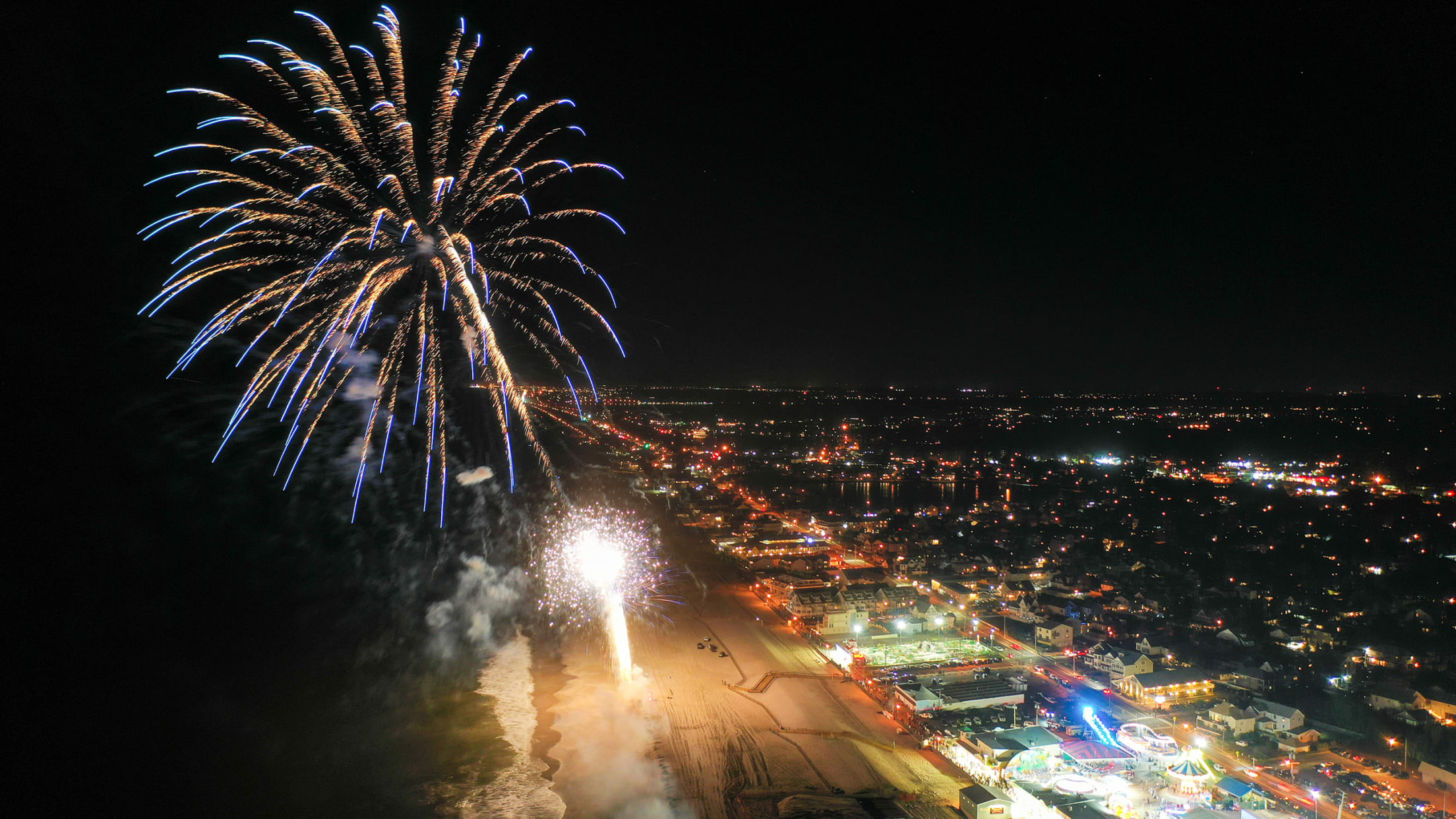 About 10 miles west of the ballpark is Lakehurst Naval Air Station, where the U.S. Navy's fleet of dirigibles was headquartered in the early 20th century. Hangar No. 1 housed these massive airships – including the Hindenburg, which infamously crashed and burned at Lakehurst in 1937.
Twenty miles from home plate, in Jackson Township, is Six Flags Great Adventure and Safari Park, the second-largest theme park in the world after Disney's Animal Kingdom. The park boasts 13 roller coasters, including the Jersey Devil, introduced in 2021, as well as a drive-through safari park and a water park called Hurricane Harbor.
Food and Drink
You can't throw a crab claw along the Jersey Shore without hitting a spot serving seafood, so there's no shortage of options from Asbury Park to Atlantic City. Barbecue is also enjoying a boom; case in point: two options – Offshore BBQ and Jersey Shore BBQ – are across the street from one another along Arnold Ave. in Point Pleasant Beach. Surf Taco, a local chain, offers Mexican-Californian cuisine, including its namesake consisting of tempura-battered cod topped with pico de gallo, shredded cabbage, white cilantro sauce and a squeeze of lime.
For local craft beer before the game, stop by Icarus Brewing off New Hampshire Ave. near the ballpark. Up to 24 selections, from sours and stouts to pilsners and IPAs, are on tap in the tasting room, where the soundtrack is provided by a library of vinyl records, and there is also outdoor seating in the beer garden.
Lodging
If you want to make it a beach vacation, you'll have plenty of places to choose from within half an hour of the ballpark, particularly in Point Pleasant Beach. If being by the beach is not a requirement, U.S. Route 9 runs through Lakewood and features both national chains and local options. The same applies for N.J. Route 70, which runs east-west through nearby Brick Township.
Moving On
New Jersey is home to one other affiliated Minor League club: The Somerset Patriots are the Double-A club for the Yankees and play in Bridgewater, about an hour's drive north of Lakewood. The Trenton Thunder of the MLB Draft League are 45 minutes west on I-195 in the state capital. And in the northern reaches of the state, the MLB-partner Frontier League has two teams. The New Jersey Jackals play at Yogi Berra Stadium, adjacent to the Yogi Berra Museum & Learning Center on the campus of Montclair State University, and the Sussex County Miners play in a rural ballpark in Frankford Township, located in New Jersey's northernmost county.
The Road to Philadelphia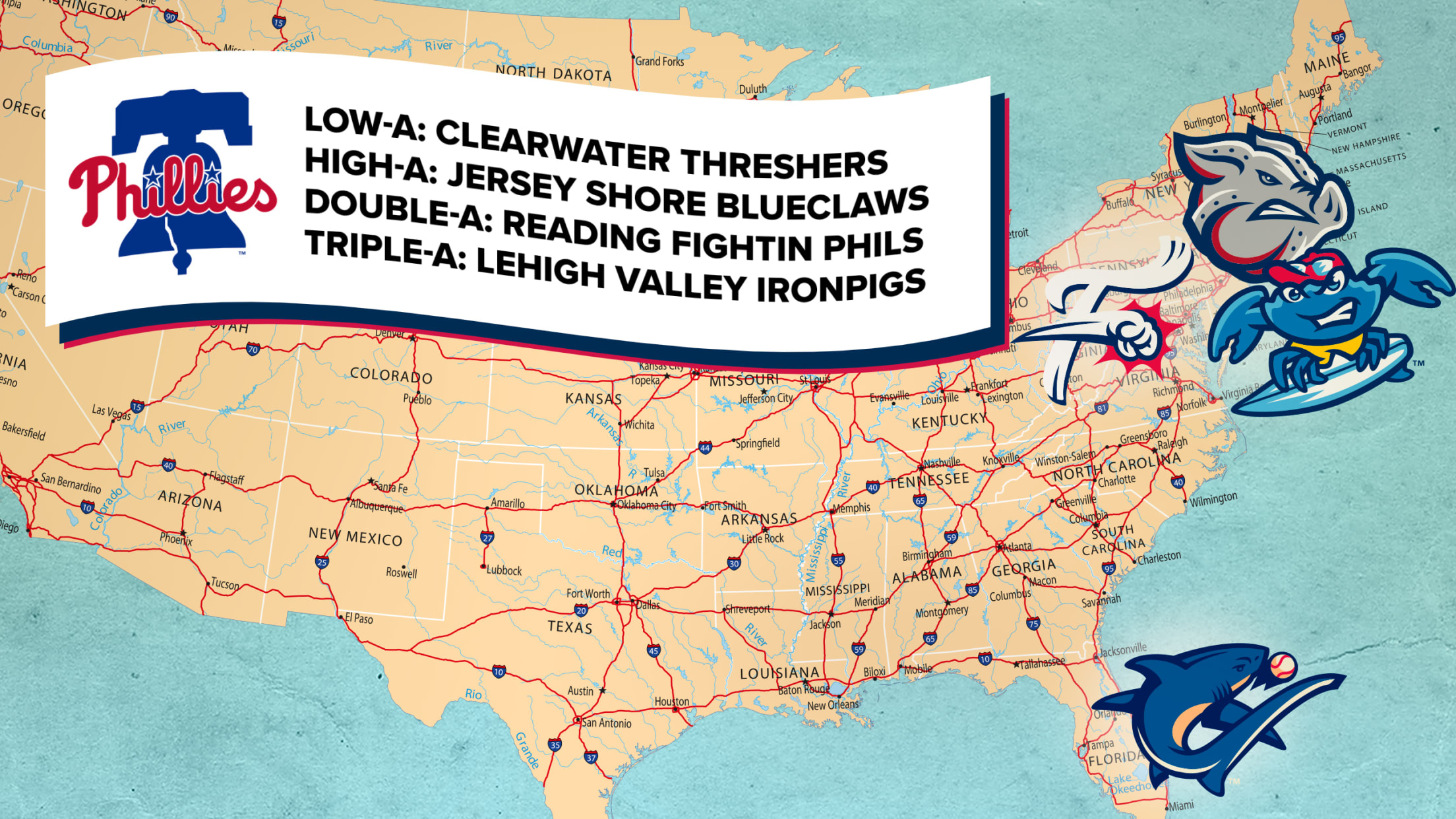 Three of the Phillies' four affiliates are within 75 miles of Citizens Bank Park. If the schedules line up, it's possible to see the High-A BlueClaws in Lakewood; the Double-A Reading Phillies in Reading, Pa.; the Triple-A Lehigh Valley IronPigs in Allentown, Pa.; and the parent club in Philadelphia in one long weekend. The only outlier is the Low-A Clearwater Threshers, who play at the Phillies' Spring Training home in Florida.
Low-A: Clearwater Threshers (Clearwater, Florida)
High-A: Jersey Shore BlueClaws (Lakewood, New Jersey)
Double-A: Reading Fightin Phils (Reading, Pennsylvania)
Triple-A: Lehigh Valley IronPigs (Allentown, Pennsylvania)
credits:
Dan Cichalski is the night homepage editor for MLB.com.