Visit Tennessee's Smokies Stadium
Welcome to Smokies Stadium, surrounded by natural beauty and gaudy tourist meccas in equal measure. Watch some of the top prospects in the Cubs' organization, wolf down a Boomstick and thrill to the sight of a chicken getting chased across the field.
Tennessee Smokies (Double-A affiliate of the Chicago Cubs since 2007)
Established: 1972 (as the Knoxville Sox)
Ballpark: Smokies Stadium (opened in 2000)
League: Southern League
Notable Alumni: Roy Halladay, Jeff Kent, Yadier Molina, Cecil Fielder, Fred McGriff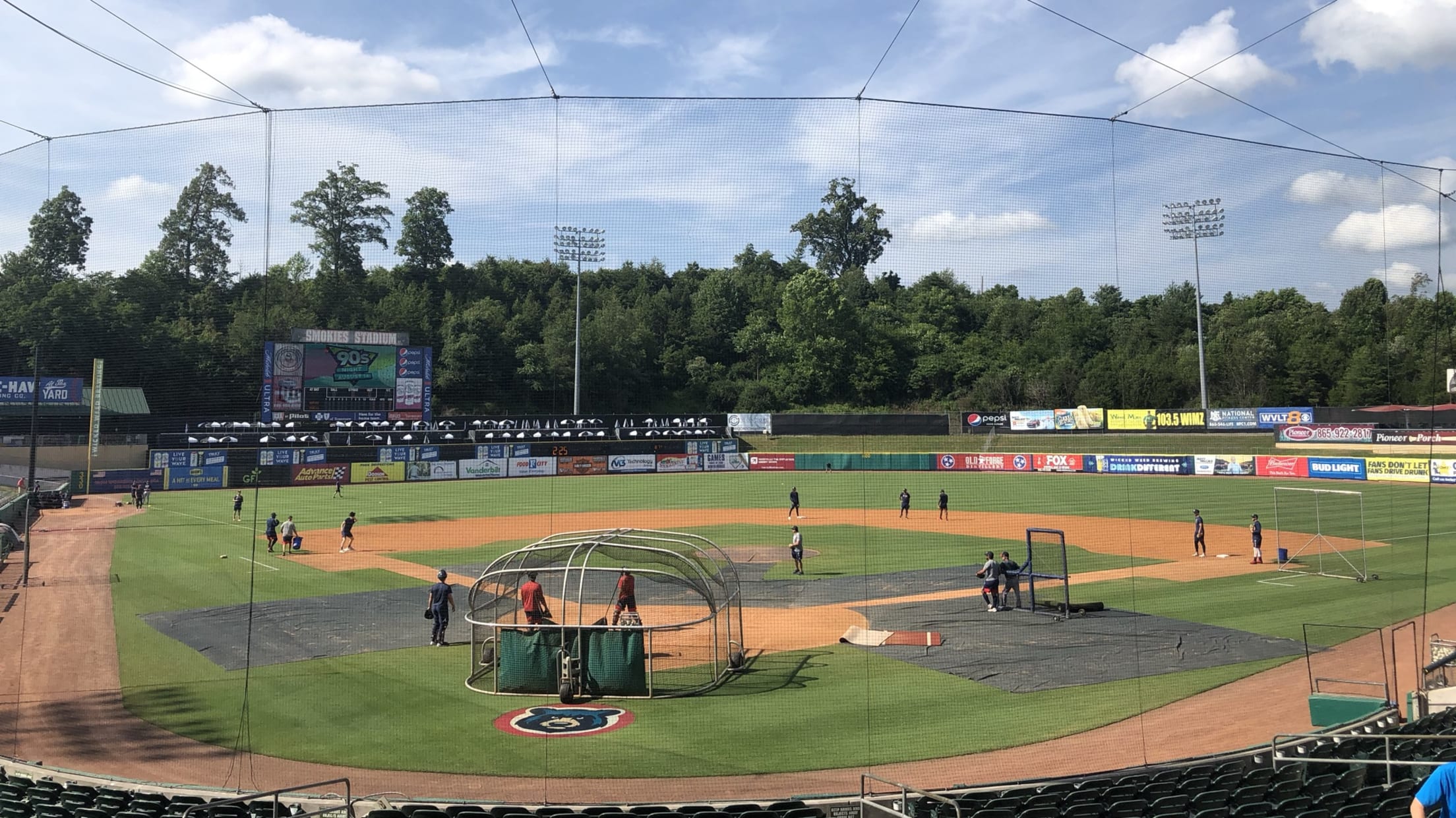 The Tennessee Smokies are, of course, located in Tennessee. From there, things get a little confusing. Smokies Stadium is located in the small town of Kodak, in close proximity to Sevierville and the tourist-centric towns of Gatlinburg and Pigeon Forge. The ballpark is situated approximately 20 miles east of Knoxville, where the team has its roots.
Minor League Baseball in Knoxville dates back to the late 19th century. The current iteration of the team debuted in the Double-A Southern League in 1972 as the Knoxville Sox. The Smokies name, a reference to the nearby Great Smoky Mountains, was first adopted in 1993. Smokies Stadium, which replaced Knoxville's Bill Meyer Stadium, opened in 2000. That same year, the team's geographical signifier was switched from Knoxville to Tennessee.
The Smokies' current bear-centric branding references area wildlife -- bears are prevalent throughout Great Smoky Mountains National Park -- as well as their parent club. The Smokies have been a Cubs affiliate since 2007, following two years with the Diamondbacks and two with the Cardinals.
Smokies Stadium
Google Maps
Smokies Roster
Smokies Schedule
3540 Line Drive
Kodak, Tennessee 37764
(865) 286-2300
Capacity: 6,412
Dimensions: left field, 330; center field, 400; right field, 320
Park factors (2021-22)
100 = league average
Runs: 103 | Homers: 113 | Hits: 103
Southern League environment: 4.77 runs per team per game (ninth-highest of 11 full-season leagues)
Smokies Stadium exists in that nebulous zone between "new" and "classic," devoid of an eye-popping "wow" factor but kept in great shape (and steadily improved upon) over the course of its life. It's a warm and welcoming place to see a game, possessed of a small-town feel despite its proximity to Knoxville. The seating bowl, situated close to the action, extends past the bases on both sides before giving way to bleacher seating. The outfield section of the concourse, once dominated by berm seating, now includes a pair of group areas: Yee-Haw at the Yard (in left field) and the Pioneer Porch (in right).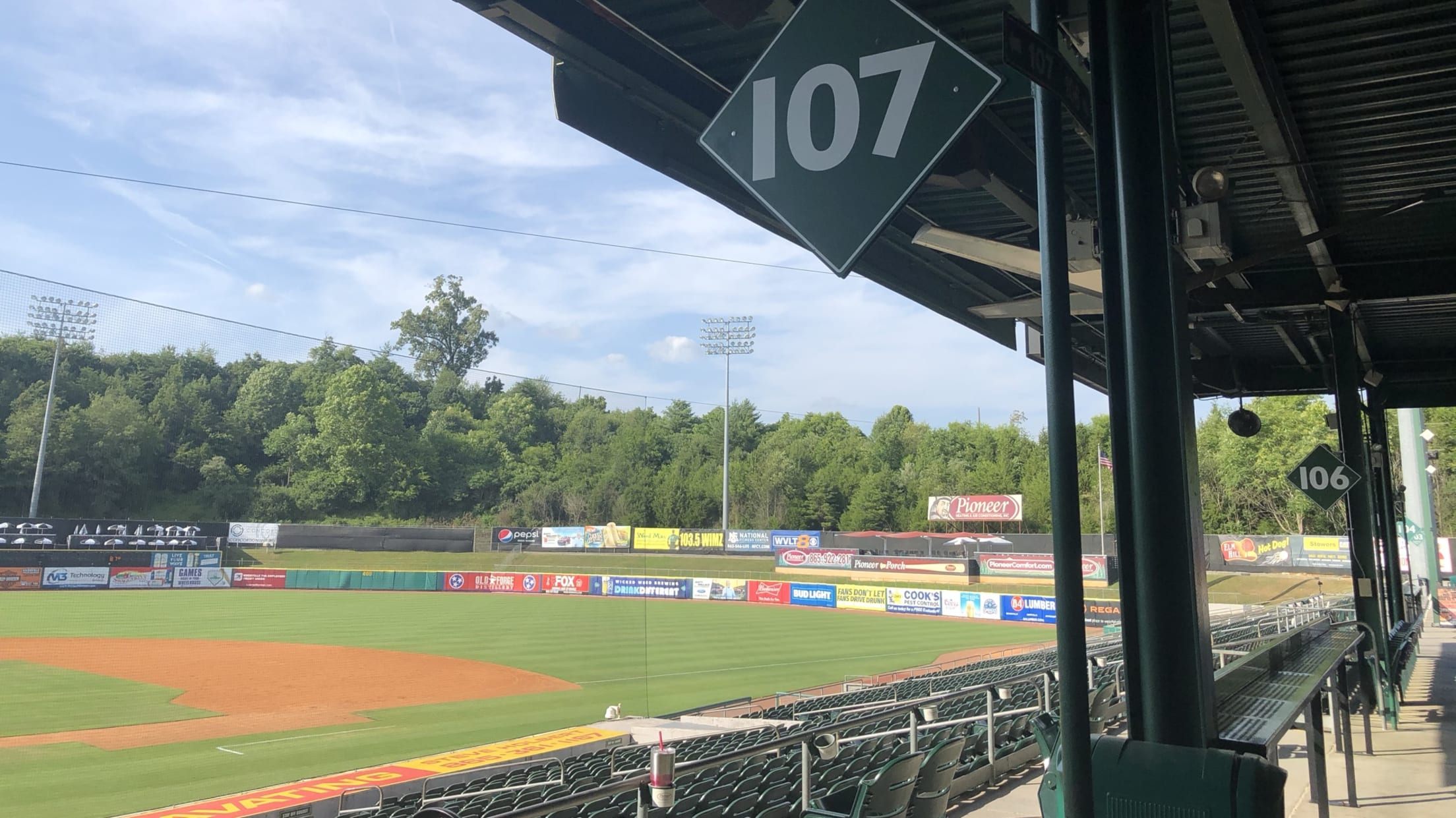 On the concourse, a sign designates the pathway between sections 106 and 107 as Sandberg Alley. This first base-side area was where fans lined up for Ryne Sandberg's autograph when he managed the Smokies in 2009. Sandberg's Alley is one of many examples of Cubs-themed decor in and around the park. To wit: The flagpole in front of the main entrance flies a "W" flag following a home team win, just as the Cubs do at Wrigley Field.
During the game, make sure to be in your seat for the Smokies' between-inning Chicken Run. A giant chicken crosses the outfield, pursued by a horde of screaming children who, despite their best efforts, are never able to catch up.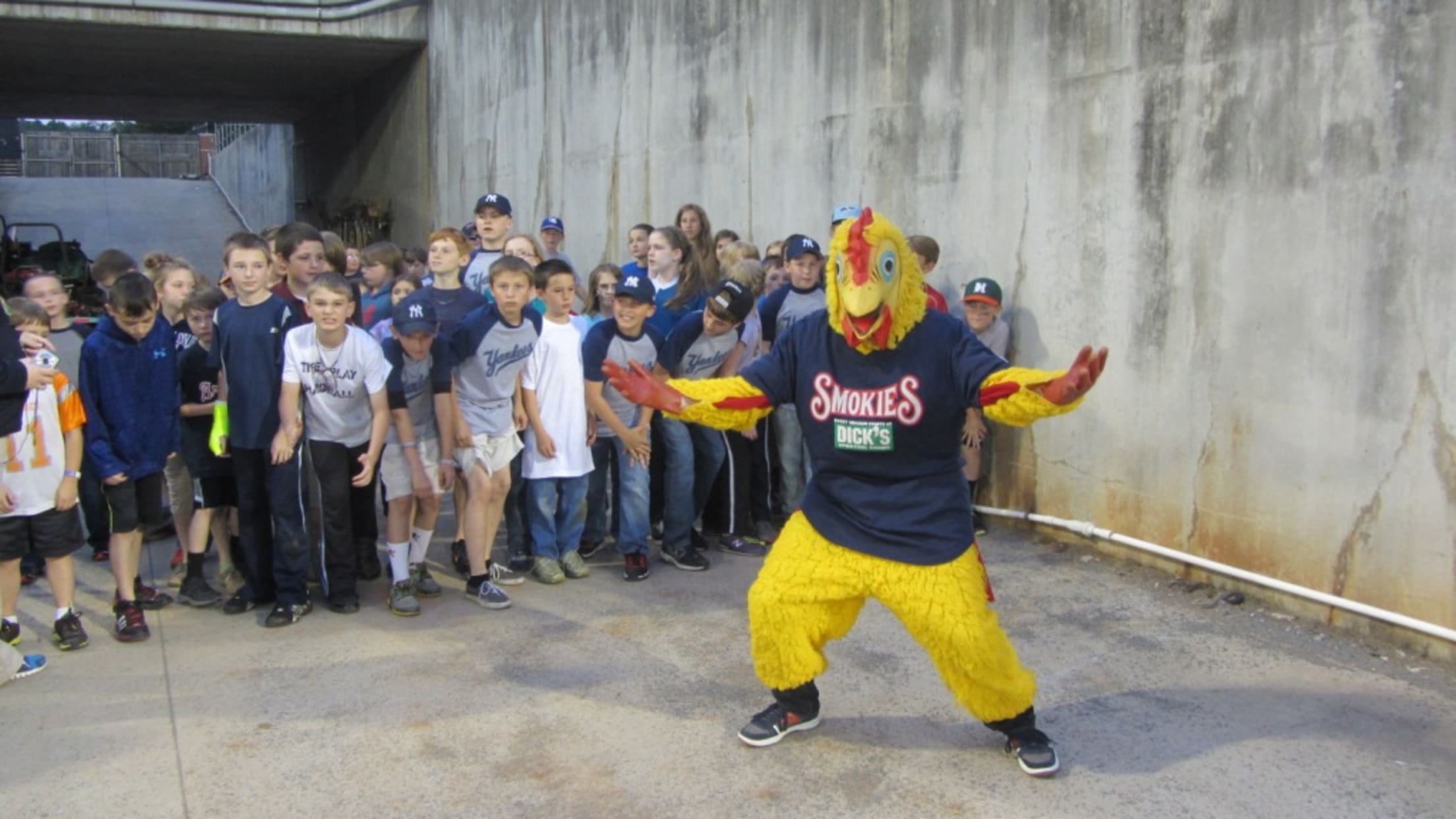 Concessions
Options abound from foul pole to Fowl Pole, a chicken-centric concession stand in left field. That area is also home to the Batter's Box Bar and Grill and its cornucopia of specialty burgers. On the other side of the facility, the Bush's Best Ballpark Café offers an array of customizable items featuring Bush's Beans (the company's headquarters are in nearby Chestnut Hill).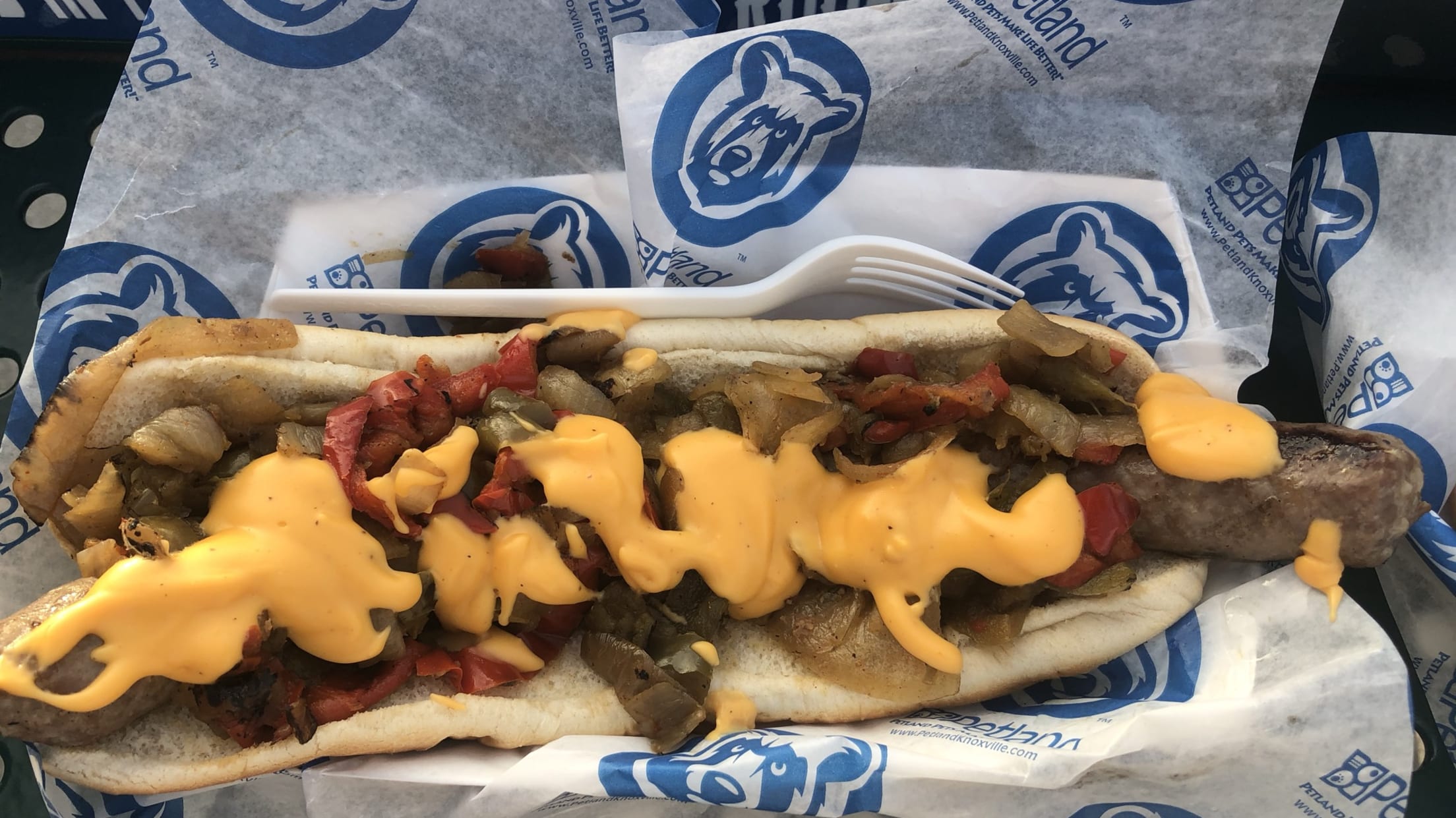 An abundance of ballpark staples can be obtained at the large Prospects Corner stand, but true gourmands will want to seek out a small standalone cart set up on the concourse behind home plate. The Boomstick -- a footlong Swaggerty-brand sausage topped with beer cheese, peppers and onions -- can be obtained there, as well as the sweet and savory concoction that is a Krispy Kreme Slider.
Mascot
Homer the Hound may be smarter than your average bear, but he isn't a bear. He is, as his name implies, the Smokies' top dog. When he's not entertaining fans at the ballpark, this canine cinephile enjoys watching celluloid masterpieces such as Air Bud and Beethoven.
Where to Stay
Headed to the stadium and looking for a hotel nearby? Your Wyndham is waiting. As the Official Hotel of Minor League Baseball, Wyndham Hotels & Resorts welcomes baseball fans with a portfolio of 24 trusted brands. Find Hotels by Wyndham closest to the ballpark below and book now at wyndhamhotels.com.
• Days Inn by Wyndham Kodak/Sevierville Interstate Smokey Moun
• La Quinta Inn & Suites by Wyndham Sevierville / Kodak
• Super 8 by Wyndham Sevierville Riverside
• La Quinta Inn & Suites by Wyndham Knoxville East
• Baymont by Wyndham Sevierville Pigeon Forge
Local Attractions
Do you want to get away from it all, or be right in the thick of it? If you're visiting Smokies Stadium, both options are readily available. Great Smoky Mountains National Park encompasses over 800 square miles in Tennessee and North Carolina, and one of its main entrances is in Gatlinburg. Inside the park there is an abundance of wildlife, waterfalls and, of course, mountains.
In addition to being a National Park gateway, Gatlinburg is filled with tourist attractions. This includes the Gatlinburg Space Needle, Ripley's Aquarium of the Smokies and, perhaps most intriguingly, the Salt and Pepper Shaker Museum.
The Smokies are in the greater Knoxville area, so consider visiting Knoxville.
And lest we forget: The Smokies operate in the heart of Dolly Parton country. The country music icon grew up in Sevierville, whose quaint downtown now features a Dolly Parton statue on the courthouse lawn. Nearby Pigeon Forge is home to Dollywood, a sprawling resort and theme park co-owned by Parton herself.
Food and Drink
Where to begin? Gatlinburg and Pigeon Forge have hundreds of options between them, many of them oversized tourist-centric establishments located on heavily-traveled roads. Pick a restaurant cuisine or theme and you'll probably find it. Over-the-top dining experiences include the Hatfield and McCoy Dinner Feud and Dolly Parton's Stampede. Downtown Sevierville offers a respite from the sensory overload, with standouts such as Graze Burgers and, more upscale, The Appalachian.
Moving On
They may be named the Tennessee Smokies, but the Smokies are not the only Minor League team in Tennessee. One worthwhile road trip agenda would be to start in Nashville with the Sounds and then visit the Chattanooga Lookouts before traveling to see the Smokies. From there, one can make like the Great Smoky Mountains and extend into North Carolina. The Asheville Tourists, Hickory Crawdads, Charlotte Knights, Kannapolis Cannon Ballers and many more await.
The Road to Chicago
Players in the Chicago Cubs' systems, like their fans, travel well. The organization veers between the South and the Midwest, with teams in South Carolina, Indiana, Tennessee and Iowa.
Single-A: Myrtle Beach Pelicans
High-A: South Bend Cubs
Double-A: Tennessee Smokies
Triple-A: Iowa Cubs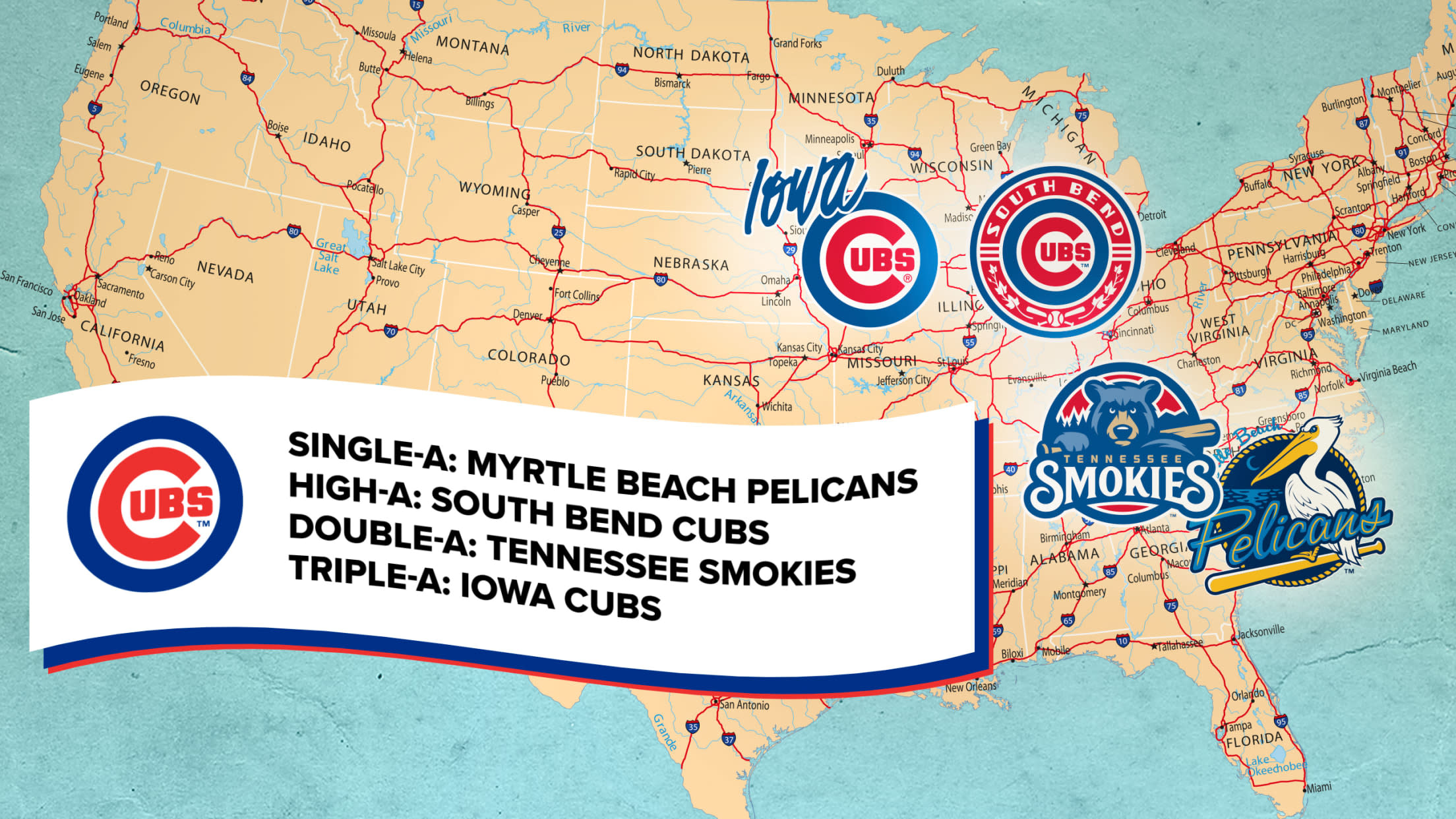 credits:
Benjamin Hill, who covers the business and culture of Minor League Baseball, has visited 182 Minor League ballparks.