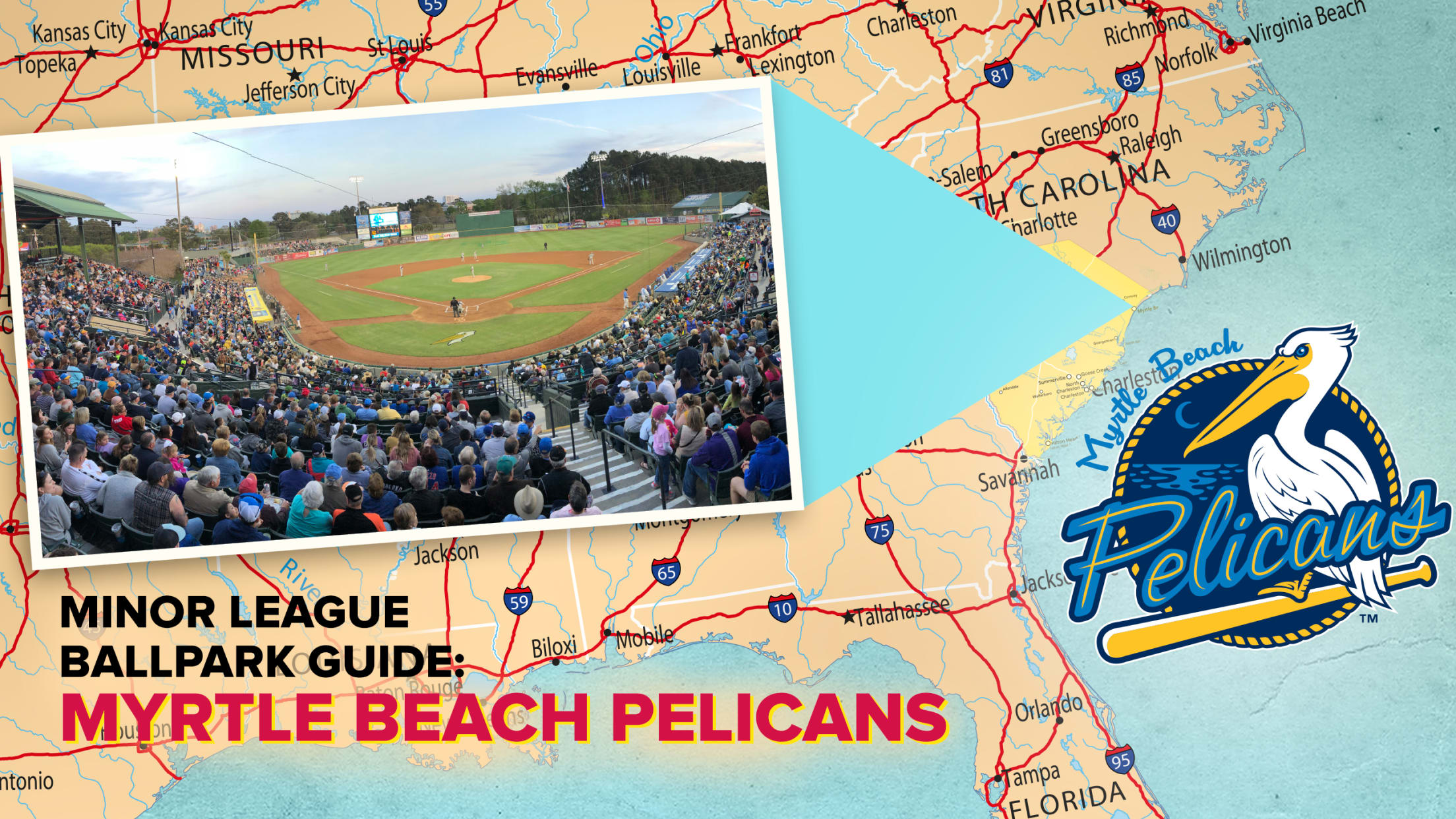 Scroll
Visit Myrtle Beach's TicketReturn.com Field
Welcome to TicketReturn.com Field at Pelicans Ballpark, a baseball's throw (or just a bit farther) away from the Atlantic Ocean on South Carolina's Grand Strand.
Myrtle Beach Pelicans: Low-A affiliate of the Chicago Cubs since 2021, Cubs affiliate since 2015
Established: 1999 (in the Class A Advanced Carolina League)
Ballpark: TicketReturn.com Field at Pelicans Ballpark (opened 1999)
League: Low-A East, South Division
Notable Alumni: Eloy Jiménez, Joey Gallo, Freddie Freeman, Brian McCann, Jeff Francoeur
Championships: 1999*, 2000, 2015, 2016 (all in the Carolina League, *shared 1999 title with Wilmington)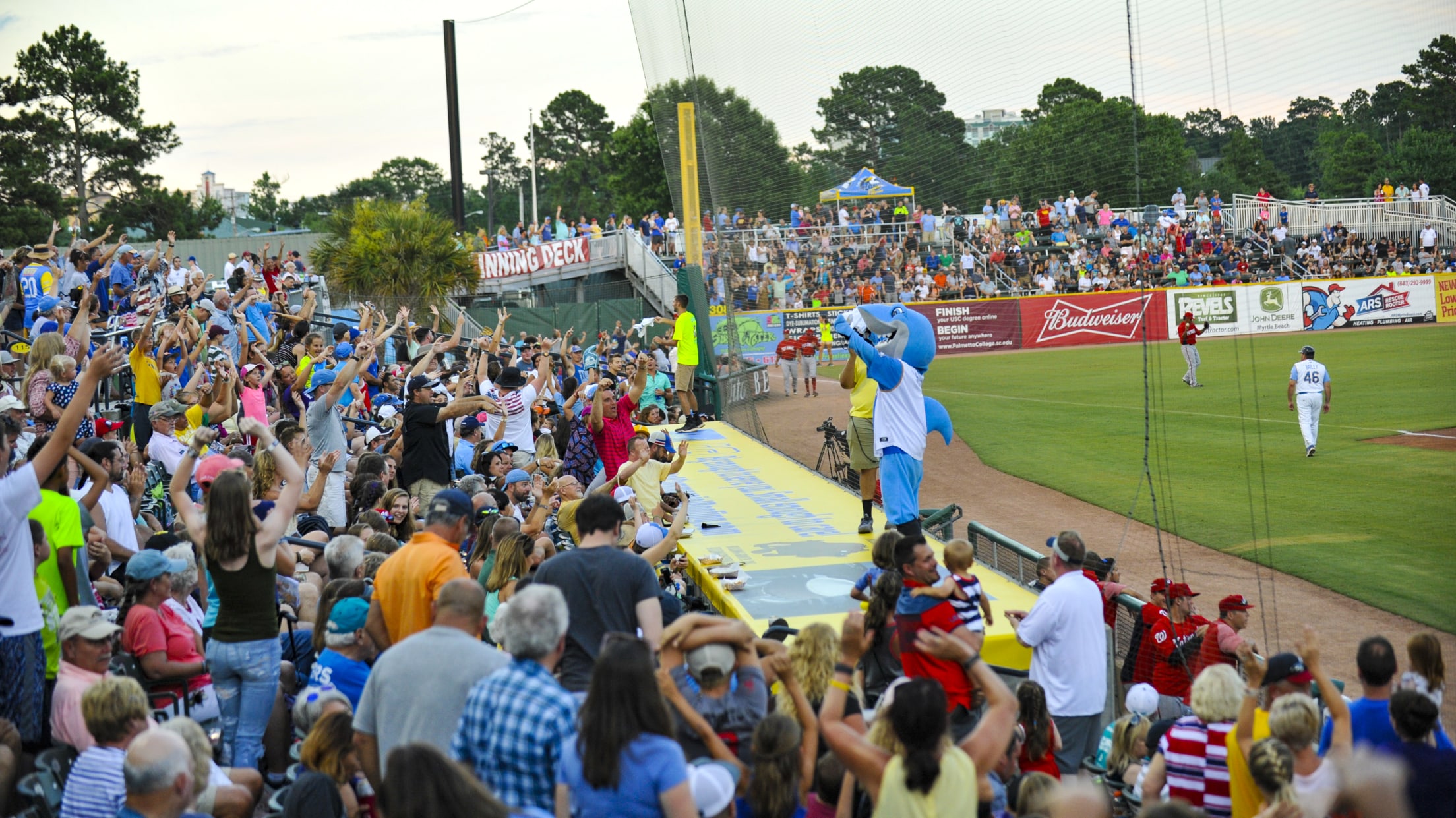 Affiliated ball in Myrtle Beach is relatively young by pro ball comparisons in the Carolinas. The Minor Leagues first arrived on the Grand Strand in 1987 with the Myrtle Beach Blue Jays calling the city home until 1992, their final two seasons as the Myrtle Beach Hurricanes. The region was without a Minor League team from the Hurricanes' departure until 1999 when the Pelicans arrived and turned themselves into a summertime stalwart on the coast. They did so as the descendent franchise of one of baseball's most lasting pop culture identities. When Bull Durham made its namesake team and city famous on the sports landscape, Durham, N.C., built a new ballpark and landed a Triple-A franchise. Its former Class A Advanced team pulled up stakes after the 1997 season, spent a holdover campaign in 1998 as the Danville (Va.) 97s while waiting for its new ballpark to be completed in Myrtle Beach, and headed to South Carolina the following year.
With the southeast's favorite team as their parent club, the Atlanta Braves-affiliated Pelicans kicked off franchise history by capturing Carolina League titles in their first two seasons. The 1999 crown was split with the Wilmington Blue Rocks after Hurricane Floyd forced the cancellation of the Mills Cup Championship Series. The following year, the Birds finished the job, sweeping Lynchburg 3-0 in the finals.
An Atlanta affiliate through 2010, the Pelicans partnered with the Rangers from 2011-14, reaching the postseason in all four years. In 2015, they became an affiliate of the Cubs and immediately cashed in on the new link, winning league championships that year and the next.
TicketReturn.com Field at Pelicans Ballpark
Google Maps
Pelicans Roster
Pelicans Schedule
1251 21st Avenue North
Myrtle Beach, South Carolina 29577
(843) 918-6002
Capacity: 4,800 seats, up to 6,599 including standing room
Dimensions: Left field, 308 feet; Center field, 400 feet; Right field, 328 feet
Built for the 1999 season, the Pelicans' home of TicketReturn.com Field has aged gracefully and kept one thing at its core: baseball. While it won't have the flashiest amenities and ballpark features of newly constructed facilities, not much competes with a summer night near the shore with a beer (bat) in-hand and a breeze coming off the Atlantic.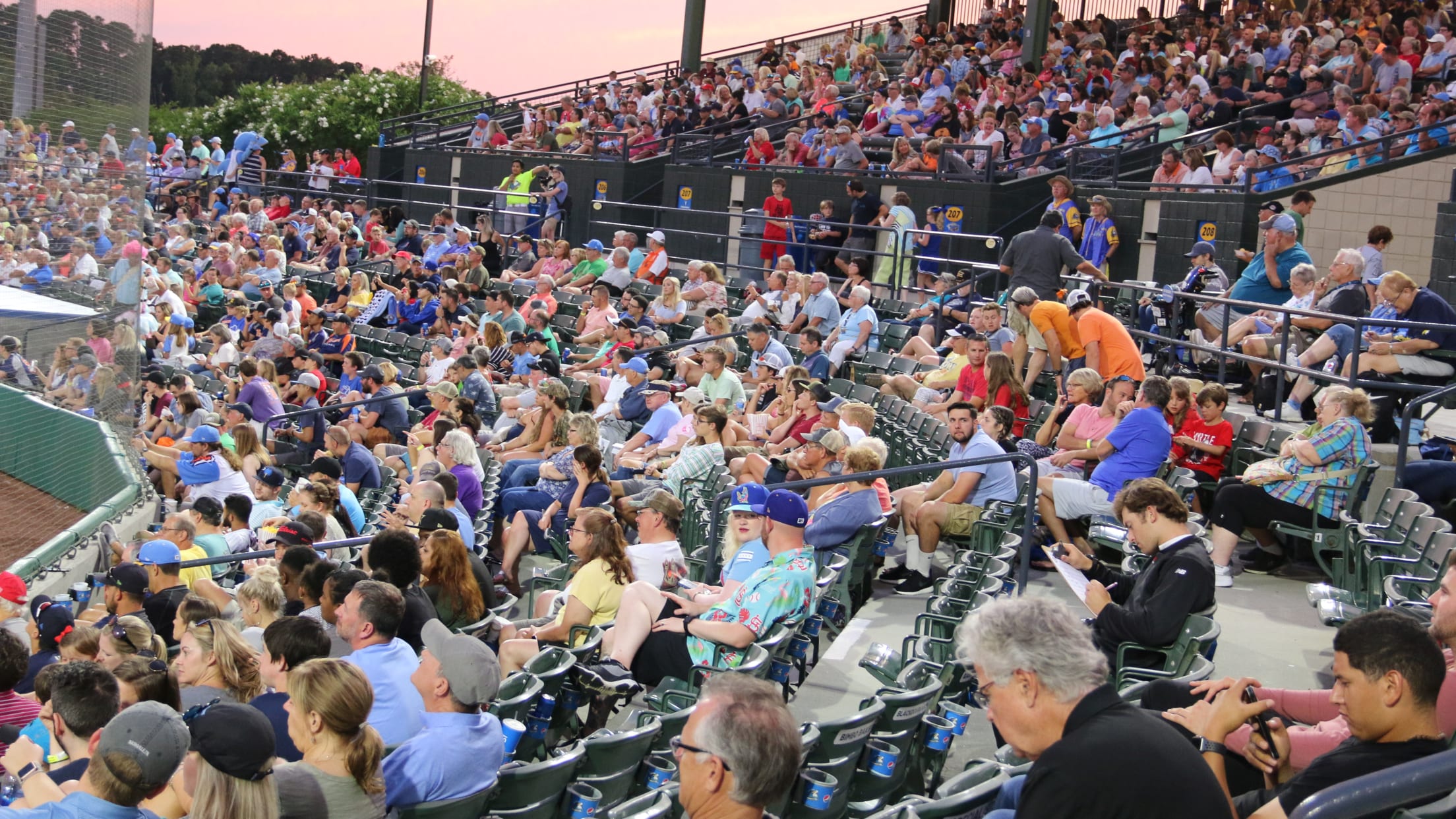 Pelicans ownership and management know that fans have more than enough competing options for entertainment around the Grand Strand and beyond, so they keep it simple: good food, good baseball, good ballpark, affordable family fun. While the Pelicans' home doesn't have an upper deck or a Ferris wheel or a lazy river or some of the other wild ballpark features of recent construction across the Minors, Myrtle Beach's franchise has constantly been able to add and tweak, keeping its stadium fresh, updated and beautiful. Seats -- which were repurposed from Atlanta's now-demolished Fulton County Stadium -- extend down past first and third base where group accommodations stretch beyond: the Beach (a sand-covered patch near the visiting bullpen) down the left-field line and the picnic area down the right-field side. Beyond the walls, fans can sit in the Thirst Inning Bleachers in left and on a platform overlooking the home bullpen in right.
Concessions
In addition to traditional ballpark items, the Pelicans have tapped into their Southern culinary roots as well as their Chicago connections. In homage to their parent club, the Birds offer a selection of Italian beef sandwiches and their Deep Dish Pizza Burger, featuring a half-pound burger sandwiched between two mini Chicago-style pizzas as buns.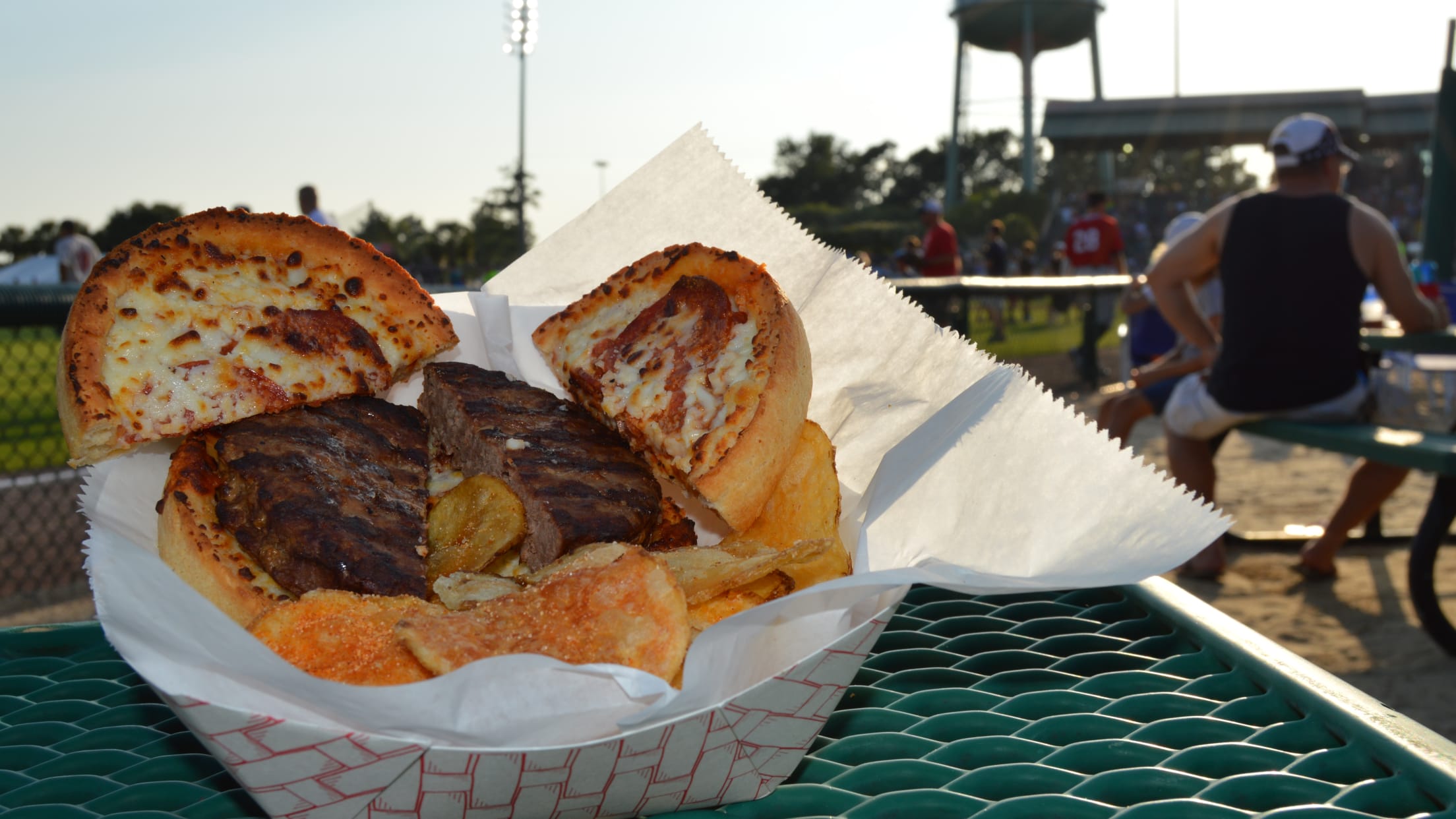 Southern favorites like chicken and waffle bites along with fried shrimp are on the menu, as are chicken bog balls (an Horry County-originated dish featuring rice, chicken and vegetables mixed together, deep fried and served with spicy mayonnaise in the Pelicans' twist). And of course, the Pelicans grew notoriety in 2021 for their beer bats which spread far and wide across the baseball world. For the thirsty in attendance, Hops Heaven boasts local beers and high-top tables.
Mascots
Splash Pelican has been Myrtle Beach's top bird since the franchise flew in at the close of the 20th century, cheering his favorite club through four Carolina League championships and now into its new era in Low-A East.
Additionally, Rally Shark provides Splash with mascot support as well as vying to give the Pelicans an extra boost on the field when they need it most. The Pelicans were also one of the Minors' early Bat Dog adopters. First came Dinger, then Deuce, and currently Slider serves in Myrtle Beach's most popular pup role.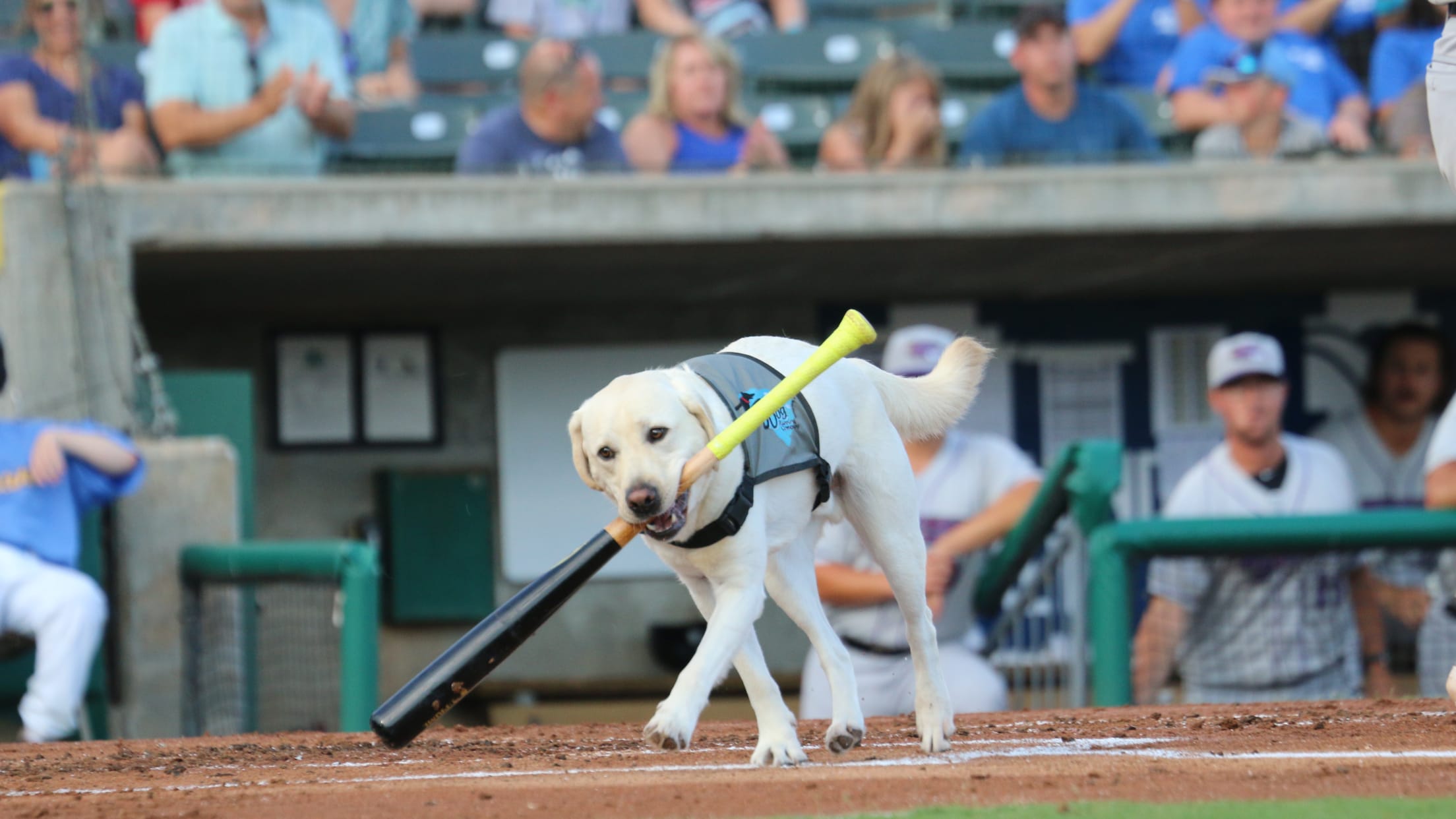 Local Attractions
As one of the East Coast's top tourist destinations, Myrtle Beach has a wealth of attractions, but one surpasses all: the beach. With over 60 miles of white sand beaches in the region, the Atlantic Ocean marks the top draw. Beyond it, the Pelicans are close to Myrtle Beach's famous Ripley's Aquarium, dozens of miniature -- and full-sized -- golf courses, dinner shows and more. Just across 21st Avenue North from TicketReturn.com Field is Broadway at the Beach, an ever-evolving shopping and entertainment development. A short drive from the ballpark, Barefoot Landing and Resort offer luxurious vacation options.
Food and Drink
Literally thousands of restaurants exist across the Grand Strand and beyond in coastal South Carolina, so options exist for every taste and budget. In Myrtle Beach, team staff favorite Dagwood's Deli and Sports Bar serves up some of the best sandwiches in town. A bit farther from the ballpark, Habibi's Café and Market slings delicious Lebanese food while Gino's is one of the many terrific pizza options from relocated New Yorkers. The Sea Captain's House provides upscale oceanfront dining in an old beach house. Breakfast at Magnolia's is another front office staff tradition while Harry's is one of the nearly countless pancake options that dot the city's culinary landscape. Fiesta Mexicana offers food options from south of the border. Pine Lakes Tavern is a local bar with stellar eats that touts itself as Myrtle Beach's first non-smoking sports bar, and RipTydz is a newer beachfront eatery with a rooftop bar. One other thing Myrtle Beach does like few other communities is buffets. If you're in for a gut-busting adventure, you've come to the right place.
Lodging
The Myrtle Beach area has nearly every conceivable lodging option one could imagine. From luxury hotels to oceanfront campgrounds to beach houses and more, there's truly something for everyone. Broadway at the Beach provides multiple places to stay within walking distance of the ballpark while dozens of hotels overlook the beach.
Moving On
The Carolinas are the cradle of Minor League Baseball. With realignment ahead of the 2021 season, the Pelicans now sport a pair of in-state rivals in the Charleston RiverDogs and Columbia Fireflies. The Palmetto State is also home to the High-A Greenville Drive while the Low-A Augusta GreenJackets are technically in South Carolina though are likely identified by most as being a Georgia team. In North Carolina, ten more teams exist within scenic drives of just a few hours from the coast.
The Road to Chicago
Befitting their far-flung fan-base footprint, the Cubs boast affiliates across the map. Chicago's ladder bounces between the the South and Midwest, with affiliates in South Carolina, Indiana, Tennessee and Iowa.
Low-A: Myrtle Beach Pelicans
High-A: South Bend Cubs
Double-A: Tennessee Smokies
Triple-A: Iowa Cubs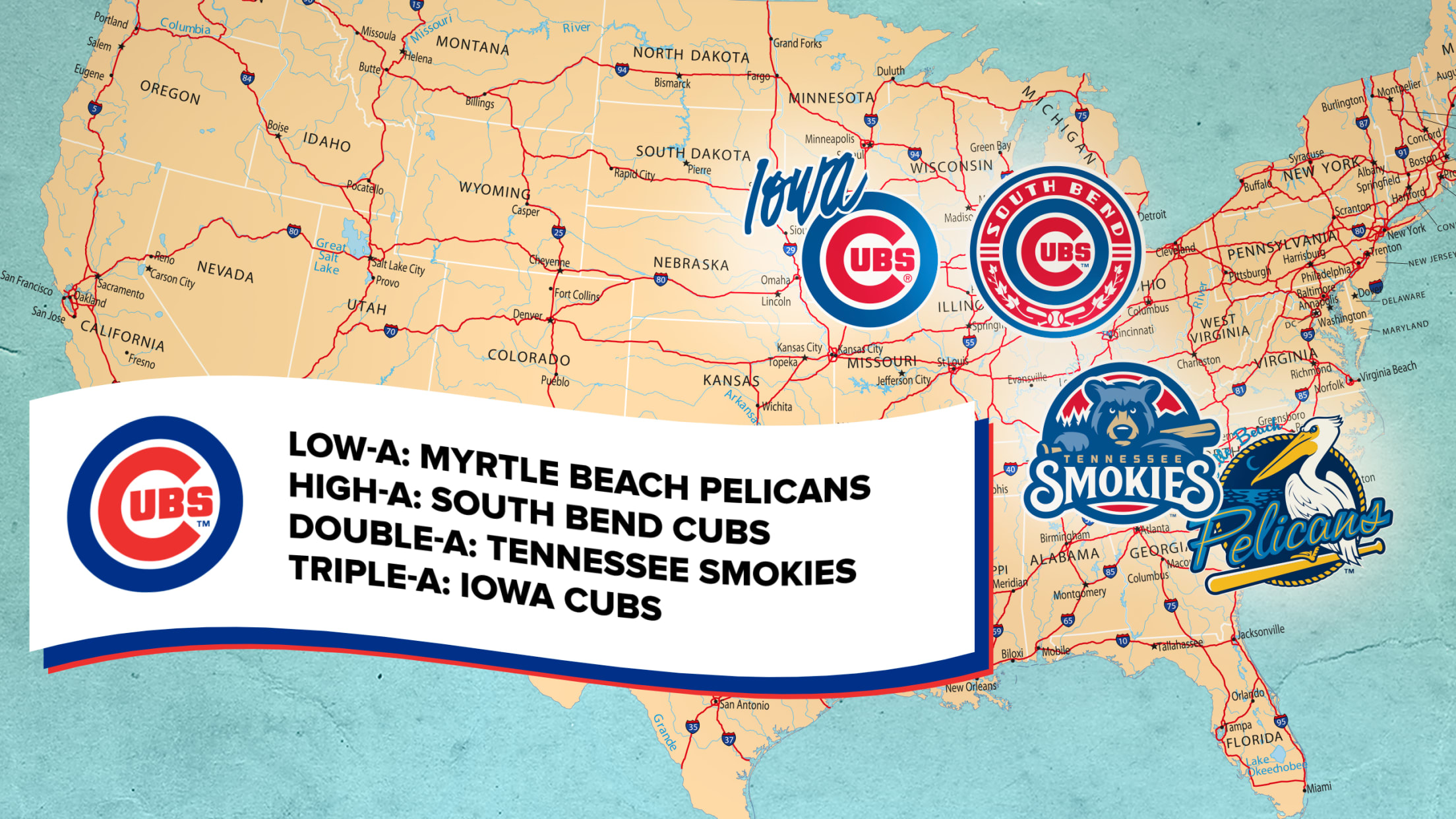 credits:
Photos courtesy of Myrtle Beach Pelicans and photographers Alex Symcak and Larry Kave.