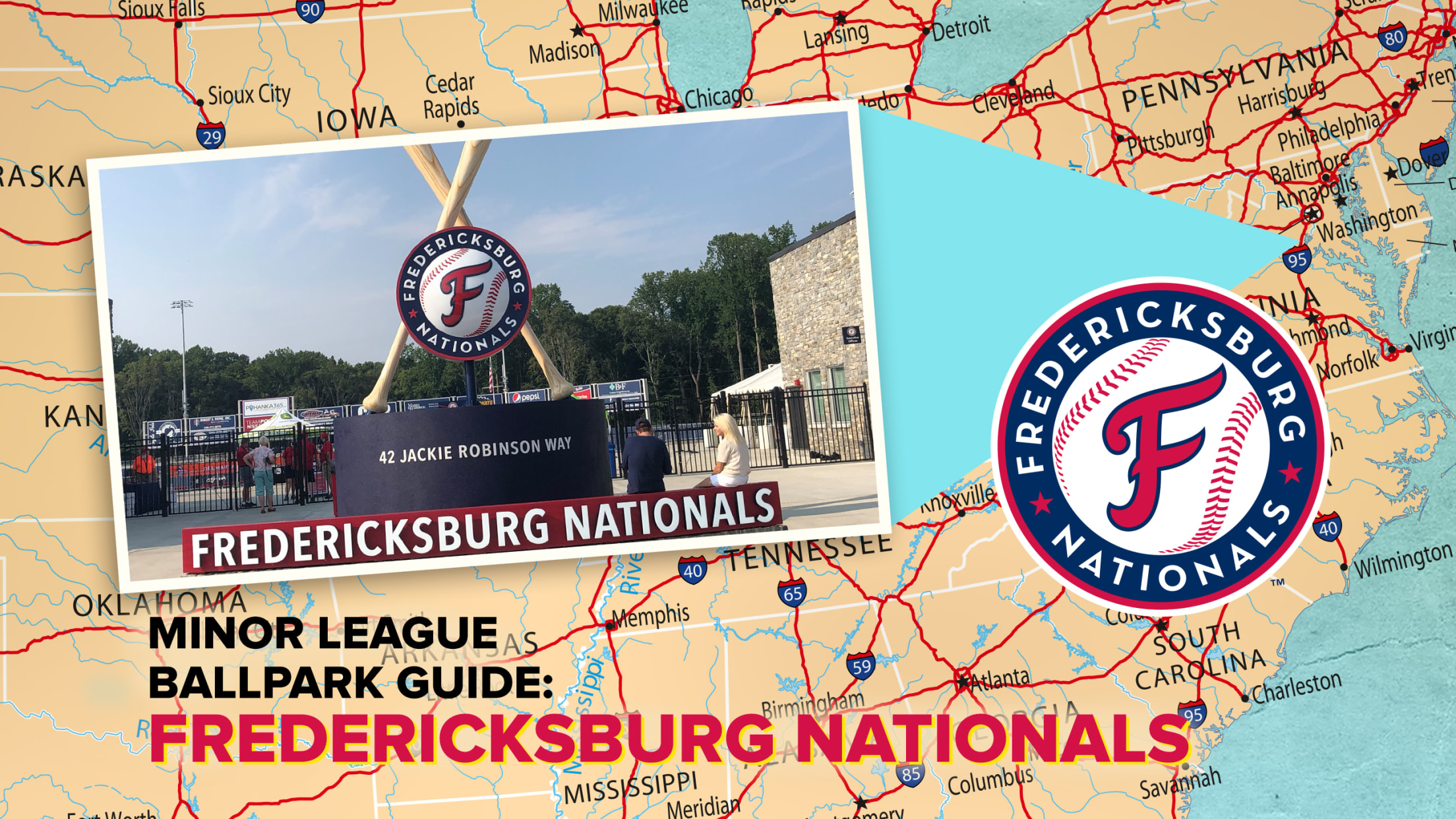 Scroll
Visit Fredericksburg's Virginia Credit Union Stadium
Welcome to Virginia Credit Union Stadium, home of the Fredericksburg Nationals. Sit beneath a hand-operated scoreboard, get your picture taken with our nation's first president and enjoy specialty hot dogs without precedent.
Fredericksburg Nationals (Low-A affiliate of the Washington Nationals since 2021)
Established: 2021
Ballpark: Virginia Credit Union Stadium (opened 2021 as FredNats Ballpark)
League: Low-A East, North Division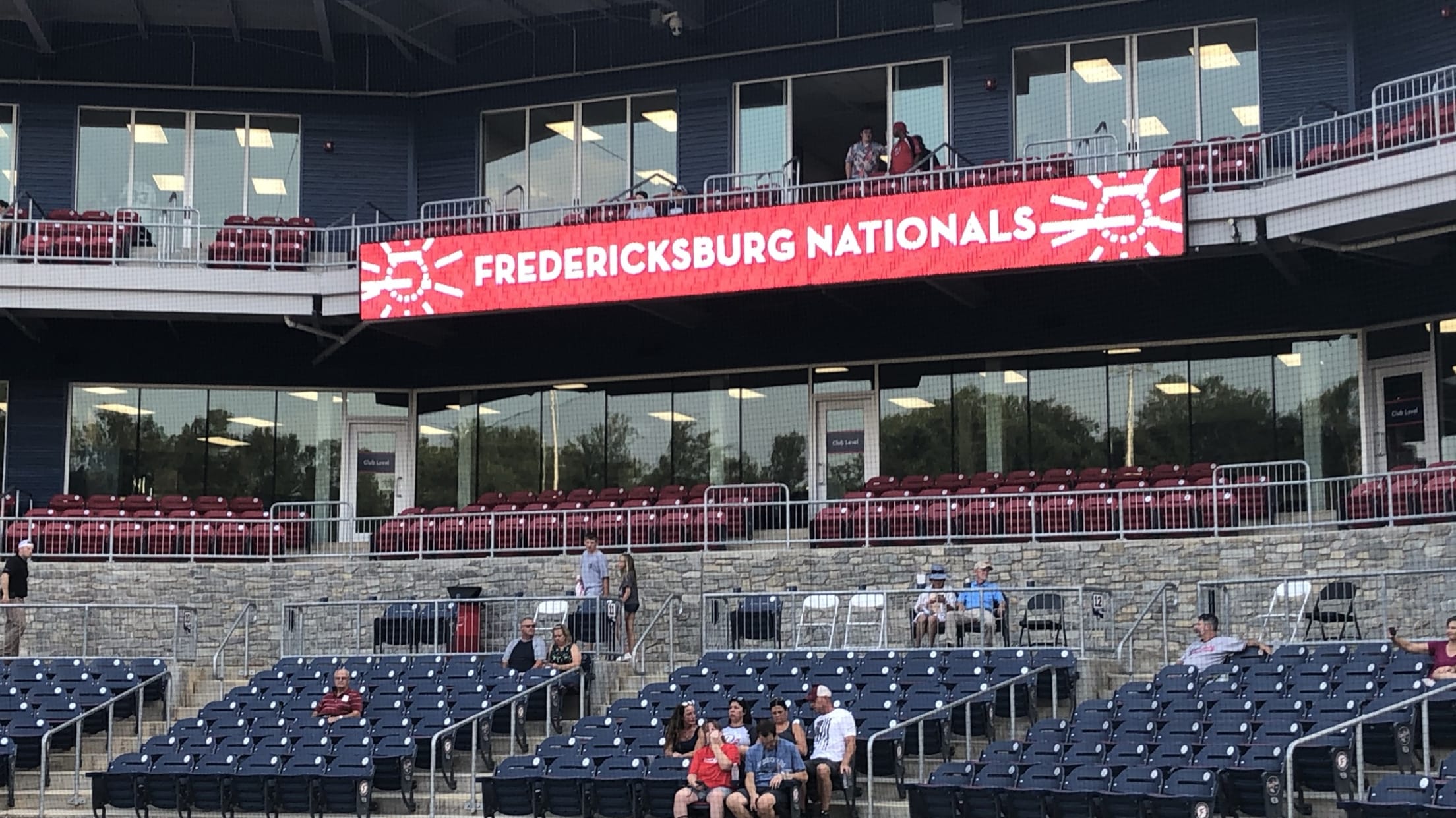 2021 was the debut season for the Fredericksburg Nationals and their home of Virginia Credit Union Stadium. The team relocated from Woodbridge, Virginia's G. Richard Pfitzner Stadium, located approximately 30 miles to the north, where they were known as the Potomac Nationals. The Pfitz, as it was colloquially known, was infamous for its chain link-and-aluminum aesthetic, dearth of shade and overall lack of amenities. Efforts to relocate began in the late '90s and finally came to fruition with the move to Fredericksburg. The team remains a Washington Nationals affiliate, of course, continuing a relationship that began in Woodbridge in 2005.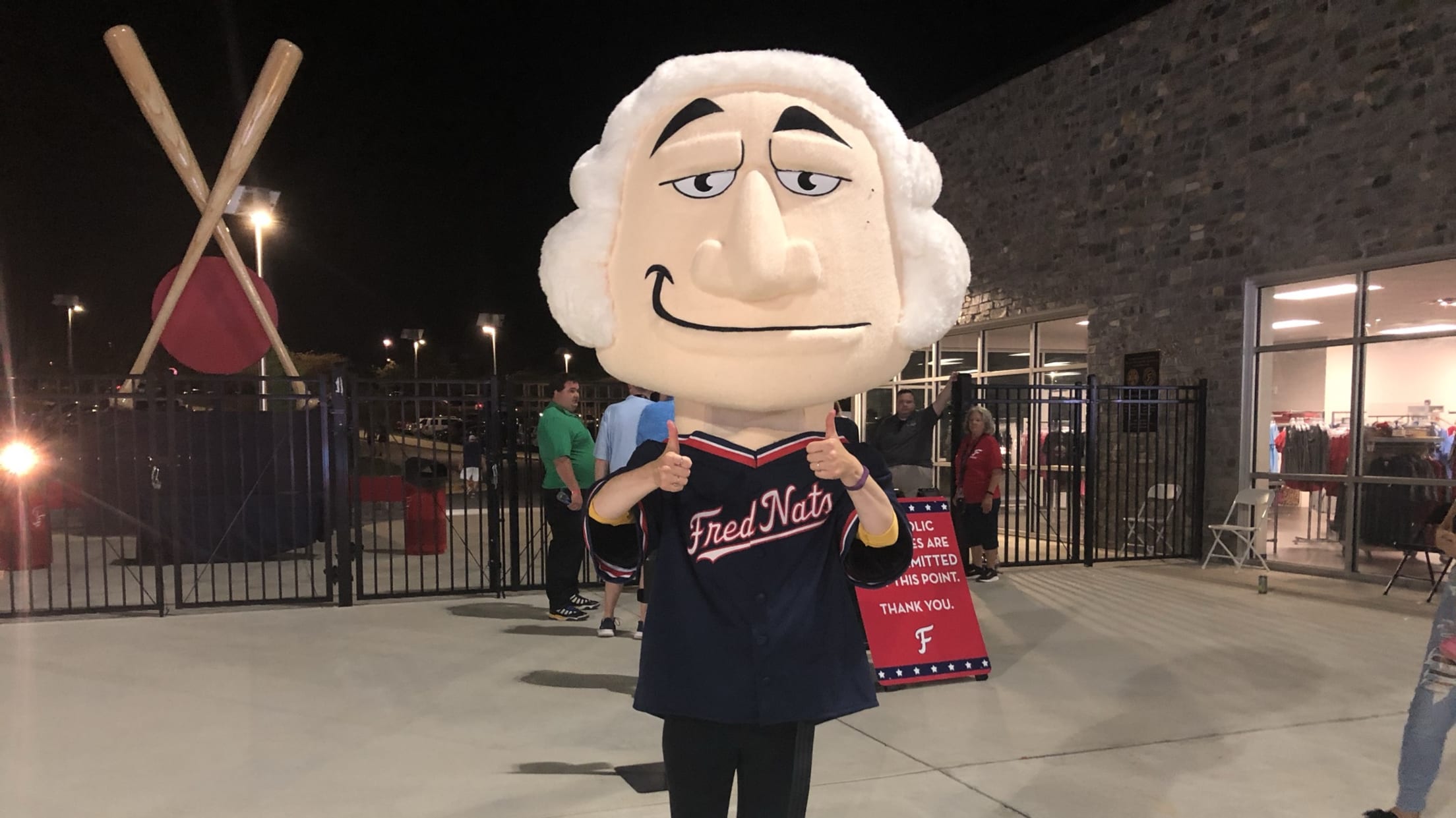 Fredericksburg's team differentiates itself from the parent club via a series of logos featuring George Washington and his mother, Mary. Fredericksburg was Washington's childhood home, where he allegedly chopped down a cherry tree and subsequently could not lie about the fact that he had done so. While not the team's primary mascots, fans may happen to see big-headed approximations of George and Mary wandering the concourse.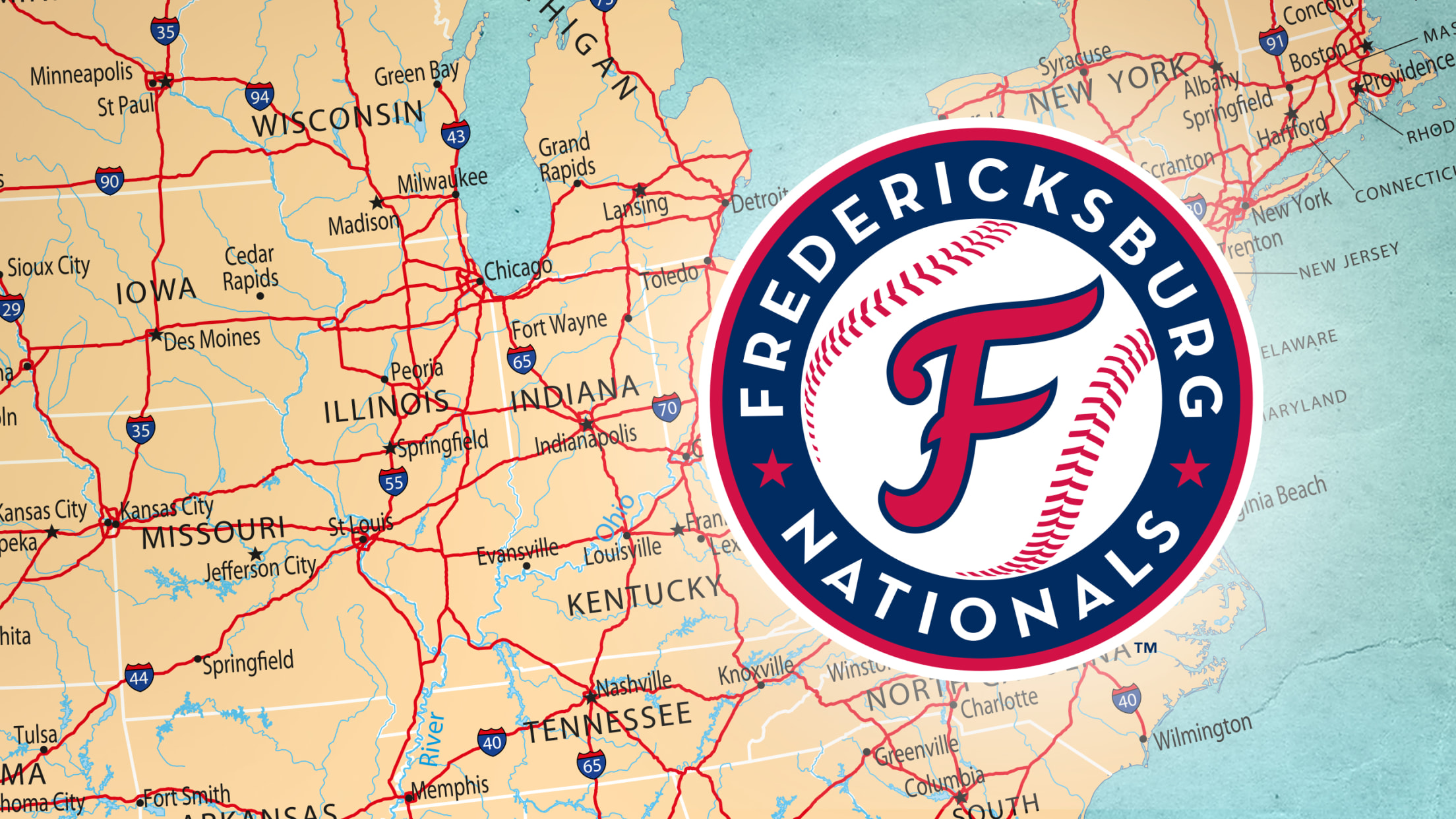 Virginia Credit Union Stadium Ballpark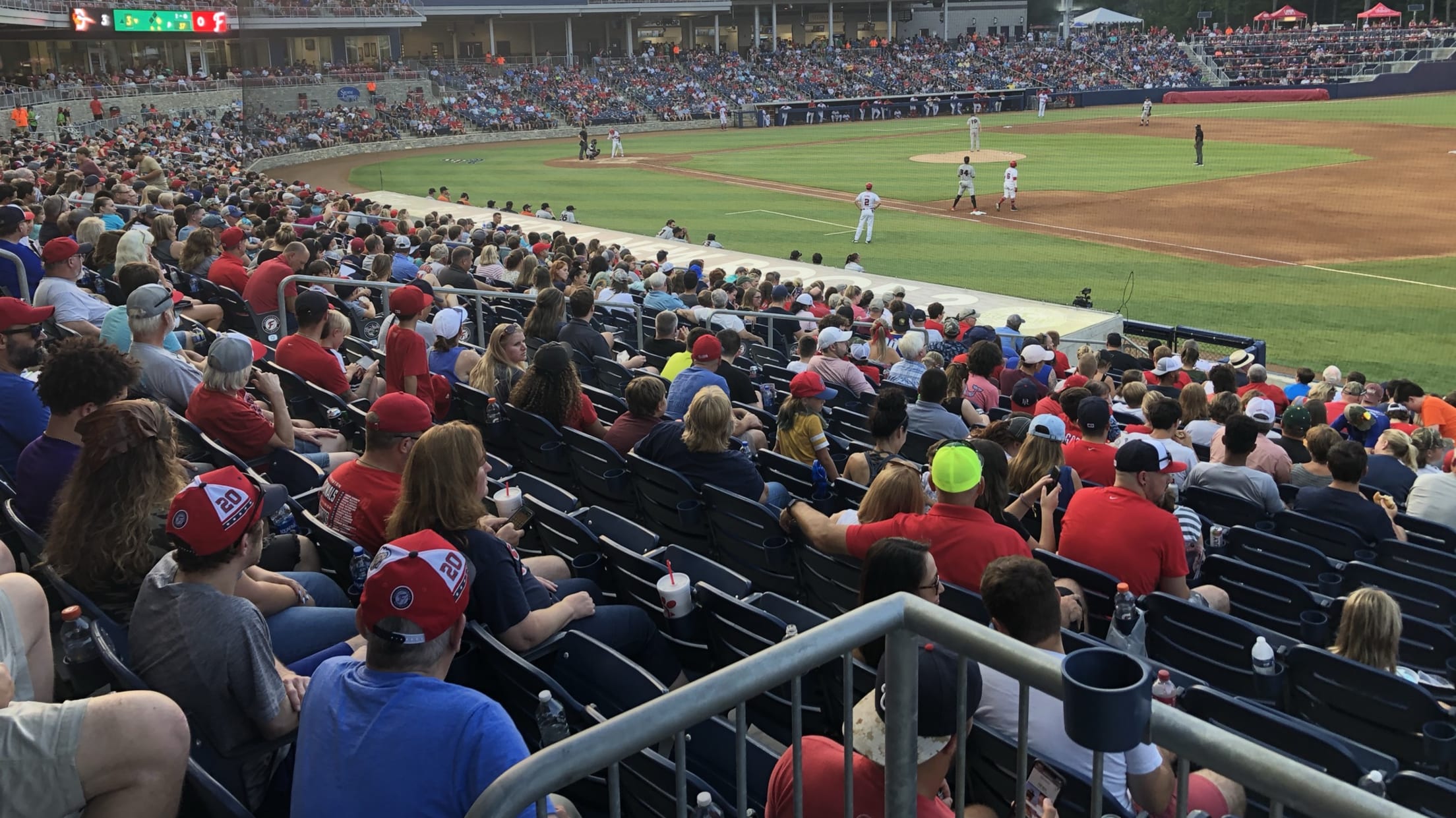 Virginia Credit Union Stadium is located on 42 Jackie Robinson Way. (Team owner Art Silber, who self-financed the construction of the ballpark, is a Brooklyn native who idolized Robinson as a child). It is located to the west of the north-south behemoth that is I-95, in a still-developing area of Fredericksburg dubbed Central Park. Parking is limited, so get there early or prepare for a hilly walk from overflow lots. The main entrance is on the first base side of the ballpark, fronted by a large sculpture displaying the team logo, name and ballpark address underneath two crossing baseball bats. This striking creation breaks up an otherwise unremarkable gray-walled exterior.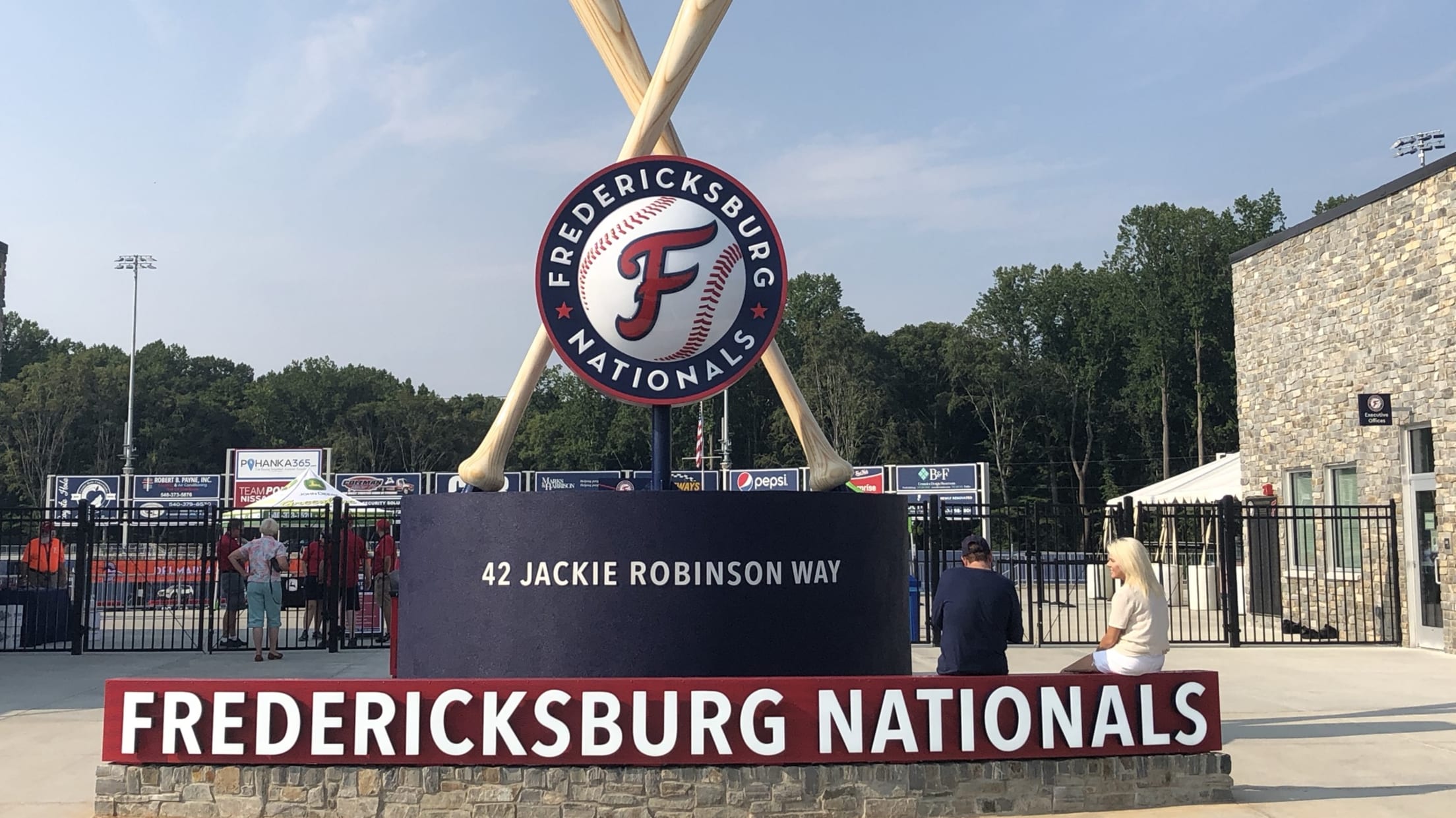 Features
Virginia Credit Union Stadium is a modest structure in relation to most newer Minor League ballparks, but an absolute triumph in that it was built with private financing and finally allowed the team to vacate the Pfitz. Fredericksburg had never before hosted a Minor League Baseball team, but a History Wall located on the center field concourse explains the game's deep roots in the area.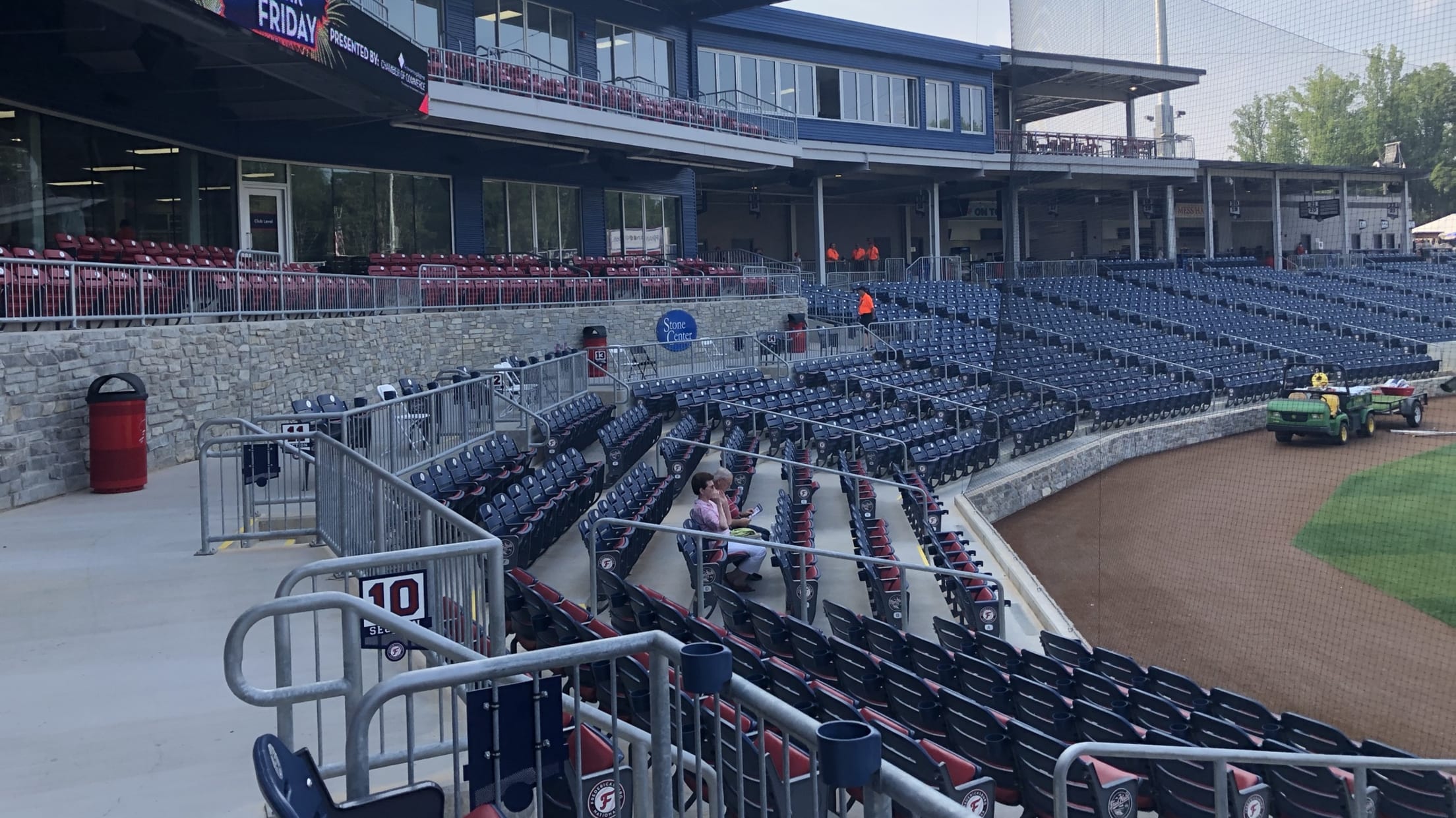 The area behind home plate is dominated by The Club. This spacious ground level area, for season ticket and suite holders, features a portion of Silber's massive autographed baseball collection. The back of the club juts out into the concourse, resulting in a circuitous detour around it for fans traversing the concourse.
The stadium's upper level contains a party deck on both ends, with suites and the press box in-between (the press box, following an unfortunate trend in newer Minor League parks, is located far down the third base line as opposed to behind home plate). Fans can peer into both bullpens from the outfield concourse, with home located on the left-field side and visitors on the right.
The Bullpen Party Deck is located behind the visitors bullpen, while a unique ground-level Field Suite is situated next to the home bullpen (COVID protocols have delayed the opening of the Field Suite until 2022). A hand-operated scoreboard serves as the back wall of the Scoreboard Suite, located in right-center field.
Virginia Credit Union Stadium lacks a berm seating area, but there is a spacious playground area in the right field corner. Natural grass is in short supply throughout the facility, as the playing field is comprised of Shaw Sports Turf synthetic B1K turf (the same surface utilized by the Texas Rangers and Arizona Diamondbacks).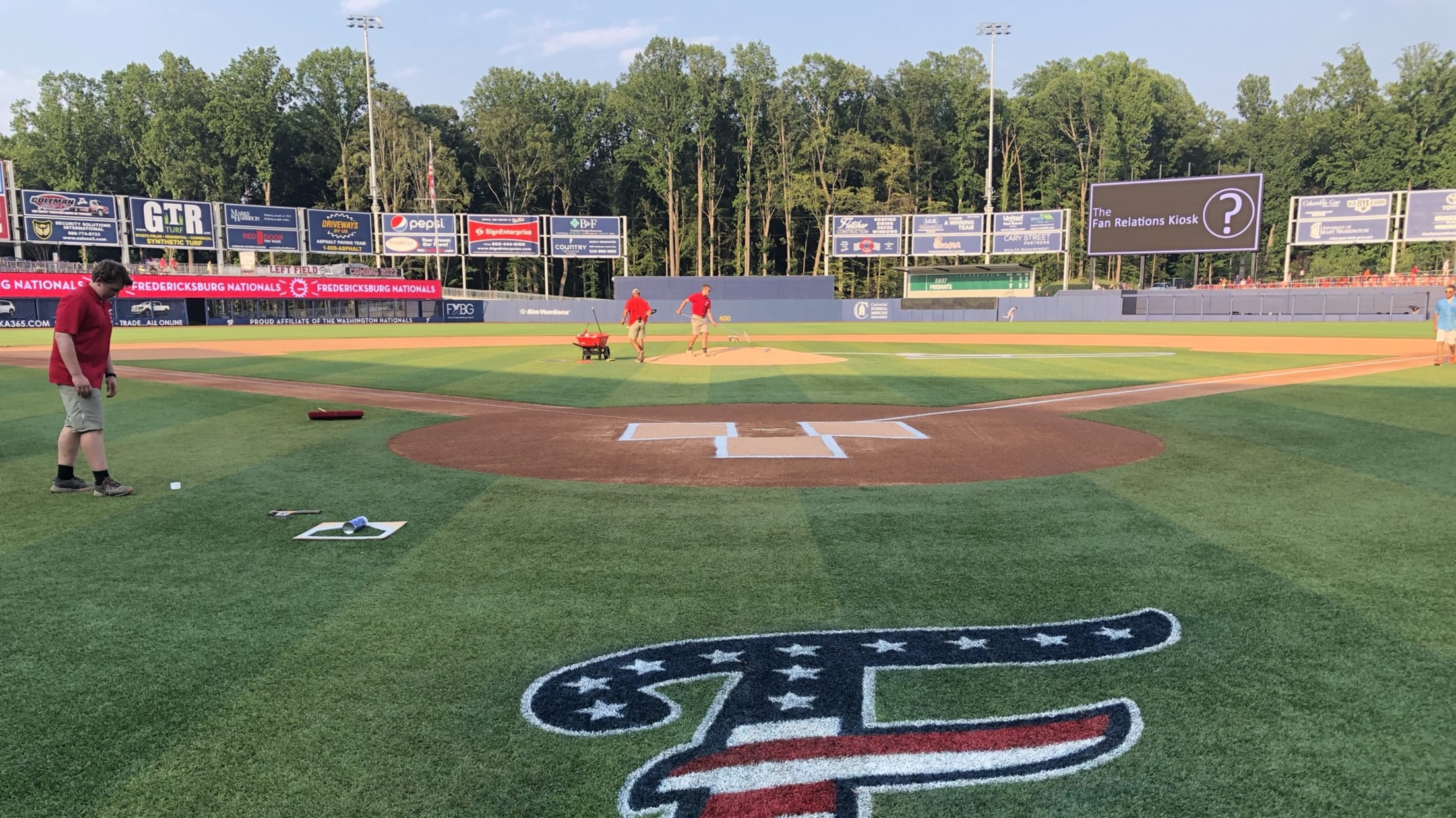 Concessions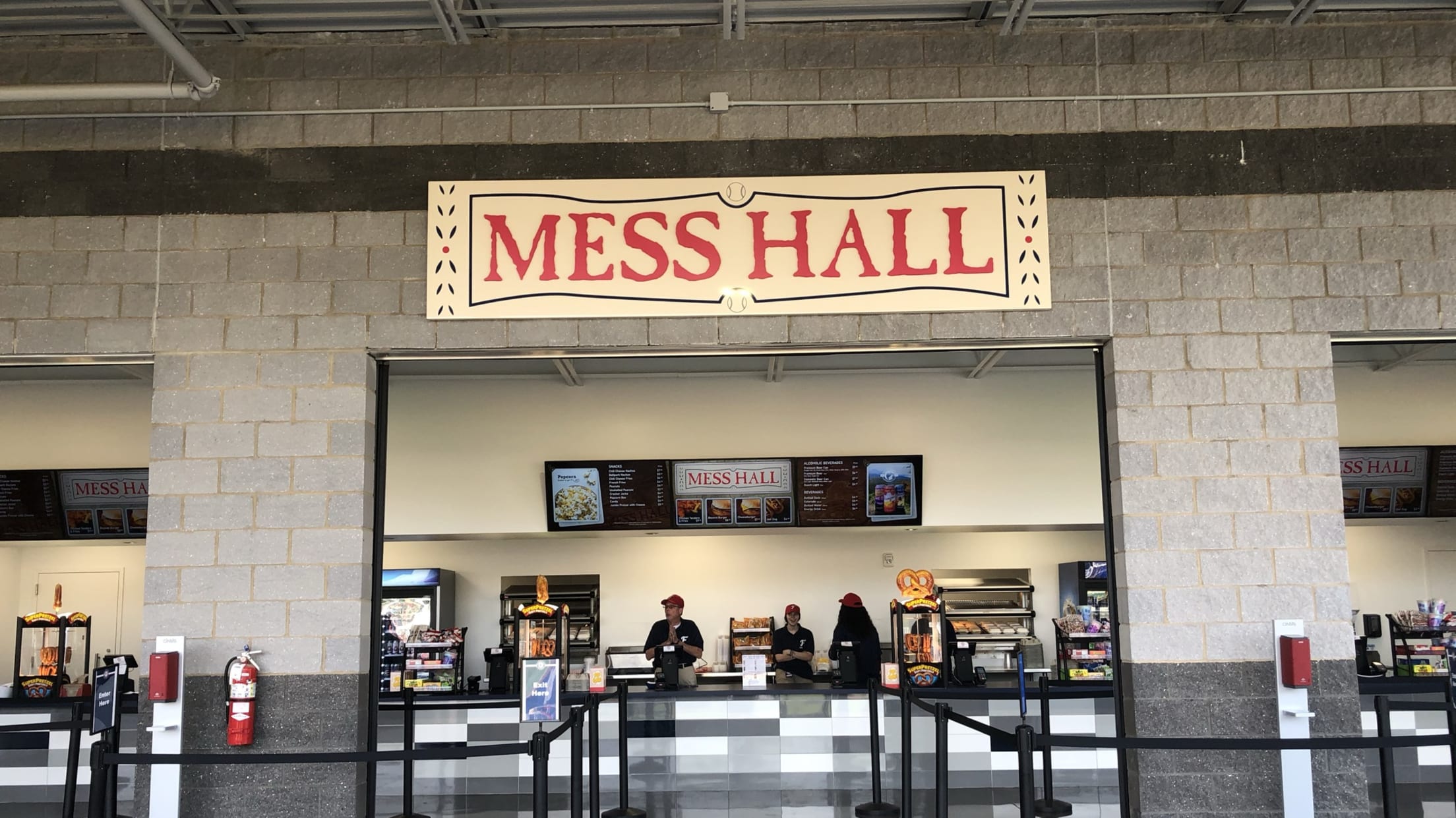 Three concession stands ring the covered portion of the concourse behind home plate: George's Dogs, Mess Hall and the Caroline St. Grill (named for a popular thoroughfare in downtown Fredericksburg). George's Dogs features some of the most unique items in the ballpark, such as the Crabby Dog (topped with crab queso, shredded cheese and Old Bay seasoning). Smokey's Sausage Shack is in right field and Burgertopia in left. The latter offers gargantuan creations such as the Wrecked Burger, topped with sloppy Joe-style chili and nacho cheese.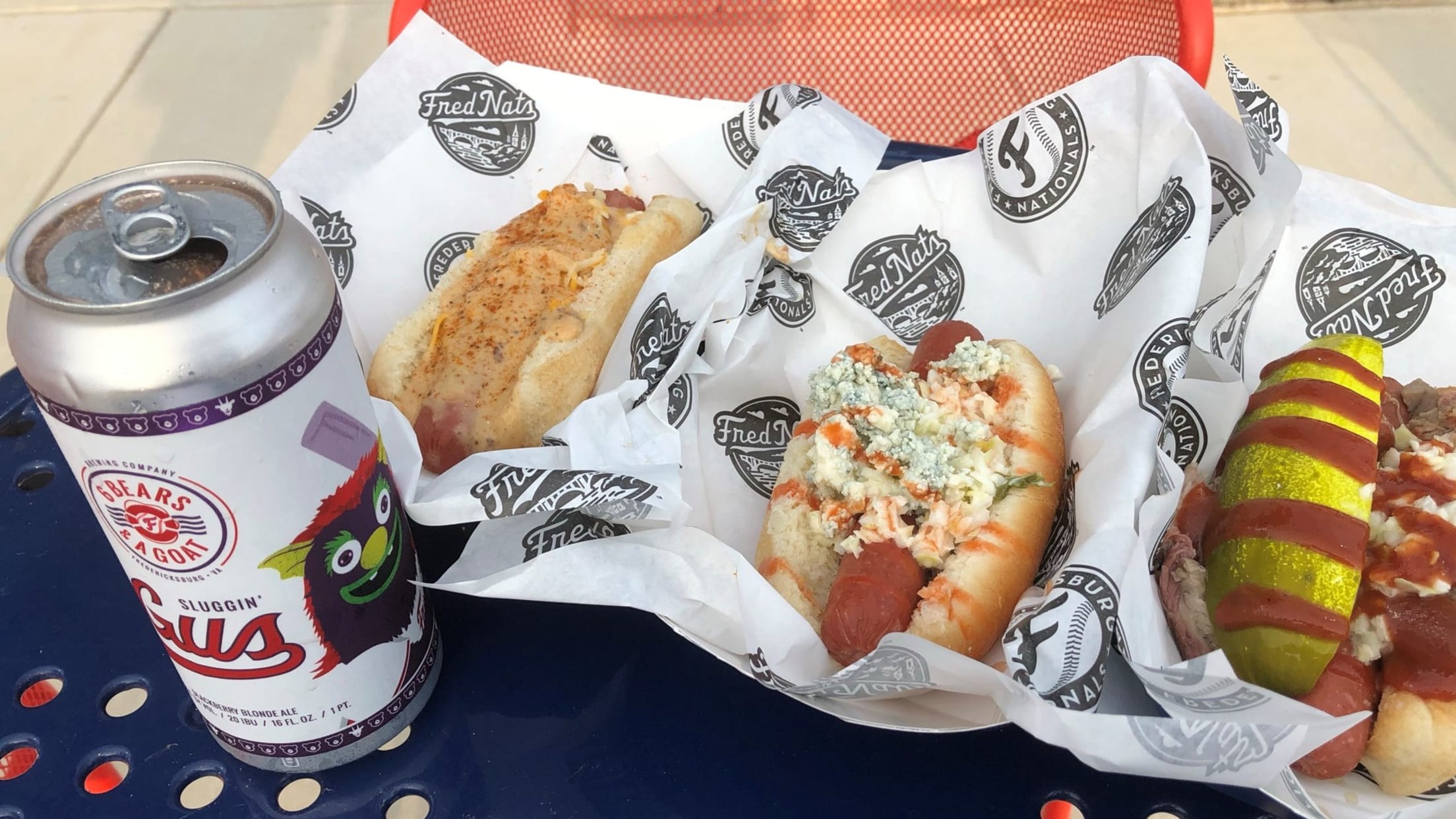 The FredNats also have their own team beer. Sluggin' Gus, named after the mascot, is a blackberry blonde ale brewed by Six Bears and a Goat (a local brewery and restaurant which has its own kiosk on the premises).
Mascot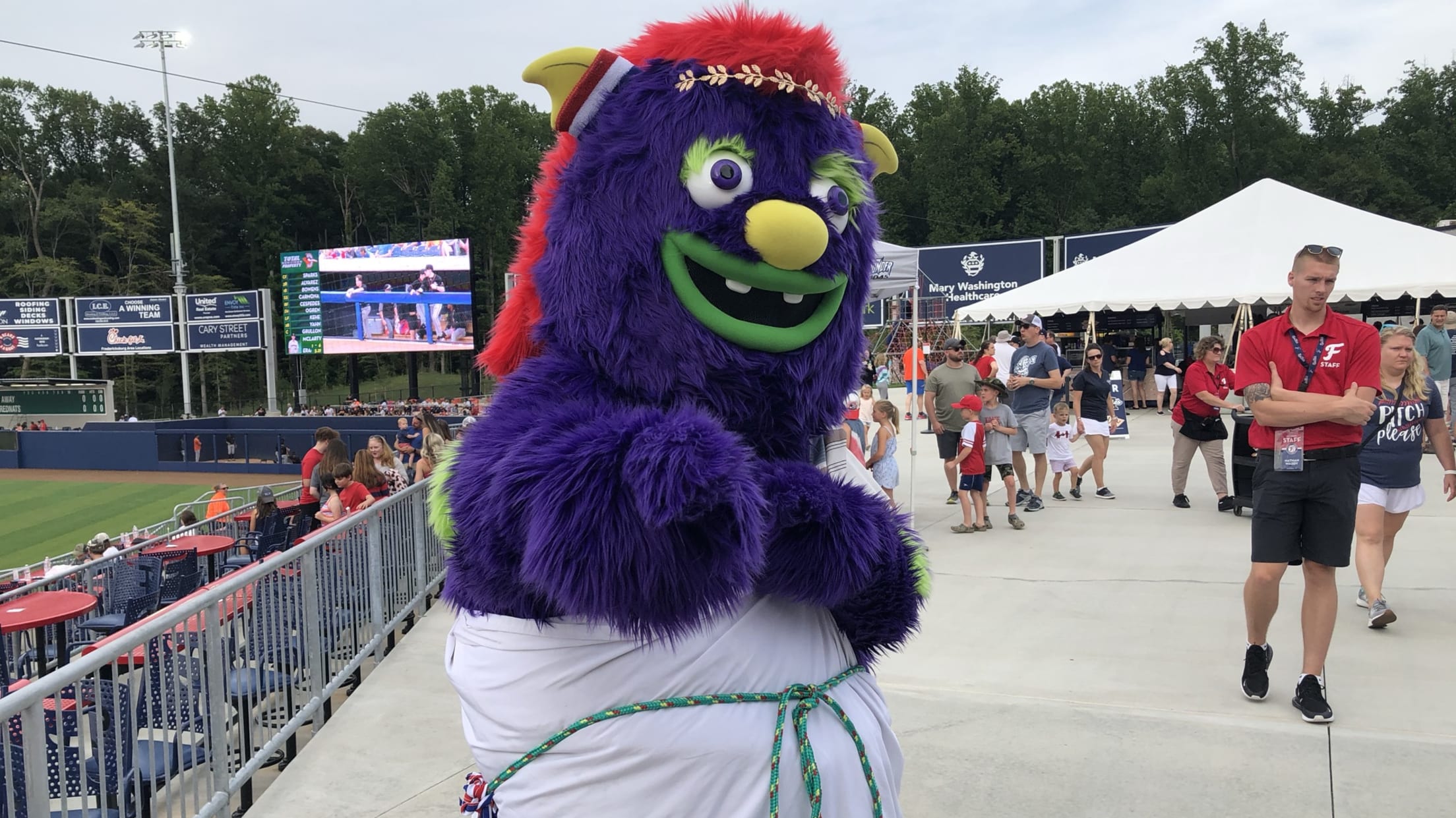 Gus -- or, technically, Augustine -- was the name of George Washington's father. According to the FredNats, Gus was also the name of George Washington's imaginary childhood friend. Apparently, our nation's first president dreamed up a purple-furred, red-haired, green-lipped creature with yellow horns. He had quite the imagination, did young George.
Local Attractions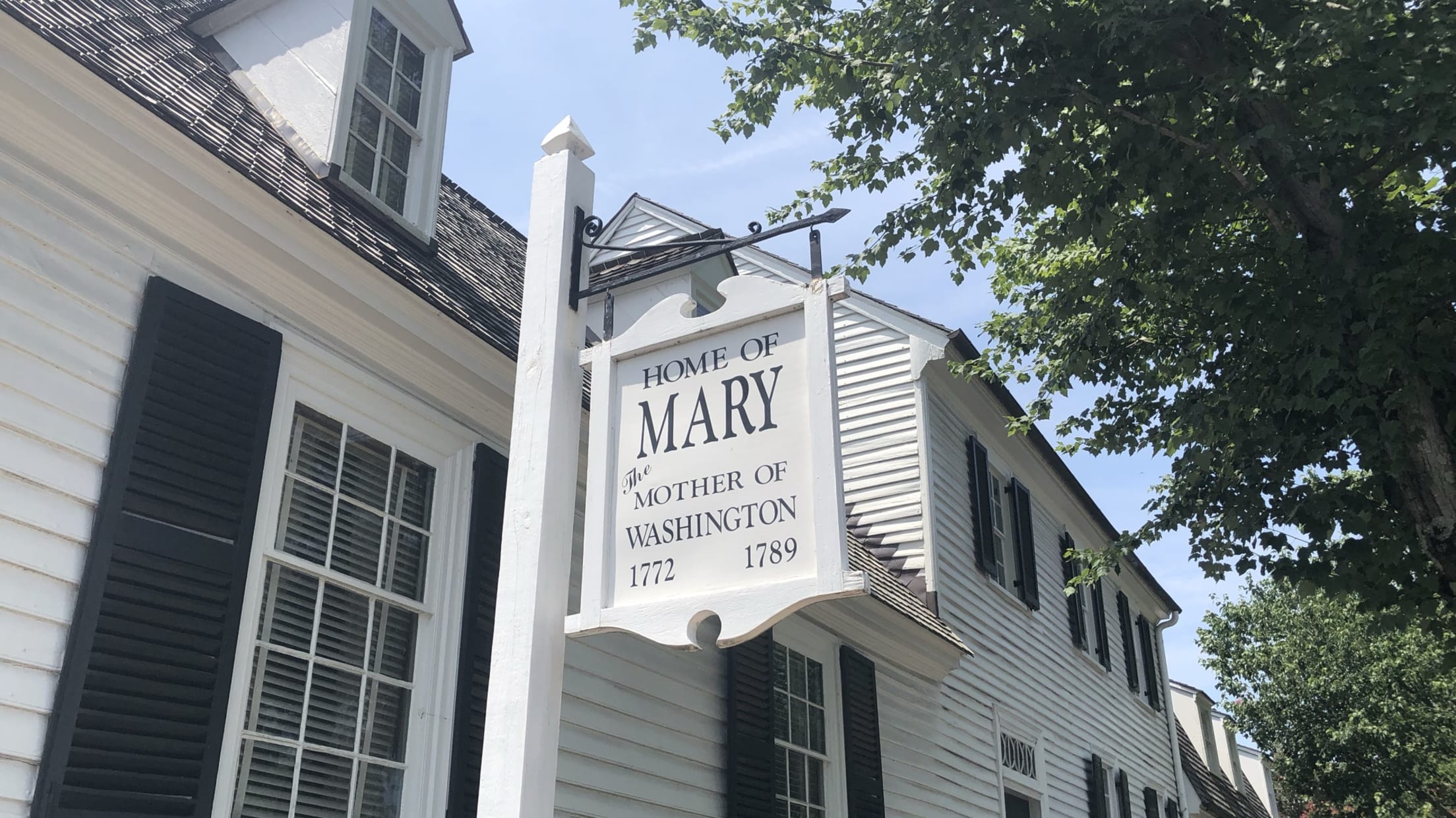 Virginia Credit Union Stadium is located approximate four miles from downtown Fredericksburg, which is on the east side of I-95. Not surprisingly, downtown leans heavily into its colonial, Washington-centric history. Old, stately residences abound, many of them affixed with historical plaques.
George Washington's childhood home of Ferry Farm is not in downtown, however. It gets its name because visitors traveled on a ferry across the Rappahanock River in order to to get to it. The Mary Washington House, where she spent the later years of her life, is now a museum located on Charles Street. It is part of a larger network of downtown historical locations that also includes the Hugh Mercer Apothecary Shop, Rising Sun Tavern and St. James House.
Fredericksburg and Spotsylvania National Military Park, known as "America's Battleground," is advertised as "where the Civil War roared to its bloody climax." Plan accordingly.
Downtown Fredericksburg is also a great destination for antiquing. Of particular note is the massive Fredericksburg Antique Mall and Clock Shop, featuring a large variety of vendors spread out over two floors.
Food and Drink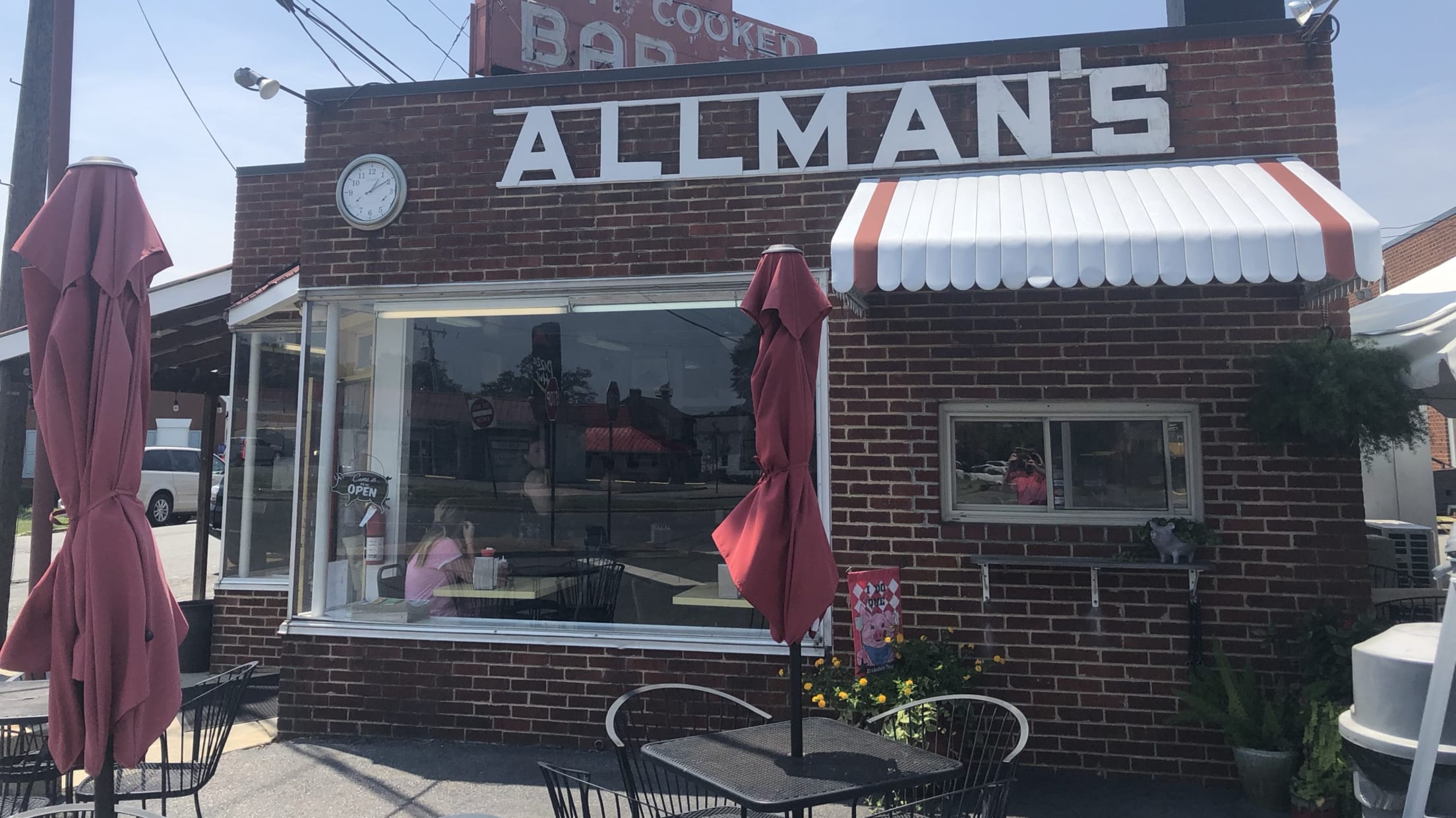 Allman's Bar-B-Q has been in business since 1954. The small interior, featuring countertop seating as well as red and white-checkered table cloth-topped tables, feels like it hasn't been altered since then. Get the pork, available sliced (pulled) or minced (chopped).
6 Bears and a Goat Brewing Company, makers of the FredNats' Sluggin' Gus beer, has a full-service restaurant with a "beer-centric" menu.
Downtown Fredericksburg features a wide array of restaurants and bars Battlefield is famous for its hearty, homecooked breakfasts. Pricier options include La Petite Auberge, Fahrenheit 132 and many, many more.
Lodging
Bed and breakfasts in historic downtown provide the most memorable -- and inevitably the most expensive -- Fredericksburg lodging options. Downtown hotels also tend to be on the pricier end of the spectrum. However, Fredericksburg's proximity to exceedingly well-trafficked I-95 means that there are no shortage of choices within a relatively short drive of Virginia Credit Union Stadium.
Moving Along
Route I-95 is not the most pleasant road to traverse, but it could be used as the basis for an itinerary that starts (or ends) in Fredericksburg and also includes the Bowie Baysox, Aberdeen IronBirds, and Wilmington Blue Rocks (also a Washington Nationals affiliate).
The FredNats are the northernmost of Virginia's five teams. The Richmond Flying Squirrels are a straight shot to the south, and from there one can travel westward to visit the Lynchburg Hillcats and Salem Red Sox or eastward to the Norfolk Tides.
The Road to Washington, D.C.
The Nationals' system runs south to north, with each of its four teams in a different state. The Fredericksburg Nationals are at Low-A, with prospects then moving on to Wilmington, Delaware; Harrisburg, Pennsylvania and Rochester, New York.
Low-A: Fredericksburg Nationals
High-A: Wilmington Blue Rocks
Double-A: Harrisburg Senators
Triple-A: Rochester Red Wings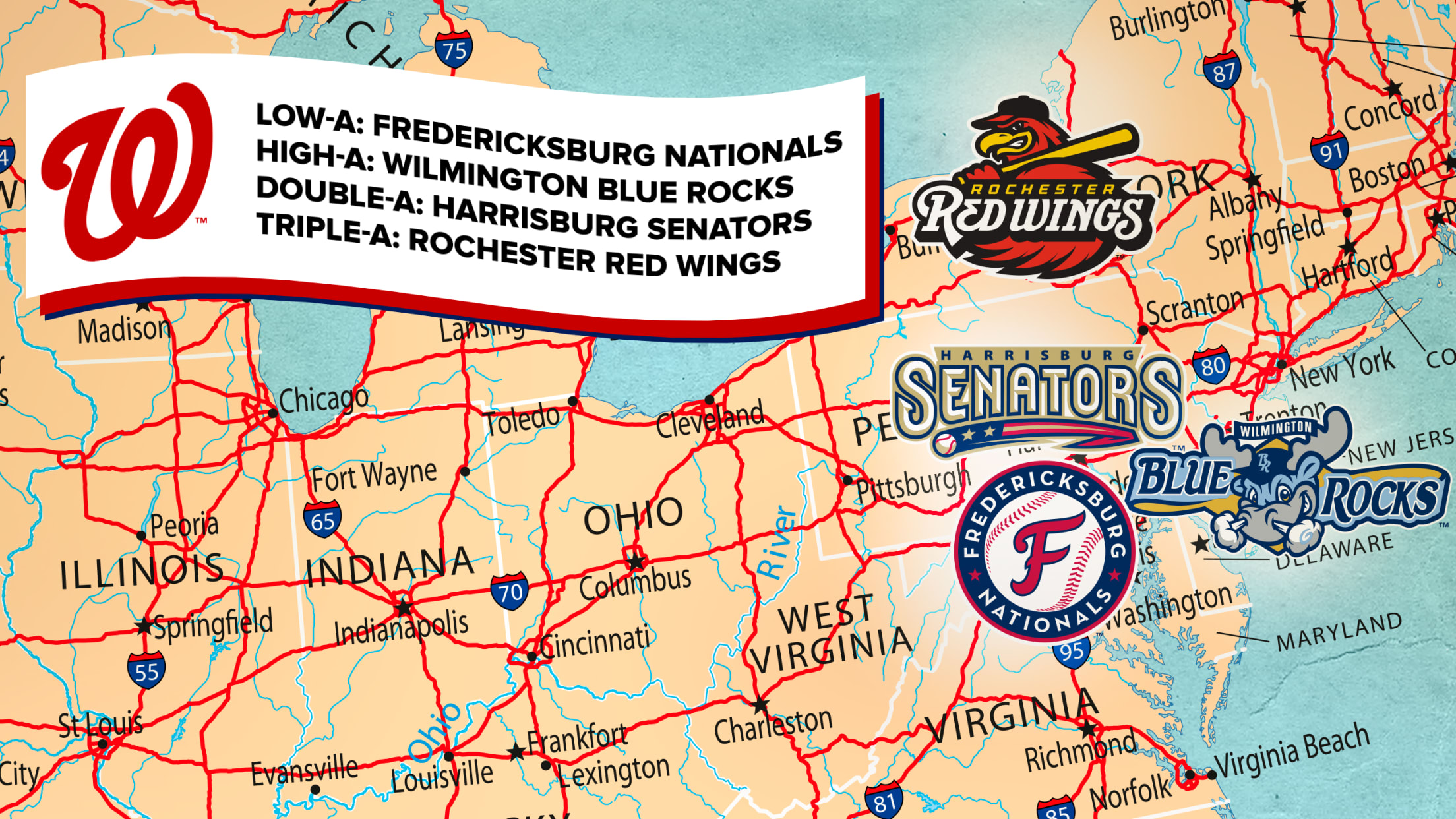 credits:
Benjamin Hill, who covers the business and culture of Minor League Baseball, has visited 181 Minor League ballparks.