Paint the corners with Kluber in his backyard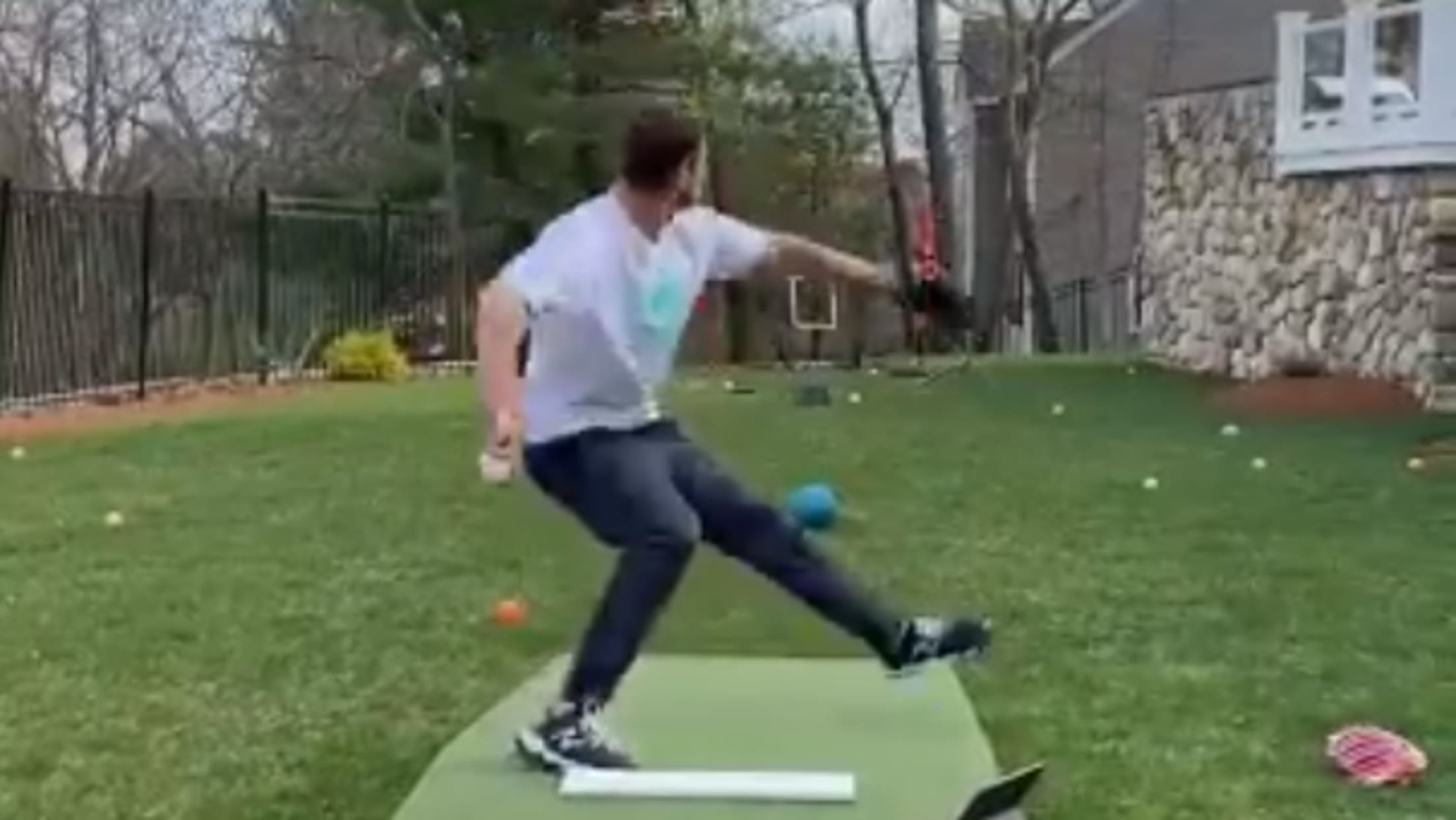 Major League players are, like many of us, spending a lot of time indoors right now due to the coronavirus pandemic. But that doesn't mean they're not doing everything possible to stay in shape. Players around baseball have taken to social media to show how they're getting their workouts in.
Major League players are, like many of us, spending a lot of time indoors right now due to the coronavirus pandemic. But that doesn't mean they're not doing everything possible to stay in shape. Players around baseball have taken to social media to show how they're getting their workouts in.
Here's how players are maximizing their time and staying ready for baseball while adhering to social distancing guidelines.
Corey Kluber
Two-time American League Cy Young Award winner Corey Kluber is doing his best to stay in shape. He has rigged up his own pitching layout in the backyard of his Boston suburban home. It's not ideal, but the determination is there. READ MORE >
Here's a video of @CKluber painting. pic.twitter.com/EDRCkdeurr

— Texas Rangers (@Rangers) April 24, 2020
Willie Calhoun
Willie Calhoun is back taking batting practice at Globe Life Field along with several of his teammates. Calhoun suffered a fractured jaw on March 8 when he was hit by a pitch but has made almost a full recovery, as can be seen in this video. READ MORE >
We back 💪🏾 @Rangers pic.twitter.com/SlIxD1SIsP

— June Calhoun (@11WillieCalhoun) April 22, 2020
Ozzie Albies
Ozzie Albies has already distinguished himself as one of the best young switch-hitters in the game. Here's a look at how he's keeping sharp from both sides of the plate while working out at home. READ MORE >
Bryce Harper
When he's not lifting home runs into the upper deck, Bryce Harper is lifting weight to keep himself in shape. Exactly how much can he lift? Well, take a look for yourself. READ MORE >
Trevor Rosenthal
It's obvious where Royals reliever Trevor Rosenthal was getting the strength to zip his fastball over 100 mph during Spring Training -- he is an animal in the weight room. Rosenthal recently shared a video of his home workout routine, and it was impressive to say the least. Rosenthal said in a tweet, "Always important to work on strength/power/mobility on and off the baseball field." READ MORE >
Always important to work on strength/power/mobility on and off the baseball field. pic.twitter.com/uU0dVdu99b

— Trevor Rosenthal (@TrevRosenthal) April 18, 2020
David Hess
Over the last year-plus, the Orioles' organizational dive into analytics has been plain to see. Now with baseball on pause, Baltimore right-hander David Hess is taking those lessons -- and tools -- home with him. Rapsodo works, even when pitching in shorts and sneakers. READ MORE >
Being able to get immediate feedback on pitches is a great tool to keep working and improving. Big thank you to @rapsodo for helping me stay ready during this downtime until baseball returns! pic.twitter.com/5X5GlAJbpW

— David Hess (@hess_express28) April 17, 2020
Brusdar Graterol
Dodgers high-velocity reliever Brusdar Graterol, acquired from Minnesota in the February Kenta Maeda trade, is working out in Arizona while waiting for the sport to resume. He posted a video this week of a bullpen session, throwing to his future brother-in-law. The 21-year-old Graterol also appears to have slimmed down a bit from his reported 265-pound reporting weight. READ MORE >
🔥🔥🔥 pic.twitter.com/wHyMq7SNog

— brusdar graterol (@BrusdarGraterol) April 15, 2020
Joe Kelly
Trying to take advantage of this unexpected downtime, Joe Kelly has apparently been tinkering with his changeup. After watching the video his wife Ashley posted, though, it appears as if command of the pitch is still a work in progress. READ MORE >
Joe Kelly broke his window while throwing at his house 😂😂 pic.twitter.com/13Eo6Mn1OK

— Baseball Quotes (@BaseballQuotes1) April 16, 2020
Brandon Woodruff
Want to hit a home run off Clayton Kershaw? Brewers right-hander Brandon Woodruff helped show the way (with his Boston terrier) by supplying the Brewers with an at-home workout for fans adhering to "Safer At Home" guidelines amid the coronavirus pandemic. It's part of a series of player-supplied workouts that began with slugging first baseman Logan Morrison's backyard lift last month. Though he's a pitcher, Woodruff proved that he has some power when he homered off Kershaw in Game 1 of the 2018 National League Championship Series. READ MORE >
It's #WorkoutWednesday and @B_Woody24 and Oogy are here with a new routine you can do at home! #MLBAtHome pic.twitter.com/EU8GJ80RiX

— Milwaukee Brewers (@Brewers) April 15, 2020
Joe Musgrove
Pirates starter Joe Musgrove is still working out in San Diego and throwing bullpens at a facility near his home, and he decided to give fans a behind-the-scenes look at one of those throwing sessions by broadcasting it live on Instagram on Tuesday. Afterward, Musgrove sat down in front of his phone to explain his approach to these downtime bullpen sessions, answer fans' questions and show off his different pitch grips. READ MORE >
Kolten Wong
Cardinals second baseman Kolten Wong recently shared a video of a ground-ball drill he's been doing from his home gym. Using a medicine ball or any weight you can find around the house, Wong hopes it can help those trying to stay in shape for their baseball or softball seasons. READ MORE >
Michael Lorenzen
Most Major League players have access to state-of-the-art equipment during their careers -- both at home and at the ballpark. Reds reliever Michael Lorenzen has his own home gym, but some of his workouts only involve basic things that anybody has access to, like a bat or a wall. READ MORE >
Sometimes to do workouts at home, all #reds reliever Michael Lorenzen needs is a wall and a floor. pic.twitter.com/mdE3LqMlSm

— Mark Sheldon (@m_sheldon) April 13, 2020
Matt Carpenter
Cardinals infielder Matt Carpenter is getting his whole family involved in the baseball drills. The three-time All-Star posted a video on Instagram of an all-Carpenter infield practice -- his dad Rick hitting ground balls to him at third, where Matt fields them and throws to his brother Tyler at first. READ MORE >
Matt Carpenter got in some fielding work in with his family today. His dad, Rick, is hitting fungoes. Matt is fielding at third base. His brother, Tyler, is catching at first. And his sister, Caitlyn, is filming. #STLCards pic.twitter.com/E2PgaY3r0c

— Anne Rogers (@anne__rogers) April 10, 2020
Jared Hughes
Jared Hughes constructed a do-it-yourself pitcher's mound in his own backyard, and the free-agent reliever is using it to make the most of his at-home workouts -- from recreating the sprint in from the bullpen, to pitching to an inflatable Rod Barajas and a cardboard cutout of Tucker Barnhart. READ MORE >
Practice like you play. pic.twitter.com/t3J5zzefRu

— Jared Hughes (@locatejared) April 10, 2020
Nick Solak
Rangers utility player Nick Solak and his fiancée Roxanne McVey built a mini-ballpark in the backyard of her house outside Houston. He also bought a Whiffle ball pitching machine to take batting practice. It is no joke. Hunter Pence used one with the Rangers last year. READ MORE >
Check out how @roxannemcvey and I quaran-team. We're all counting down until baseball is finally back...until then, stay safe and stay home. pic.twitter.com/O6tZbfrDX6

— Nick Solak (@Nick_Solak) April 8, 2020
Sean Doolittle
It's been said dogs are man's best friend. They also can be the best workout partner. Nationals closer Sean Doolittle got in some serious leg work thanks to his pup, Sophia. READ MORE >
Sophia helped me with my home workout today pic.twitter.com/TtJhu5zpXD

— Obi-Sean Kenobi Doolittle (@whatwouldDOOdo) April 9, 2020
Miguel Rojas
Marlins shortstop Miguel Rojas has a batting cage in the backyard of his South Florida home, and he's been staying busy taking his swings, staying ready and in shape. READ MORE >
Find a way to get a little bit better everyday ⚾️ The grind never stop #StayHome #WeWillBeBack pic.twitter.com/kSB04WUyf7

— Miguel Rojas (@MRojasOfficial) March 31, 2020
Manny Piña
When MLB.com polled the clubhouse earlier this spring to find out which Brewers were in the best shape of their lives, Manny Piña was one of the handful of players who said yes. Not bad for a catcher about to turn 33. At last check, he was pushing an SUV up and down the road, which perhaps started a trend. Brewers pitcher Jake Faria was seen a couple of days later doing the same thing. READ MORE >
Brewers catcher Manny Piña is staying fit at home, just like you! Some med ball work and

[checks notes]

pushing an SUV up the road. pic.twitter.com/8RA78GlgHE

— Adam McCalvy (@AdamMcCalvy) April 6, 2020
Bryce Harper
Phillies right fielder Bryce Harper is working out three to four times a week at home in Las Vegas. His trainer sends him a routine, and he works out for about 90 minutes. Harper said he is treating this time like his early offseason workouts in November and December. READ MORE >
Austin Meadows
Rays outfielder Austin Meadows has spent most of the last couple of weeks on his boat as he continues to practice social distancing, but his latest workout video proves that the fish in the ocean aren't the only ones with impressive talents in the water. READ MORE >
It's all fun and games until you realize @austin_meadows might be able to jump over me pic.twitter.com/P2CbSyrLkK

— Juan Toribio (@juanctoribio) April 3, 2020
Aroldis Chapman
Beware, American League batters: Aroldis Chapman recently demonstrated how he prepares to fire 100-mph heaters by pumping iron in the gym of his Miami-area home. The Yankees closer also put his legs to work, logging steps on a Stairmaster and pedaling on a stationary bicycle. READ MORE >
Marcus Stroman
Mets right-hander Marcus Stroman knows how to make the best of a less-than-ideal situation. He posted a video to social media on Friday revealing his new bullpen setup, an improvised mound that would make travel bloggers jealous. On one end of a pier behind his Florida home, Stroman constructed a raised platform with a pitching mound on top of it, allowing him to face a beautiful stretch of water while throwing to a catcher stationed 60 feet, six inches away at the other end of the dock. A good workout and a gorgeous view. READ MORE >
.@STR0's bullpen setup is a dream. 😍

(via @STR0, pitchersnation/Instagram) pic.twitter.com/UAjgw7FyPb

— Play Ball (@PlayBall) April 3, 2020
Grayson Rodriguez
You don't become a first-round Draft pick and the Orioles' top pitching prospect without a live arm. But did you know Grayson Rodriguez's arm was this live? Like, long-toss-across-a-lake live? That's what the 20-year-old does in this video, which needs to be seen to be believed. READ MORE >
East Texas long toss #QuarantineLife pic.twitter.com/EV0ROe5DXZ

— Grayson Rodriguez (@G_Rodriguez16) April 2, 2020
Jake Fraley
Fraley, one of several players who has put together a short video for the Mariners' #FindAWayToPlay series, gives a behind-the-scenes look at how he works on his fielding while at home. READ MORE >
Michael Chavis
With no access to a batting cage these days, Red Sox slugger Michael Chavis has gone back to the game he loved to play as a kid -- Wiffle ball. Recently, Chavis posted a video in which he belted a homer off his girlfriend Sarah and then went into a full-fledged trot around the bases. "Wiffle ball was absolutely my go-to all the time so I just went on Amazon and I ordered some Wiffle balls, I got some bases, I got a bat. I'm going to tape up the bat and everything. It's going to be legit.
"Literally the Wiffle ball has kind of become a little bit of my baseball-swinging training. It sounds like a joke but you can throw curveballs and sliders and just some hand-eye coordination and swinging mechanics and it's fun. I don't really know what else I can do. That's what I have. I'm just trying to make do with what I've got." READ MORE >
Wilmer Flores
Needing to get some swings in while home with his family, Giants infielder Wilmer Flores enlisted the help of his mother. How was her soft-toss technique? Take a look for yourself. READ MORE >
Miguel Sanó
In June 2018, the Twins optioned Sanó to Class A Advanced Fort Myers so that the slugger could work more aggressively with Twins strength and conditioning director Ian Kadish to improve his conditioning and his body. He took the fresh start and worked with renewed vigor through the past two offseasons, and as this video shows, Sanó isn't letting the coronavirus pandemic and the baseball hiatus get in the way of his weight training routine. READ MORE >
Here's some Tuesday motivation: @SanoMiguel getting work done! 💪 #MNTwins pic.twitter.com/aN2TX62n1Z

— Minnesota Twins (@Twins) March 31, 2020
Vladimir Guerrero Jr.
How does a young slugger stay sharp without live pitching this spring? Guerrero is getting back to his roots, playing a classic game that has shaped so many Latin stars. READ MORE >
Juan Soto
How is Soto staying ready to defend the Nationals' World Series title? He's doing it without even leaving the house. READ MORE >
Stuck at home…no problem! I challenge you to stay as safe, healthy & fit as I am during these tough times. NO EXCUSES! @UnderArmour #TheOnlyWayIsThrough #StayTheFHome @MLB
(📸: @carovalete ) pic.twitter.com/8QJyFm6k98

— Juan José Soto Pacheco (@JuanSoto25_) March 29, 2020
John Means
What do you do when you're a reigning All-Star pitcher looking to stay sharp with baseball on pause? It helps when you're not the only professional athlete in the family. So you throw batting practice .. to your wife. READ MORE >
The highlight from our "live BP" session. Not great for my ego, but great for my future children that she made contact. pic.twitter.com/yJIy0X3jhU

— John Means (@JMeans25) March 25, 2020
Nolan Arenado and Josh Fuentes
Arenado makes so many good plays it's downright silly. Well, he and his cousin -- corner infielder and teammate Fuentes -- got out the rapid-fire machine and got silly. READ MORE >
We got the machine out today ... working on some "drills" pic.twitter.com/hkioQM07Um

— josh fuentes (@jfuent19) March 22, 2020
Marcus Stroman and Dominic Smith
No stranger to unorthodox workouts, Marcus Stroman does not appear to be having any trouble keeping in shape during Major League Baseball's coronavirus stoppage. The Mets pitcher posted a video on social media showing him delivering pitches to a barefoot Dominic Smith in the middle of a paved street. "Money!" Smith yells after Stroman delivers a strike, twice lifting his leg in a delayed delivery. A left-handed fielder, Smith owns the rarest of gloves -- a lefty catcher's mitt -- for just such occasions. READ MORE >
Working daily with my dawg @TheRealSmith2_. Still cold with the windup variations! 🥶 #HDMH @Mets pic.twitter.com/MKP9hOmRNv

— Marcus Stroman (@STR0) March 30, 2020
Joey Gallo
The Rangers slugger has been taking batting practice in his downtown Dallas apartment. He is hitting balls off a tee into a net in his living room. ... But watch out for those windows. And check out that view! READ MORE >
My neighbors are going to hate me by the time this quarantine is over😂 pic.twitter.com/WNyRtXz1B3

— Joey Gallo (@JoeyGallo24) March 29, 2020