Predicting Pirates' 2020 Opening Day roster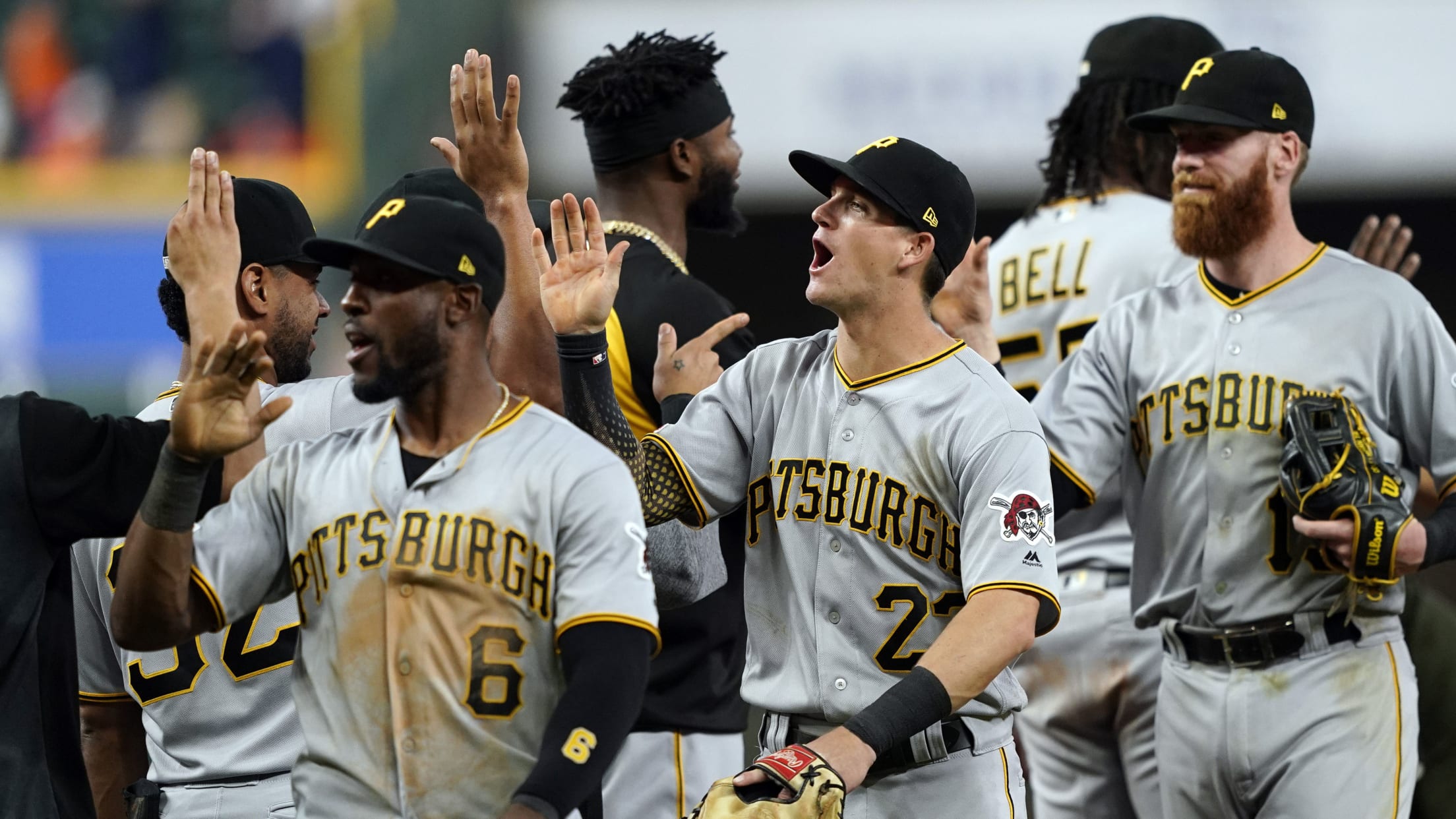 PITTSBURGH -- No matter what happens this winter, the Pirates' roster is going to look fundamentally different on Opening Day 2020. Before you even consider the offseason activity to come, remember that Pittsburgh will have a 26th man all season. It's also expected that teams will only be allowed to
PITTSBURGH -- No matter what happens this winter, the Pirates' roster is going to look fundamentally different on Opening Day 2020.
Before you even consider the offseason activity to come, remember that Pittsburgh will have a 26th man all season. It's also expected that teams will only be allowed to carry 13 pitchers.
But let's be clear: With a new leadership group in place, the Pirates' roster could look very different on Opening Day 2020. What if they rebuild? What if the new general manager, who won't be tied to returning players like Neal Huntington was, takes aggressive action to reshape the roster this winter?
It's far too early to realistically predict the roster the Pirates will put together at the end of a long offseason and Spring Training, especially in light of recent events. But it's never too soon to speculate, so let's take an early crack at forecasting their Opening Day roster primarily using players who they already have on board and acting under the assumption -- for now -- that they won't tear down and rebuild.
Catcher
Locks: Jacob Stallings, Elias Díaz
Possibilities: Free agent or trade acquisition
This seems like an area where the Pirates will look to add this offseason, whether it's through free agency or trades. The tricky part here is that both of their current catchers, Stallings and Díaz, are out of Minor League options. Maybe they'll use that extra roster spot to carry a third catcher, especially if they add a player with more defensive versatility.
Who might they seek? Perhaps free agents like Travis d'Arnaud, Robinson Chirinos or, if he's interested in a reunion, Russell Martin. On the trade front, the Dodgers' Austin Barnes seems like a classic Huntington-era Pirates target. The 29-year-old is behind Will Smith on Los Angeles' depth chart, two years removed from an excellent overall season and still well-regarded as a pitch-framer despite his offensive struggles the past two years.
First base
Locks: Josh Bell
He'll receive a significant raise through the arbitration process this winter, and he will have earned it after an All-Star season.
Second base
Locks: Adam Frazier
He led the team in games played this year, and nobody took the job from him. We'll assume it still belongs to the Gold Glove Award finalist until someone indicates otherwise.
Shortstop
Locks: Kevin Newman
He claimed the job last season, and it's hard to imagine anyone taking it away from him based on the way he played down the stretch.
Third base
Locks: Colin Moran
Possibilities: Erik González
This feels like it'll be Ke'Bryan Hayes' job at some point in 2020, but for now, Moran is the guy. Toward the end of the season, some players floated the idea of giving González an extended look at third base -- at least as Moran's platoon partner -- to see if his superior glove would be worth the likely downgraded offensive output. Ideally, Hayes will be ready to produce on both sides of the ball after starting the season at Triple-A Indianapolis.
Utility
Locks: Erik González, José Osuna, Cole Tucker
Possibilities: Pablo Reyes, Kevin Kramer
We mentioned the out-of-options González above, but he is capable of playing just about anywhere on the field. That's not the case for Osuna, who is more of a corner-utility man, but he can handle right field when Gregory Polanco needs a day off while also bouncing to left field, first base and third base when needed.
Tucker could start the season at Indianapolis, where he'd be able to play every day, but perhaps it's best if he finishes his development in the Majors. The Pirates put Newman in a similar situation last April, allowing him to come off the bench and eventually win the starting job. Reyes and Kramer would be the backups in this scenario, given their defensive versatility.
Outfield
Locks: Bryan Reynolds, Starling Marte, Gregory Polanco
Possibilities: Jason Martin, free agent or trade acquisition
The main question is Polanco in right field, and that's due only to his health as he spent most of the season on the injured list following shoulder surgery in September 2018. Marte's status is also unknown; he was expected to stay under Huntington, but perhaps a new GM would consider trading the center fielder.
This could also change if Martin, a candidate to be the Pirates' fourth outfielder, isn't fully recovered from his shoulder surgery last month by Opening Day. Martin's speed, left-handed bat and ability to play all over the outfield make him a better fit for this version of the roster than super-utility man Reyes, who would be hard-pressed to find playing time over the right-handed-hitting Osuna and González.
It's also possible that the Pirates will pursue a veteran fourth outfielder who could play every day in a pinch, like they did last year with Melky Cabrera, to guard against another setback with Polanco.
Starting pitchers
Locks: Chris Archer, Joe Musgrove, Trevor Williams
Possibilities: Mitch Keller, Steven Brault, Chad Kuhl, free agent or trade target, Dario Agrazal, James Marvel, Chris Stratton
Archer is a lock assuming the Pirates carry him through the offseason, which actually seems like less of a sure thing with Huntington gone. It's hard to see them moving on from Musgrove, given the durability and promise he showed last season, and Williams, given everything he accomplished in the first half of last season.
Keller will have to earn his spot, but his upside gives him the inside track. Brault seemingly secured a spot with the strong stretch he put together last season, and the previous leadership group was talking about using him as a two-way player. But can they seriously be content with rolling out five pitchers who contributed so significantly to such a disappointing rotation in '19?
Will they invest in a name-brand starter to bolster their rotation? Time (and the new GM) will tell. Kuhl could be a part of this conversation, too, but there's a lot of uncertainty facing him after a year spent recovering from Tommy John surgery. They have additional depth in Stratton, the former starter who spent last season in Pittsburgh's bullpen, as well as Agrazal and Marvel.
Relievers
Locks: Keone Kela, Kyle Crick, Richard Rodríguez, Michael Feliz, Edgar Santana, Nick Burdi
Possibilities: Chad Kuhl, Chris Stratton, Wei-Chung Wang, Clay Holmes, Yacksel Ríos, Geoff Hartlieb, Luis Escobar, Sam Howard, Williams Jerez, free agent or trade acquisitions
Look, anything could happen here.
Kuhl could be in the rotation. They might slow-play Kuhl, Santana or Burdi coming back from serious injuries, assuming they're healthy in the first place. Kela or Crick could be traded. They will almost certainly bring in another left-hander along with non-roster/depth options, as they always do, and sometimes those non-roster invitees turn into setup men like Rodríguez.
But for now, using the players currently on the roster, this is our best guess: Kela, Crick, Rodríguez, Feliz, Santana, Burdi, Holmes and Kuhl backing up a rotation of Archer, Musgrove, Williams, Keller and Brault. That bullpen is clearly missing a left-hander, but their existing options aren't ideal on that front.
Kela would close with some combination of Crick, Rodríguez, Feliz and Santana in front of him. Burdi might move into that mix, too, if his power stuff returns. Holmes has shown flashes of his ability, and a new pitching coach might help him take a step forward.
There are some in the organization who believe Kuhl has closer-type stuff, so if he's not starting, maybe he'll begin working his way into that role. Stratton is probably better suited for a multi-inning relief role, however, given Kuhl's lack of experience in the bullpen.