Can Lowe put struggles behind him in WS?
Brandon Lowe stared down Lance McCullers Jr. and lightly bounced his bat as the Astros right-hander wound up and delivered in Game 7 of the American League Championship Series on Saturday, as Lowe does before unleashing any of his explosive left-handed swings. Instead, he squared up at the last second
Brandon Lowe stared down Lance McCullers Jr. and lightly bounced his bat as the Astros right-hander wound up and delivered in Game 7 of the American League Championship Series on Saturday, as Lowe does before unleashing any of his explosive left-handed swings. Instead, he squared up at the last second and poked a bunt.
It wasn't a good one -- not surprising, considering it was his first bunt of the season. The ball popped up down the third-base line, and it only dropped in for a cheap hit because Alex Bregman was shifted far away.
"I tried to get on for the best hitter on the planet," Lowe said.
For most of the season, the leader in the clubhouse for "best hitter on the planet" wasn't record-breaking, cowboy-boot-wearing, dancing phenom Randy Arozarena, but had instead been Lowe himself, a bona fide MVP candidate.
The Rays need him to get back there.

"I really sat down with guys that I've hit with for a while looking at video, understanding what my approach has been, and really trying to get back to where I was at during the season and hopefully getting me back to swinging the bat pretty well," Lowe said.
Lowe's puzzling lack of production is far from the Rays' only offensive problem as they stare down the well-oiled machine in Dodger blue, but it's the most glaring one. The big bat of the 14 homers and .916 OPS in the regular season played more like a matchstick amid the mire of an alarming .115/.193/.173 postseason line featuring only one extra-base hit -- a homer -- in 57 plate appearances and no multihit games.
How did all of that production vanish? And can it come back quickly enough as the Rays eye their first World Series title?
He's chasing too much
As Lowe took the next step from a third-place finish in AL Rookie of the Year voting in 2019 to true stardom in '20, much of his improvement came on the strength of a massive drop in his chase rate -- swings on pitches outside the strike zone -- from 30.9 percent to 20.9 percent. Accordingly, his strikeout rate plummeted and his walk rate soared.
That newfound discipline has vanished.
Lowe's chase rate has ballooned back up to 32.8 percent this postseason (admittedly, in a smaller sample size), and 11 of his 18 strikeouts in the playoffs have come on pitches outside the strike zone. That's particularly pronounced in high-intensity situations -- of which there are obviously many in October.
• Tyler Glasnow, Blake Snell to start first two World Series games
He chased 24.8 percent of pitches out of the zone when behind in the count during the regular season, now up to 38.1 percent of such pitches in the postseason. He chased out of the zone 30.7 percent of the time with two strikes during the season, also up to 41.2 percent in the playoffs.
Here's what's interesting: During the regular season, most of those chases came on offspeed pitches -- mainly sliders -- below the zone, but this postseason, the majority of his chases have actually been on fastballs at the letters -- especially with two strikes.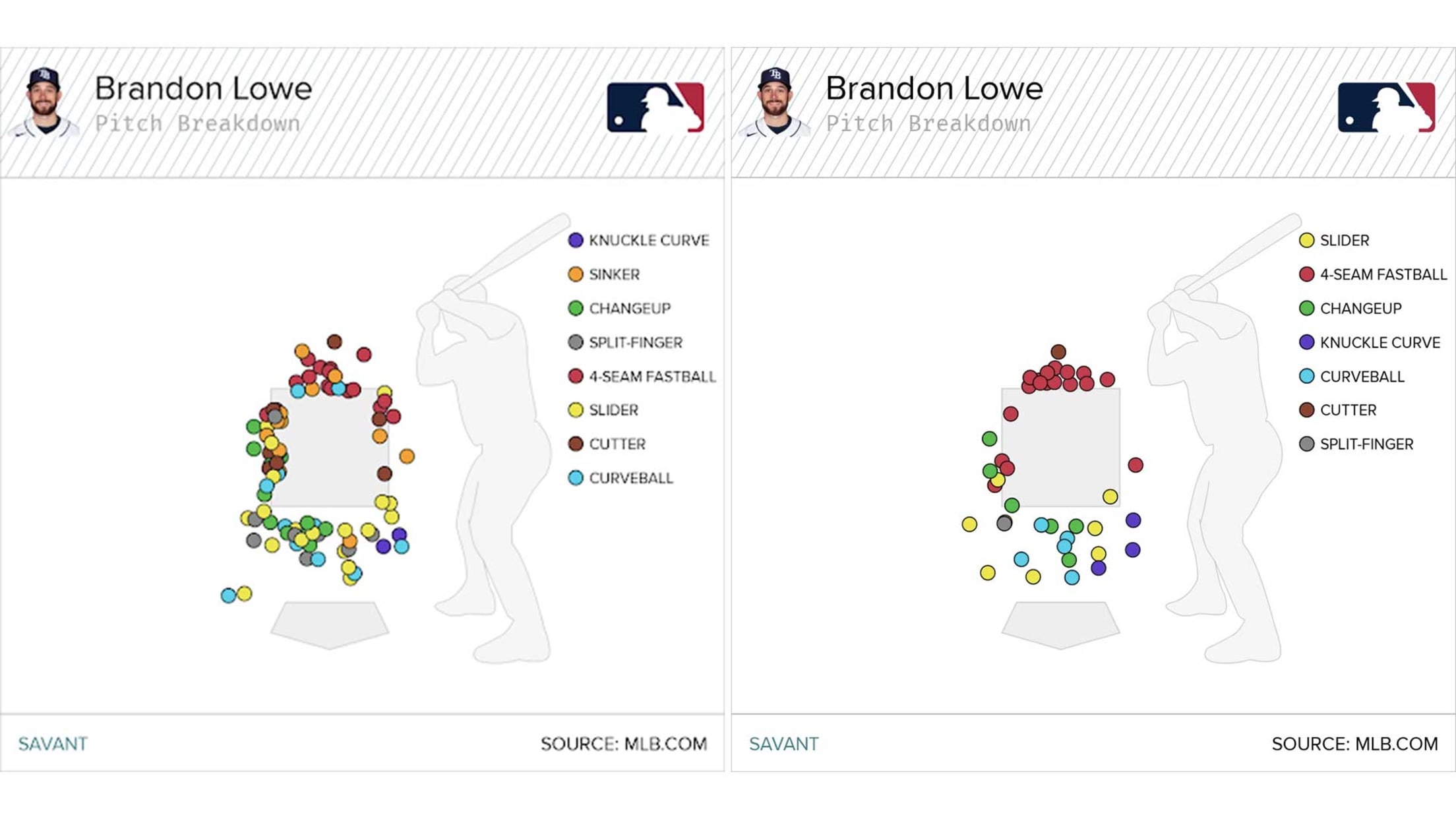 Though Lowe has always been a fastball hitter, he's actually seeing a higher percentage of fastballs in the postseason than he did during the regular season. He just hasn't been able to resist offering at them, something that's likely exacerbated by the struggles. There's nothing like a good fastball out of the pitcher's hand to get the prospect of a slump-breaking hit into a batter's mind -- but Lowe hasn't been able to catch up.
"I think a lot of it was where my setup was at, how I was getting to the plate," Lowe said. "My timing looked a little off. A lot of little things that added up to be big changes in my swing, which changed my approach."
He's not hitting the ball in the air
Still, Lowe's struggles can't be pinned on those whiffs alone. His strikeout rate is up from 25.9 percent in the regular season to 31.6 percent in the playoffs, but there's also something to be said for facing playoff-caliber pitching every day -- with more aggressive bullpen usage -- that naturally makes the postseason a more challenging environment for hitters.
He is still putting the ball in play a good amount. He just can't buy a hit.
• 7 reasons Rays will win World Series
Lowe's batting average on balls in play during the regular season was a fairly standard .311. In the playoffs, that has dropped to .152, meaning that his balls in play are falling for hits less than half as often as they used to.
And the kicker: Lowe has put 34 balls in play this postseason, of which 21 have come against four-seam fastballs, sliders and changeups. His BABIP against those three pitches is .000. Zero. Aside from his homer on a fastball in Game 5 of the ALCS (not included in BABIP), he doesn't have a single hit against those pitches.
Why is that? It's because most of them are being pounded into the ground -- a bad recipe considering the prevalence of infield shifting.
Lowe's ground-ball rate in the regular season was 32.8 percent, but that's way up to 58.8 percent this postseason on all manner of pitches throughout the strike zone. Almost all of that has come at the expense of his line-drive rate -- not good, considering that's the best kind of contact for hits. Even three of his six playoff hits have stayed in the infield.
"I'm not up there trying to hit fly balls, trying to hit home runs or anything like that," Lowe said. "I'm just trying to go up there trying to do damage to the baseball and make solid contact. Hitting the ball solid and making good contact is pretty much the most that you can do up there at the plate."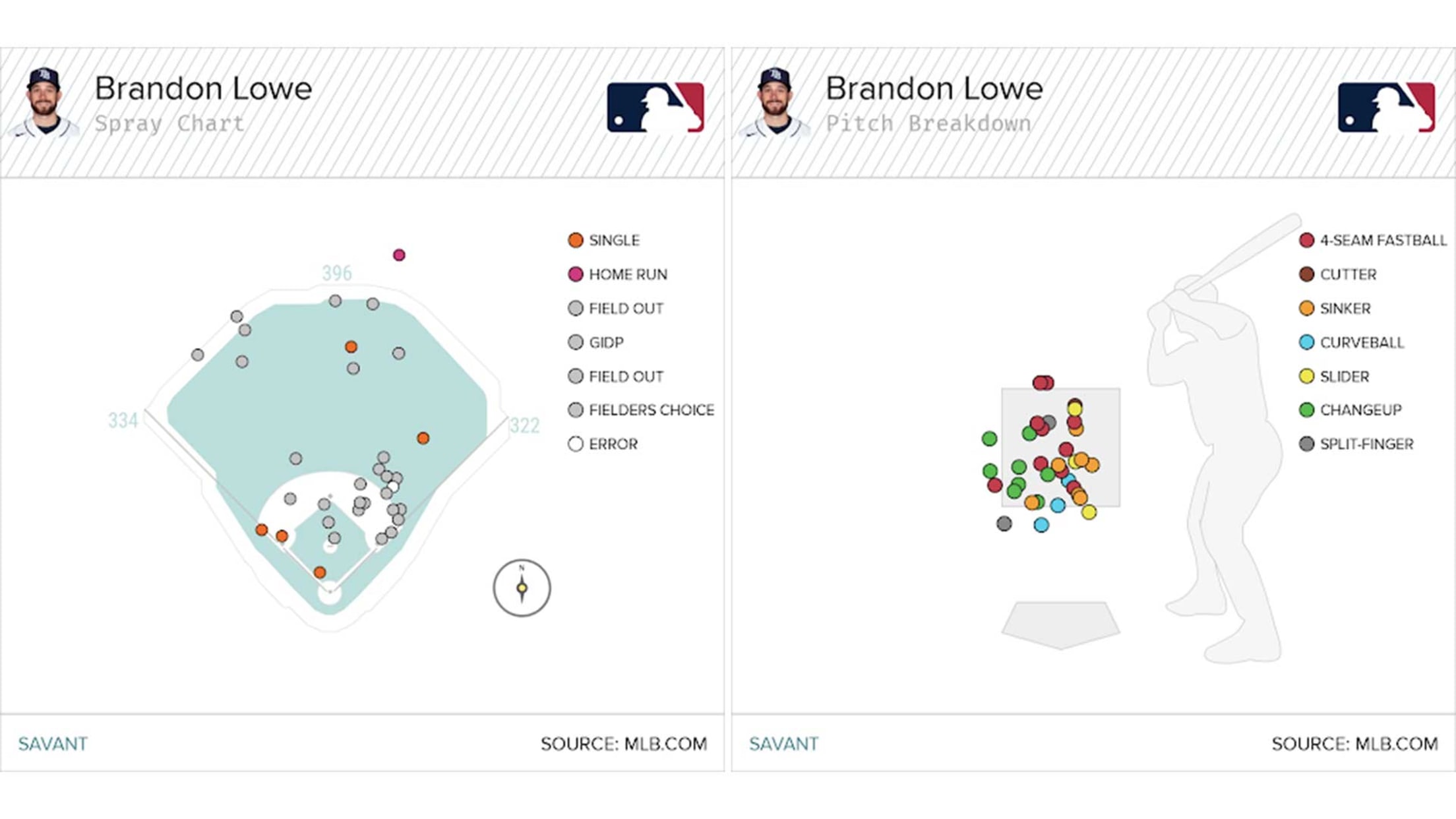 So, is this fixable?
The Rays think so.
"His swings in batting practice have gotten better," manager Kevin Cash said. "He was more on time. You start to see him drive the ball to the oppo gap, which was encouraging. When you see him bounce at the plate, that's when you think he's going to take off. Just being a little more selective, putting himself in hitters' counts, and a lot of good things should happen for him."
One thing to note is that much of Lowe's ground-ball struggles have come against sinkers and changeups. None of the seven sinkers he's put in play this postseason has been hit in the air. Dustin May's power sinker could pose some issues, but Clayton Kershaw, Walker Buehler, Tony Gonsolin and Julio Urías all rely more on the four-seamer.
And though many of Lowe's whiffs have come against four-seamers up out of the zone, he is still hitting them a long way when he does make contact. Aside from the homer, four of his other five fly balls against the fastball have reached the warning track. (It's worth noting that Globe Life Field does appear to play big in the outfield.)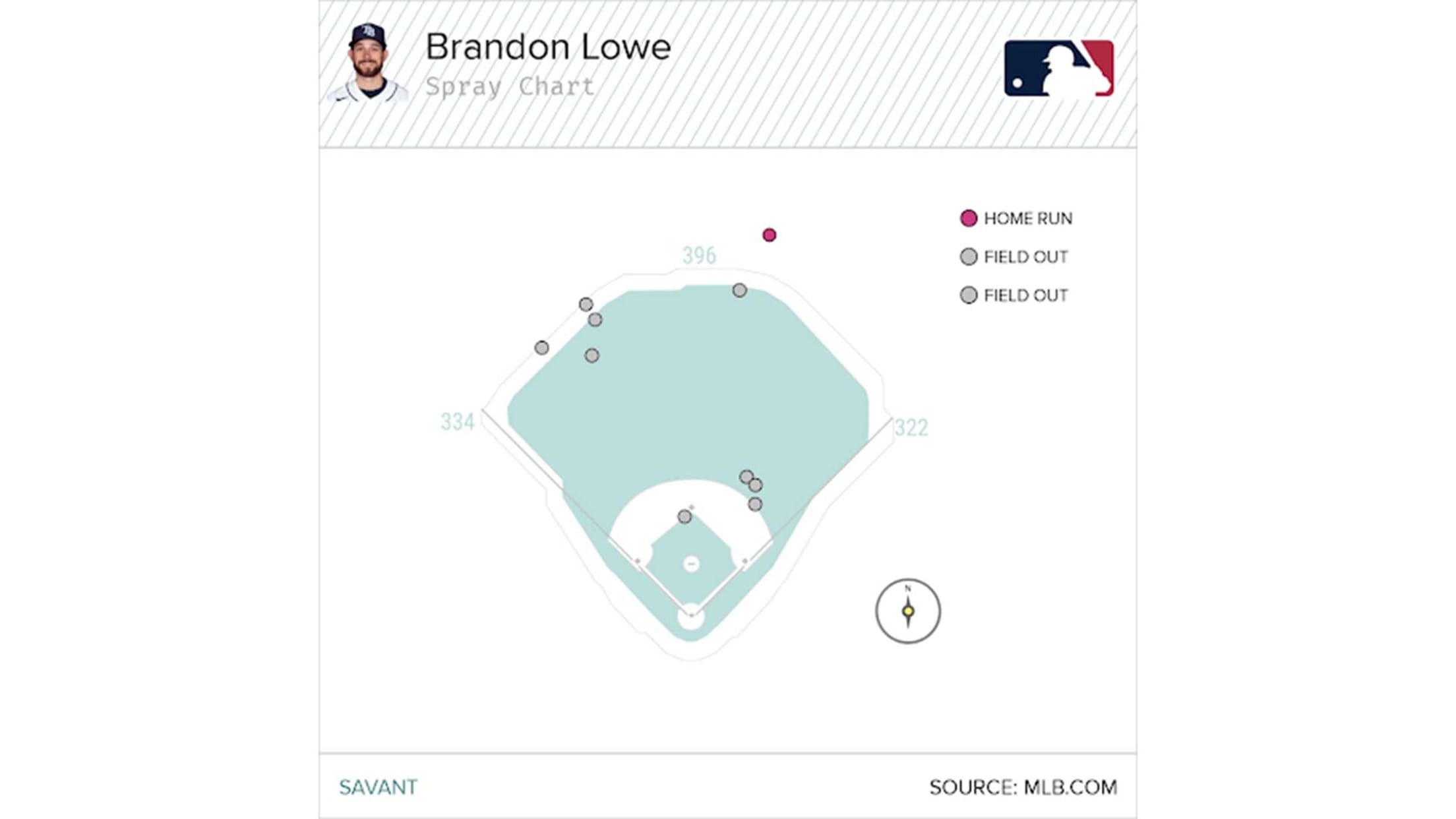 Lowe claims that he did feel more comfortable in the ALCS, and he owns a three-game hitting streak ahead of Game 1 of the World Series on Tuesday. His average exit velocity isn't down far, from 89.8 mph in the regular season to 86.9 mph in the playoffs. All it might take is for one of those deep flies to carry just a little further out of the yard.
"I've felt good the last few days at the plate, so I fully expect to start being back to form," Lowe said.
Tampa Bay needs that.