Notes: Cash's 'pen dreams; testing fan noise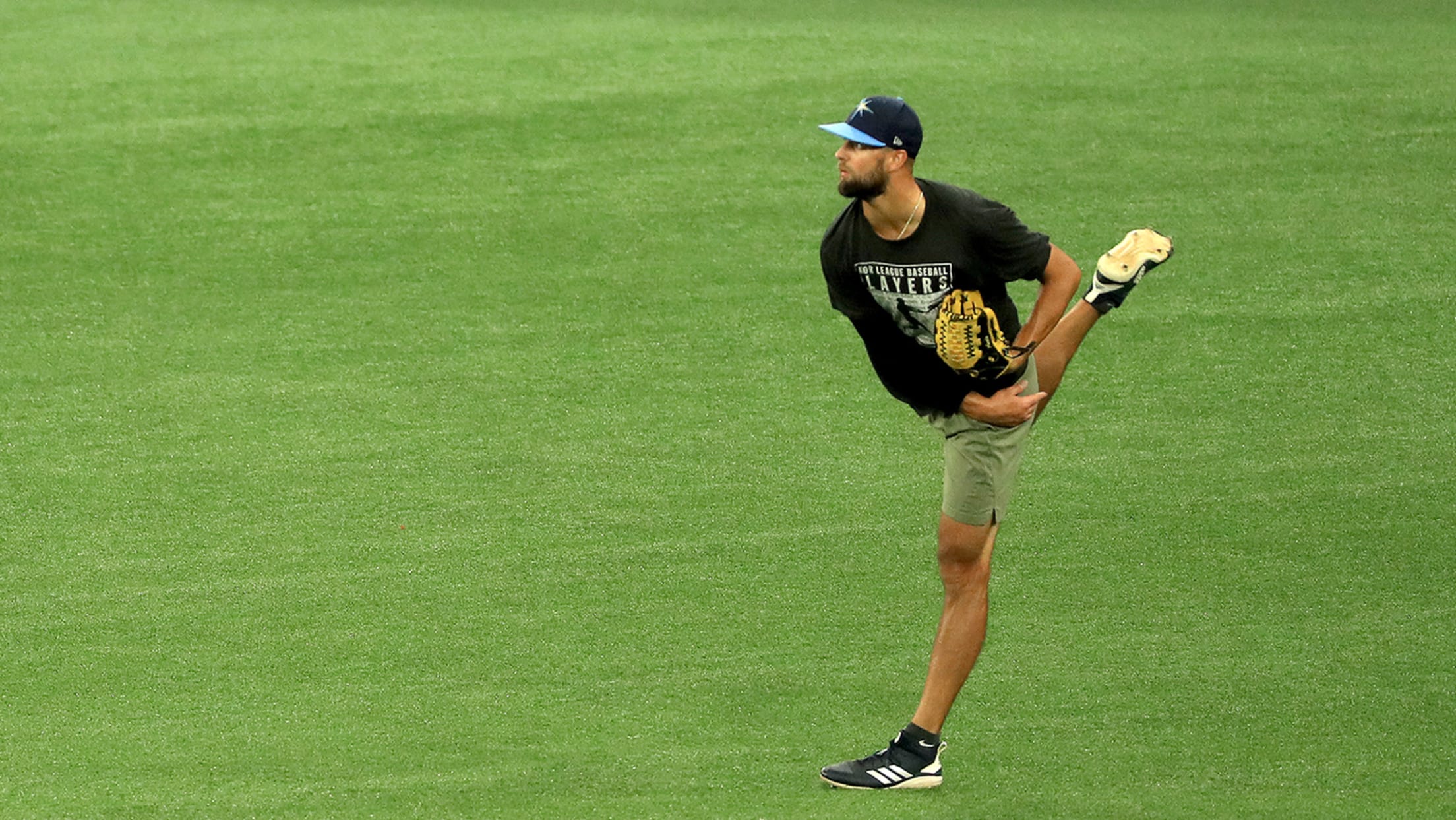 ST. PETERSBURG -- While the Rays held a light workout inside Tropicana Field on Wednesday, manager Kevin Cash spent most of the morning at an undisclosed location watching a workout that included five of Tampa Bay's top relievers. Cash watched Chaz Roe, Diego Castillo, Nick Anderson, Pete Fairbanks and José
ST. PETERSBURG -- While the Rays held a light workout inside Tropicana Field on Wednesday, manager Kevin Cash spent most of the morning at an undisclosed location watching a workout that included five of Tampa Bay's top relievers.
Cash watched Chaz Roe, Diego Castillo, Nick Anderson, Pete Fairbanks and José Alvarado all pitch an inning outside, which is something the Rays are asking all their pitchers to do on occasion in order to get acclimated to the weather outside of the dome.
The five relievers certainly brought the heat on Wednesday, leaving Cash dreaming of what his bullpen situation could look like in 2020.
"A lot of heat coming out between Chaz, Diego, Fairbanks, Alvarado and Nick Anderson," Cash said. "It makes you dream about what if we get them all together at one time. If we're able to keep them all healthy, it's a pretty special and talented group."
Of the ground, Anderson and Castillo are the likely options to get the opportunities in the ninth inning. If Alvarado proves that he can consistently throw strikes, the Rays would certainly be open to giving him more opportunities in the ninth. Roe is more of a middle reliever, while Fairbanks has the potential to work his way into the late innings -- largely in part to a fastball that ranked in the 97th percentile last season and a slider that held opponents to a .196 average.
Throw Colin Poche and Oliver Drake into the mix, and it's easy to see why the Rays expect the pitching staff to be a major strength heading into 2020.
"I really couldn't be more excited about where we are as a staff," said Rays pitching coach Kyle Snyder.
Pump up the noise
After going through simulated games over the last week, the Rays will hold their first intrasquad game on Thursday, according to Cash. The game will last about five or six innings, but it will be the first time Tampa Bay will have nine guys on the field at the same time.
While the game on the field will certainly be different to the players, one of the biggest differences will be that the club will be trying out added crowd noise, which is provided by Major League Baseball. The Rays have been working out with barely any sound during Summer Camp, but Cash said he's not sure what the plan is for regular-season games.
"We haven't spent a ton of time talking about the option if the players want it or not," Cash said. "I don't know how that's going to be determined, whether that comes from the individual club or if that comes from MLB, I don't know what they're going to do. I really don't care, one way or another, it's not that big of a deal."
Cash also said, as of now, the plan is to have intrasquad games on Monday, Tuesday and Wednesday. Cash added that he believes the games next week will take place in the afternoon in order to give the outfielders a different look at the roof. Due to the success the team has had playing five- or six-inning simulated games, Cash is still unsure if the club will play nine innings in any of the intrasquad games.
"Everybody wants to emphasize playing nine innings, but I don't know if we can pick a player that wants to sit out there in a nine-inning game playing against their teammates. After five innings, they're going to be tapping out saying, 'I'm good,'" Cash said. "Getting them to stand out there for nine innings, I think everybody has a difference of opinion on the value and the importance of that. If you get tired at Yankee Stadium, because you haven't experienced the eighth and ninth as an infielder or an outfielder, we need to do a little bit better job of motivating you."
Wednesday's attendance
Though Tyler Glasnow and Diego Castillo have returned to the field this week, the Rays still have five players who haven't been spotted at camp for more than a week. Yonny Chirinos, Randy Arozarena and José Martínez have not been seen since the beginning of camp, while Austin Meadows has not been seen on the field since participating in the first workout on July 3. Brendan McKay has not been seen on the field over the last nine workouts.
Juan Toribio covers the Rays for MLB.com. Follow him on Twitter @juanctoribio.