Tuesday's top prospect performers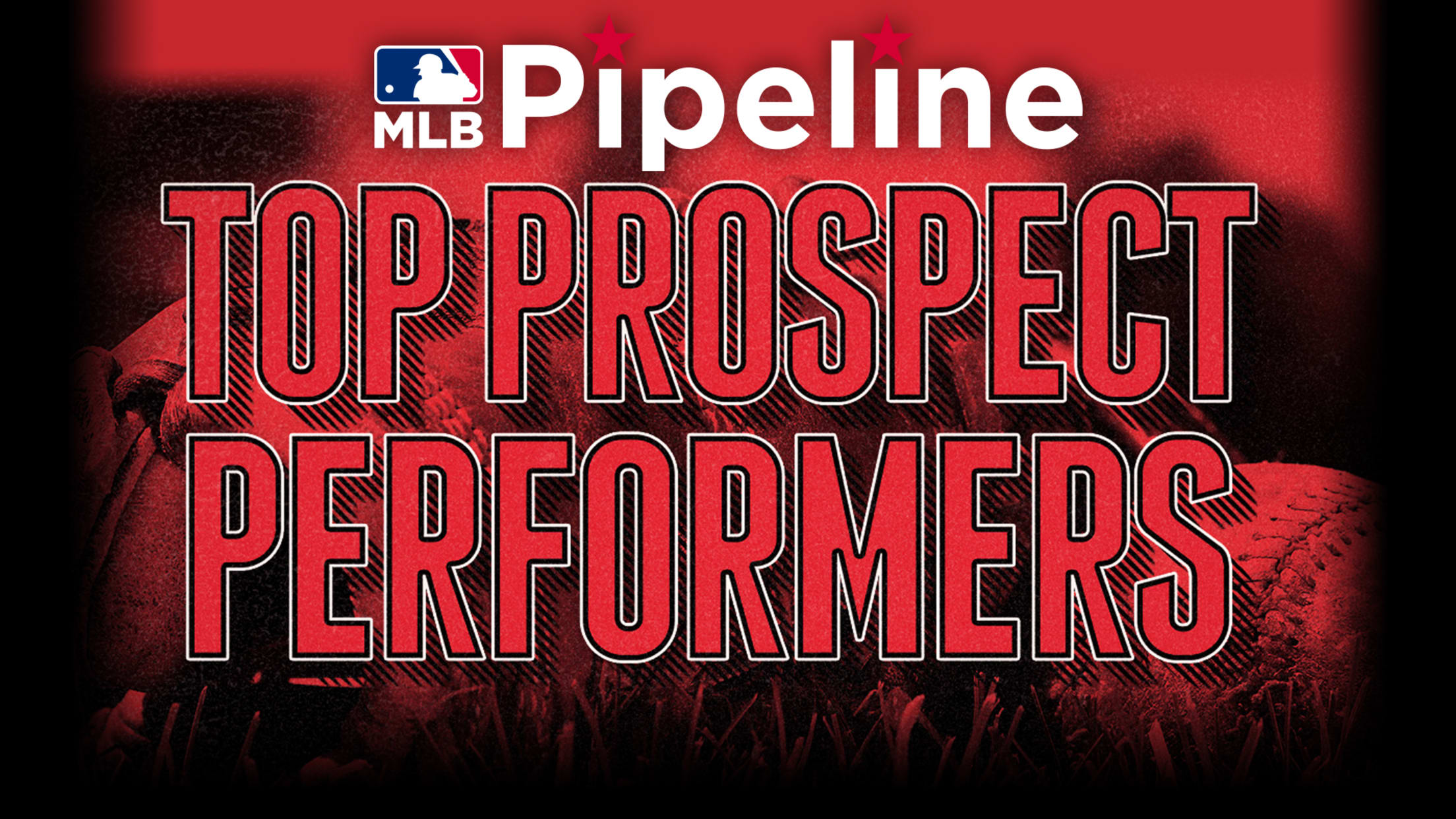 Here's a look at Tuesday's top Minor League performers from each team's Top 30 Prospects list and 2019 Draft class: AMERICAN LEAGUE EAST Blue Jays: Cal Stevenson, OF (No. 24) -- 3-for-4, 3B, RBI, R, SB (Class A Adv Dunedin) Stevenson was the only Dunedin player to post multiple hits
Here's a look at Tuesday's top Minor League performers from each team's Top 30 Prospects list and 2019 Draft class:
AMERICAN LEAGUE EAST
Blue Jays: Cal Stevenson, OF (No. 24) -- 3-for-4, 3B, RBI, R, SB (Class A Adv Dunedin)
Stevenson was the only Dunedin player to post multiple hits as the team fell to Tampa, 6-5, in the nightcap of a doubleheader. The 22-year-old has hit safely in six straight contests, raising his season average from .241 to .253 along the way. Selected by Toronto in the 10th round of the 2018 Draft out of Arizona, Stevenson opened eyes during his pro debut by slashing .369/.511/.523 with 22 extra-base hits, 21 steals and an absurd 64/24 BB/K in 59 games across a pair of Rookie levels. The impressive showing earned him a promotion directly to the Florida State League for his first full season.
Blue Jays prospects stats »
Orioles: Mason McCoy, SS (No. 30) -- 3-for-4, R (Double-A Bowie)
McCoy, 24, collected a third of Bowie's hits, tallying three singles and also scoring a run out of the leadoff spot to lead the Baysox past Hartford, 2-0. The 2017 sixth-round pick out of Iowa continues to impress in what so far has been a breakout campaign, as he's now hitting .329/.387/.437 through 37 games in the Eastern League after slashing .379/.416/.509 over 27 games at Class A Advanced Frederick to open the season. He's produced an excellent .350/.399/.467 line with 22 extra-base hits between both stops, while committing just five errors in 214 chances between both middle-infield positions.
Orioles prospects stats »
Rays: Greg Jones, SS -- 2-for-4, 2B, RBI, R, SB (Class A Short Season Hudson Valley)
Selected by the Rays with the No. 22 overall pick in this year's Draft out of UNC Wilmington and signed for slightly below slot value ($3.02 million), Jones, an 80-grade runner who scouts regarded as one of the fastest players in his class, showcased his wheels Tuesday in his pro debut, recording two hits including a double and swiping a bag for the Renegades. To go along with his revered speed, the 21-year-old switch-hitter shows the potential to hit for both average and power from both sides of the plate, with on-base skills that would fit nicely atop a big league lineup. There's less certainty about his defense as a shortstop, leading some to believe he'll eventually land in center field.
Rays 2019 Draft picks stats »
Red Sox: No Red Sox prospects had noteworthy performances in the Minors on Tuesday.
Yankees: Deivi Garcia, RHP (No. 4) -- 6 IP, 1 H, 0 R, 1 BB, 15 K (Double-A Trenton)
Garcia's outing on Tuesday will go down as one of the more dominant pitching performances of the 2019 Minor League season. The 20-year-old fanned the first eight batters he faced en route to a career-high 15 strikeouts – also the most by a Minor League pitcher in a game this season -- in six innings and did not give up a hit until two outs in the fifth inning of Trenton's division-clinching win over Richmond. He threw 63 of 98 pitches for strikes in the outing, tallying 24 swinging strikes. What's more, Garcia now has four double-digit strikeout performances in 12 starts this season, the latest of which pushed his season strikeout total to an even 100 through just 59 2/3 innings (15.1 K/9) between Trenton and Class A Advanced Tampa. Overall, the 5-foot-9 righty has punched out 40.3 percent of the batters he's faced this season, all while pitching to a 3.02 ERA.
Yankees prospects stats »
Garcia's final line:
6 IP, 1 H, 0 R, 1 BB, 15 K (career high)

— MLB Pipeline (@MLBPipeline) June 19, 2019
AMERICAN LEAGUE CENTRAL
Indians: Ernie Clement, SS (No. 15) -- 2-for-2, 3B, RBI, 2 BB, SB (Double-A Akron)
Clement accounted for much of Akron's offense, reaching base four times out of the leadoff spot via a pair of hits -- including an RBI triple -- and two walks. In the process the 23-year-old extended his hitting streak to 12 games -- a stretch during which he's batting .348 with five extra-base hits. After climbing three levels and getting a brief taste of the Double-A level in late 2018, Clement has returned to the Eastern League this year to post a .281/.348/.384 line in 38 games.
Indians prospects stats »
Royals: Kelvin Gutierrez, 3B (No. 14) -- 2-for-4, HR, RBI (Triple-A Omaha)
Gutierrez hit his third homer of the year for Omaha (he's also homered once for the Royals) in the Storm Chasers' 8-5 loss to Fresno. Gutierrez, a 24-year-old, whom the Royals acquired from the Nationals in 2018, has hit .260 over 20 games in the Majors this season and is hitting .289 through 27 games in Triple-A.
Royals prospects stats »
Tigers: Alex Faedo, RHP (No. 9) -- 5 2/3 IP, 4 H, 0 R, 1 BB, 1 HBP, 4 K (Double-A Erie)
Faedo, 23, kept his opponents off the board for the fourth time in 13 starts this season, scattering four hits and striking out four in a no-decision for Erie. It was the fifth straight turn in which he allowed two earned runs or fewer, and he's pitched to a 1.33 ERA with 36 strikeouts in 27 innings. The former first-round pick (2017) struggled last year in his first taste of the Double-A level, recording a 4.95 ERA and allowing 15 homers in 60 innings (12 starts) after he received a midseason promotion to Erie. Suffice it to say the 6-foot-5 right-hander has been markedly better this season in his return to the Eastern League, where he now sports a 3.41 ERA and 86/12 K/BB through 71 1/3 innings (13 starts), albeit with 11 home runs allowed.
Tigers prospects stats »
Alex Faedo, the #Tigers' No. 9 prospect, is cruising for @erie_seawolves:

5 IP
4 H
0 R
1 BB
4 K@Tigers prospects stats: https://t.co/TB0jjm3Isi pic.twitter.com/zgi8cst4TD

— MLB Pipeline (@MLBPipeline) June 19, 2019
Twins: Jhoan Duran, RHP (No. 7) -- 5 IP, 2 H, 1 R, 3 BB, 11 K (Class A Adv Fort Myers)
Duran recorded 11 of his 15 outs via the strikeout in second double-digit strikeout performance of the season -- both in his past four starts -- but ultimately took the loss as the Miracle fell to Charlotte, 2-0. With a fastball that routinely touches triple digits, the 21-year-old right-hander has now racked up 67 strikeouts in 54 1/3 innings this season, while pitching to a 3.15 ERA and limiting opposing hitters to a .205 average. He's allowed exactly one earned run in four straight starts, completing at least five innings in each, but has only one win during that stretch.
Twins prospects stats »
White Sox: Luis Robert, OF (No. 1, MLB No. 5) -- 2-for-3, 3B, 2B, 2 RBI, R (Double-A Southern League All-Star Game)
Robert, who jumped up to No. 5 on MLB Pipeline's freshly updated Top 100 Prospect list, was named MVP of the Southern League All-Star Game on Tuesday after he hit an RBI double and an RBI triple to power the South to a 7-3 win. It was a fitting performance by the 21-year-old outfielder, who's seen his stock explode this season thanks to a breakout campaign across two levels. He heads into the second half carrying a .353/.403/.630 batting line through 60 games, with 12 home runs, 36 extra-base hits and 18 steals.
White Sox prospects stats »
Our best > your best 😉

Luis Robert's first two ASG at-bats:

⭐️ RBI-double
⭐️ RBI-triple#BuiltInBham | #WhiteSox pic.twitter.com/SZMxm5xUIz

— Birmingham Barons (@BhamBarons) June 19, 2019
AMERICAN LEAGUE WEST
A's: Sheldon Neuse, 3B (No. 9) -- 4-for-4, 2B, 2 RBI, 2 R, BB (Triple-A Las Vegas)
Neuse was perfect at the plate on Tuesday afternoon, collecting four hits and reaching once via a walk in the Aviators' 12-1 rout of Memphis. He tallied three singles, two of which were RBI knocks, and also doubled in the contest. The 24-year-old has been on fire of late, turning in five multihit performances during his six-game hitting streak -- a stretch in which he's improved his season average from .270 to .309 by batting .667 (16-for-24) with eight RBIs and nine runs scored. He sports a .309/.392/.508 line through 65 games in the Pacific Coast League this season after slashing .263/.304/.357 over 135 games in the PCL in 2018.
A's prospects stats »
#Athletics No. 9 prospect Sheldon Neuse was a perfect 4-for-4 today and is on 🔥 lately for @AviatorsLV:

6-game hitting streak
Multiple hits in 5 of past 6 games
16-for-25 (.667) during hitting streak

Live stats for all the @Athletics' top prospects: https://t.co/VOPL8o1znb pic.twitter.com/QmnpUpDfFh

— MLB Pipeline (@MLBPipeline) June 18, 2019
Angels: Michael Hermosillo, OF (No. 14) -- 2-for-3, solo HR in Game 1, 0-for-3 in Game 2 (Triple-A Salt Lake)
Hermosillo began the season on the injured list with a core muscle injury, but he's back and showing some power. The 24-year-old, a 28th-round Draft pick from the 2013 Draft, hit his second homer of the year in the fifth inning and has gone deep in two of his past four games. Hermosillo hasn't hit for much power throughout his career, but he's coming off a 2018 campaign in which he hit a career-high 12 homers.
Angels prospects stats »
Astros: J.B. Bukauskas, RHP (No. 5) -- 5 IP, 4 H, 2 R (1 ER), 2 BB, 7 K (Double-A Corpus Christi)
Bukauskas got off to a rough start this season, giving up 17 runs over eight innings in his first three starts. However, the 22-year-old, a 2017 first-round Draft pick, has gotten back into rhythm and surrendered just one earned run in three straight starts. Bukauskas fired 50 of his 85 pitches for strikes and has a 1.59 ERA through three starts this month.
Astros prospects stats »
Mariners: Kyle Lewis, OF (No. 7) -- 2-for-3, 2B, 3 R, 2 BB (Double-A Arkansas)
Lewis may be on the verge of breaking out of his slump as he put together his first multihit performance since June 9. Entering play Tuesday, Lewis was mired in a 1-for-19 skid. The 23-year-old, a 2016 first-round Draft pick, is hitting .243 through 62 games this season, but the most important fact is that he's on the field and healthy. Lewis played just 49 games in 2017 and 86 games in 2018 as injuries have impacted and delayed his development thus far.
Mariners prospects stats »
Rangers: Jonathan Ornelas, INF (No. 18) -- 2-for-4, R (Class A Hickory)
Ornelas is 0-for-12 over his past three games with Hickory, but he did manage to pick up a pair of hits in the South Atlantic League All-Star Game. Ornelas, whom the Rangers selected in the third round of the 2018 Draft, hit .302 through 48 games in his pro debut and is hitting .263 through 53 games this season.
Rangers prospects stats »
NATIONAL LEAGUE EAST
Braves: Riley Delgado, INF (No. 30) -- 4-for-4, 2B, R (Class A Adv Florida)
Delgado, a ninth-round pick from the 2017 Draft, set his season high with four hits and bumped his average up to an even .300. The 24-year-old is hitting .309 this month and has actually hit well throughout the bulk of his professional career. Delgado struggled in his 26-game pro debut, but hit .315 over 122 games a season ago.
Braves prospects stats »
Marlins: Braxton Garrett, LHP (No. 7) -- 5 IP, 4 H, 1 R, 3 BB, 6 K (Class A Adv Jupiter)
Garrett continued a strong 2019 season with five innings of one-run ball on Tuesday. The seventh overall pick in the 2016 MLB Draft, Garrett had Tommy John surgery in June of 2017 after just four starts for the Greensboro Grasshoppers. This year, he has a 3.21 ERA for the Jupiter Hammerheads and has allowed more than three earned runs in just two of his 11 starts.
Marlins prospects stats »
Mets: David Peterson, LHP (No. 6) -- 7 IP, 9 H, 2 R, 0 BB, 6 K (Double-A Binghamton)
Peterson, whom the Mets took 20th overall in the 2017 Draft, had his deepest start of the season Tuesday in New Hampshire. He went seven innings and allowed just two runs, for his second straight start of at least six innings. Prior to this stretch, he hadn't pitched more than 5 2/3 innings in any game this season.
Mets prospects stats »
Phillies: Alec Bohm, 3B (No. 1, MLB No. 39) -- 3-for-4, HR, 3 RBI (Class A Adv Clearwater)
Bohm's third home run in the Florida State League (and seventh of the season) was a two-run shot in the eighth inning that capped a three-hit performance, his eighth this season in 61 games across two levels. After a rather disappointing pro debut in which he batted .252/.335/.324 with zero home runs in 40 games spanning three levels, the 22-year-old third baseman has solidified himself as one of the game's better corner-infield prospects this season by slashing .339/.408/.532 with 28 extra-base hits and 37 RBIs.
Phillies prospects stats »
#Phillies No. 1 prospect Alec Bohm had quite a night for @Threshers:

3-for-4
HR
3 RBI

Here's Bohm on the recently updated Top 100: https://t.co/qDJBzczLeh pic.twitter.com/oT44fLhXYy

— MLB Pipeline (@MLBPipeline) June 19, 2019
Nationals: No Nationals prospects had noteworthy performances in the Minors on Tuesday.
NATIONAL LEAGUE CENTRAL
Brewers: Jacob Nottingham, C/1B (No. 16) -- 4-for-5, HR, 6 RBI (Triple-A San Antonio)
Nottingham set a career high with six RBIs in his first four-hit game since September 2015, a little more a month after the A's acquired him from Houston in the Scott Kazmir trade. Amazingly, the 24-year-old backstop was one of three San Antonio players to record four hits on Tuesday as the Missions trounced Reno, 19-1. A former sixth-round pick (2013) by Houston, Nottingham has produced a .277 average with three homers and 20 RBIs in 39 games for the Missions this season. He's also appeared in six games with Milwaukee, during which he went 2-for-5 with his first big league home run.
Brewers prospects stats »
Cubs: Trent Giambrone, INF (No. 20) -- 2-for-5, 2B, 2 R, SB (Triple-A Iowa)
Although his four-game home run streak came to end on Tuesday, Giambrone stayed hot at the plate with another multihit effort, his fourth in his last nine games. The 25-year-old infielder has improved his season average from .201 to .225 during that stretch, all while tallying five homers, 11 RBIs and 10 runs scored. Giambrone hasn't offered much in the way of batting average this season, but with 14 home runs through 67 games, he's poised to blow well past his career-high home run total of 17, which he set last season in 116 games with Double-A Tennessee. Defensively, he's seen time at every position this season except center field, pitcher and catcher.
Cubs prospects stats »
Cardinals: Dylan Carlson, OF (No. 2, MLB No. 89) -- 2-for-5, 2B, 2 R (Double-A Springfield)
Carlson, a 20-year-old switch-hitter, scored both of his team's runs and paced the Cardinals' offense out of the leadoff spot with a pair of hits, including his 15th double of the season. The former first-round pick (2016) has put himself firmly on the prospect radar this year with a breakout campaign that's seen him hit .289/.370/.514 with 10 homers, 31 extra-base hits and 11 steals over 66 games in the Texas League.
Cardinals prospects stats »
Pirates: Juan Pie, OF (No. 24) -- 2-for-3, 2 2B, 4 RBI, R, BB, SB (Class A Short Season West Virginia)
Pie, who signed with Pittsburgh for $500,000 out of the Dominican Republic in July 2017, drove in four runs in his first multihit performance of the season in the third game of his stateside debut in the New York-Penn League. He picked up his first hit on Saturday, after going 0-for-3 with a walk and a run scored in his season debut. The 18-year-old is expected to require considerable time to hone his craft in the Minor Leagues, but the final product could be that of an outfielder who hits for some average and some power while also offering value on the basepaths.
Pirates prospects stats »
Reds: Jonathan India, 3B (No. 3, MLB No. 43) -- 2-for-4, 2B (Class A Adv Daytona)
The Tortugas collected just three hits on Tuesday in their 4-0 loss against Florida ... and India had two of them. The 2018 first-round pick (No. 5 overall) hit a single in his first at-bat and delivered a double in his trip to the plate en route to his third multihit performance in seven games. The 22-year-old third baseman is quietly putting together a strong first full season, hitting .261/.348/.427 with eight homers in 62 games for Daytona despite receiving a challenging assignment to the pitcher-friendly Florida State League.
Reds prospects stats »
NATIONAL LEAGUE WEST
D-backs: Kristian Robinson, OF (No. 5) -- 2-for-4, 2B, 2 RBI, BB (Class A Short Season Hillsboro)
Robinson's season got off to a late start, but he's quickly showing why so many within the D-backs' organization are excited about the 18-year-old from the Bahamas. Robinson has multiple hits in three of the four games he's played in this season and is coming off a 2018 pro debut in which he hit .278 with seven homers. Robinson generates massive raw power to all fields and arguably has the highest ceiling of any prospect in Arizona's system.
D-backs prospects stats »
Dodgers: Kody Hoese, 3B -- 2-for-2, HR, 2 RBI, 2 R, BB (AZL Dodgers 1)
Hoese has yet to make an out two games into his pro career. Selected by the Dodgers out of Tulane with the No. 25 overall pick in this year's Draft, Hoese, who signed for $2,740,300, connected on his first career home run on Tuesday while reaching base three times in the Rookie-level Arizona League. The performance comes on the heels of a stellar professional debut in which he went 3-for-3 with three doubles and three runs scored. That the 21-year-old third baseman is already hitting for power in the pro ranks should come as no surprise after he finished fourth among NCAA Division I hitters with 23 home runs during the regular season -- a performance that also netted him American Athletic Conference player of the year honors.
Dodgers 2019 Draft picks stats »
Hoese's first 6 professional plate appearances have gone pretty well:
2B
2B
2B
HR
1B
BB

The @GreenWaveBSB product was No. 25 on our Top 200 #MLBDraft Prospects list, and the #Dodgers took him No. 25 overall. Scouting report, tool grades & more: https://t.co/klEwXZrZ5L

— MLB Pipeline (@MLBPipeline) June 19, 2019
Giants: Alexander Canario, OF (No. 10) -- 3-for-4, 3B, 2B, R (AZL Giants Orange)
Canario, 19, scored his team's only run and paced the offense out of the leadoff spot with three hits. Two of those hits went for extra bases, as he hit a double to lead off the game and later added a triple to finish 3-for-4 after a 1-for-2 showing on Monday in his season debut. Signed for $60,000 out of the Dominican Republic in 2016, Canario finished second in the Dominican Summer League with 26 extra-base hits in 2017 and batted .250/.357/.403 in 45 games last summer during his stateside debut in the Arizona League. He possesses perhaps the best bat speed in the Giants' system, and shows the potential to develop at least average-or-better tools across the board.
Giants prospects stats »
Padres: CJ Abrams, SS -- 3-for-3, HR, 2 R, BB (AZL Padres)
The No. 6 overall pick in this year's Draft had a pro debut to remember, tallying three hits including a home run and also reaching once via a walk in a perfect night at the plate in the Rookie-level Arizona League. Ranked as the No. 4 prospect on MLB Pipeline's Draft Top 200, Abrams signed for $5.2 million -- below his slot's recommended value of $5.74 -- after garnering Gatorade high school player of the year honors in Georgia this past spring at Blessed Trinity Catholic High. While 6-foot-1, 178-pounder was regarded by scouts as one of the fastest players in his class, he also has a promising offensive profile, with the ability to hit for a high average and also surprise with his power from the left the side of the plate.
Padres 2019 Draft picks stats »
CJ Abrams, the #Padres' 2019 first-round #MLBDraft pick, is putting on an impressive display in his @MiLB debut:

3-for-3
HR

Live stats for all 2019 @MLBDraft picks: https://t.co/1ZmJuQ77I6 pic.twitter.com/hnLdDGWkpR

— MLB Pipeline (@MLBPipeline) June 19, 2019
Rockies: Sam Hilliard, OF (No. 9) -- 2-for-3, HR, 3 R, BB (Triple-A Albuquerque)
Only halfway into the 2019 season, Hilliard has already hit 20 home runs. The 6-foot-5 left-handed hitter reached the mark when he went deep in his first at-bat on Tuesday, hitting a solo shot to left-center field in the 'Topes loss against New Orleans. The multihit performance, meanwhile, was his third in as many games and fourth in his last six contests. The 25-year-old year outfielder is one home run shy of matching his career-high mark, which he reached in twice as many games (133) in the California League back in 2017.
Rockies prospects stats »