For CT native Barnes, 9/11 hits close to home
Devers reaches 50 doubles; Price, Hembree make progress with bullpen sessions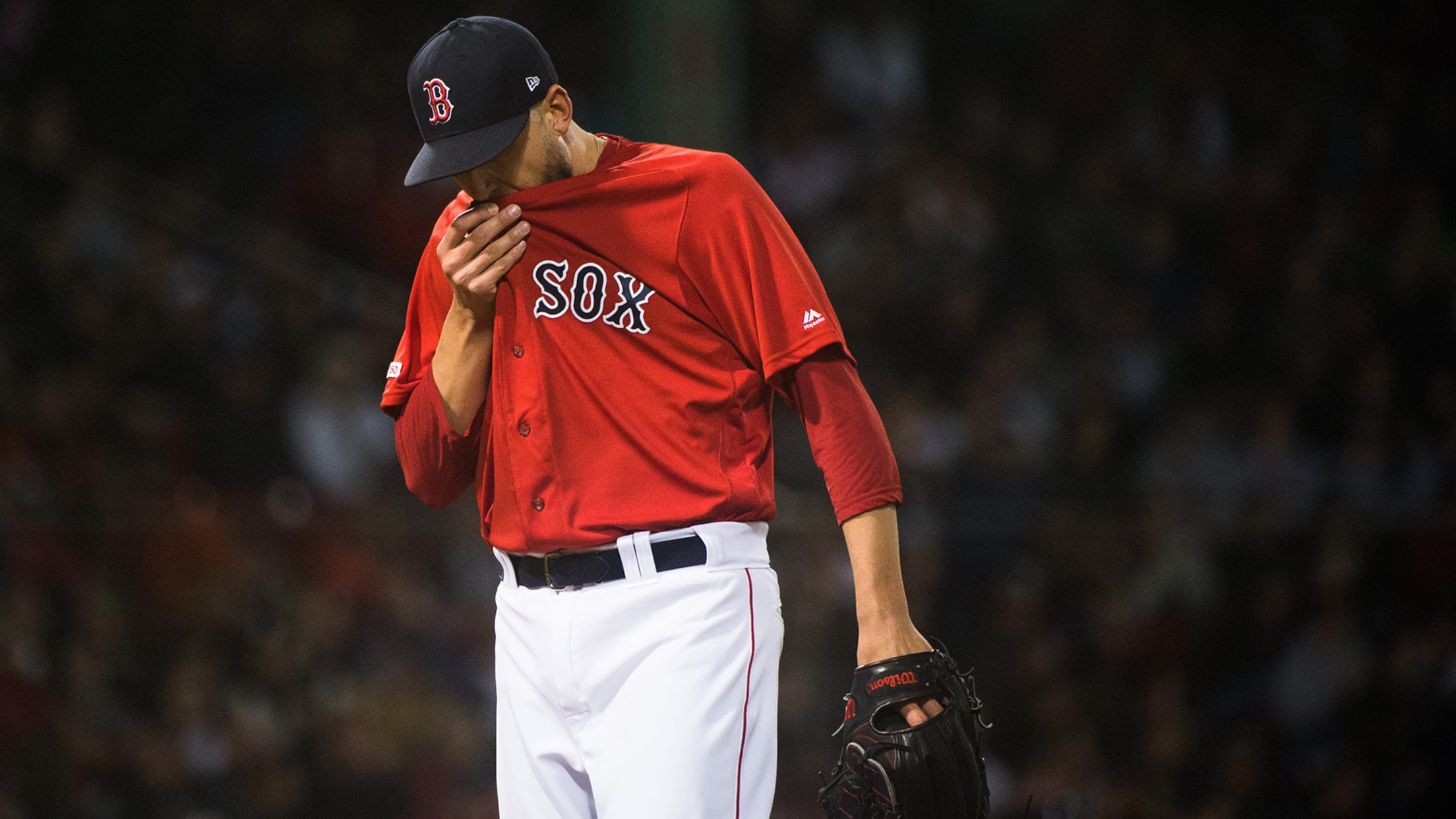 TORONTO -- Among Red Sox players, 9/11 probably hits closest to home for reliever Matt Barnes, who lived just over an hour from the tragic attack on the World Trade Center in New York. With Wednesday marking the 18th anniversary, the setup reliever who hails from Bethel, Conn., recalled his
TORONTO -- Among Red Sox players, 9/11 probably hits closest to home for reliever Matt Barnes, who lived just over an hour from the tragic attack on the World Trade Center in New York.
With Wednesday marking the 18th anniversary, the setup reliever who hails from Bethel, Conn., recalled his recollections in vivid detail.
"I was in Ms. Davidson's sixth grade math when I found out," said Barnes. "I'll never forget it. I'll always remember exactly where I was when it happened. It struck the country and the world as something you never thought was possible to happen. So when it happens an hour and 10 minutes from where you grew up, from where you live, it was crazy."
It didn't take long for Barnes to start worrying about family and friends.
"I remember, my uncle was a pilot flying for American Airlines. He flew out of the New Jersey/New York area and I didn't know if he was a pilot on one of the planes," said Barnes. "I have friends who had family members who worked in the city. There's a ton of uncertainty and chaos and just when the dust finally settled and you saw everything and realized how tragic it was, then you start to feel for all the families and everybody who lost somebody that day."
Adding to the massive mixture of emotions, Barnes also remembers how grateful he was for the heroes.
"You start to thank the men and women who risked their lives going back in to try and save people," said Barnes. "It's something you'll never forget and I'll never forget."
The scene at the middle school Barnes attended was unsettling and chaotic.
"You have parents rushing into the schools to pull kids out," said Barnes. "It was, I don't know, man, it was crazy."
Devers appreciates latest milestone
Rafael Devers has done many remarkable things in his two-plus seasons with the Red Sox. The latest was on Tuesday night, when he belted his 50th double of the season, making him just the eighth Red Sox player to reach the feat and also the youngest at 22 years old.
"Yeah, it feels great," Devers said. "Obviously I'm just thankful to be able to play this game and obviously just trying to finish strong. But it feels good to get that mark."
Shortstop Xander Bogaerts, who happens to be the best friend Devers has on the Red Sox, is one away from reaching 50 doubles, which would mark the first time two Red Sox players have done so in the same season.
"I mean, if he would have got it first, I would have been really happy for him too, so it's not that big of a deal," Devers said.
As special a season as this is for Devers, he knows the key will be to maintain or even surpass it in future years.
"I think I'm just continuing to learn, and there's a lot of room left for me to grow," said Devers. "During the offseason I'll go and check out what it is I need to work on to get better because that's what I love to do, just to learn more about my game and try to get as much knowledge as possible, but obviously if I can stay healthy, I know I can have more successful seasons like I am now."
Price, Hembree throw 'pens
Lefty David Price and righty Heath Hembree both made progress in their quests to return to action by throwing bullpen sessions on Wednesday.
Price, who has thrown two innings since Aug. 4 due to left wrist issues, threw 20 pitches in his session. He could start by next week.
Hembree, who has been out since Aug. 2 due to elbow problems, hopes to throw a simulated game in Philadelphia this weekend.
Familiar foe
Veteran righty Clay Buchholz has faced 27 teams in his career. The Red Sox are one of the three he's never pitched against. That will change Thursday night when he starts the finale of this three-game series at Rogers Centre.
Buchholz had a solid career for the Red Sox, going 81-61 with a 3.96 ERA over 10 seasons.
Manager Alex Cora was a player for Boston in 2007, when Buchholz fired a no-hitter at Fenway Park in his second Major League start.
"I want to see him pitch, yeah, it's been a while," said Cora. "I'm glad that he's still pitching, kind of like Edwin Jackson. Those guys, you see them when they were young and for them to keep performing at this level, it's a testament to who they are, work ethic and being a good baseball player.
"You don't keep getting jobs because [teams] need arms. You have to perform and I'm glad that he's still around. He was a good teammate. He threw that no-hitter when he got called up, that was a special day. He's had a great career."