Hall of Legends
presented by The Colorado Rockies Foundation & History Colorado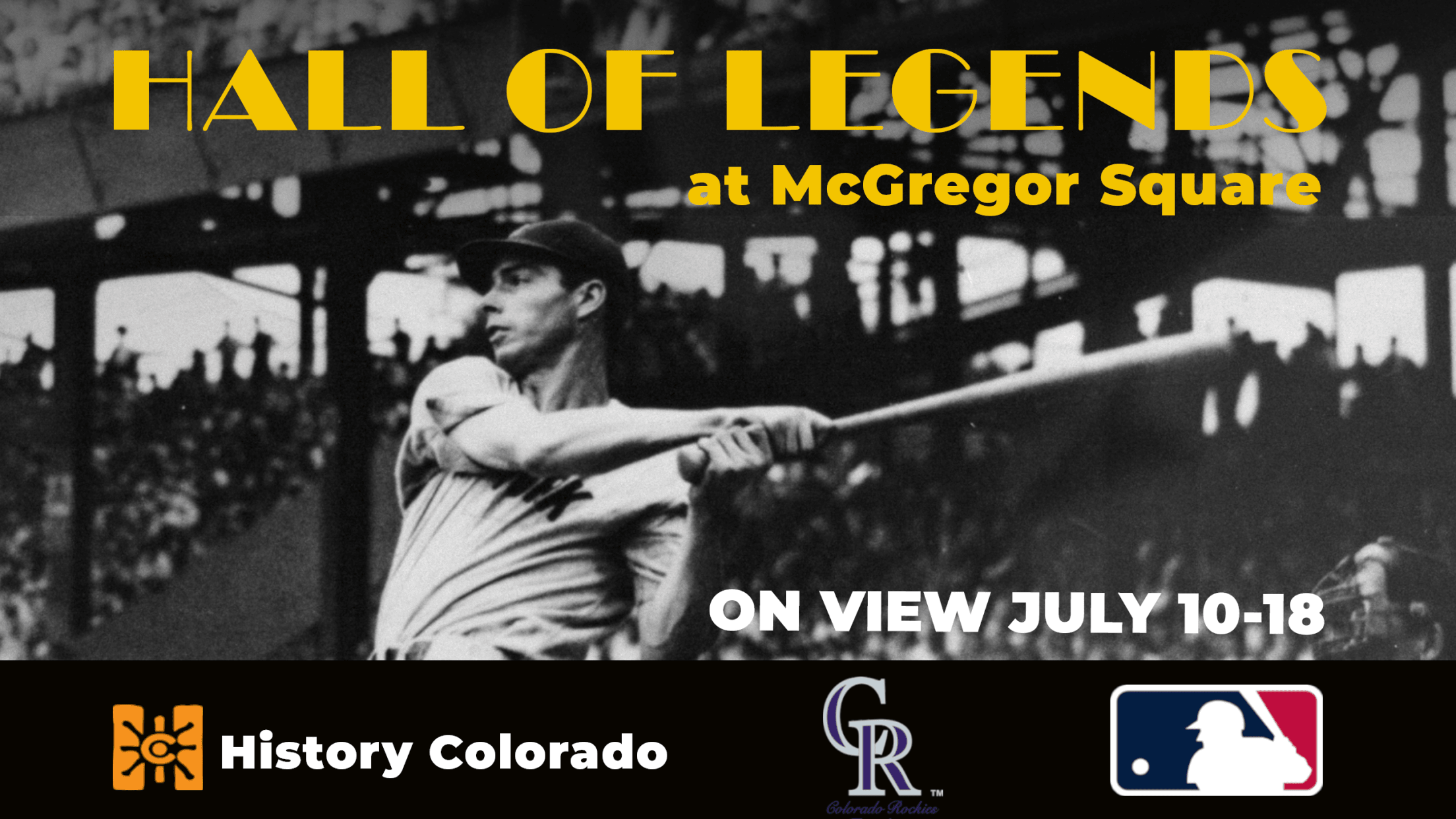 Image courtesy History Colorado and Marshall Fogel Collection
History Colorado and Colorado Rockies Baseball Club Foundation Partner to Present Hall of Legends at McGregor Square during MLB All-Star Week
As baseball's finest players gather in the Mile High City, the finest collection of memorabilia outside Cooperstown comes to downtown Denver for a special limited-time exhibit.
DENVER — June 17, 2021 — Tickets go on sale to the general public Friday, June 25 for a rare opportunity to experience, through the raw power of authentic memorabilia, the finest moments of America's pastime and its greatest players of all time. History Colorado and the Colorado Rockies Baseball Club Foundation proudly present Hall of Legends during MLB All-Star Week at the dazzling new Rally Hotel at McGregor Square directly across 20th Street from Coors Field. All proceeds benefit the Colorado Rockies Baseball Club Foundation to support underprivileged and at-risk youth. Advance tickets ($10) will be available online at Rockies.com/HallofLegends and in person at The Rally Store, located at 20th and Wazee.
On view July 10–18, the exhibit features such stunning items as the jersey worn by Joe DiMaggio when he hit his last home run in the triumphant final game of his career at the 1951 World Series; Hank Aaron's bat and glove; a program from Jackie Robinson's color-barrier-breaking Major League debut in 1947; and—for the exhibit's first three days only—a PSA gem mint 10 1952 Topps Mickey Mantle card, known as the Holy Grail of baseball cards. Among the more than 30 distinct pieces of legendary baseball history, Larry Walker's game-worn jersey from the 1998 All-Star Game in Denver will delight Rockies faithful.
Youth attending the exhibit will receive free baseball cards at the conclusion of their visit, while supplies last. Guests are also invited to enjoy free registration to Play Ball Park at the Colorado Convention Center (July 9–13), and they may redeem their Hall of Legends tickets for $2 discounted admission to the History Colorado Center (1200 North Broadway), Downtown Denver's beautiful Smithsonian-affiliate museum in the heart of the Golden Triangle Creative District.
The memorabilia in Hall of Legends is lent by private collector Marshall Fogel of Denver. The Mickey Mantle card will only be on view to the public through July 12, before returning to its bank vault. Hall of Legends is closed on Tuesday, July 13 in order to accommodate private events, reopening the following day for regular hours through Sunday, July 18.
ADDITIONAL EXHIBITS AND EVENTS AT THE HISTORY COLORADO CENTER
All exhibits are always included in general admission tickets at no extra charge. Children under five receive free admission.
Building Denver: Visions of the Capital City
Through August 31, 2022
Tour this time-traveling exhibition and see our city in a whole new light. Building Denver: Visions of the Capital City explores the growth, urban development, and architecture of Denver from 1860 to today. Throughout 3,000 interactive square-feet, the exhibition reveals how civic leaders, designers, and residents have steadily worked to bring their own visions for Denver to life. An original light post from I.M. Pei's 16th Street Mall is on display, as well as a partial reconstruction of an 1859 Auraria plank house that is thought to be one of the oldest surviving structures in Denver.
Makerspace: Build!
Ongoing
The History Colorado Center's new hands-on makerspace welcomes all museum visitors at no extra charge. Guests of all ages can explore Denver's built environment through a variety of activities in this new main-floor space. Using materials like cardboard, LEGO blocks, and real tools like hammers and drills, visitors create their own buildings to better understand construction and urban development. Guests can leave their creations to be artfully displayed or take them home as a keepsake.
Five Points Plus: Neighborhood Memory Project
June 26, 2021–November 2021
History Colorado collaborated with members of the Five Points community and the Black American West Museum & Heritage Center on this Museum of Memory project that showcases the human stories and collective memory of this important neighborhood. The exhibit features a mural created by artist Adri Norris in partnership with residents, a sound installation featuring the voices of community storytellers, and photos from the community. It also includes popular clothing items from the '70s and '80s, plus yearbooks and other materials from different eras at Manual High School.
Music Where the Sidewalk Ends
Thursday evenings, July 8–29, 2021, 7–8 p.m.
More information is available at h-co.org/building.
About the Colorado Rockies Baseball Club Foundation
Since the organization's inception in 1993, the Colorado Rockies have demonstrated a passionate commitment to their philanthropic mission of positively impacting the community through corporate investment and active outreach. The Colorado Rockies Baseball Club Foundation is the charitable arm of the organization tasked with the mission to support underprivileged and at-risk youth through programs for youth baseball and softball, education, literacy, drug and alcohol-abuse awareness and prevention.
Since 1993, the CRBC Foundation has granted over $31 million to agencies, organizations and programs that support the foundation's mission. In addition, the Rockies take pride in hosting members of the community at Coors Field, having donated close to two million tickets to numerous non-profit organizations throughout the region.
About History Colorado
History Colorado is a division of the Colorado Department of Higher Education and a 501(c)3 non-profit that has served more than 75,000 students and 500,000 people in Colorado each year. It is a 142-year-old institution that operates Colorado's oldest museum, nine additional museums and historic sites, a free public research center, the Office of Archaeology and Historic Preservation, and the History Colorado State Historical Fund (SHF), which is the nation's largest preservation program of its kind. The SHF currently administers more than 250 grants across Colorado, of which more than 70% are allocated in rural areas.
History Colorado's mission is to create a better future for Colorado by inspiring wonder in our past. We serve as the state's memory, preserving and sharing the places, stories, and material culture of Colorado through educational programs, historic preservation grants, collecting, outreach to Colorado communities, the History Colorado Center and Stephen H. Hart Research Center in Denver, and nine other museums and historic attractions statewide. History Colorado is one of only six Smithsonian Affiliates in Colorado. Visit HistoryColorado.org, or call 303-HISTORY, for more information.