30 prospects we'll be talking about in 2022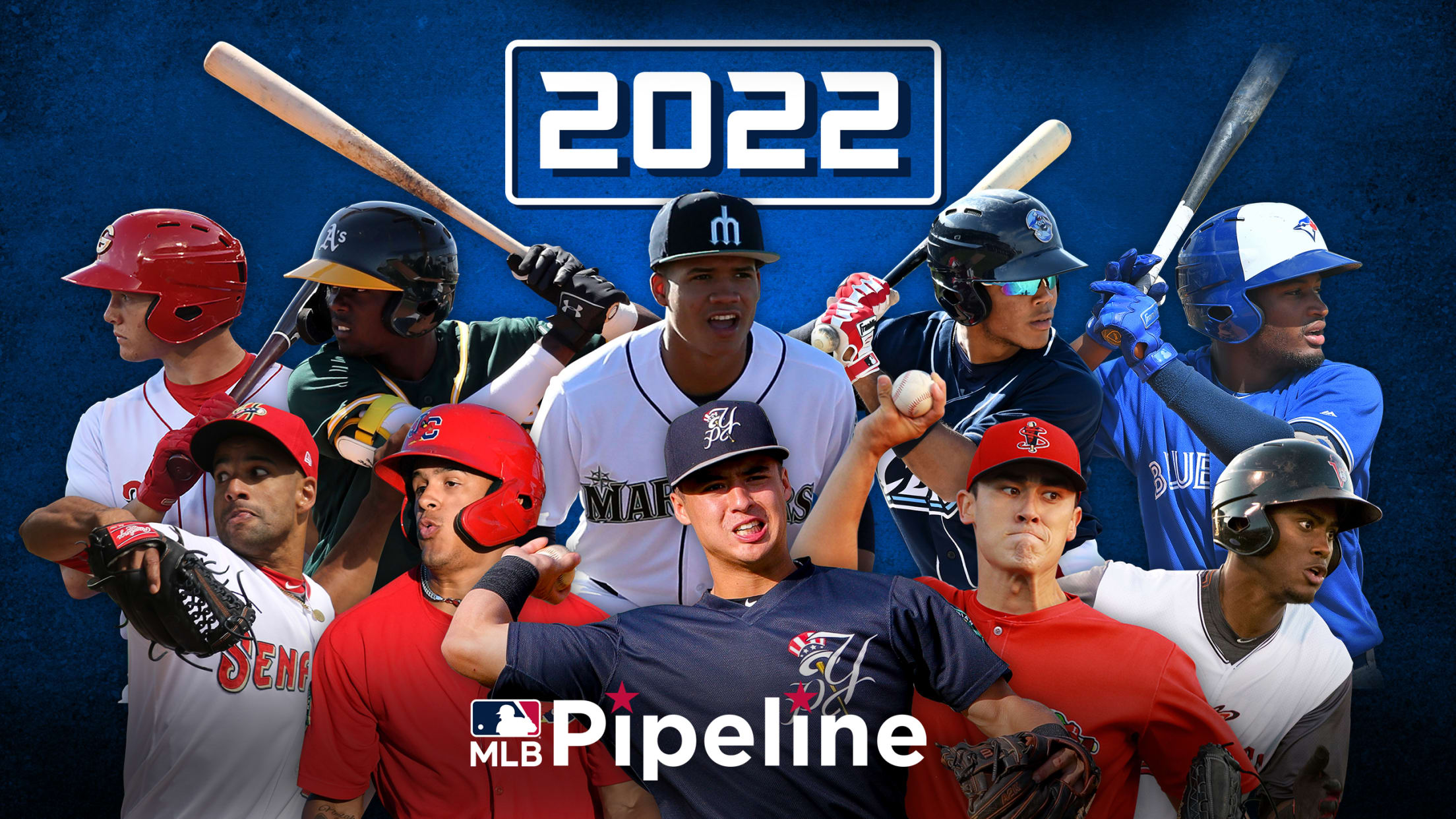 Right now, all baseball fans can do is look ahead to the future. We decided to take that to the extreme by looking two years down the road at which prospects we expect to be big names in 2022. The fact that 14 of the Top 20 players on MLB
Right now, all baseball fans can do is look ahead to the future. We decided to take that to the extreme by looking two years down the road at which prospects we expect to be big names in 2022.
The fact that 14 of the Top 20 players on MLB Pipeline's Top 100 Prospects list have an ETA of 2020 should make for another impressive rookie class and some heated Rookie of the Year races when the season gets underway. Who will we be buzzing about in 2022, though?
Read on, as we've identified the leading candidate from each organization.
AMERICAN LEAGUE EAST
Blue Jays: Orelvis Martinez, SS (No. 6)
Signed by Toronto for $3.5 million in July 2018, Martinez made the jump straight to the Rookie Gulf Coast League as a 17-year-old last year and slashed .275/.352/.549 with 20 extra-base hits in 40 games. The teenager stands out the most for his bat, with the potential to hit for both average and power, but he's also an excellent athlete who could develop across-the-board tools.
Orioles: Gunnar Henderson, SS (No. 6)
The Orioles took Henderson in the second round of the 2019 Draft and signed him to an above-slot $2.3 million bonus. A two-sport star from the Alabama high school ranks (basketball), Henderson had a solid pro debut in the Gulf Coast League and has the chance to hit for both average and power.
Rays: JJ Goss, RHP (No. 12)
Taken by the Rays in the Competitive Balance Round A of last year's Draft out of the Texas prep ranks, Goss shows the makings of having three average or better pitches and featured one of the better sliders among high schoolers in his class. He already does a good job repeating his delivery and is likely to add velocity to his low-90s fastball as he grows into his projectable 6-foot-3 frame.
Red Sox: Noah Song, RHP (No. 6)
If it weren't for his two-year military service commitment, Song would become a more prominent prospect well before 2022. Navy's all-time leader in wins (32) and strikeouts (428), he went in the fourth round last June because he likely was going to have to put his baseball career on hold. He has first-round stuff with a 93-99 mph fastball, flashes of a wipeout slider in the mid-80s and an improving changeup.
Yankees: Anthony Volpe, SS (No. 9)
Volpe won't turn 19 until the end of April, so the 2019 first-rounder from a New Jersey high school will need time to develop. He has a chance to contribute on both sides of the ball, with solid hitting ability, speed and defensive aptitude to go with a high baseball IQ.
AMERICAN LEAGUE CENTRAL
Indians: George Valera, OF (No. 4)
One of the top offensive prospects in the 2017 international class, Valera signed for $1.3 million out of the Dominican Republic. His sweet left-handed swing, all-fields approach and ability to recognize pitches and work counts helped him post an .802 OPS as the second-youngest regular (age 18) in the short-season New York-Penn League last summer.
Royals: Erick Peña, OF (No. 5)
The Royals gave Peña $3,877,500 to sign at the outset of the 2019 July 2 period after he had been ranked by MLB Pipeline as the No. 5 international prospect in his class. The Dominican native's left-handed hitting ability and power potential are his strengths right now, though the other parts of his game aren't far behind. He could have at least average tools across the board when all is said and done and will make his highly anticipated pro debut in 2020.
Tigers: Roberto Campos, OF (No. 19)
After defecting from Cuba at age 13 in 2016, Campos spent nearly three years working out in the Dominican with former Tigers outfielder turned trainer Alex Sanchez, out of sight from many clubs. The Tigers kept tabs and finally signed Campos for $2.85 million in July 2019. Just 16 years old, Campos has an impressive 6-foot-3, 200-pound frame and already shows power to all fields that only should improve as he matures.
Twins: Keoni Cavaco, SS (No. 7)
Cavaco was a bit of a pop-up prospect in the 2019 Draft class, one who first jumped on the radar in the fall of his senior year, then kept rising. His ability to show he could play shorstsop moved him further into first-round conversations, landing at No. 13 overall. His pro debut was a bit rough, but he has the tools to hit for average and power while playing a premium position.
White Sox: Matthew Thompson, RHP (No. 7)
Thompson went in the second round as a Texas high schooler last June, becoming the earliest prep pitcher drafted by the White Sox in five years and signing for $2.1 million. He had one of the quickest arms in the 2019 high school class, allowing him to already reach 96 mph with more velocity projected to come, and also shows signs of a plus curveball.
AMERICAN LEAGUE WEST
Angels: Kyren Paris, SS (No. 5)
The Angels took Paris in the second round of the 2019 Draft and went over slot to sign him for $1.4 million. He barely played during his pro debut, but he's already added a lot of strength to his frame, answering one of the early questions about his ability to impact the baseball. Based on how he came into camp this spring, expect him to jump onto prospect radars in 2020.
Astros: Colin Barber, OF (No. 11)
Barber offered one of the better power/speed combinations in the 2019 high school crop, and it landed him an over-slot $1 million bonus in the fourth round out of a California high school. He has an advanced approach for a teenager, 20-20 upside and a chance to stick in center field.
Athletics: Robert Puason, SS (No. 4)
Puason was No. 2 on our Top 30 international prospects list and signed for north of $5 million. He narrowly missed the Top 100 and has yet to play a professional inning, but his upside plus his ability to stick at a premium position makes him one of the prospects whose pro debuts is eagerly anticipated.
Mariners: Noelvi Marte, SS (No. 6)
One of the top prospects in the 2018-19 international class, Marte signed for $1.5 million in July 2018, then dominated the Dominican Summer League in 2019, leading the circuit in total bases. Whether he sticks at shortstop remains to be seen, but his bat will play in a number of positions depending on how he matures and adds size and strength.
Rangers: Maximo Acosta, SS (No. 6)
Though Acosta signed for $1.65 million out of Venezuela last July, that bonus actually undersells the regard in which scouts hold him. He earns repeated Gleyber Torres comparisons because of his mix of tools and advanced skills, and he has a chance for four plus tools along with average power.
NATIONAL LEAGUE EAST
Braves: Michael Harris, OF (No. 14)
Many teams liked Harris more as a pitcher as the 2019 Draft approached, but the Braves had done their homework in their own backyard and liked Harris as a position player, as he preferred. The Georgia prepster's pro debut after being taken in the third round of the 2019 Draft, which ended with him in full-season ball, is a very strong indication that the Braves were right in selecting him as a hitter.
Marlins: Jose Salas, SS (No. 16)
Born and raised in Florida, Salas eventually moved back to Venezuela and signed for $2.8 million last July. He's a switch-hitter with solid raw power and plus present speed, and the Marlins believe his twitchy athleticism will allow him to remain at shortstop.
Mets: Robert Dominguez, RHP (No. 13)
Dominguez opted not to sign during the 2018 international period and instead moved back to the Dominican Republic to focus on improving his prospect stock for the '19 July 2 period. After the 6-foot-5, 195-pound right-hander's fastball jumped from the low 90s into the mid-90s, the Mets swooped in and signed him a few weeks before his 18th birthday -- then watched as Dominguez ran his fastball up to 99 mph during the Dominican instructional league.
Nationals: Andy Lara, RHP (No. 5)
The Nationals viewed Lara as the top pitching prospect in the 2019-20 international class and made the Venezuelan right-hander their top target, signing him for $1.25 million at the start of the July 2 period. He's physically advanced for his age, featuring a projectable frame that should allow him to add velocity to a fastball that already touches 95 mph.
Phillies: Luis Garcia, SS (No. 6)
Garcia was one of the top prospects in the 2017-18 international class, signing for $2.5 million in July 2017. He won the Gulf Coast League batting title in 2018 during his pro debut, raising the expectation bar, but he struggled with a move to full-season ball in 2019. The good thing is he'll be just 19 for the 2020 season, so there's plenty of time for him to start figuring things out.
NATIONAL LEAGUE CENTRAL
Brewers: Hedbert Perez, OF (No. 8)
Milwaukee gave Perez the second-highest bonus ($700,000) in their 2019-20 international period after he impressed scouts with his athleticism, tools and advanced feel for the game as a Venezuelan amateur. One of the better pure hitters in his class, Perez shows impressive bat speed and feel for the barrel as part of a quick, compact left-handed stroke that gives him the potential to hit for both average and power. The 16-year-old also is a plus runner who could stick in center field.
Cardinals: Trejyn Fletcher, OF (No. 18)
One of the 2019 Draft's better athletes, Fletcher became the state of Maine's highest-drafted position player when the Cardinals took him in the second round last June. He passed on a Vanderbilt commitment to sign for above-slot value, then flashed loud tools across a pair of Rookie levels during his pro debut. Though he has an impressive blend of plus raw power, speed and arm strength, scouts have concerns about the 18-year-old's ability to make consistent contact after he struck out more than 43 percent of the time last summer.
Cubs: Pedro Martinez, SS/2B (No. 13)
Signed for $300,000 out of Venezuela in 2018, Martinez will play the entire season at age 19 but already has established himself as one of the more advanced hitters in the Cubs system. He's a switch-hitter with a line-drive swing and some sneaky if untapped pop as well as solid speed.
Pirates: Quinn Priester, RHP (No. 4)
While Priester hails from a cold-weather state (Illinois) and was a two-sport star (football), he stands out for his feel for pitching along with is terrific raw stuff. He had one of the best breaking balls of any 2019 draftee, especially among the high school ranks, and could every easily be smack in the middle of the Top 100 at this point next year.
Reds: Tyler Callihan, 2B/3B (No. 7)
Where Callihan, the Reds' third-round pick who got an over-slot $1.5 million bonus), plays defensively when all is said and done remains to be seen. But he was drafted because of his bat and he has the chance to be an above-average hitter with at least average power in the future.
NATIONAL LEAGUE WEST
D-backs: Blake Walston, LHP (No. 6)
The D-backs landed one of the 2019 Draft's more projectable hurlers in Walston, selecting the North Carolina prep with their second pick in the first round. The 6-foot-5 southpaw's velocity ticked up during his pro debut, with his fastball consistently reaching the mid-90s, and scouts expect him to add more velo as he grows into his ultra-athletic frame. He complements his heater with a plus curveball and also shows feel for a slider and changeup.
Dodgers: Diego Cartaya, C (No. 9)
MLB Pipeline's top-rated prospect in the 2018 international class, Cartaya signed for $2.5 million out of Venezuela. Often compared to Salvador Perez, he made his U.S. debut at age 17 last year and showed impressive feel for the barrel, solid raw power and receiving skills, and a plus arm behind the plate.
Giants: Alexander Canario, OF (No. 6)
A bargain $60,000 signing out of the Dominican Republic in 2016, Canario has one of the higher offensive ceilings in the Giants system and slammed 16 homers in 59 games between Rookie and short-season ball last summer. He has a lightning-fast swing with loft and leverage, and his solid arm adds to his right-field profile.
Padres: Reginald Preciado, SS (No. 20)
A lean and athletic shortstop with a 6-foot-4 frame and a projectable body, Preciado landed a $1.3 million bonus from the Padres last summer, a record amount for a prospect from Panama. The 16-year-old switch-hitter could hit for both average and power and has an overall package of across-the-board tools that should enable him to make an impact on both sides of the ball.
Rockies: Helcris Olivarez, LHP (No. 17)
Olivarez made his U.S. debut in 2019 after parts of three summers in the Dominican Summer League. His combination of stuff plus projectable frame make him a very intriguing left-handed pitching prospect with as high a ceiling as any pitching prospect the Rockies have had since Ubaldo Jiménez.