Rockies expect to need both González, Hoffman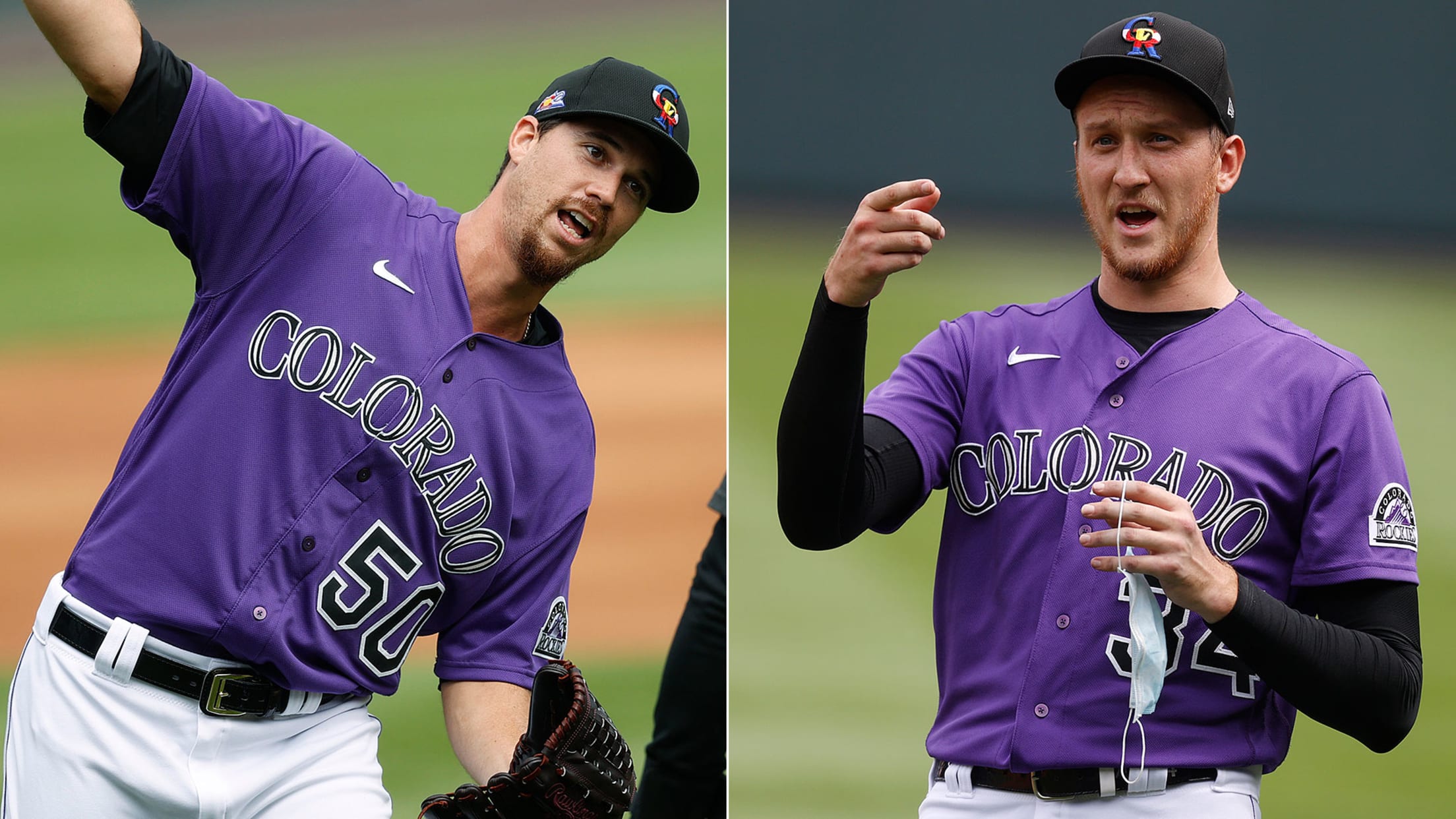 DENVER -- Often these things are called position battles. Cue up the guy with the booming voice: "One rotation spot! Two former top picks! Something's got to give!" But with the sport and the world trying to find their way through a pandemic, Rockies right-handed pitchers Chi Chi González and
DENVER -- Often these things are called position battles. Cue up the guy with the booming voice: "One rotation spot! Two former top picks! Something's got to give!"
But with the sport and the world trying to find their way through a pandemic, Rockies right-handed pitchers Chi Chi González and Jeff Hoffman are thinking of how they fit in their team's grand scheme.
They have ambitions. They certainly have as-yet unfulfilled expectations. González, 28, was a first-round Rangers pick in 2013 whose career was interrupted by elbow problems that led to Tommy John surgery in 2017. Hoffman, 27, was a Blue Jays first-round pick in 2014 – even though he had undergone his own Tommy John operation while at East Carolina -- and had the label as the key prospect in the trade that sent star shortstop Troy Tulowitzki to Toronto in 2015.
Each pitched extensively at Triple-A Albuquerque and took development lumps in the Majors last season. González was 2-6 with a 5.29 ERA in 14 Rockies games, including 12 starts. Hoffman was 2-6, 6.56 in 15 Major League starts. After slow starts to Spring Training, both were finding their groove when camp was ended.
At the start of the 60-game regular season, Rockies manager Bud Black said he could go with five starters or skip the fifth spot the first time through the rotation because of two idle days in the first seven. However, the light beginning is followed by 33 games in 34 days.
Peter Lambert, a rookie last season, was expected to be part of the competition, but recovery from a right forearm strain from Spring Training will take some time.
González and Hoffman promise to maintain perspective.
"I just want to contribute -- September last year, I showed them that I could start and I could be the long man coming out of the bullpen," said González, who fashioned one of his best outings in relief -- five innings, eight strikeouts and the decision in a Sept. 21 win at Dodger Stadium. "The bottom line is the season is so short that it's going to be matchups or you know who pitches best against what team."
Hoffman in the past has expressed a preference for starting, but ... 2020.
"This whole situation put a lot of stuff in perspective," Hoffman said. "I'm healthy and ready to go and ready to help in every way possible. It has to be more of an all-hands-on-deck year than any year in the past. That's the nature of what we're about to try to do.
"It's going to be really hard to keep people from getting sick, hard to keep the same group on the field all year. It may be that the healthiest team wins."
Whatever the role, the Rockies need both to pitch to their pedigree.
Arriving at camp out of Minor League options but having committed to a shorter arm sweep at the start of his motion, Hoffman struggled in his first two spring outings. But when he dropped his slider, reduced his changeup and went fastball-curveball, his stuff was electric in a two-inning game against the Rangers and on a back-field game leading up to the shutdown. He has the narrower mix to fall back on, but he continued to work on the other pitches.
"Those [fastball and curveball] are the two I throw the most and most consistently throughout my career, and we've been working on some things with my other pitches," Hoffman said. "Whatever the mix -- two, three or four pitches -- we're making sure they are being used the right way in the right counts. Right now I'm excited to get going and see how they are going to play out in live BPs against our own team."
González fanned six in six innings in his last two spring outings. He has a cutter/slider that he can use at the top of the zone, and let a curve play off it. He has young hitters near his Boca Raton, Fla., home to thank for helping him keep his command during baseball's closure.
"I was able to practice with a team called Hawks, high school post-graduate kids and some college players," said González, who has a Minor League option. "First time, I overmatched them just because I think the sheer fact of them knowing I was a big leaguer won the battle already. But the second and third time you could see them more comfortable.
"They would actually take at-bats and not just swing at whatever. I saw the progression they made against me, and it was a dual thing -- they made me get better and helped me keep going."
Position competition is the salsa that makes baseball practice -- Summer Camp in this case -- palatable. But for a truly scrumptious season, the Rockies need production from both.