Arenado (shoulder) doesn't start in finale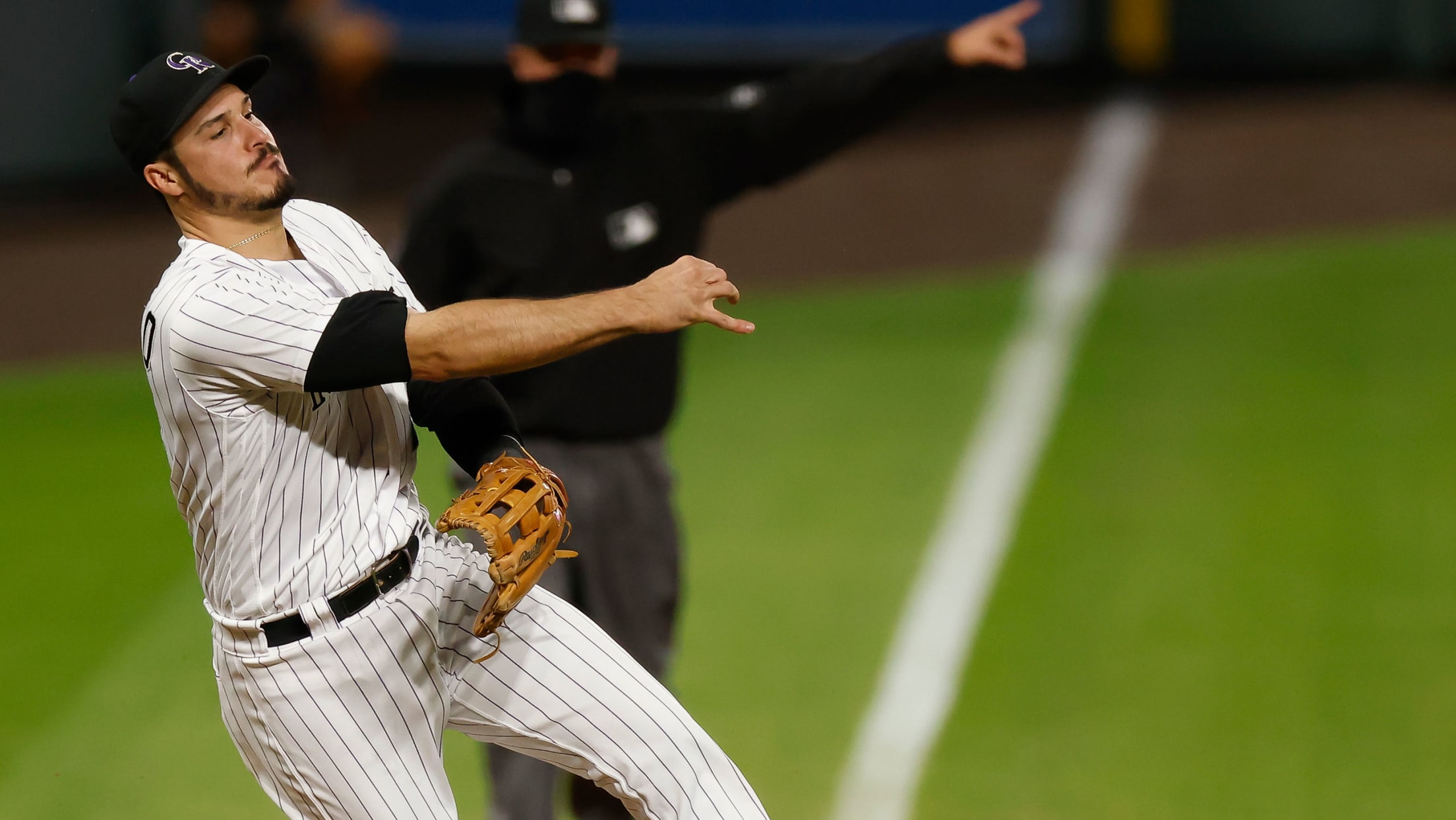 DENVER -- Rockies third baseman Nolan Arenado refuses to use a season-long soreness in the A/C joint in his left shoulder as an alibi for subpar performance. Instead, he's trying rest as a strategy for overcoming it. Arenado didn't start Sunday's finale of a three-game set with the Angels, in
DENVER -- Rockies third baseman Nolan Arenado refuses to use a season-long soreness in the A/C joint in his left shoulder as an alibi for subpar performance. Instead, he's trying rest as a strategy for overcoming it.
Arenado didn't start Sunday's finale of a three-game set with the Angels, in hopes that he can return Tuesday and be available for the stretch run.
"It's something that I've had for some time, and I've tried to play through it," Arenado said Sunday morning. "It's flared up sometimes, then gone down. It's flaring up again. Trainers are helping me through it, but it's frustrating."
Arenado has struggled to a .261 batting average and .461 slugging percentage, with eight home runs and 25 RBIs in 43 games. It's not what is expected from one of the game's top stars.
Arenado has put in extra work this season to try to find the proper swing, but it's not hard to see how such an injury makes it difficult to succeed. The left shoulder faces the pitcher in his right-handed stance, and it controls the lead arm -- which must finish high for a power hitter to get a high finish on this swing. The high finish is the result of earlier swing fundamentals that can lead to backspin and lift on the baseball.
But Arenado is set on returning. Manager Bud Black, who has had conversations with Arenado and head athletic trainer Keith Dugger over the last several days, believes the plan to rest Sunday could help Arenado heal and avoid a long-term absence.
"I think it's feeling better today after some treatment and some therapy, so we'll see about Tuesday [the first of a two-game set against the Athletics]," Black said. "But this is more of a physical thing than anything else."
Ryan McMahon started at third in Arenado's place Sunday.
But, Mom said …
The adage that pitching -- especially starting pitching -- and defense make a winning formula is so repeated, you'd swear every baseball person's mother said that to him growing up.
Well, the Rockies have standout defense, especially on the left side of the infield with Arenado and shortstop Trevor Story. The rotation entered Sunday second in the National League in quality starts (six or more innings, three or fewer earned runs).
And yet, it'll take a strong finish to even make the postseason.
"The frustrating part, and I've said it all along at times this season, is we're not syncing up," Black said. "Those games where we pitch well, we might not hit and we're not pushing that extra run across to win those low-scoring games. And when we do score, and we don't pitch. A lot of times, we haven't won those high-scoring games.
"So, again, it comes down to a pitch or two or an at-bat or two."
In the middle
Erstwhile closer Wade Davis, activated Saturday after not pitching since July 31 due to a right rotator cuff strain, most likely will be eased back into action in middle relief, Black said.