Wolters' swing adjustments paying off for Rox
DENVER -- Digging beneath the superficial surface reveals how Rockies catcher Tony Wolters has found dramatic offensive improvement with a plan and swing he and the coaching staff designed last winter. After hitting .170 last season, Wolters has been among the top No. 8 hitters in the National League. Going
DENVER -- Digging beneath the superficial surface reveals how Rockies catcher Tony Wolters has found dramatic offensive improvement with a plan and swing he and the coaching staff designed last winter.
After hitting .170 last season, Wolters has been among the top No. 8 hitters in the National League. Going into Tuesday's games, Wolters led the NL's No. 8 hitters in batting average (.290 -- with an overall average of .286) and was fourth in OPS (.732), mainly due to his .363 on-base percentage. Wolters' quietly productive season has been a constructive development in a year that started with promise before slipping away from the Rockies.
There is an oddity here: According to Statcast, Wolters has zero barrels. A high batting average with zero barrels is hard to achieve. Wolters' batting average heading into Tuesday topped the other five Major League non-pitchers with at least 50 plate appearances and no barrels:
Tony Wolters .286
Dee Gordon .280
Martin Prado .251
Wilmer Difo .231
Billy Hamilton .211
Humberto Arteaga .198
But Wolters -- the Rockies' clear No. 1 catcher after Chris Iannetta was designated for assignment Tuesday -- is living in his custom exit velocity/launch angle range.
Wolters' swing works at home (.290) and on the road (.281). That's eye-opening, considering Rockies hitters often have big home/road splits. Even advanced analytics have yet to come up with a combination that takes Coors Field's unique effects into account.
"My game is I put the ball in play," said Wolters, who had a two-run single and went 2-for-4 on Monday vs. the D-backs. "I don't want to strike out. I want to be a hard out."
Teams have tried to counter by shifting to the pull side, but Wolters has found answers with his swing. A prime example came in the third inning against the Reds on July 12. Wolters noticed third baseman Eugenio Suarez playing him deep toward the middle and squared to bunt. Suarez adjusted, then Wolters lined a single through the spot Suarez vacated.
Wolters' spray chart calls into question a strategy of shifting for him. While all but two of his 17 extra-base hits have been either slightly or dramatically to the pull side, there are singles all over.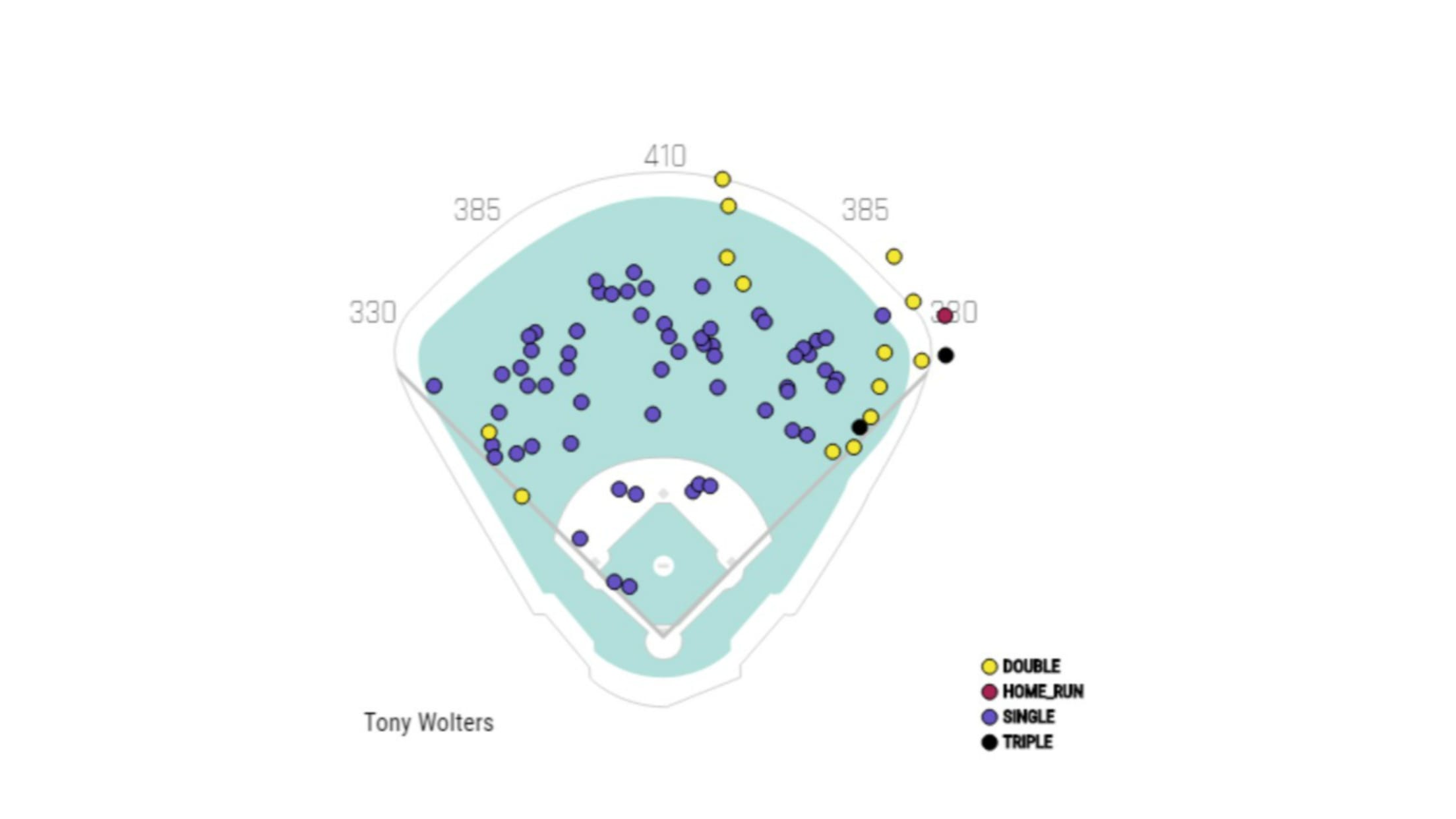 "I've prepared myself and prepared my body to be able to hit the ball wherever I want," said Wolters, whose corrections included striding to the middle rather than the shortstop side, and being more solid with the bottom hand.
Rockies assistant hitting coach Jeff Salazar noted that barrels are the wrong measure, especially if you equate a lack of barrels with lucky hits – easy to do without the full information.
Barrels are balls hit with a 98 mph exit velocity and a 26-33 degree launch angle. But Salazar noted that Wolters, who isn't a slugger, averaged 83-84 mph exit velocity in recent years.
"So, use that to decide what an optimal launch angle is for him," Salazar said. "Take his average exit velo, 84, and use even on the low end, 26-degree launch angle, the batting average on a ball that's hit those exact numbers is .097.
"But right now, he's at 9 or 10 degrees of launch angle. The batting average on a ball that's hit 84 and a 9-10 launch angle is .560. That's where he wants to live. That's what we work on in the cage. That's the swing he's creating to use in a game."
Salazar also noted that Wolters has 34 balls hit 95 mph or harder, an equal number at home and on the road, and 10 balls over 100 mph.
"He's hit the ball very hard, but he's staying within his frame," Salazar said. "His hits are not luck. They are by design, based on who he is."
Worth noting
• Right-hander Jon Gray was originally scheduled to start Tuesday, but he was scratched because of a sore left ankle. He was seen limping after grounding out during his start at San Diego on Friday, but manager Bud Black said the injury occurred earlier, when Gray slipped coming down the dugout stairs.