Black hoping 2019 is Story's Gold Glove year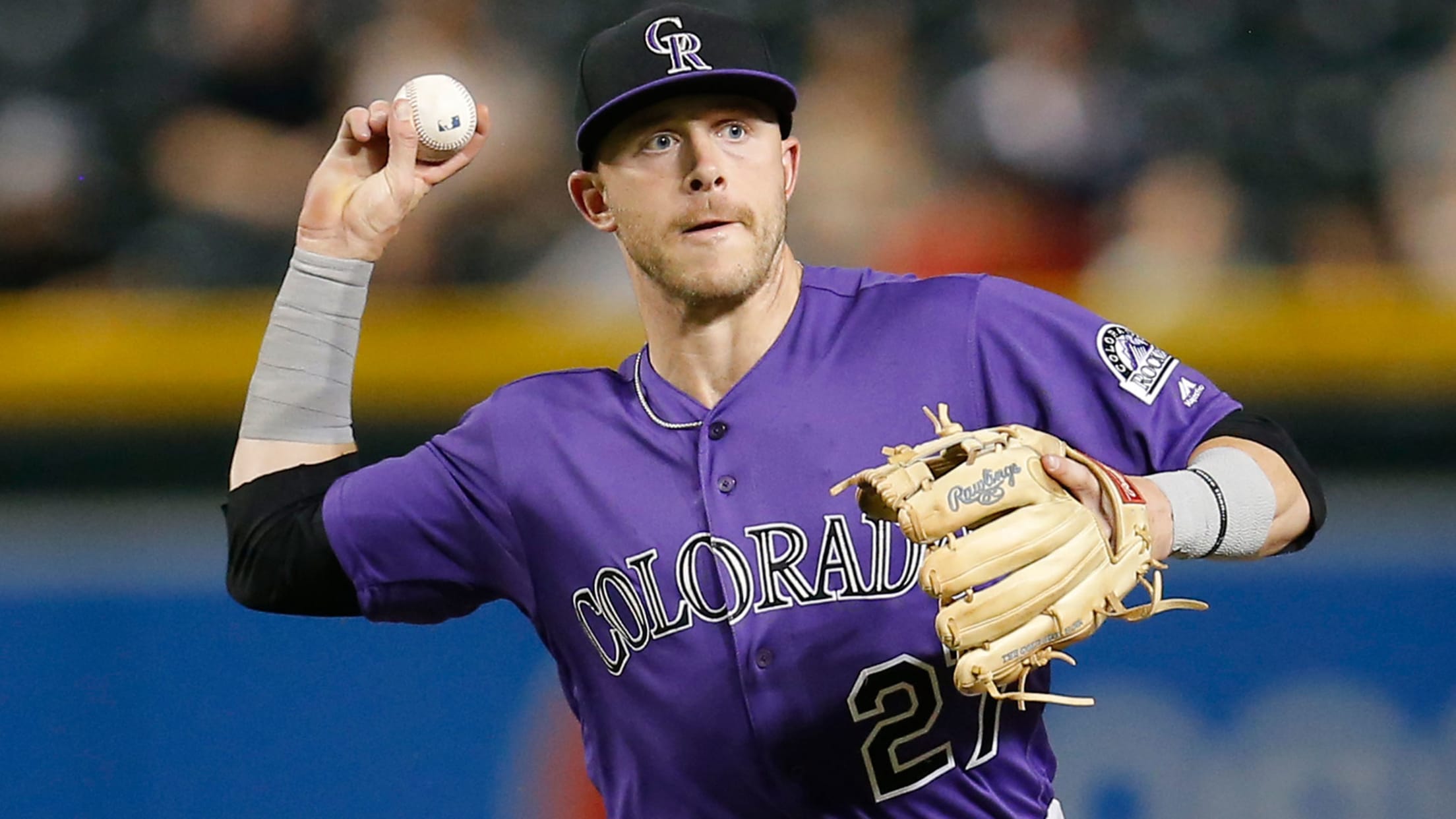 DENVER -- Rockies manager Bud Black hopes that the baseball world will deem that shortstop Trevor Story has put in enough dues for overdue recognition. Over the last two years, National League managers and coaches have not given Story enough votes to even make him a finalist for the Rawlings
DENVER -- Rockies manager Bud Black hopes that the baseball world will deem that shortstop Trevor Story has put in enough dues for overdue recognition.
Over the last two years, National League managers and coaches have not given Story enough votes to even make him a finalist for the Rawlings Gold Glove Award at shortstop. But his 2019 performance could remove doubt.
Going into Tuesday's game, Story led the Majors with 19 defensive runs saved (DRS) -- a Baseball Info Solutions-developed stat that figures heavily into fielding awards. Story was one ahead of the 2018 NL Gold Glove winner, the D-backs' Nick Ahmed. According to FanGraphs, Story's 8.2 ultimate zone rating (UZR) was third in the NL behind the Cardinals' Paul DeJong and the Cubs' Javier Baez, who have both produced a 9.7 UZR.
But the award is an election, not a calculation, Black noted. There is a tendency to make a younger player wait for his votes. Are four years enough for Story to at least be a finalist?
"I would be disappointed [if Story isn't a finalist, at least] … Trevor should be there," siad Black, who earlier this year mentioned catcher Tony Wolters as a player who may not get consideration this year because he doesn't have the service time and name recognition of others at his position.
It's not clear if coaches and managers vote on advanced numbers such as DRS or UZR, or if they go by the old-fashioned (and often maligned, because of the lack of accounting for range) measure of fielding percentage (DeJong leads the NL at .988, followed by Story at .987). So it becomes subjective.
Even Black didn't discuss numbers when asked what he values. But his answers describe not only Story, but a couple of his multi-time Gold Glove winners -- third baseman Nolan Arenado and DJ LeMahieu, who won several awards at second base for the Rockies and now plays with the Yankees.
"The steadiness is critical," Black said. "Make the plays that should be made at that position, any position. That's the No. 1 criteria -- bottom of the ninth, a play that a Major League shortstop should make, he's got to make it with no doubt.
"What marvels us is the spectacular play, because that really helps win games and has so many aspects of helping. It helps your pitching staff -- less pitches, creates an out when it could've been a hit, stops rallies -- so many great things. And he does that."
Story had two plays that kept runs off the board during Sunday's 2-1, 10-inning loss at San Diego -- a diving, glove-only flip to start a double play to end the first inning, and a slide into short left field and throw to end the eighth. Those are nice images for the campaign.
"It's fun -- it just seems like you anticipate where the ball is going to be before it's hit, and I've had a few plays like that," said Story, who offensively entered Tuesday leading NL shortstops with 30 home runs.
Updates
Lefty starting pitcher Kyle Freeland, who hasn't pitched since Aug. 20 due to a left groin strain, said he is still planning on pitching before the season ends. … Black acknowledged that time is running out for outfielder David Dahl (high right ankle sprain) and right-handed starter German Marquez (right arm inflammation) to return in 2019. … The Rockies had righty reliever Yency Almonte take grounders at shortstop and throw to first base. The drill was to help him with his natural arm path by giving him an athletic maneuver before the throw. Story need not worry about his job.