Competition heating up among Royals pitchers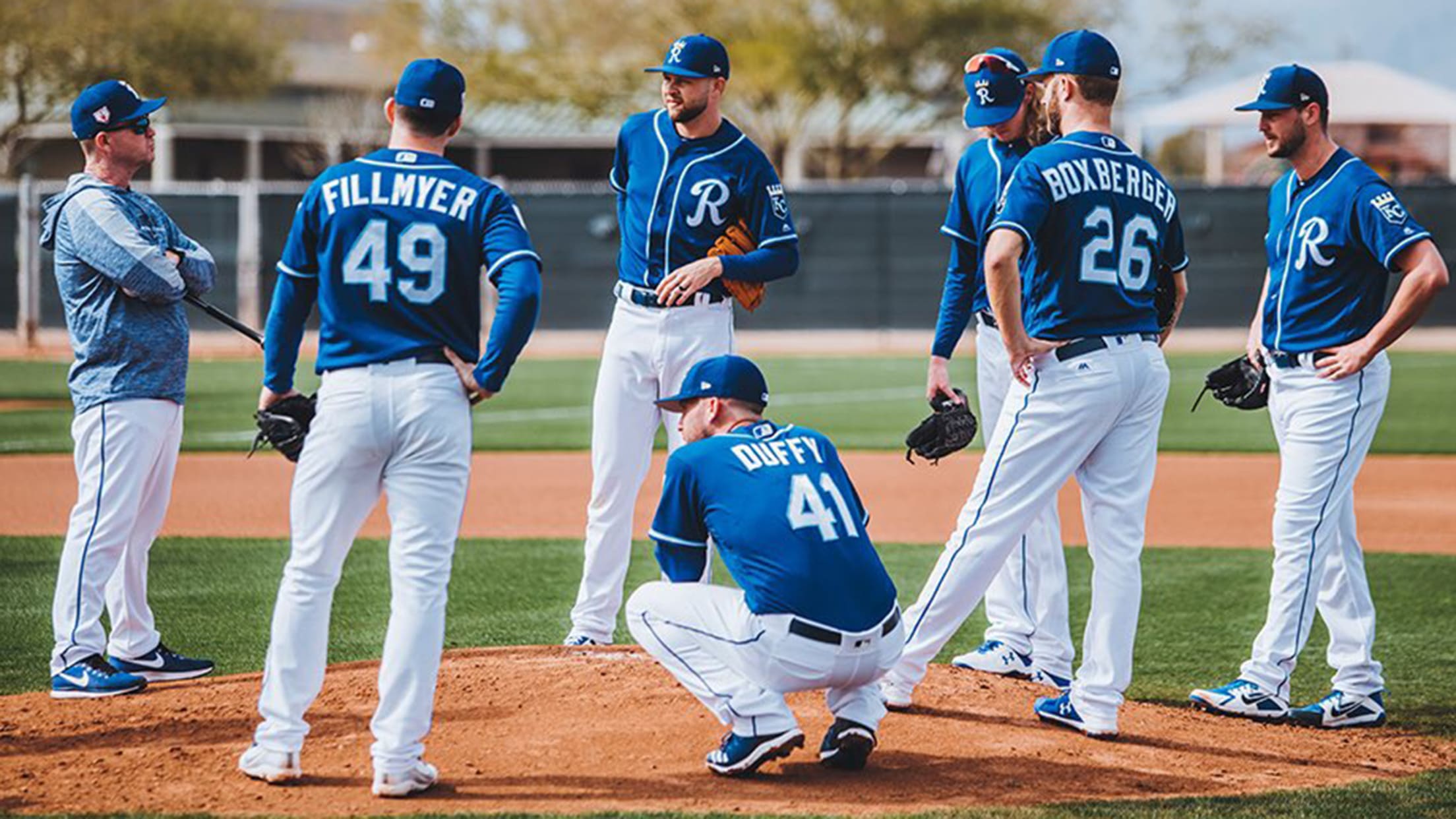 SURPRISE, Ariz. -- The Royals break camp in 11 days and there remains intense competition for the few remaining spots on the pitching staff. The first four spots of the rotation appear to have settled in as manager Ned Yost on Tuesday named right-hander Brad Keller as his Opening Day
SURPRISE, Ariz. -- The Royals break camp in 11 days and there remains intense competition for the few remaining spots on the pitching staff.
The first four spots of the rotation appear to have settled in as manager Ned Yost on Tuesday named right-hander Brad Keller as his Opening Day starter.
The rest of the rotation likely will go this way:
Right-hander Jakob Junis: Yost said he could easily have named Junis his Opening Day starter but opted for Keller based on Keller's performance last season when he was named Royals pitcher of the year.
Right-hander Ian Kennedy: Yost and his staff continue to discuss the possibility of moving Kennedy to the bullpen, but as of now, Kennedy likely will be in the rotation. But Yost emphasizes that nothing is set in stone.
Right-hander Jorge Lopez: Lopez has had an outstanding camp, and was superb Sunday (4 1/3 innings, one run, no walks, five strikeouts). Lopez is out of options and if he doesn't make the rotation, he'll grab a bullpen spot.
Left-hander Danny Duffy: It seems more and more likely that Duffy will stay in Arizona for extended spring training as he builds his arm strength back up. Duffy had been shut down for more than a week because of tightness in his left shoulder and just started throwing off the mound again this week.
Yost won't need a fifth starter until the second week of the regular season, and Duffy likely will slide into the rotation then. Duffy's absence could create room, at least temporarily, for right-hander Homer Bailey, though Bailey has a March 25 opt-out and was hit hard in his last outing (seven hits and four runs in 2 1/3 innings).
How the bullpen shapes up is less settled, but the following four are locks:
Right-hander Wily Peralta: Yost said he won't have a set closer, but he'll use Peralta in high-leverage situations.
Right-hander Brad Boxberger: Yost will use Boxberger the same way. Boxberger had been dealing with a groin injury, but Yost said he is fine now.
Left-hander Jake Diekman: Diekman is having a solid camp, and Yost will use him in high-leverage spots as well.
Left-hander Tim Hill: Hill, who led the team in appearances (70) last season, gives Yost another lefty with a unique side-armed look. Hill had one shaky outing two weeks ago but has been spot on since.
The last four spots in the bullpen are still fairly open. Here's a look at who is in the running:
Right-hander Kevin McCarthy: McCarthy was second on the team in appearances (65) in 2018. Reliable and durable. McCarthy has options but appears close to a lock.
Right-hander Heath Fillmyer: Still in the running for a rotation spot, Fillmyer could very well start the season in the bullpen. He has options, but Yost insists he will go north with his "best 25" and one would think that would include Fillmyer, though he could get caught up in a numbers crunch.
Right-hander Sam McWilliams: One of the two Rule 5 Draft picks, McWilliams seemingly has flashed enough potential to keep. McWilliams, 6-foot-7, has a big arm (hits 96 mph) and could be this year's version of Keller.
Right-hander Kyle Zimmer: Zimmer has options but hasn't allowed a run in five outings this spring and looks a little sharper each time out. He would be the feel-good story of camp if he makes it.
Right-hander Michael Ynoa: If there's a sleeper in camp, it's Ynoa, who has a mid-90s fastball and good breaking stuff. He's not on the 40-man roster but is making his case this spring.
Right-hander Drew Storen: Like Duffy, Storen is a strong candidate to start the season in extended spring training. Storen still is building up his arm strength after having not pitched since 2017 because of Tommy John surgery.
Left-hander Brian Flynn: Flynn arrived in camp having shed 20 pounds and with new mechanics to improve his arm speed. He has struggled in two Cactus League outings (10 earned runs). He is out of options.
Right-hander Chris Ellis: The other Rule 5 Draft pick, Ellis had his best spring outing last week, tossing two scoreless innings against the Reds. He likely would need a strong finish to camp, though, to hang on.
Left-hander Richard Lovelady: Lovelady doesn't have to go on the 40-man roster until this fall, and it doesn't seem likely the Royals will rush him to the big leagues now. He has a bright future and could make his MLB debut sometime this summer.