Notes: Boyd likely for OD; Greene, Hill dazzle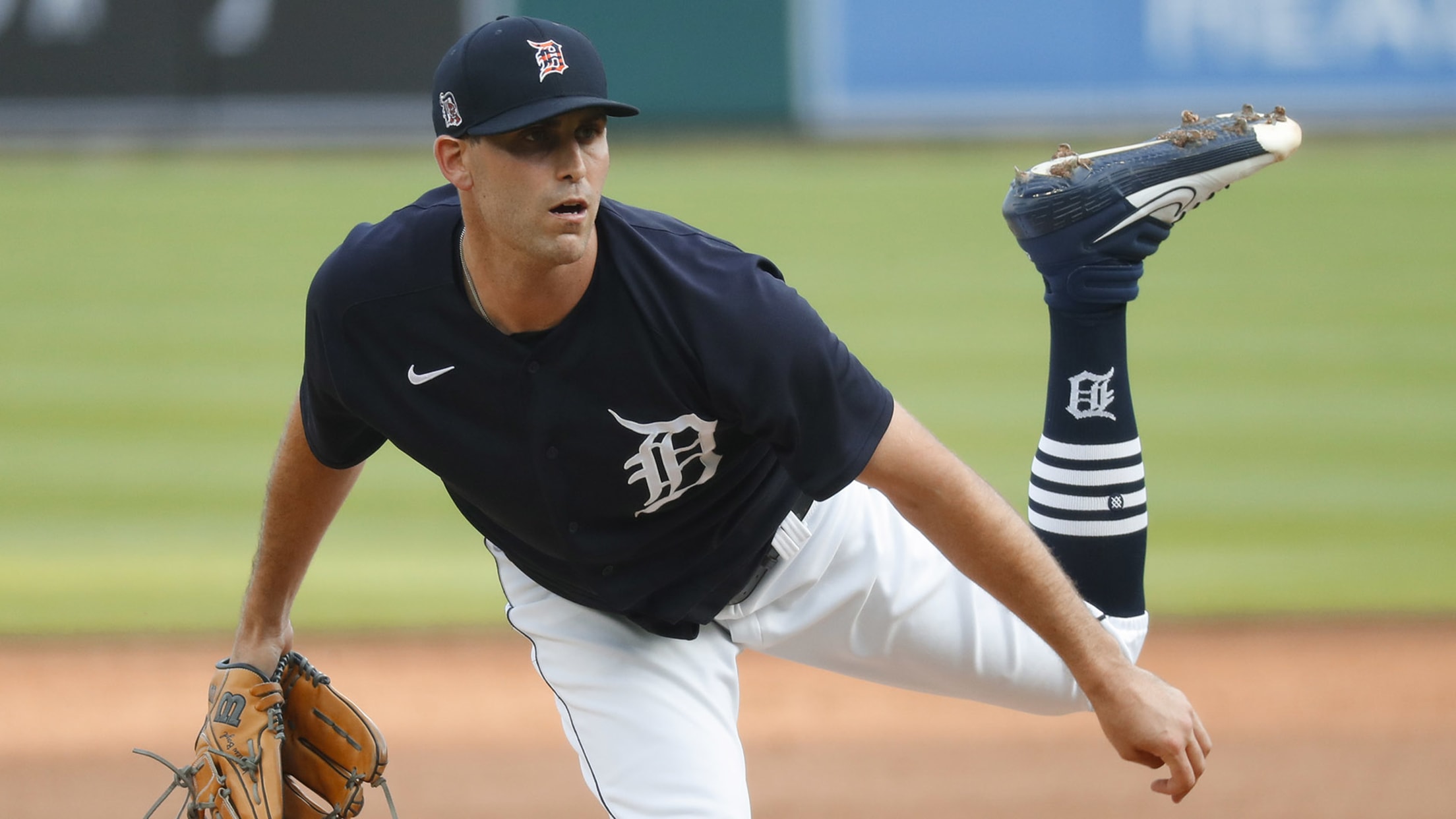 DETROIT – Tigers manager Ron Gardenhire all but announced Wednesday night that Matthew Boyd will be starting on Opening Day. "My pitching coach and I think the Detroit Tigers would like to make that announcement before I do," Gardenhire said wryly. "So when we decide that he's going to be
DETROIT – Tigers manager Ron Gardenhire all but announced Wednesday night that Matthew Boyd will be starting on Opening Day.
"My pitching coach and I think the Detroit Tigers would like to make that announcement before I do," Gardenhire said wryly. "So when we decide that he's going to be the Opening Day [starter], then we'll let you know. I can't announce that right now, that he's lined up to do that."
• Tigers' 2020 regular-season schedule
Boyd tossed four solid innings in the Tigers' intrasquad game Wednesday night at Comerica Park, but he was originally scheduled to pitch live batting practice on Tuesday. That was scratched due to protocol after he learned he had come into contact with someone who had tested positive for COVID-19.
"Due to protocol, I wasn't able to come in [to Comerica Park]," Boyd explained. "The night before, I learned that I came in contact with someone who had COVID who didn't realize it. Once I got word of it, I didn't come into the stadium. We realized that based on the contract tracing, it probably wasn't an issue, but still, [the club] kept me away from the field and did a rapid test. It came back negative, and we'll just continue to test every day going forward just to be safe."
The situation, Boyd explained, was unique. A family friend was mowing the lawn at Boyd's Detroit-area home and suffered an injury in his backyard. Boyd instinctively went out to help. When the friend was treated at a nearby hospital, he was tested for COVID-19. Though he was asymptomatic, the results came back positive.
"Luckily, I had kept my distance, but I didn't have a mask on, because I was just reacting to help him," Boyd said. "Because of that really weird circumstance, I called our training staff and let them know. We did the contact tracing and realized that there was probably little point of impact that could've been an issue. But we still played it safe."
Boyd and his family all tested negative, he said. With Boyd away, Casey Mize pitched live batting practice on his regular turn Tuesday morning instead.
• Gardy on Mize: 'I'd like to have him right now'
Boyd threw 60 pitches Wednesday, and the lefty said he plans to pitch again Sunday on short rest, which would put him on turn to get his regular rest ahead of what would be his first career Opening Day assignment next Friday at Cincinnati.
He isn't worried about the change in routine.
"That's wasted energy," Boyd said. "It's out of my control. It's the world we live in right now. We have to adapt. Things like that are going to happen. That's why we have to take every precaution. It's just the way it is right now."
Gardenhire had the same perspective.
"Luckily everything turned out OK," he said, "but that's kind of where we're at, where everybody's at in this country and all over the world. We have to deal with it as best we can when it comes."
Another day, another highlight catch (x2)
The dueling defenses of outfield prospects Riley Greene and Derek Hill continued Wednesday with a standout catch from each of them, adding to their Summer Camp highlight reel.
Greene wasn't originally slated to start Wednesday's game. With JaCoby Jones scratched, Greene was a last-minute entry in right, where he stretched out down the line for a diving catch to take an extra-base hit away from Austin Romine.
Death, taxes, @Greene21Riley making a spectacular play. pic.twitter.com/YfllmYrbOs

— Detroit Tigers Player Development (@RoadtoDetroit) July 15, 2020
A few innings later, Hill made a diving catch of his own to rob Harold Castro in center.
We promise this is a new @derekhill27 highlight. pic.twitter.com/krd8BICWrg

— Detroit Tigers Player Development (@RoadtoDetroit) July 16, 2020
Both outfielders made their impact offensively as well. Greene connected with a Matt Manning changeup well enough to send it into the Tigers' bullpen for an opposite-field home run, his first homer of camp. Hill turned a ground ball through the infield into a double when he sped around first base as left fielder Christin Stewart went for the ball.
Reminder: @Greene21Riley is 19 years old. pic.twitter.com/gbqscSyzdh

— Detroit Tigers (@tigers) July 16, 2020
Tigers add two relievers to player pool
With several pitchers on the injured list, the Tigers used the two remaining spots on their 60-man player pool to add right-handed prospects Zack Hess and Alex Lange. Neither has pitched in the Majors, but both showed promise in relief roles last summer after joining the organization.
The Tigers acquired Lange from the Cubs last July in the Nick Castellanos trade. The former first-round pick posted a 2-1 record and 3.45 ERA in nine relief appearances at Double-A Erie, then struck out 13 batters over 9 2/3 innings of four-run ball in the Arizona Fall League.
The Tigers drafted Hess in the seventh round of last year's MLB Draft with the idea that he could move quickly through their system. The 6-foot-6 righty posted a 2.60 ERA and 33 strikeouts over 27 2/3 innings across three levels last year, ending at Class A West Michigan.
Quick hits
• The Tigers used Wednesday's intrasquad game to begin experimenting with piped-in crowd noise. The recorded sound effects have been tailored by MLB for a variety of situations and provided to each club, according to a team spokesperson.
• Jones was scratched from the lineup with left oblique tightness. "I saw him throwing during our infield [work] and he didn't throw the ball very good," Gardenhire said. "So we checked on him. He said a little soreness, not a big deal. That's why you take him out and let him sit for a few days here and get well."
• Fellow Tigers outfielder Travis Demeritte remains out with a sore groin and quadriceps, Gardenhire said.
• Top pick Spencer Torkelson recorded his first hit of Summer Camp in Wednesday's game with a line-drive single to left.