Miggy having a blast, or four, this spring
With biceps injury in the past, Cabrera shows his usual power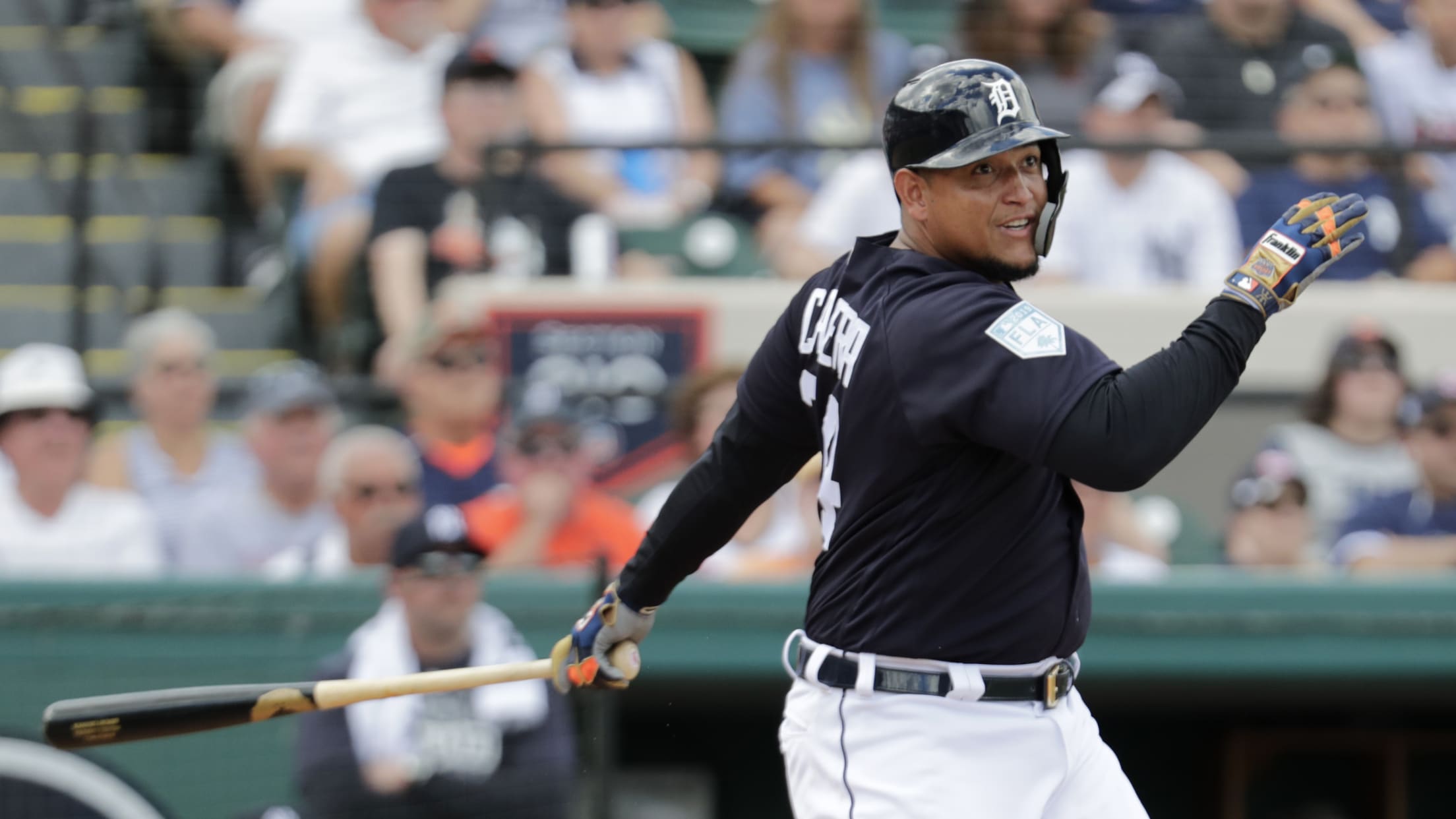 LAKELAND, Fla. -- The swing looked like something from 2012, a seemingly easy loft from Miguel Cabrera that sent a ball carrying out to right field. It kept carrying all the way into the Tigers' bullpen for his second home run of the spring. The blast off Yankees left-hander Nestor
Beckham nabs Tigers Opening Day roster spot
Rodriguez optioned, Wilson released, Cisnero reassigned
LAKELAND, Fla. -- Gordon Beckham was an early arrival at Joker Marchant Stadium on Saturday morning after starting at shortstop for the Tigers on Friday night. He had good news waiting for him. The Tigers informed Beckham that he has made their Opening Day roster. Since Beckham was a non-roster
Jones, VerHagen likely to miss start of season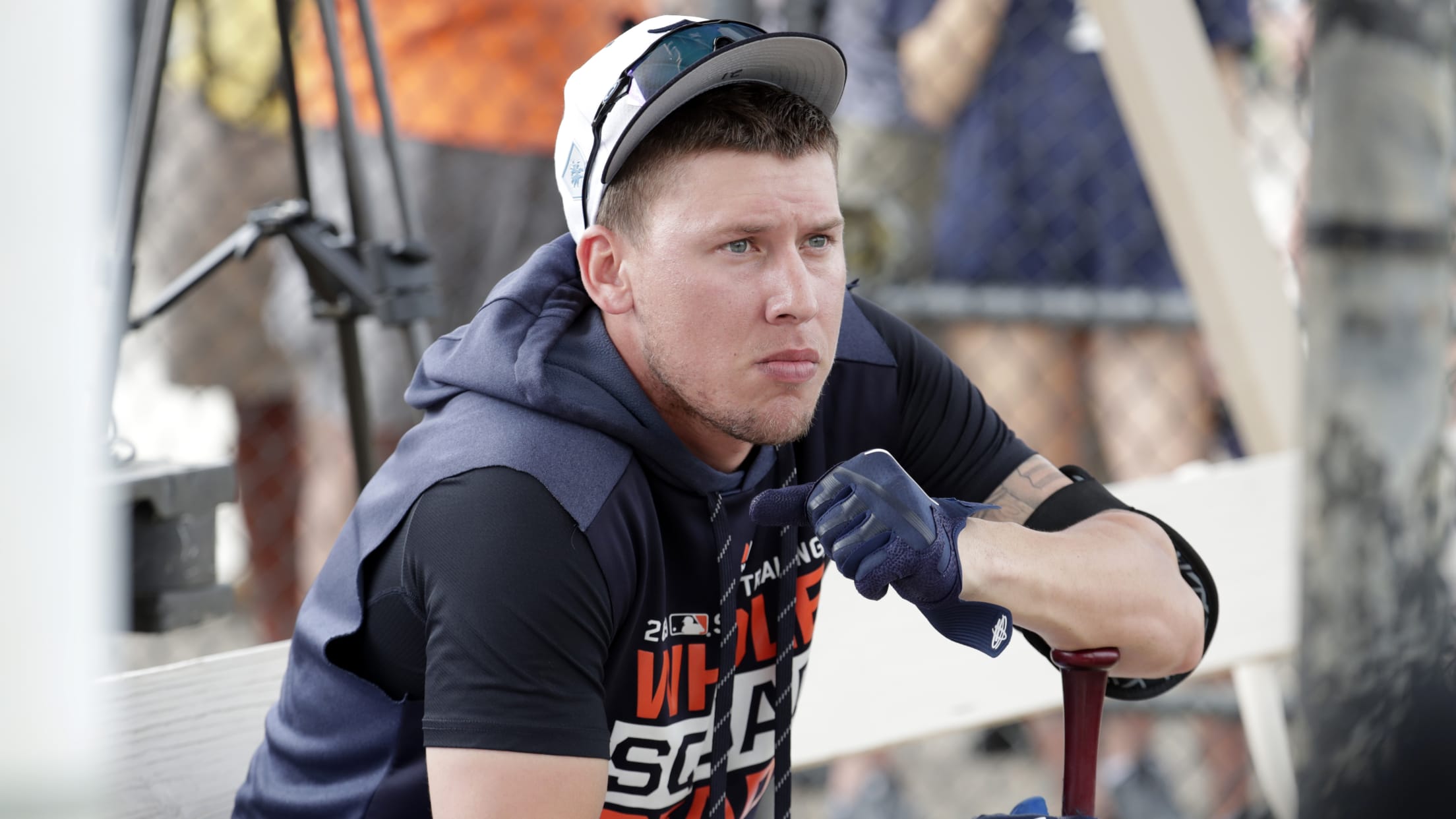 LAKELAND, Fla. -- The Tigers were hours away from finalizing their roster. They now have two new holes to plug before Opening Day next Thursday, including a potentially big loss in center field, where JaCoby Jones' diving attempt in Saturday's 8-7 win over the Rays resulted in a left shoulder
Saturday's top prospect performers
Pirates prospects Ke'Bryan Hayes (Pittsburgh's No. 2 per MLB Pipeline, No. 46 overall) and Oneil Cruz (No. 4, No. 95) each homered in opposite ends of Pittsburgh's split-squad games on Saturday. Hayes, who is hitting .333 in Spring Training, provided all of the Pirates' offense in a 12-3 loss to
Mercer marks 10th season using same glove
New Tigers shortstop brings along a trusted friend from Pittsburgh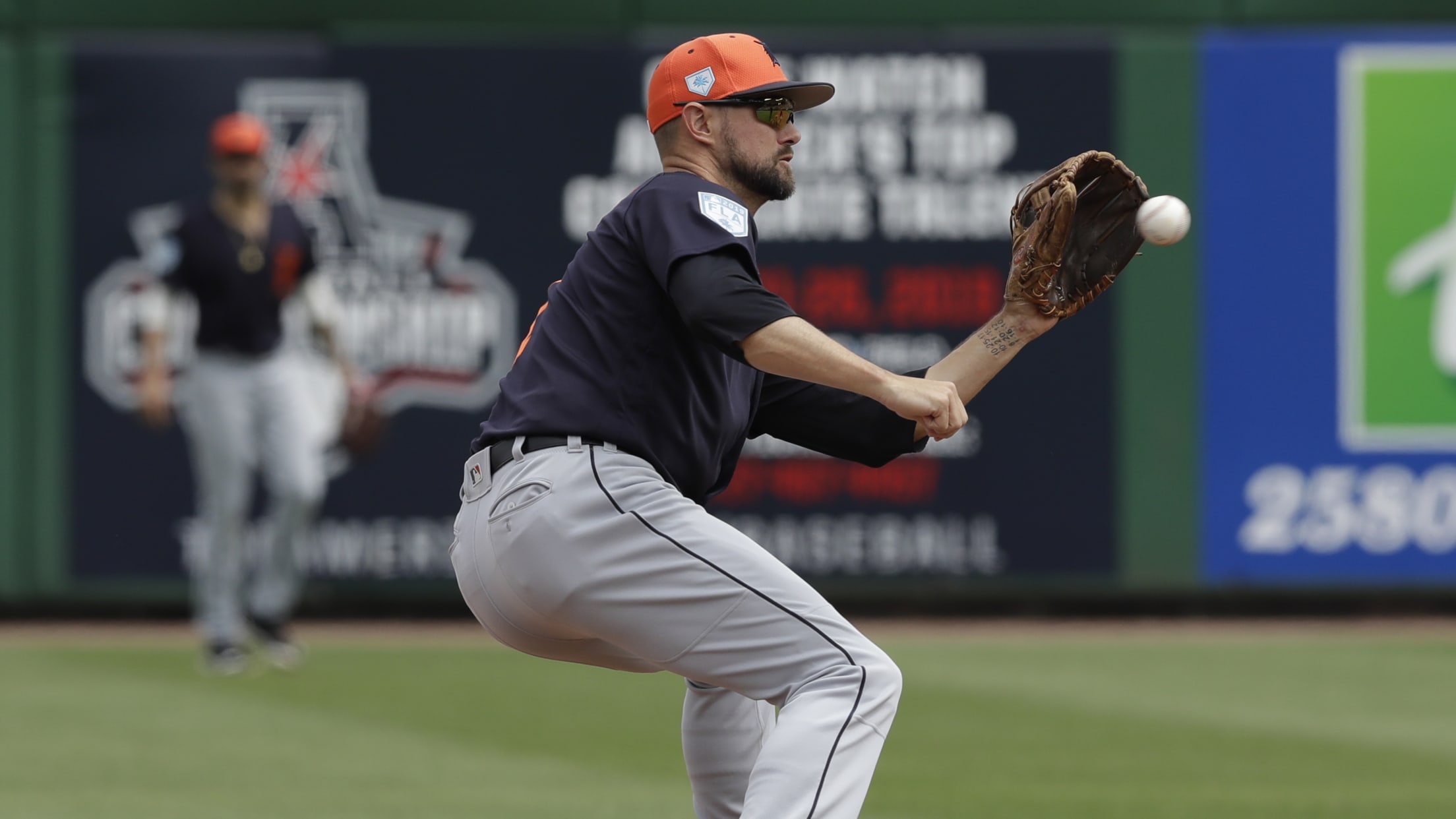 LAKELAND, Fla. -- The glove that sits in Jordy Mercer's locker at Joker Marchant Stadium should probably be sitting in a museum somewhere, or in a box in his basement. It has cracks on the outside that resemble a Michigan road after a rough winter. It has a pocket that
Beckham playing shortstop to show versatility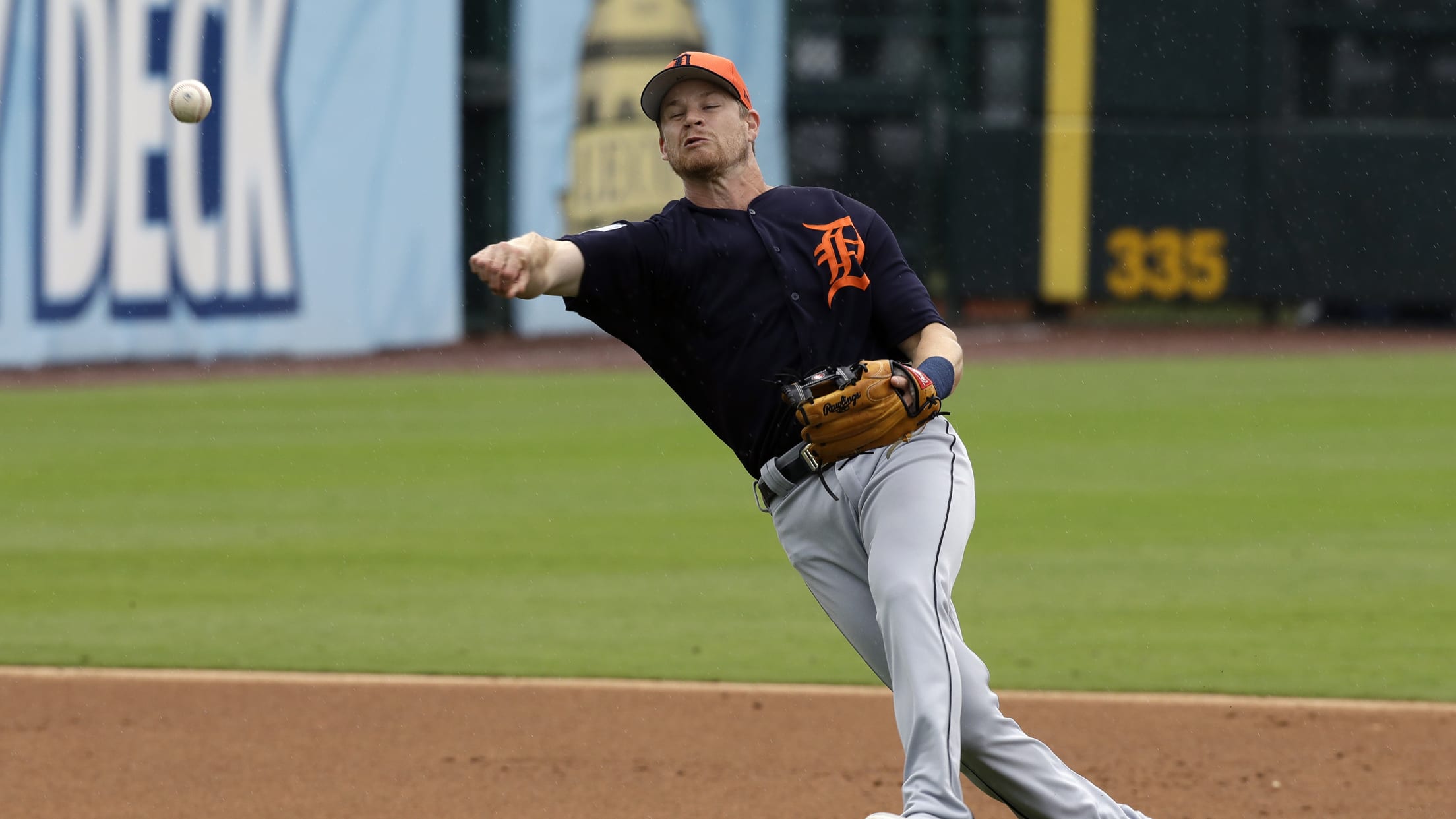 LAKE BUENA VISTA, Fla. -- Gordon Beckham started Friday night at shortstop for the third time this week, as Tigers manager Ron Gardenhire gauged how versatile the former White Sox second baseman might be as a utility infielder. He handled it well, making a nice turn on a double play
Here's a look at the Tigers' farm system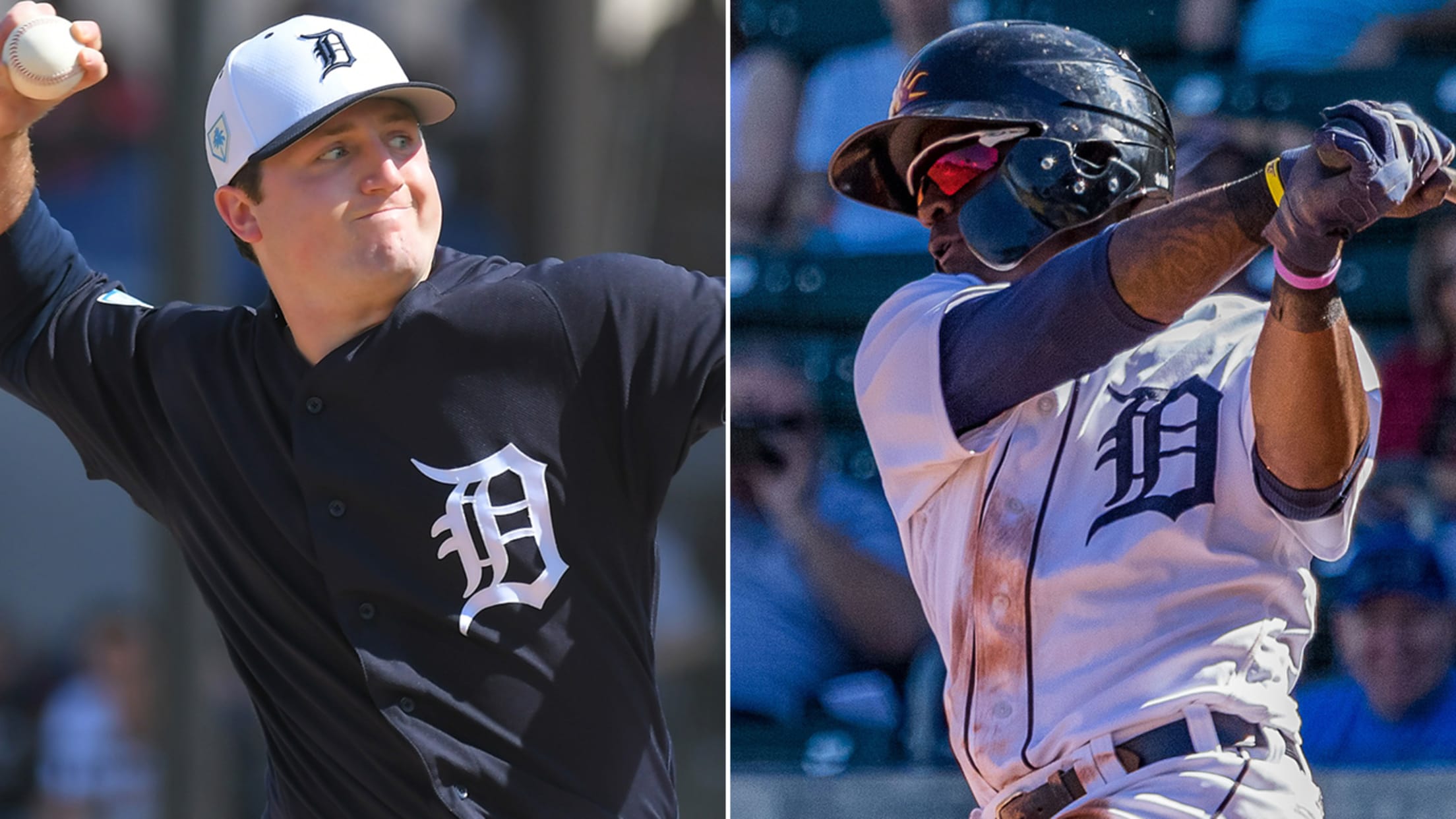 LAKELAND, Fla. -- With the notable exception of Justin Verlander, almost all of the prominent players on the Tigers' 2011-14 postseason clubs were imported. They went all in trying to win a World Series for owner Mike Ilitch, and if that meant trading prospects for veterans or sacrificing Draft picks
Mize breaks down pitch arsenal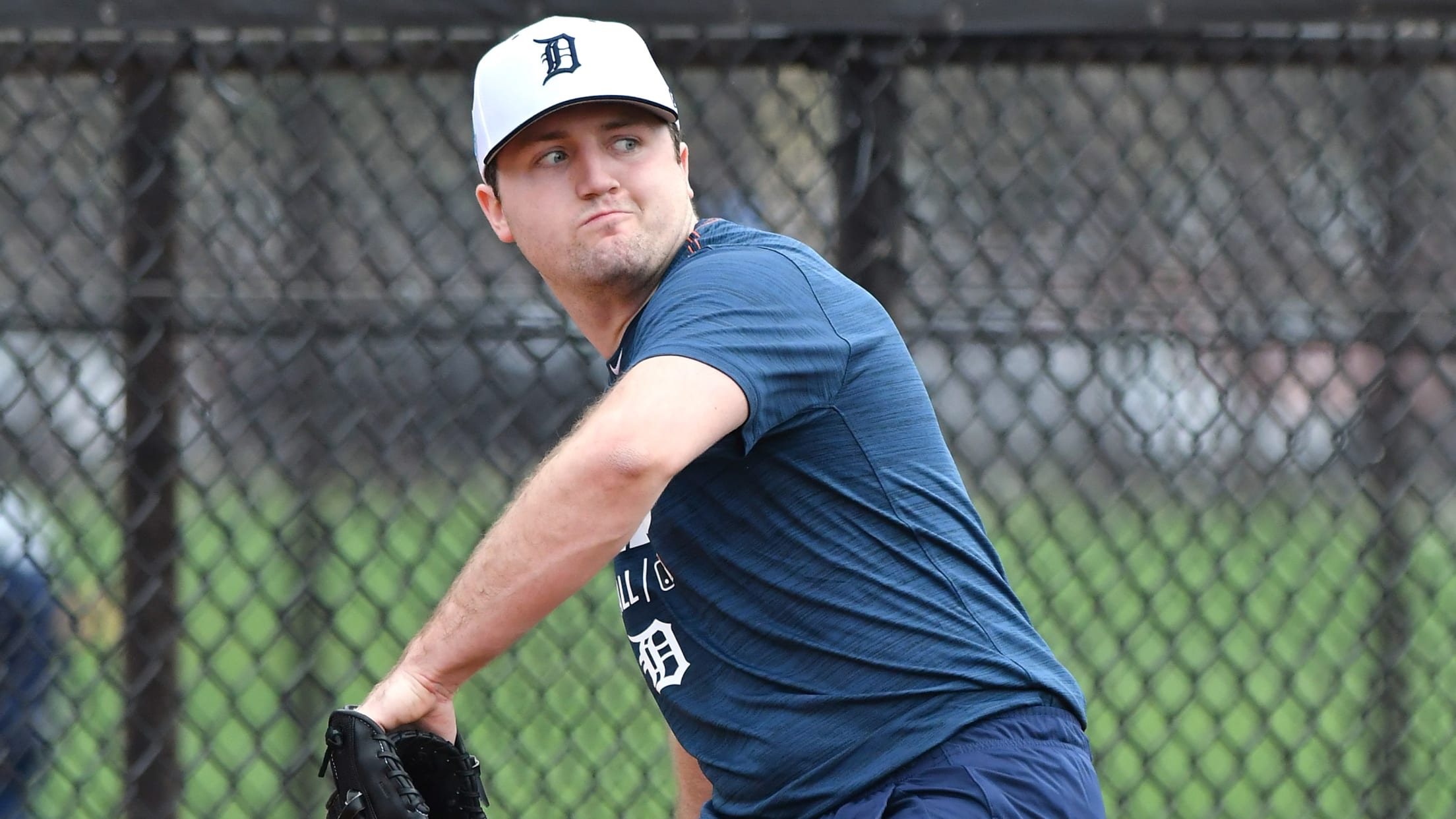 LAKELAND, Fla. -- Casey Mize combines stuff and polish better than any pitcher to come out of the Draft since Stephen Strasburg. The Nationals used the No. 1 overall pick in 2009 on Strasburg, considered the best pitching prospect in Draft history, and the Tigers did the same last June
Fulmer could miss 14 to 16 months post surgery
Avila calls it 'career-changing' injury but expects righty to bounce back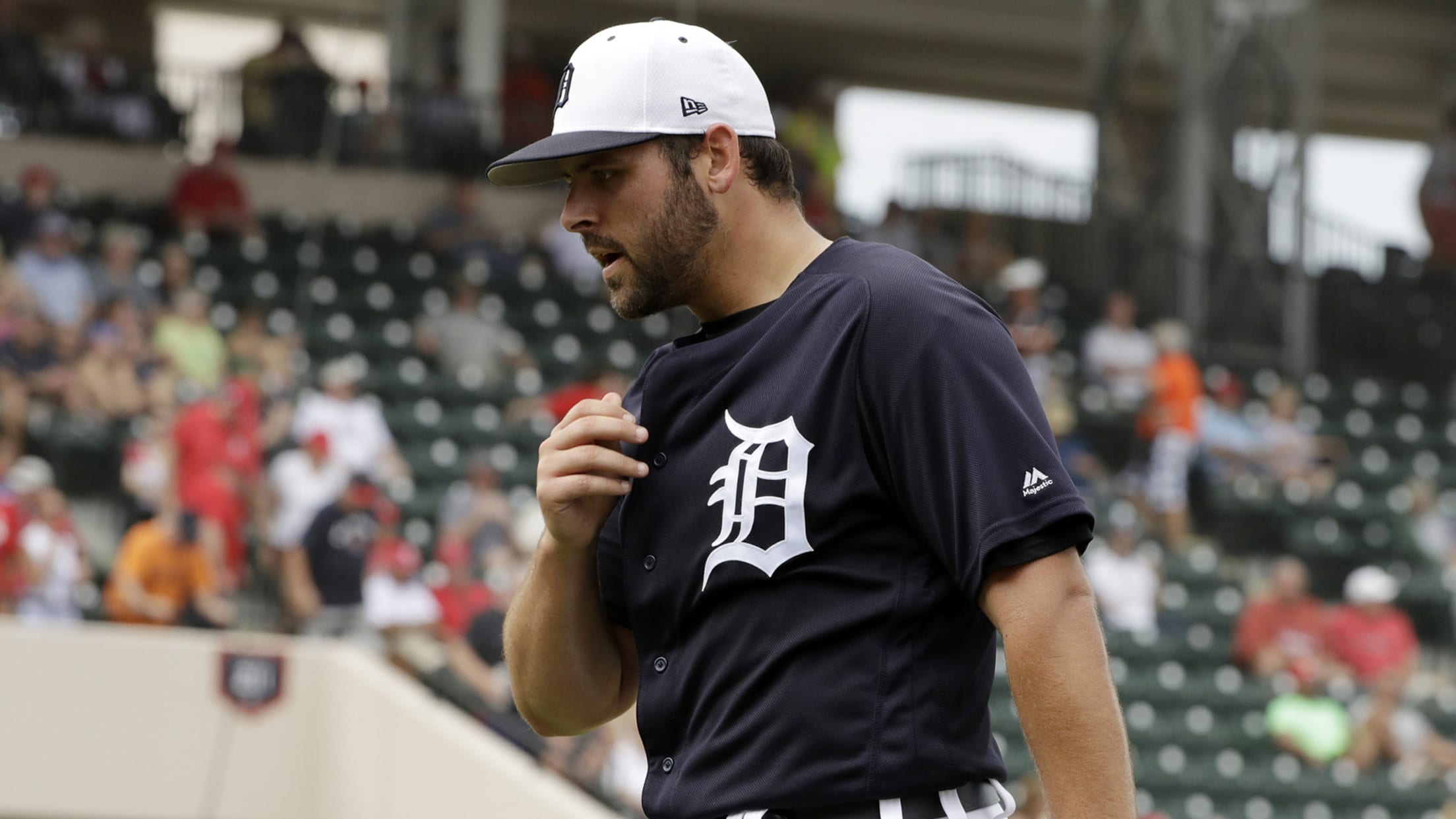 LAKELAND, Fla. -- While Michael Fulmer finalizes plans for Tommy John surgery, the Tigers are planning on being without him for this season and likely part of next. "It's definitely a career-changing kind of injury," general manager Al Avila said, "but our hope is that he can bounce back and
Could Tigers, Castellanos agree on extension?
Slugger's Plan A is to stay in Detroit, while GM Avila says contract status 'in our minds'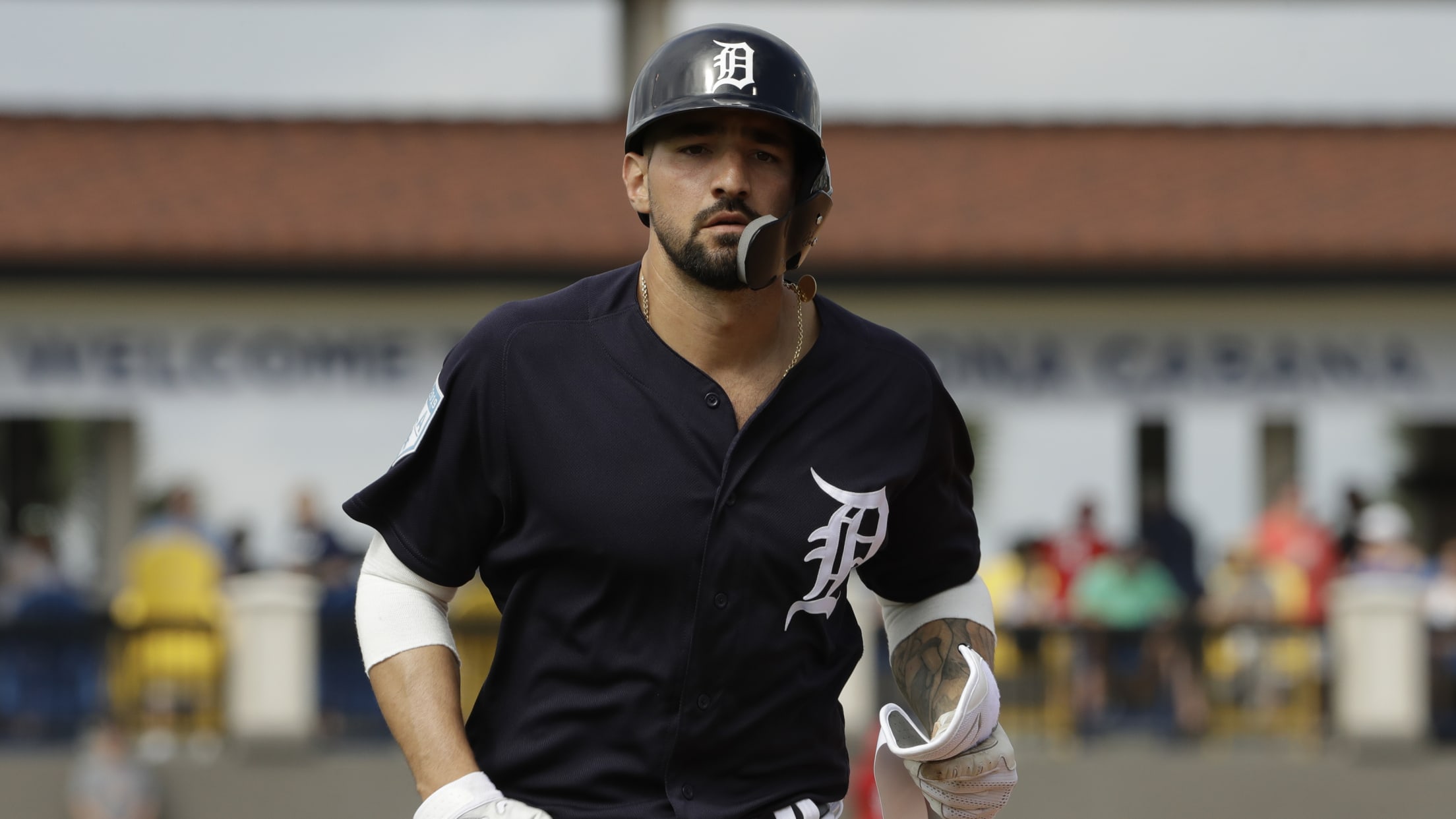 LAKELAND, Fla. -- The Tigers have had Nicholas Castellanos on the trade market for more than a year in an effort to acquire more prospects. General manager Al Avila talked last season about letting Castellanos leave as a free agent next offseason and getting a Draft pick as compensation. So
30 breakout prospects for 2019 -- 1 per team
These guys could shoot up the rankings in '19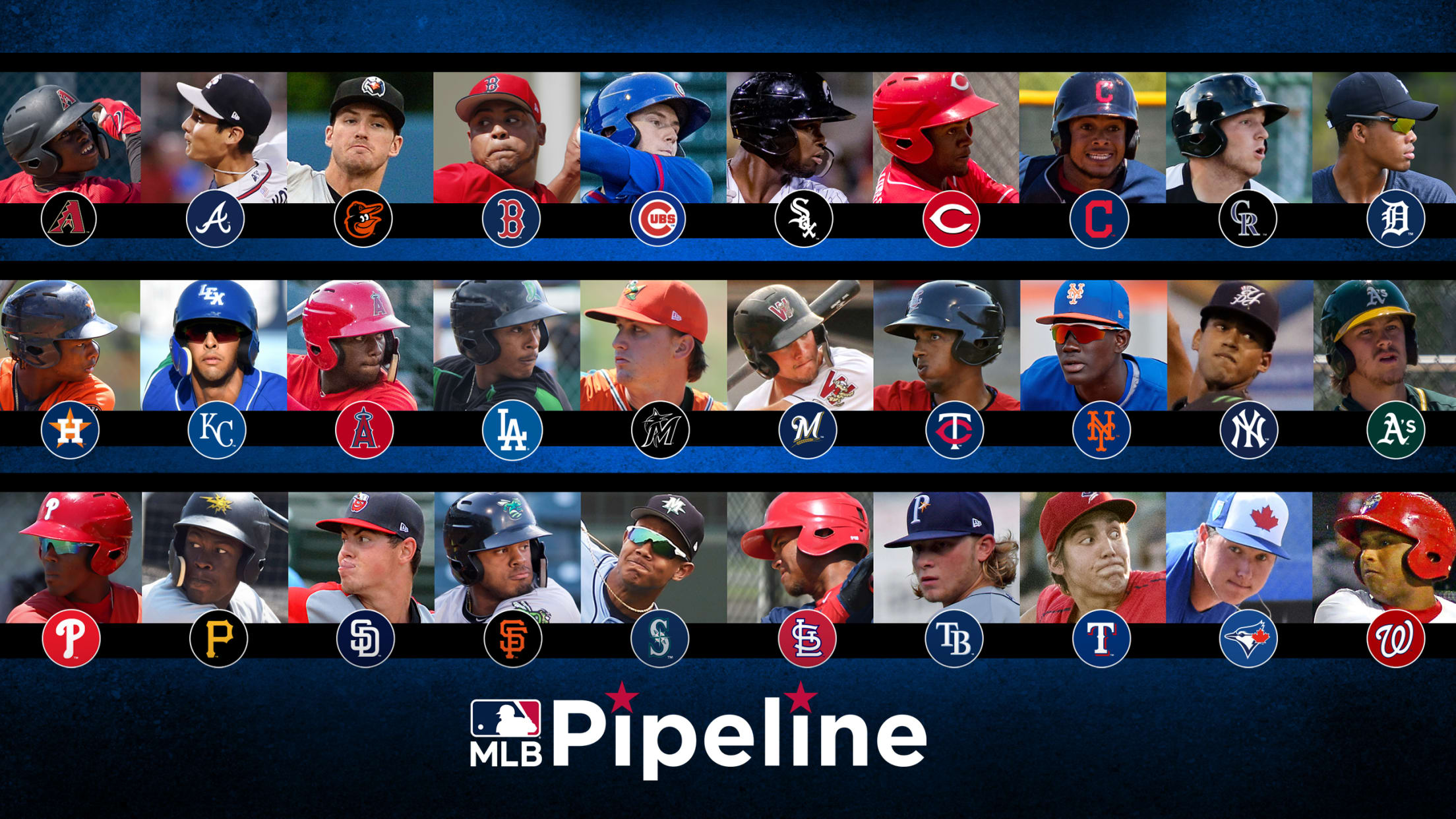 The four players atop MLB Pipeline Top 100 Prospects list -- Blue Jays third baseman Vladimir Guerrero Jr., Padres shortstop Fernando Tatis Jr., White Sox outfielder Eloy Jimenez and Nationals outfielder Victor Robles -- are no surprise. They all ranked among the eight best on the 2018 preseason Top 100.
Turnbull looks ready to fill Fulmer void
Tigers righty makes compelling case with 7 K's vs. Phillies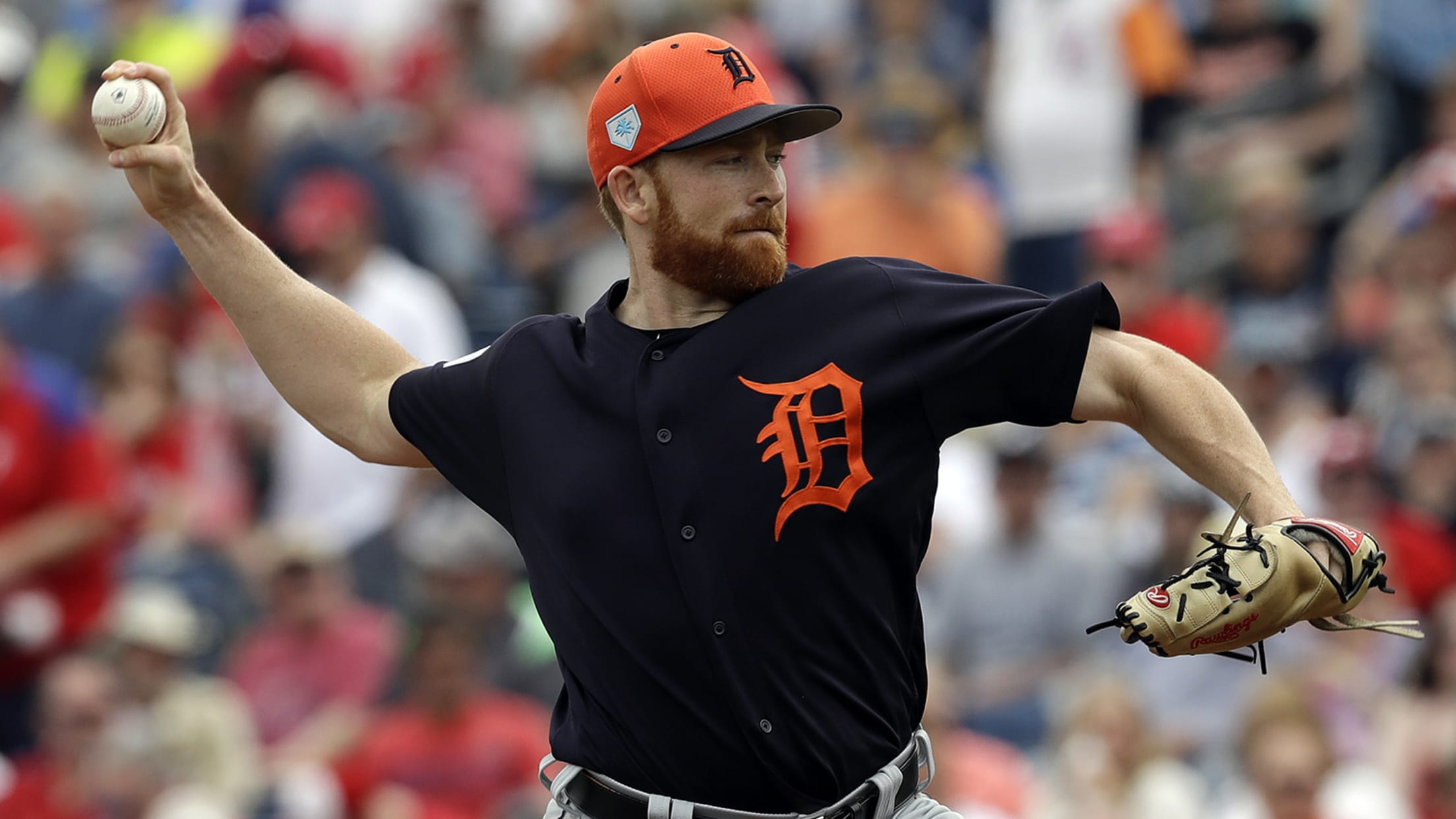 CLEARWATER, Fla. -- Right-hander Spencer Turnbull made his case for joining the Tigers rotation with a strong outing in Wednesday's 3-1 win over the Phillies. Turnbull struck out seven and gave up three hits over five scoreless innings. After the news of Michael Fulmer needing Tommy John surgery with the
Fulmer set to undergo Tommy John surgery
Righty expected to miss entire 2019 season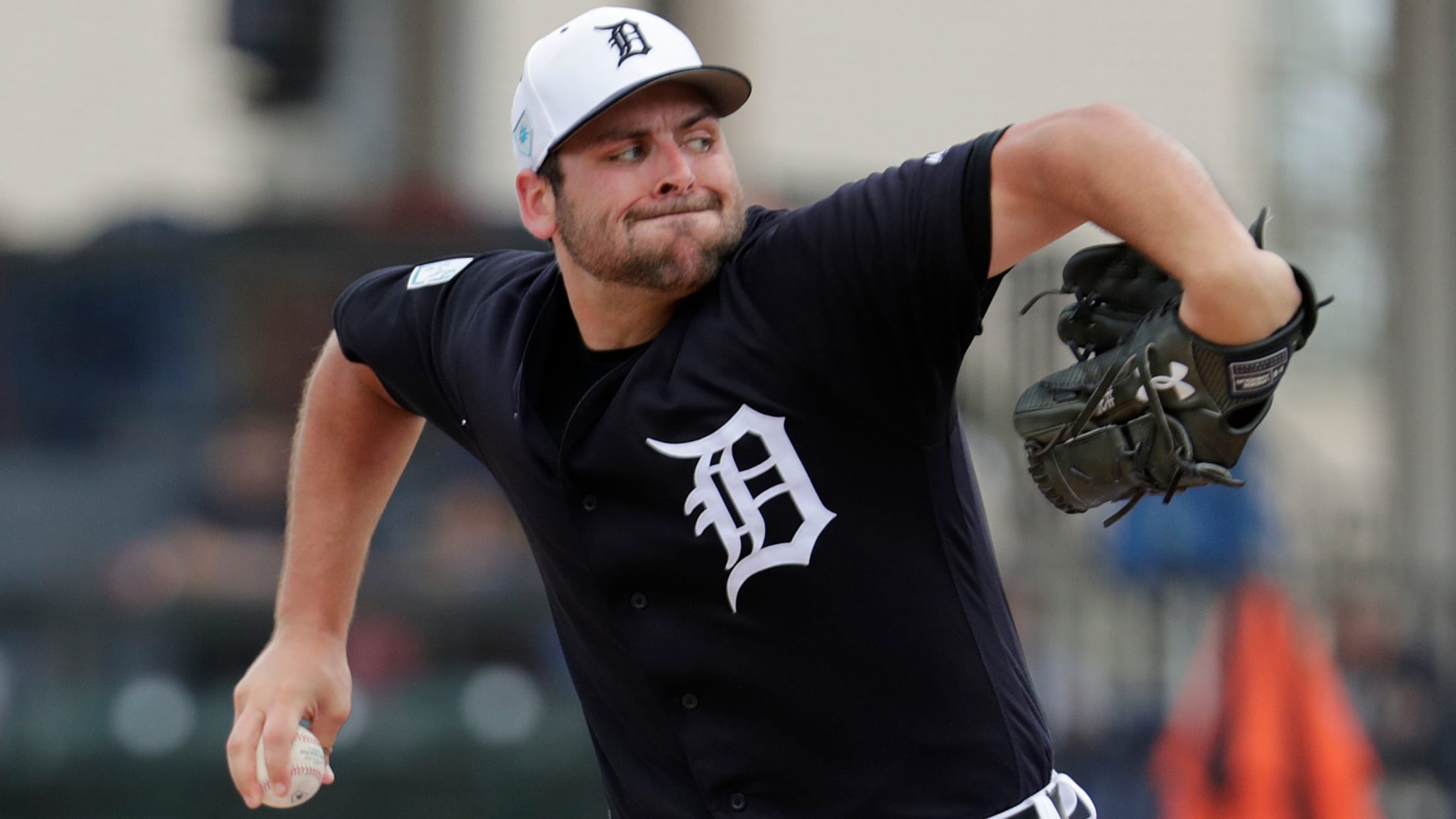 LAKELAND, Fla. -- Michael Fulmer spent an entire offseason rehabbing his right knee to get ready for Opening Day. The Tigers right-hander is now looking at a year of rehabbing his right elbow. "When I heard the news, it was like a punch to the gut," Fulmer said Wednesday morning
1 player per team who changed minds in camp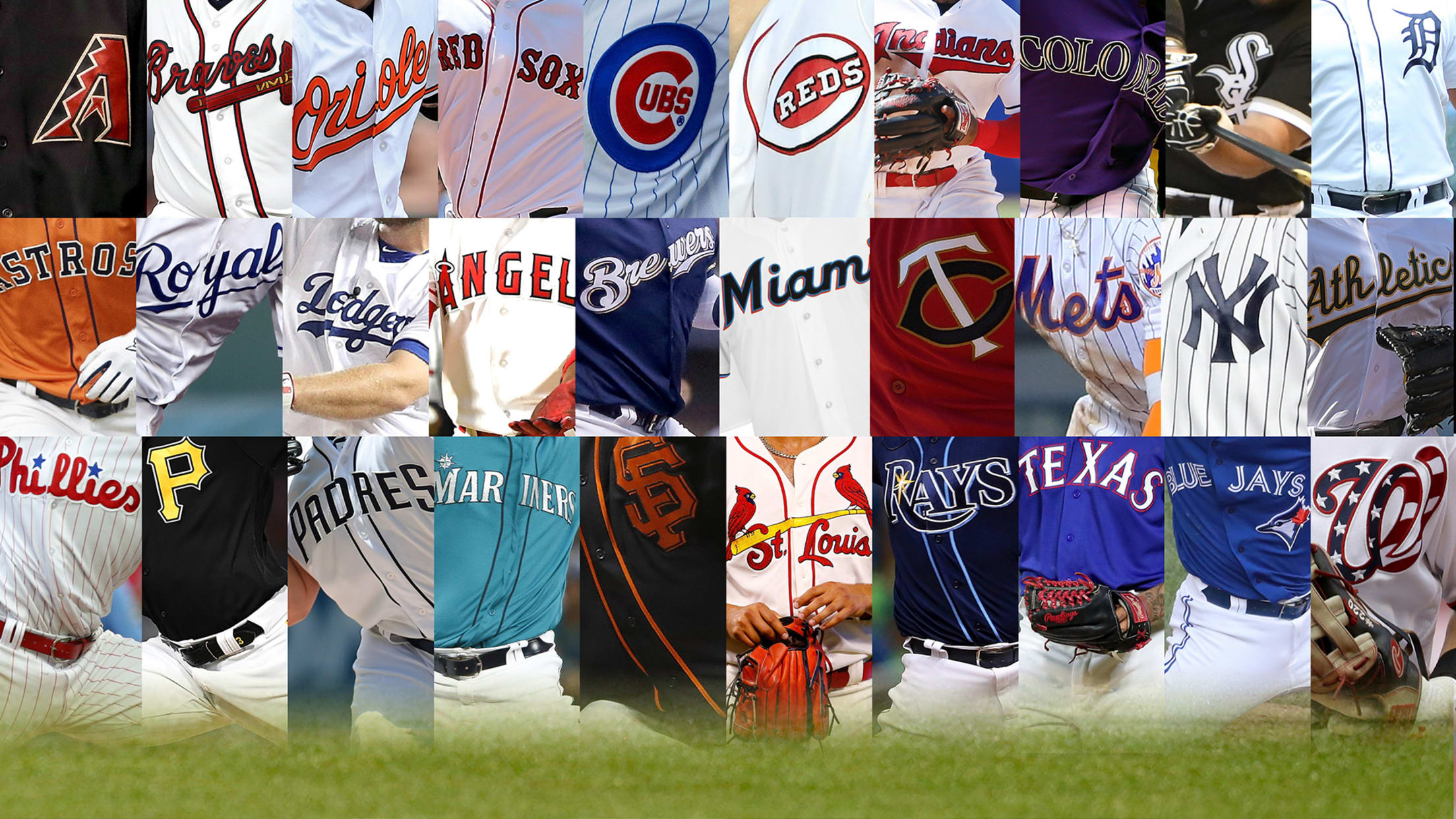 There's the guy who emerges from the pack and plays his way into the conversation. Sometimes, it's a raw kid; other times, a veteran some had written off. To many of us, this is the most fun thing about Spring Training. With that in mind, let's check out some of
Top 10 first basemen of the decade (so far)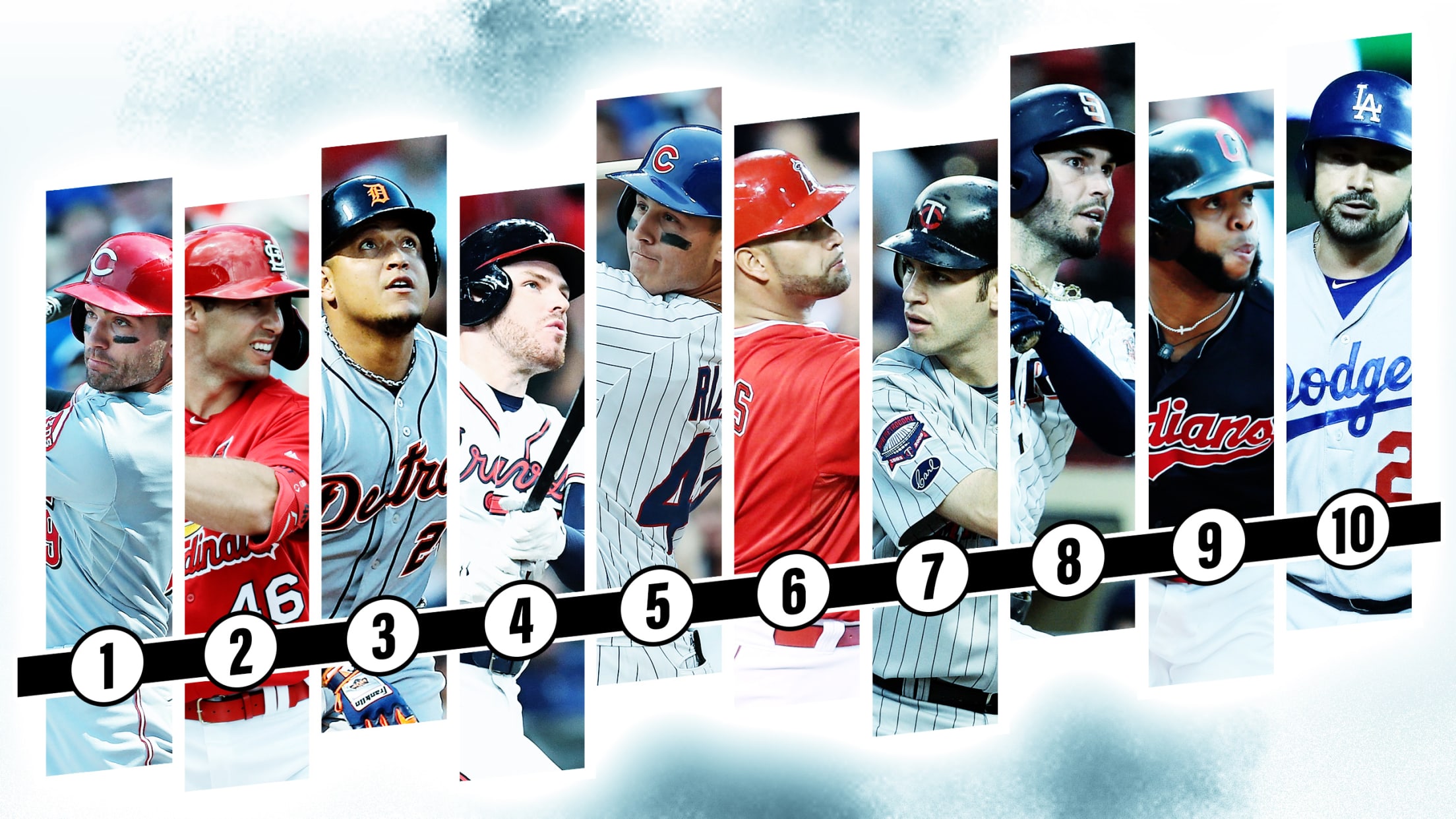 MLB.com columnist Will Leitch's series on the Data Decade, closing out this remarkable decade of baseball, runs every other Wednesday. Today, we look at the 10 best first basemen of the decade. • Previous stories in this series: Best 10 catchers In many ways, the first baseman has lost some
Pitcher Carpenter among Tigers' roster moves
Castro, Kozma and Sanchez assigned to Minor League camp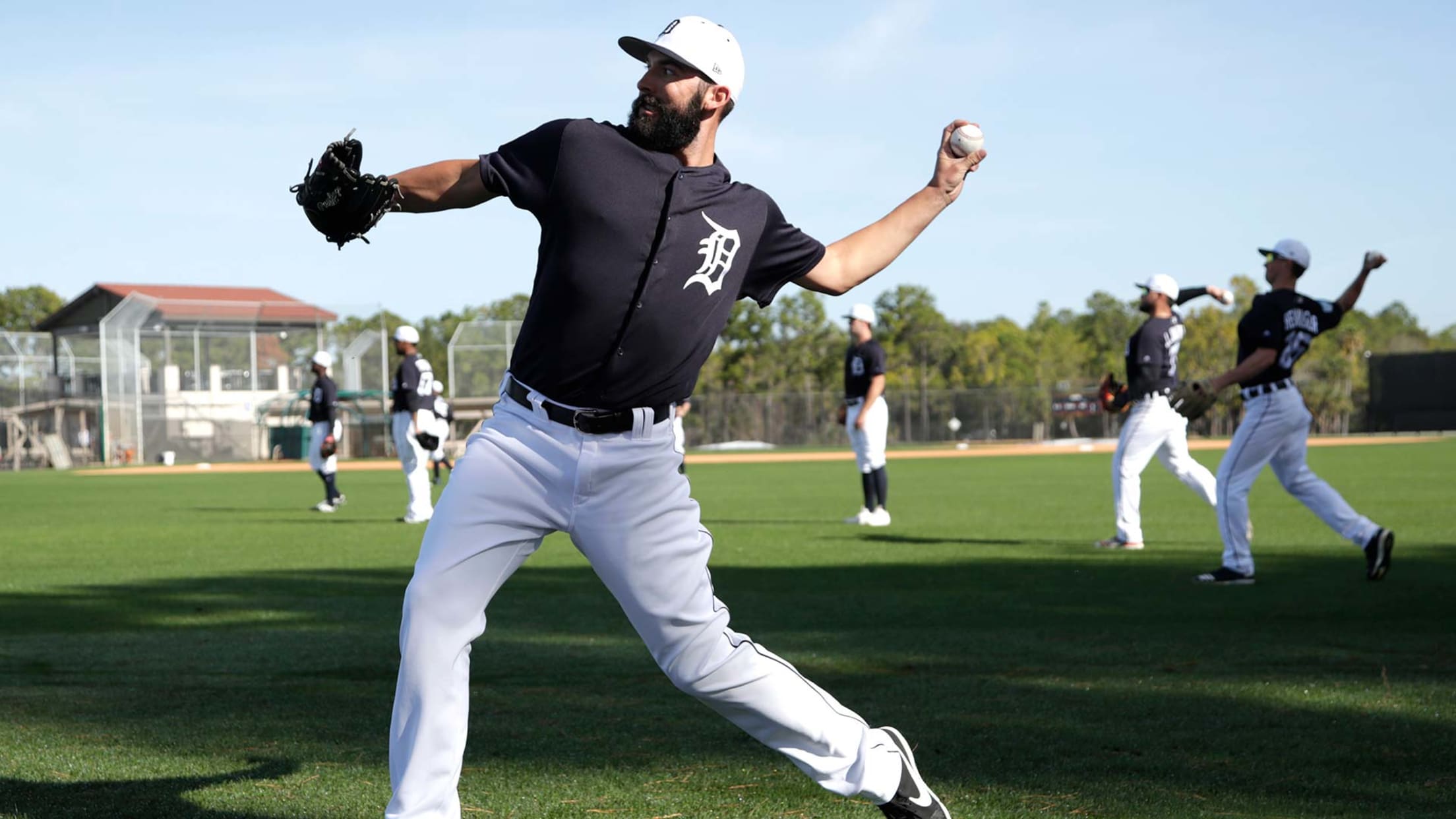 BRADENTON, Fla. -- Ryan Carpenter's scoreless Spring Training was not enough to crash Detroit's Opening Day roster as a lefty reliever. The Tigers optioned the left-hander to Triple-A Toledo, where he's expected to serve as starting-pitching depth. Also sent out were infielders Harold Castro and Pete Kozma, along with catcher
Breaking down every team's closer situation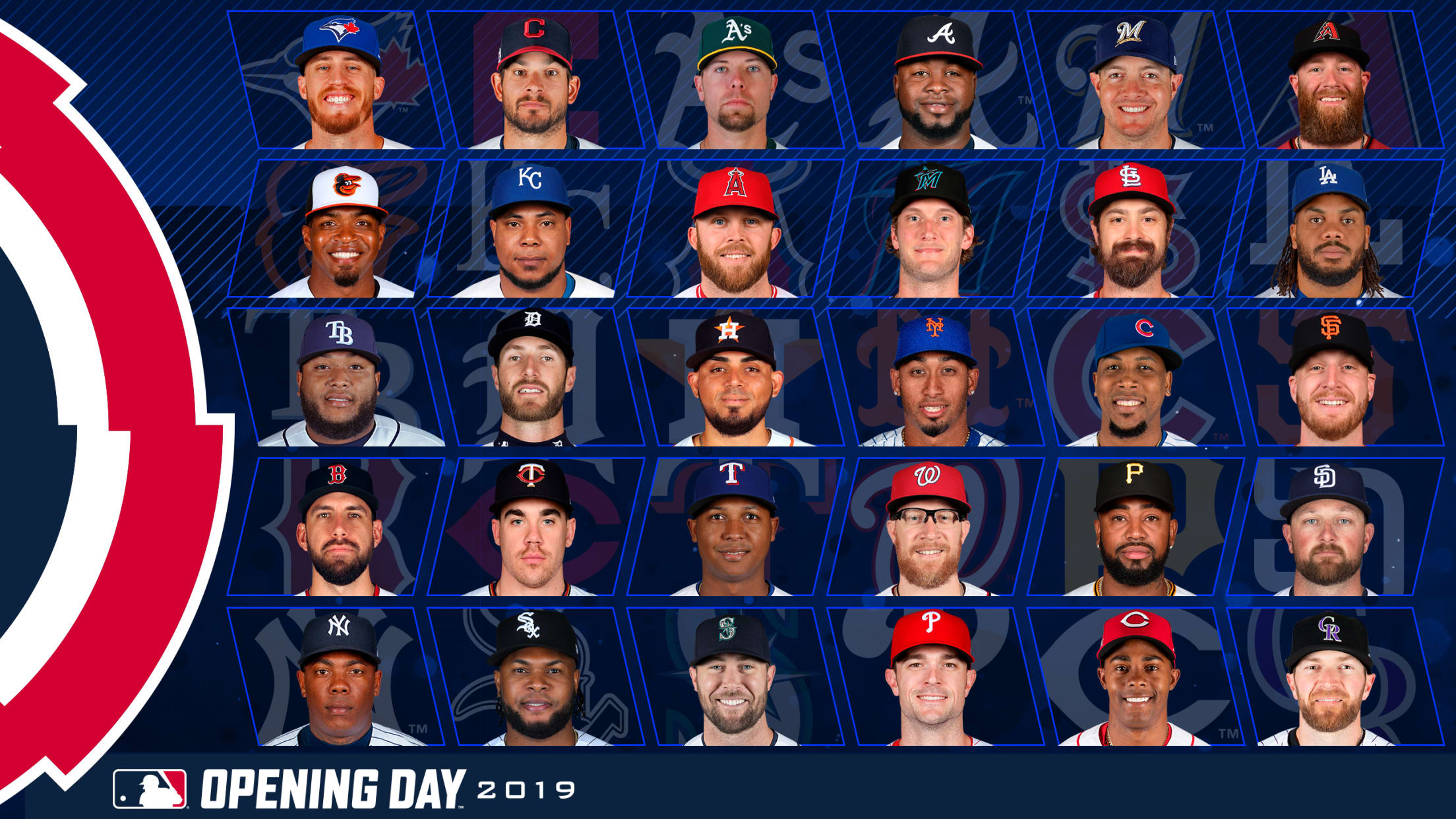 Teams can have solid starting pitching, strong middle relief and a potent offense, but if they don't have a closer waiting in the bullpen to finish off games, wins won't be easy to come by. And while not every club has an Aroldis Chapman or Kenley Jansen waiting in the
Funkhouser impresses on way out of camp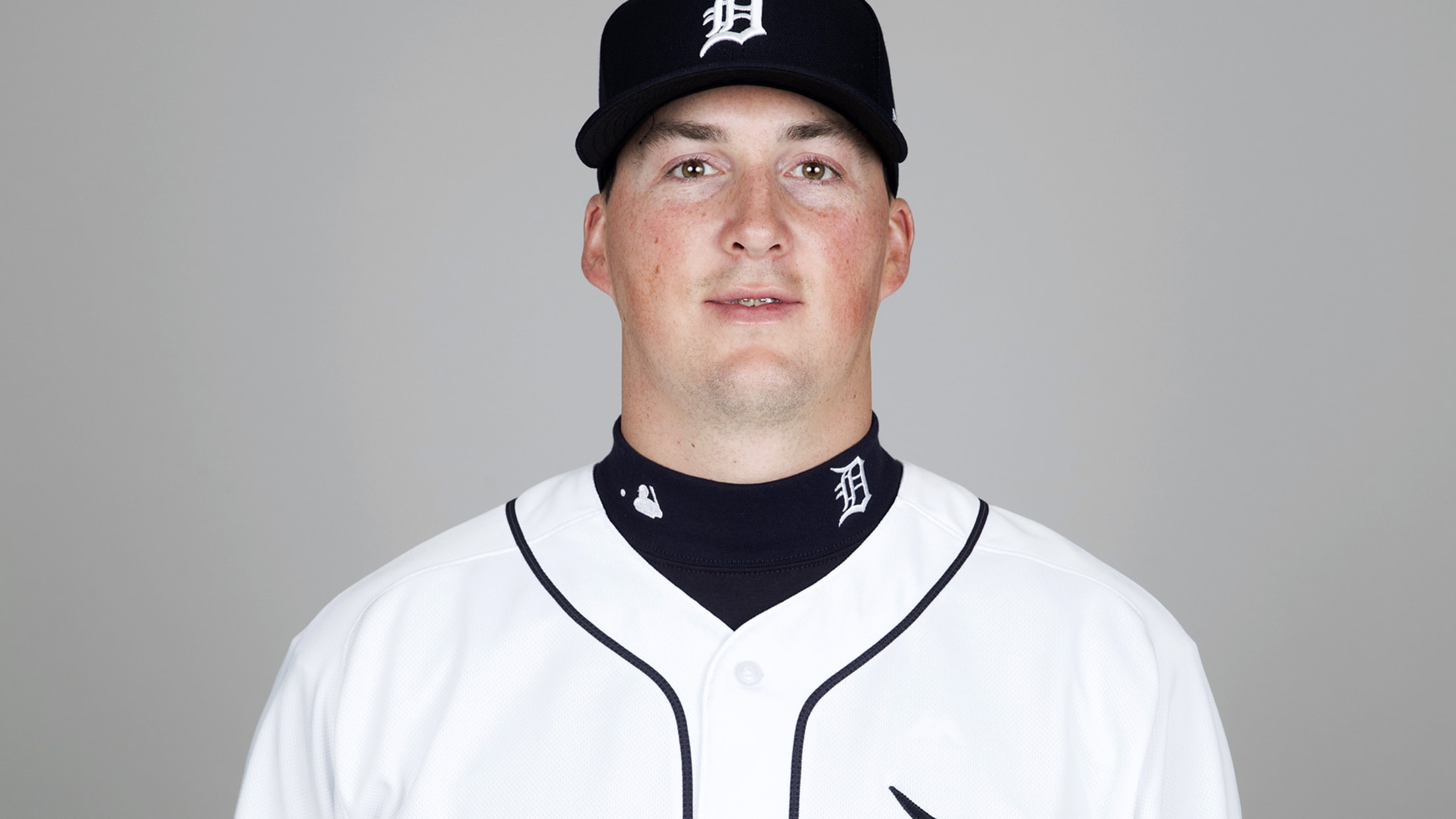 LAKELAND, Fla. -- Kyle Funkhouser cranked his fastball to 96 mph as he worked out of a bases-loaded jam in the eighth inning Sunday. It was a few ticks up from what he was throwing in his previous outings, when the Yankees and Red Sox hit him for two- and
Top prospects: Who's still up? Who got cut?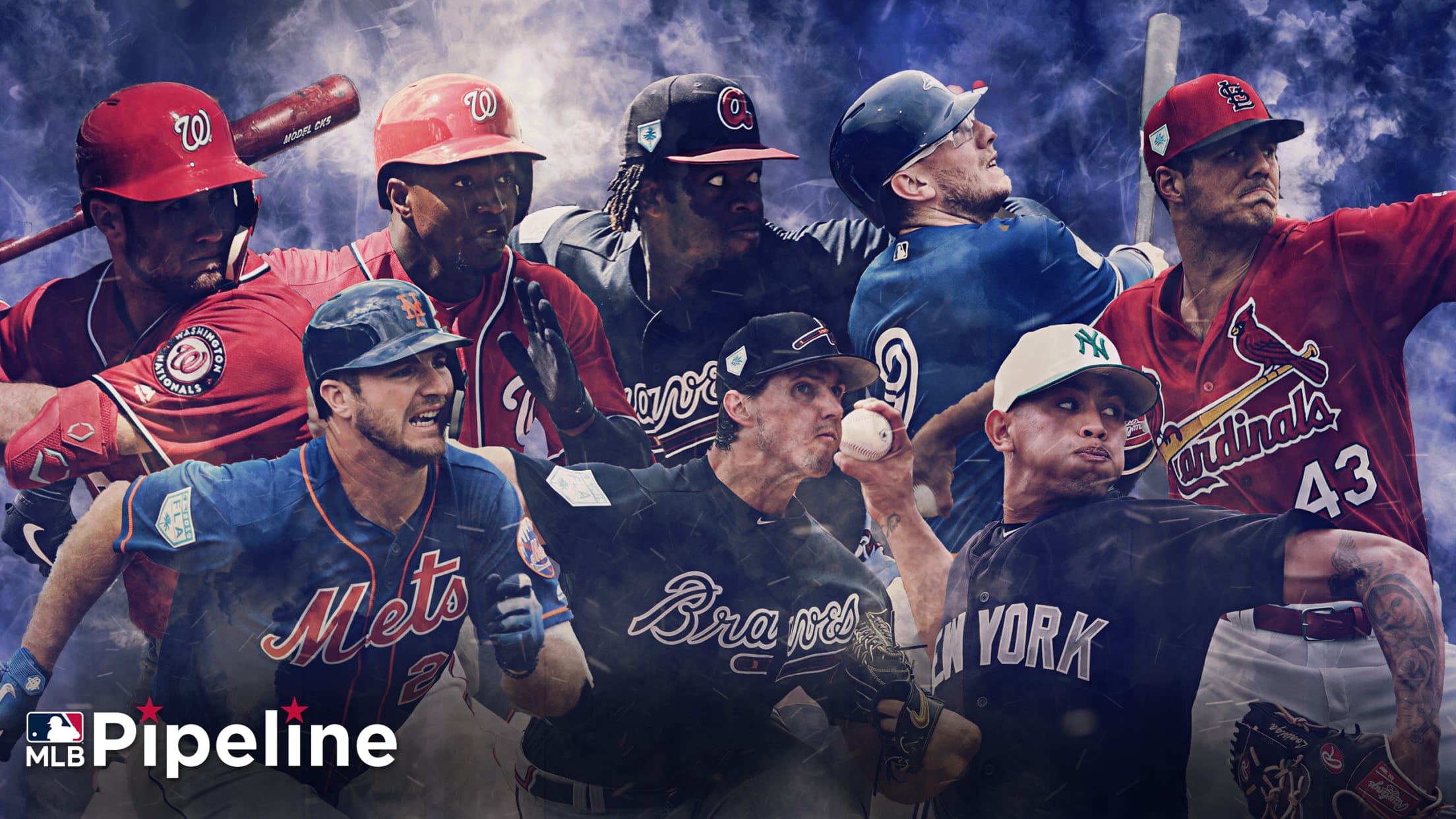 Many of the game's top prospects had a chance to gain experience and show what they could do against Major League competition during Spring Training, but Opening Day is near, and teams are whittling down their rosters. Most of the prospects remaining in camp are either already assured of a
Prospect Meadows relishes first hit as Tiger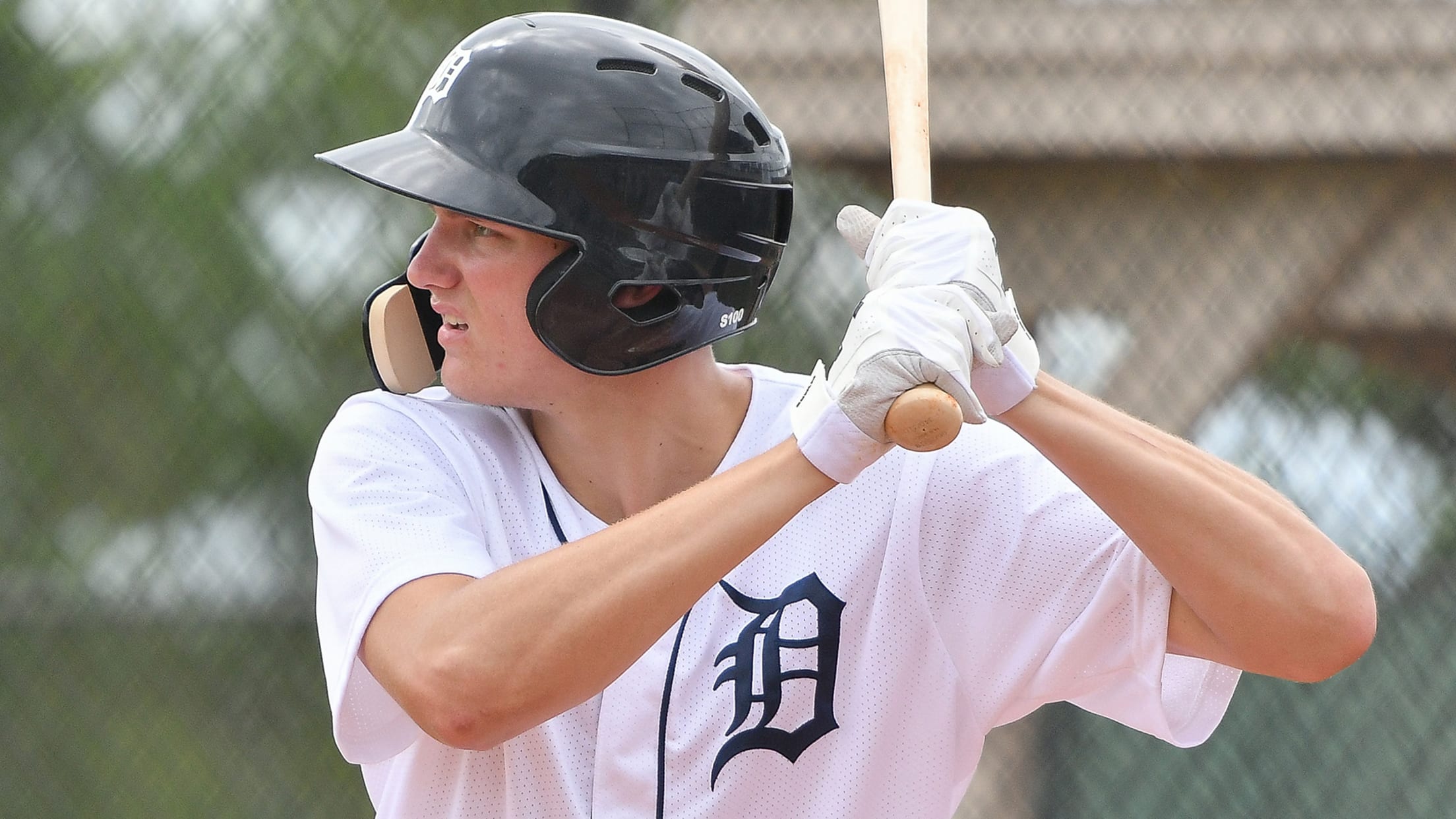 LAKELAND, Fla. -- The towering frame of Parker Meadows is hard to miss, even in the late innings of a Spring Training game. At 6-foot-5, he stands out when he runs out to center field, as he did for Sunday's 3-2 win over the Braves at Joker Marchant Stadium. "It
Avila looking forward to one Trade Deadline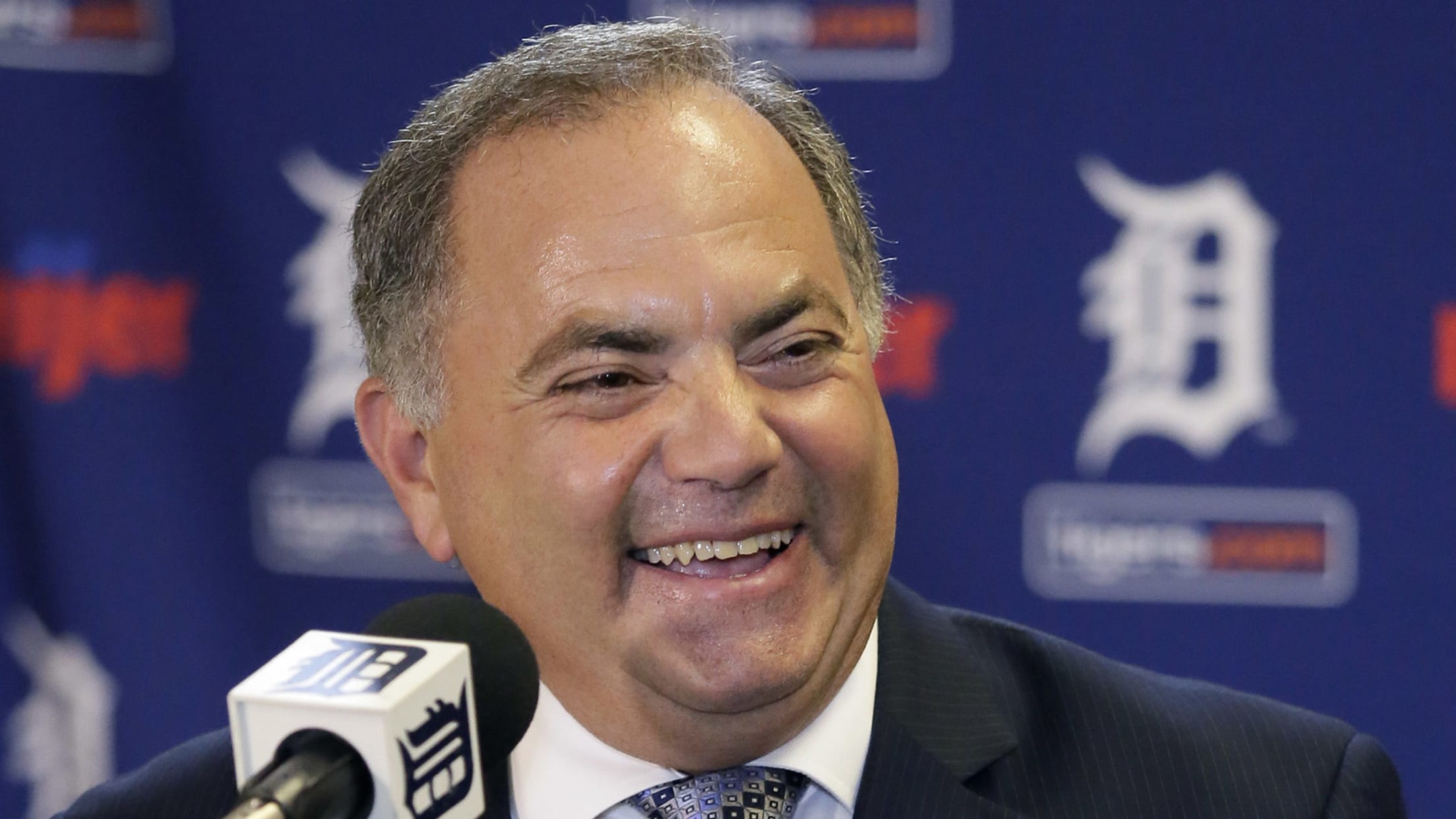 LAKELAND, Fla.-- The Tigers have been busy dealers in August during the past few years, but as teams across baseball adjust to MLB's rule changes -- including one Trade Deadline on July 31 -- general manager Al Avila welcomes them. "I'm pretty sure that most GMs, if not all, didn't
These career milestones are on tap for '19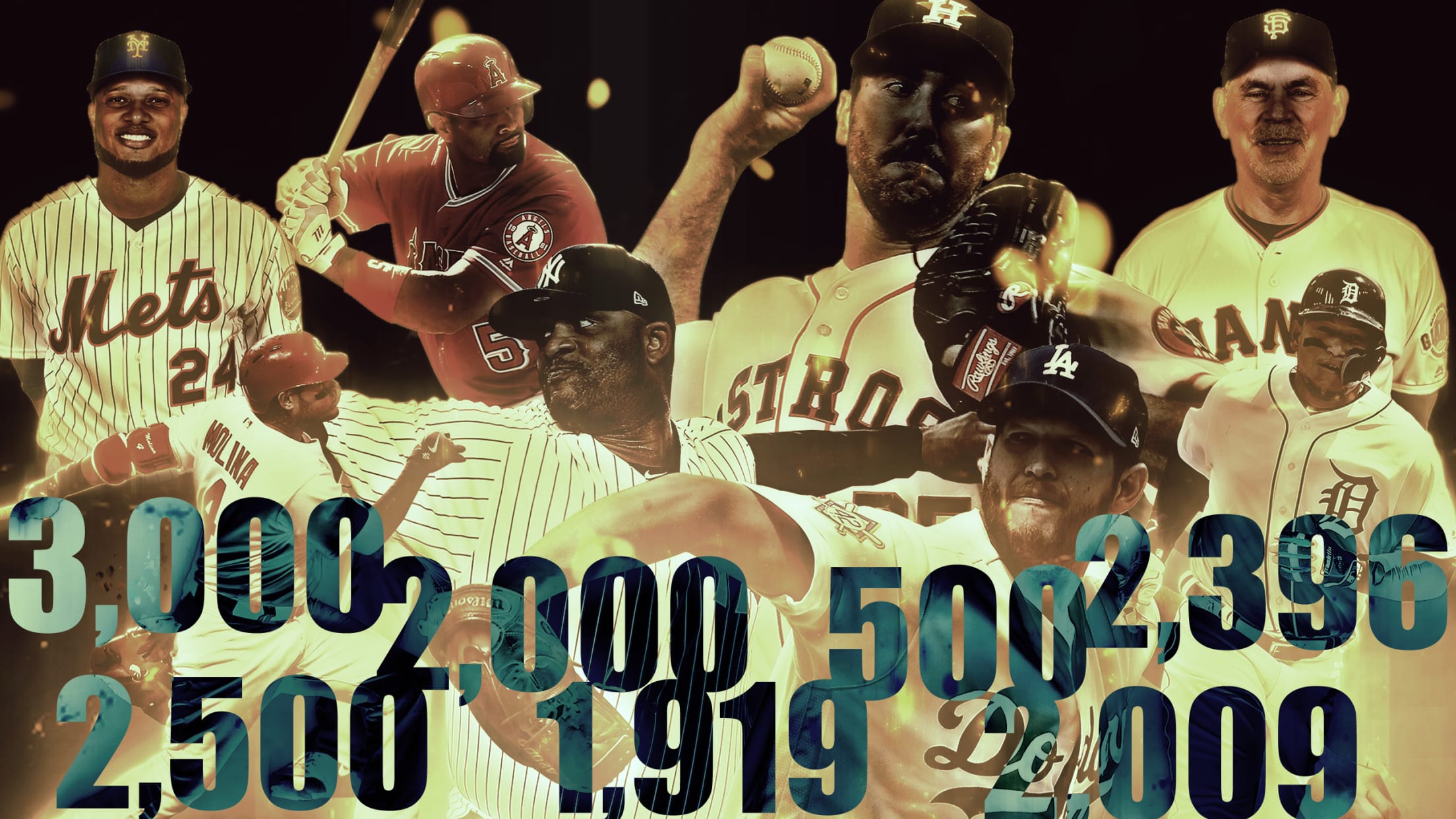 No baseball season is complete without the celebration of a good milestone or two, and we've had plenty of memorable moments in recent years, from the 3,000th hits of Ichiro Suzuki and Adrian Beltre to Albert Pujols' 600th homer. The 2019 campaign should be no different, because a handful of
Tigers building for future in 2019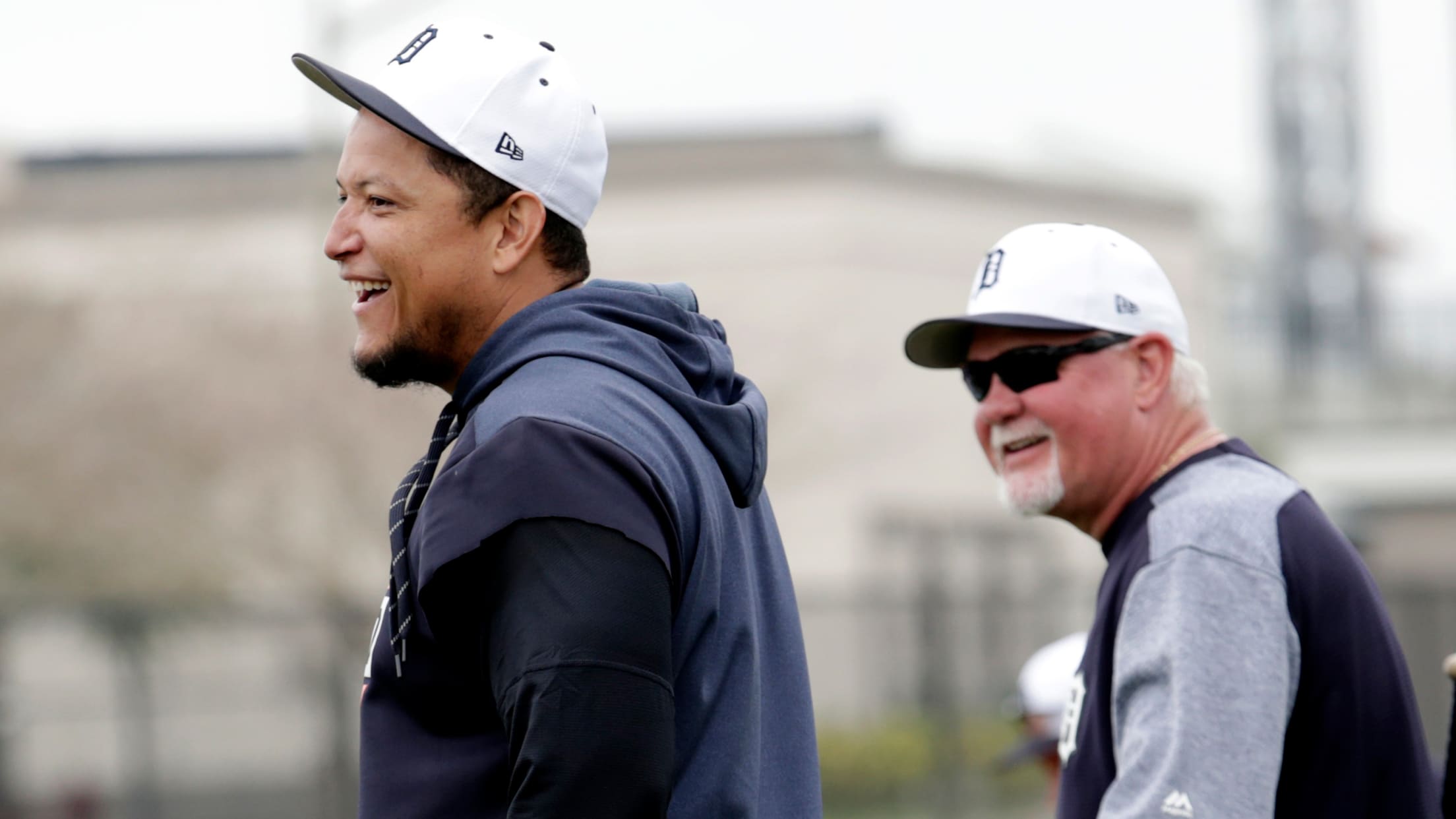 LAKELAND, Fla. -- The Tigers' Spring Training facility sits on the site of an old World War II air training base. As Detroit celebrates its 83rd Spring Training in this Central Florida city, the history of Tigertown has rarely been more fitting. While the Tigers prepare for their Major League