5 questions for the Halos as Opening Day nears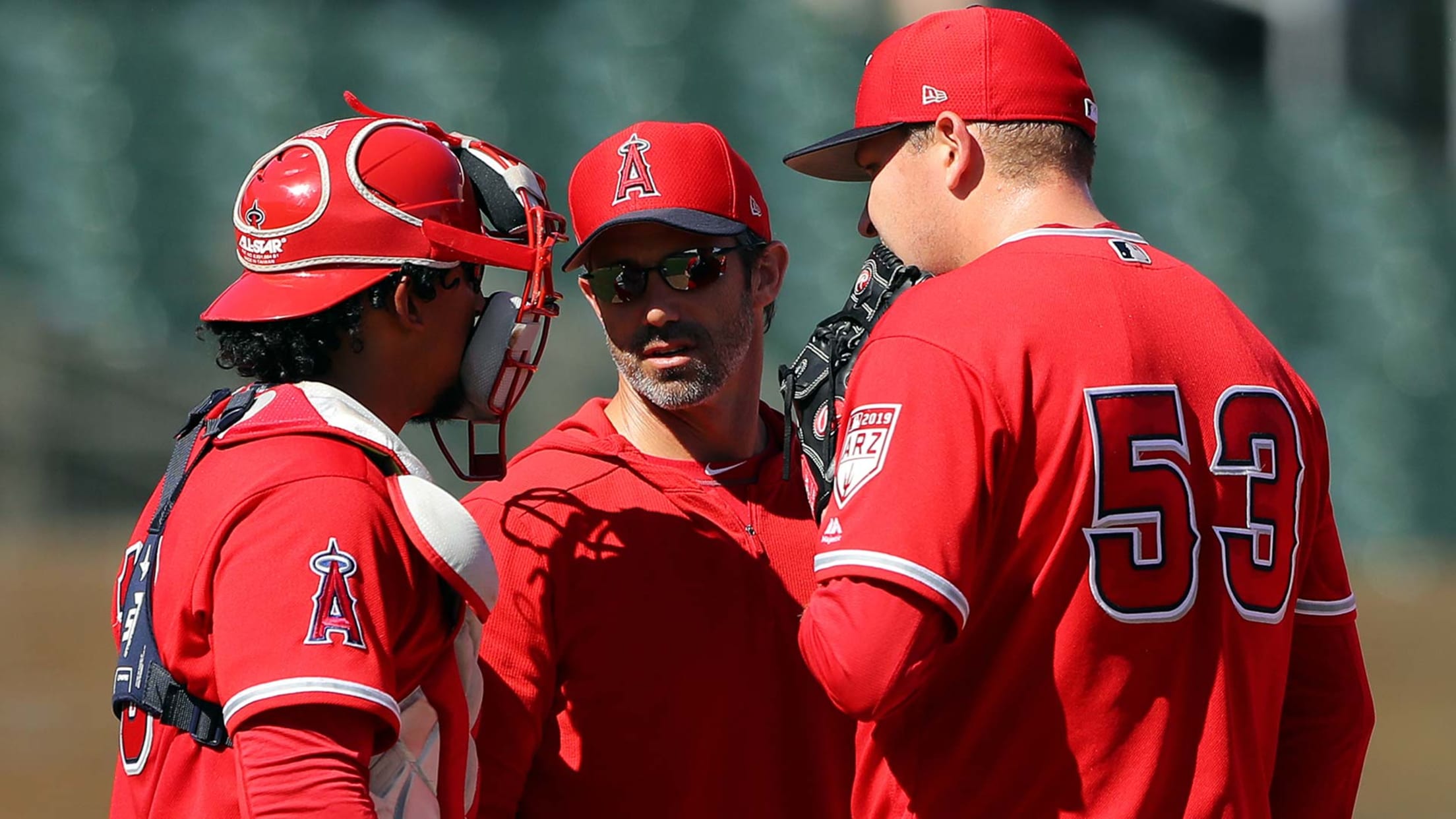 TEMPE, Ariz. -- With exactly one week of Spring Training left in Arizona and Opening Day less than two weeks away for the Angels, there are still several questions that need to be resolved by the end of camp. The Angels play their final Cactus League game next Saturday against
TEMPE, Ariz. -- With exactly one week of Spring Training left in Arizona and Opening Day less than two weeks away for the Angels, there are still several questions that need to be resolved by the end of camp.
The Angels play their final Cactus League game next Saturday against the Padres before they play the Dodgers in the annual Freeway Series, which leads up to Opening Day against the A's in Oakland on March 28.
Here's a look at the five biggest questions remaining for the Angels this spring:
What's the status of Upton, Cozart, Skaggs and Heaney?
Left fielder Justin Upton has yet to play in a Spring Training game, as he's been dealing with right knee tendinitis. But he's been playing in Minor League games the last three days, and is expected to be in the lineup soon. He believes he'll be ready for Opening Day.
Infielder Zack Cozart was initially projected to miss the early part of the season after being slowed with a left calf strain, but has recovered quickly. He's been running and taking ground balls with no issues, and is also playing in Minor League games with the plan to return to Cactus League action early next week. Like Upton, he thinks he'll be ready for the start of the year, and he's likely to be the Opening Day third baseman.
Lefty Tyler Skaggs has been dealing with forearm fatigue, but threw 50 pitches in a Minor League game on Friday and will start again on Wednesday in either a Minor League game or a Cactus League game. He might not be fully stretched out for the start of the season, but he's still likely to be in the rotation to open the year, although an Opening Day start appears unlikely.
Fellow lefty Andrew Heaney is expected to open the year on the injured list, as he's been shut down from throwing after experiencing elbow inflammation after his start on March 8. It's similar to last year, when he missed the start of the year with the same injury and returned on April 13.
What will the rotation look like?
Veteran right-hander Matt Harvey is now the most likely candidate to start on Opening Day, while he's expected to be joined by Trevor Cahill, Jaime Barria and Skaggs in the rotation. Heaney's replacement is expected to be Felix Pena, as Dillon Peters was optioned on Saturday. Pena has had a strong spring and filled in capably last year, posting a 4.00 ERA in his 17 starts with the club.
How about the bullpen?
The Angels are likely to open the year with eight relievers and three bench players, especially with Skaggs not being fully stretched out. There is still a competition for the last few spots, but the best guess is that it'll include Cody Allen, Ty Buttrey, Hansel Robles, Luis Garcia, Cam Bedrosian, Justin Anderson and non-roster invitees Daniel Hudson and Dan Jennings. Hudson and Jennings will have to be added to the roster, but if Kaleb Cowart or Noe Ramirez don't make the team, they would have to be designated for assignment because they are out of Minor League options. Luke Bard was added to the 40-man roster on Saturday and he could make the roster over Hudson, but Bard has Minor League options remaining. Taylor Cole and Jake Jewell also remain in the mix.
Who is most likely to take the three bench spots?
Kevan Smith is the favorite to be the backup catcher over Jose Briceno, while Tommy La Stella is a lock as a backup infielder and Peter Bourjos is likely to make the team as an extra outfielder. Jarrett Parker is in the mix but Bourjos has the edge because he's a better defender.
Who will be the Opening Day second baseman?
With Cozart expected to start at third, David Fletcher essentially won the job at second base over prospect Luis Rengifo on Saturday, as the club's No. 7 prospect, per MLB Pipeline, was optioned to Triple-A Salt Lake. Taylor Ward has had a strong spring but can only play third base -- he's also expected to start the year at Triple-A Salt Lake.