Ausmus shrugging off rumors about job status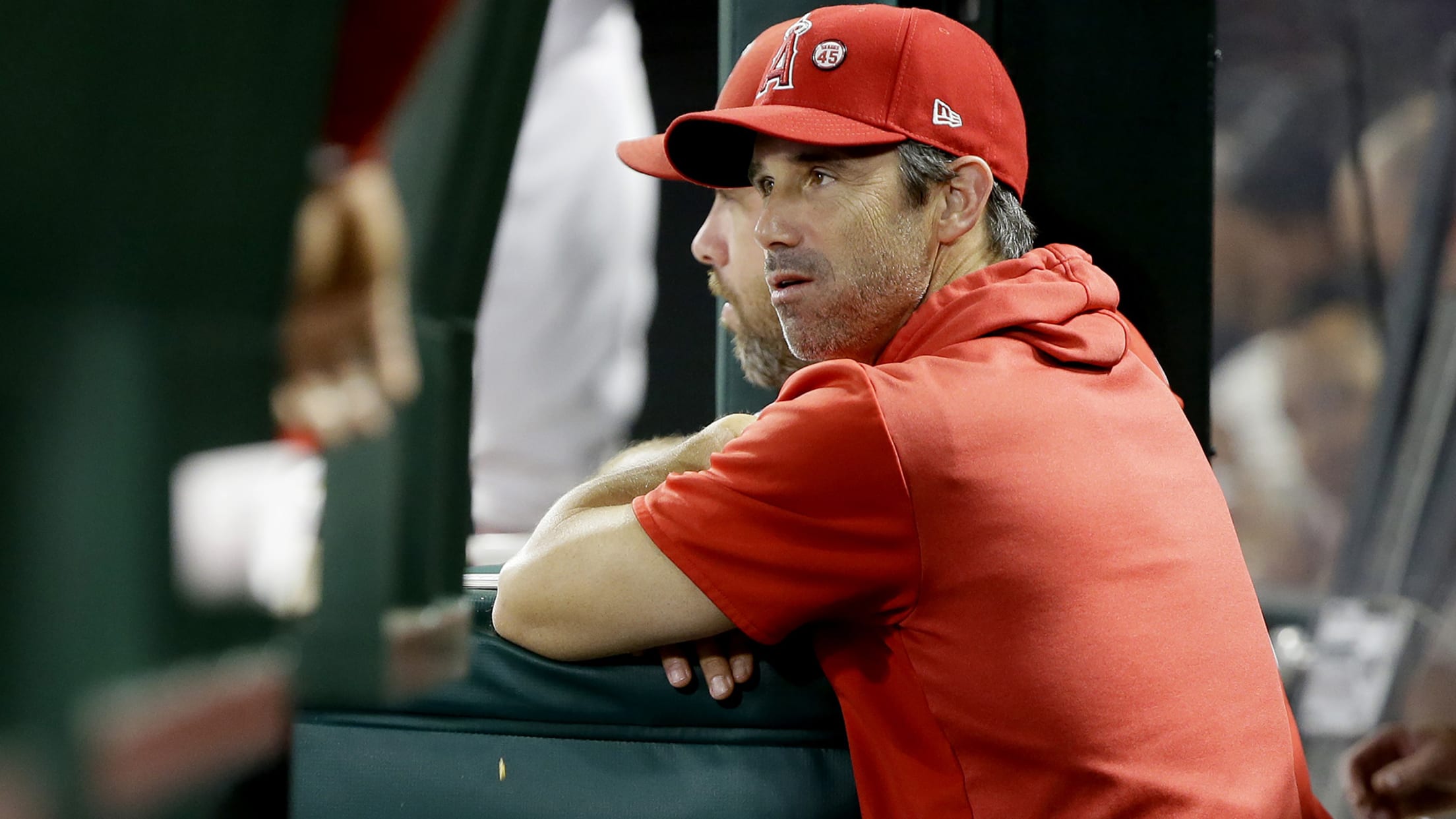 ANAHEIM -- Brad Ausmus is aware of the rumor that the Angels' organization has interest in Joe Maddon as manager after Maddon was let go by the Cubs on Sunday, but the Halos skipper said it's something that is out of his control. As ESPN's Buster Olney first reported, MLB.com's
ANAHEIM -- Brad Ausmus is aware of the rumor that the Angels' organization has interest in Joe Maddon as manager after Maddon was let go by the Cubs on Sunday, but the Halos skipper said it's something that is out of his control.
As ESPN's Buster Olney first reported, MLB.com's Mark Feinsand confirmed that the Angels are contemplating Ausmus' job status for 2020. A source told Feinsand that a decision is expected to be made within the next 24 hours. MLB Network insider Ken Rosenthal reported this week that the Angels could consider a reunion with Maddon, who spent 31 years in the Halos organization.
Ausmus, speaking before the final game of the regular season, finished his first year as Angels manager after signing a three-year deal before the season, replacing longtime skipper Mike Scioscia. The Angels lost 90 games in 2019, more than Scioscia ever lost in his 19 years with the club.
"To be honest with you, I've kind of learned to shrug those things off," Ausmus said. "There was a point in Detroit in 2015, my second year there, it came out that I was being fired. I was there for two more years. So you learn to take it with a grain of salt. Most of the decisions are not under my control. So I don't worry too much about it."
The Angels have not made an announcement on Ausmus' status, but general manager Billy Eppler and Ausmus will be made available to the media on Monday. Ausmus said he hasn't received any assurances yet but that his relationship with Eppler is sound.
"I have a contract," Ausmus said. "That's the only thing I know. Billy and I get along great. Our relationship is very strong."
Under Ausmus, the Angels made some tactical changes this year, including having their starters avoid facing a lineup for a third time and utilizing openers. But the pitching again struggled, as the Angels didn't have the depth to overcome injuries, ineffectiveness and the tragic death of Tyler Skaggs on July 1.
"Actually, if you talk about from a tactical or strategy standpoint, I thought it went well," Ausmus said. "My time in Detroit served well in terms of experience. Responding to situations that happened on the field, I thought the clubhouse was extremely smooth. I think the guys got along well. They laughed together, they played hard together, they worked together. It was a good group of guys. So I thought those things overall went well."
Ausmus, though, did acknowledge that it was an incredibly difficult year off the field for the organization because of the death of Skaggs, who was regarded as the most popular player in the clubhouse. Players credited Ausmus for the way the manager served as a leader throughout the tragedy, and Ausmus said that's what will stick with him the most after his first year.
"The thing that is going to stand out the most is Tyler," Ausmus said. "There's no way around it. That's what I'm going to remember most about the season."
Langston returns
Angels broadcaster Mark Langston, who suffered a ventricular fibrillation while in the booth in Houston on Sept. 20, returned to Angel Stadium on Sunday, a day after he was able to return home after a nearly week-long stay in a Houston hospital. Langston explained that he was dead for 3 1/2 minutes before Houston police officers Paul Follis and Daryn Edwards were able to revive him. The two police officers were fortunately eating dinner across the hall, or else there wouldn't have been time to save Langston, who would've died or suffered brain damage without quick treatment. Doctors have told him it's a miracle he survived.
"How this whole thing played out in a positive end for me, they can't explain," Langston said. "Every doctor I talk to says, 'You are an absolute miracle because this doesn't happen.'"
Langston said he didn't have any precursors before his heart issue, as he felt completely fine before it occurred. Essentially his heart began to quiver instead of pumping blood, so the CPR and an AED saved his life. He also had a defibrillator inserted into his heart in case it happens again.
"I didn't have any chest pains, no shortness of breath, no headaches, no clamminess," Langston said. "There was nothing. Just bam, it hit me. This has God literally all over this entire thing. Because everybody said, you usually don't see a positive scenario out of this, ever. Usually it's the worst-case scenario, and if there is a positive one, there's always brain damage."
Langston wasn't on the broadcast on Sunday, but he plans on returning to the booth next year. The 59-year-old admitted he sees life differently now, and he was emotional with his 6-year-old grandson by his side.
"I'm not gonna lie, life is different," Langston said before tearing up. "I'm good, but it's different. It's definitely different. I have to look at it that way. There's a reason that I was given extra time. I don't know what it is, but there's a reason for it."