How new rule changes impact Trout, Ohtani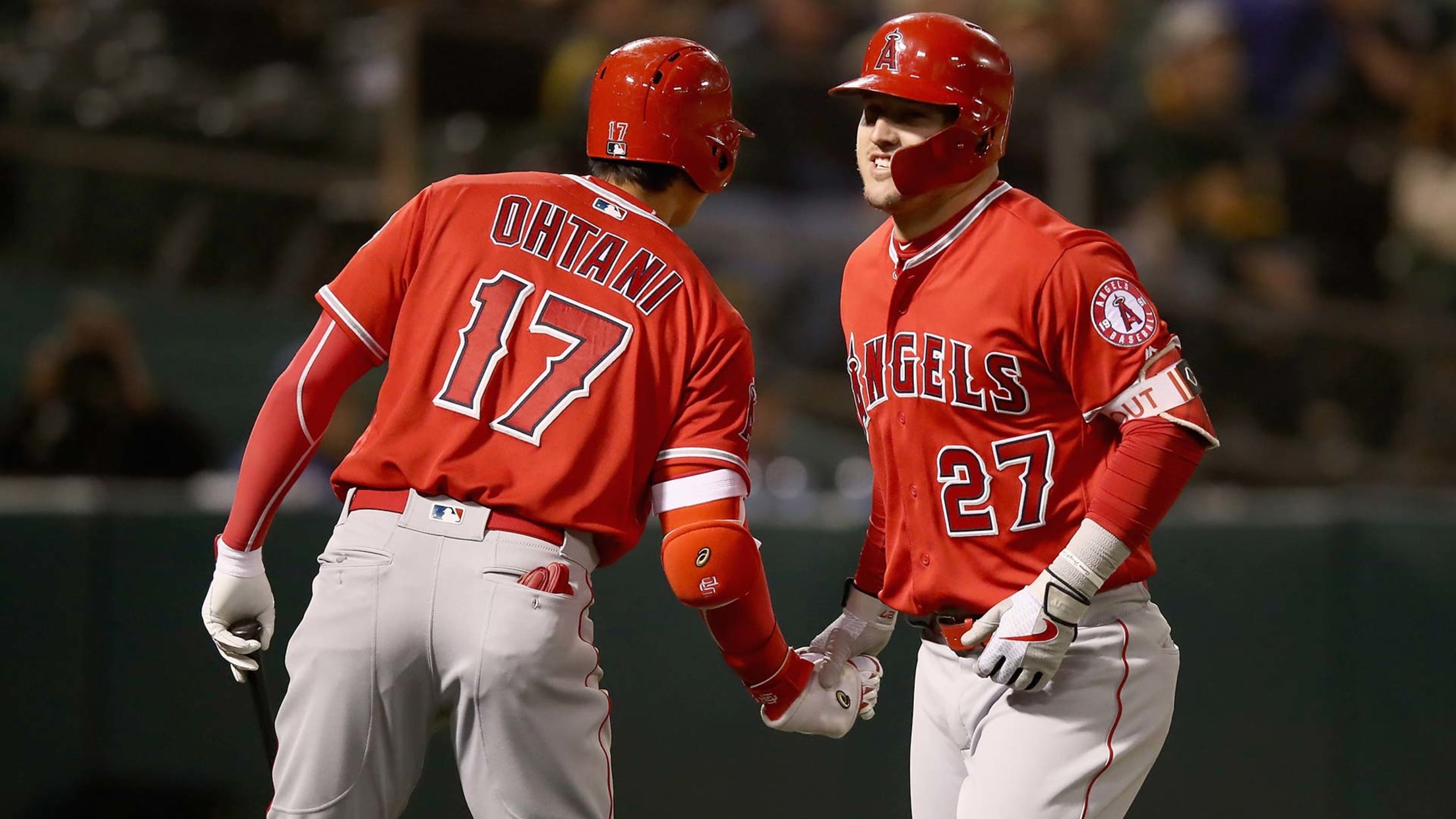 TEMPE, Ariz. -- New rules mean the winner of this year's Home Run Derby will take home $1 million, but it's uncertain if the money is enough to entice Angels center fielder Mike Trout, a seven-time All-Star, to participate in the contest for the first time. Trout has said he
TEMPE, Ariz. -- New rules mean the winner of this year's Home Run Derby will take home $1 million, but it's uncertain if the money is enough to entice Angels center fielder Mike Trout, a seven-time All-Star, to participate in the contest for the first time.
Trout has said he prefers to relax and watch the contest.
"I saw that," Trout said of the rule changes. "I think everyone wants a million bucks, but I don't know if it changes my thought process about it."
In the hours after Major League Baseball and the Major League Baseball Players Association jointly announced a series of changes scheduled to go into effect over the next two seasons, two topics were the focus at Angels camp:
• Prize money for the Home Run Derby
• How active roster rules for 2020 will impact two-way player Shohei Ohtani
The changes effective for the 2019 season include rules regarding inning breaks, mound visits, the Trade Deadline and the All-Star Game. The total player prize money for the Home Run Derby will be increased to $2.5 million, with the winner receiving $1 million.
Changes for the 2020 season include active roster provisions, minimum number of batters for pitchers and injured list/option period for pitchers -- along with the designation of a "Two-Way Player," which the Angels closely examined.
The agreement is subject to ratification by the 30 clubs.
According to the rules, clubs must designate each of its players as either a position player or a pitcher prior to each player's first day on the active roster. Players that qualify as a "Two-Way Player" will have to accrue at least 20 Major League innings pitched, and at least 20 Major League games as a position player -- or designated hitter -- with at least three plate appearances in each of those games in either 2019 or 2020.
Because Ohtani will be on the roster as a pitcher in 2020, he can hit and play the field as the club desires.
Ohtani, who pitched 51 2/3 innings and started in 82 games at designated hitter last season, is currently recovering from Tommy John surgery. He's on track for a return in May as a designated hitter only.
Barria solidifying rotation spot
Jaime Barria, who is in line to make the team as a back-end starter, continues to push towards a spot on the Opening Day roster.
In Thursday's 7-7 tie against the Brewers, the right-handed pitcher was charged with four runs on seven hits in 4 2/3 innings. He walked one batter and struck out five in the 75-pitch outing.
Barria gave up one run in the first inning, and a pair of home runs in the third frame put his team in a 4-3 hole. He rebounded with a scoreless fourth and was replaced with two outs in the fifth.
It's uncertain how Andrew Heaney's status -- he is experiencing left elbow discomfort -- will impact Barria's spot, but he could slot into No. 4 with Felix Pena and lefty Dillon Peters competing for the final spot.
"Nothing is secure, and I'm a little bit confused because nothing is secure," Barria said. "I'm just competing and don't want to think about it too much."
Injury notes
• Left-handed pitcher Tyler Skaggs, who experienced forearm fatigue, will pitch four innings in a Minor League game Friday.
• Justin Upton, who has been slowed by right knee tendinitis, continues to work out and expects to be ready for Opening Day in two weeks.
"There's something about when those lights come on," Upton said.
• Shortstop Andrelton Simmons, who was scratched from Wednesday's lineup with minor discomfort in his right elbow, was out of the starting lineup Thursday. He expects to return to action soon.
"It's fine," Simmons said. "I'll play when they put me in. It was just a little sore."
• Third baseman Zack Cozart, who has been slowed by a left calf strain, took ground balls and participated in batting practice.
Up next
The Angels will send Cody Allen to the mound in a 1:10 p.m. PT split-squad game against Merrill Kelly and the D-backs on Friday at Salt River Fields. Dillon Peters will pitch against Jeff Samardzija and the Giants in the other split-squad game at 1:05.