How potential A's playoff roster might look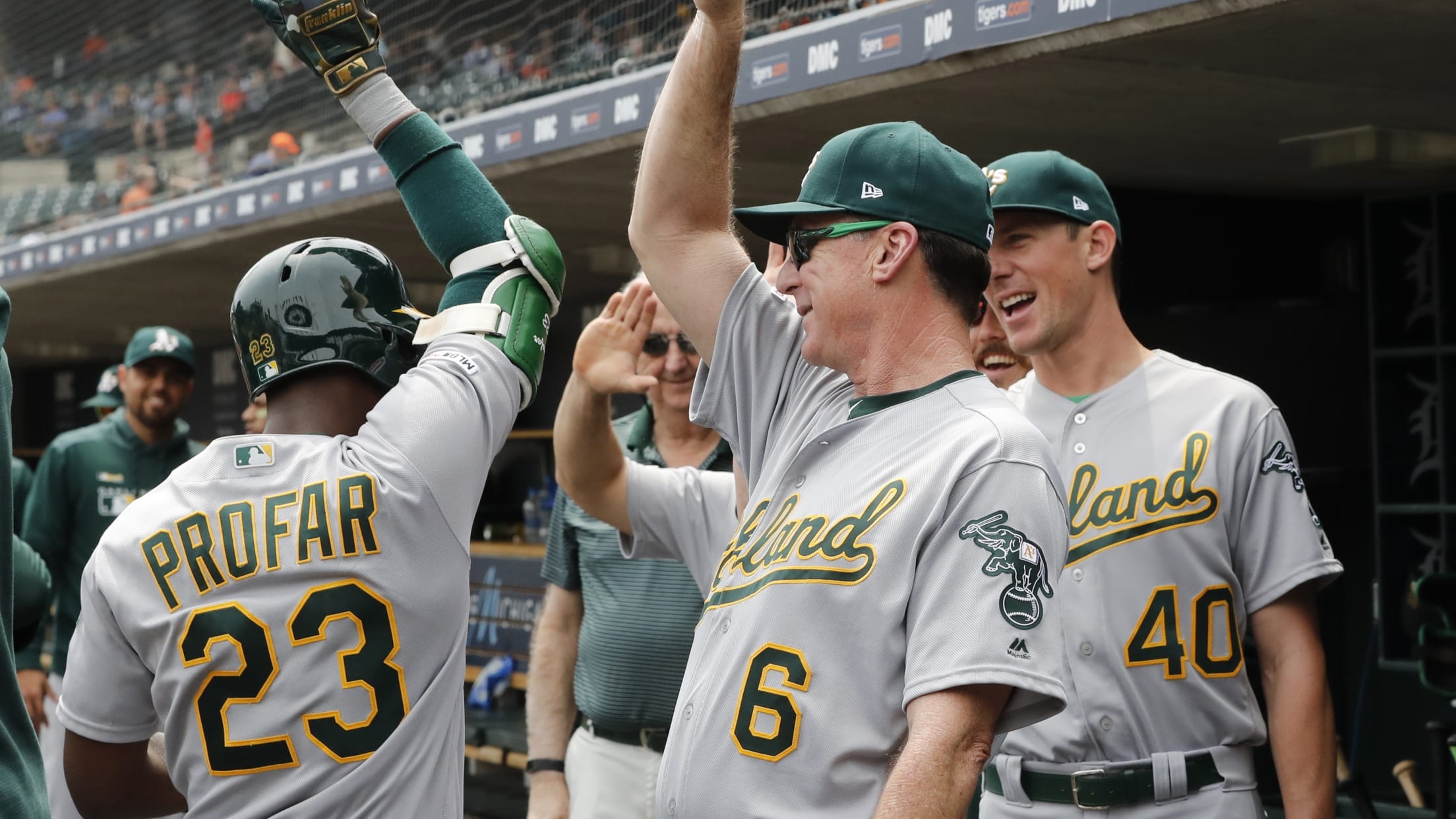 OAKLAND -- The A's are in the driver's seat to make the postseason with 11 games left on the schedule. They enter Tuesday leading the American League Wild Card race, one game ahead of Tampa Bay, which holds a 1 1/2-game lead on Cleveland. It's a good spot to be
OAKLAND -- The A's are in the driver's seat to make the postseason with 11 games left on the schedule. They enter Tuesday leading the American League Wild Card race, one game ahead of Tampa Bay, which holds a 1 1/2-game lead on Cleveland.
It's a good spot to be in, but not one that has A's manager Bob Melvin or GM David Forst ready to discuss how a playoff roster might look like. That doesn't mean we can't look ahead, so here is our latest guess at how Oakland's AL Division Series roster could look, with new updates as rookies have come up and made an impact:
• Here's how the playoff rosters might look
Catchers (2): Josh Phegley, Sean Murphy
Phegley and Murphy are both locks. The only question here is which catcher gets the majority of starts. Phegley has been the starter for the most of the year, but Murphy has made quite the impact as a rookie both on defense and offense in his short time in the Majors.
Infielders (6): Matt Olson, Jurickson Profar, Chad Pinder, Matt Chapman, Marcus Semien, Sheldon Neuse
Likely on his way to another Gold Glove Award and 30-plus homers, Olson has first locked down. Profar has had issues on defense, but he's come up with some big hits in his first season with the A's. Pinder really is a true utility man, but he could be used at second for defense late in a close game. Neuse provides a right-handed-hitting option at second base. Chapman is the unquestioned leader of the A's clubhouse and is looking to break out as a postseason star. Should the A's reach the playoffs, Semien will be a main reason why -- with his outstanding season both at the plate and on defense. You can expect Semien to bat leadoff in every postseason game the A's play.
Designated hitter (1): Khris Davis
Davis' power appeared to come back to life in Texas over the weekend with a two-homer game. He's got the DH spot locked down.
Outfield (4): Seth Brown, Ramón Laureano, Mark Canha, Robbie Grossman
The A's like to roll with guys who are on a hot streak, and there might not be a hotter hitter on the club right now than Brown. If the rookie keeps this up, he should get some starts at either of the corner spots. Laureano has been getting most of his starts in right field as he returns from a right shin injury, while Canha's breakout campaign has earned him regular playing time in center. Stephen Piscotty has struggled to stay healthy, but if he is able to return before season's end, his playoff experience could earn him a spot. Grossman provides a valuable left-handed bat off the bench.
Starting pitchers (4): Sean Manaea, Mike Fiers, Tanner Roark, Chris Bassitt
Manaea is quickly establishing himself as the favorite to start Game 1 of a potential ALDS, if not the AL Wild Card Game, as he has been dominant since returning from shoulder surgery. The lefty has allowed just one run over 18 innings, last tossing six scoreless innings against the Rangers on Sunday. Fiers has been the ace of the staff and would likely be in the conversation for Game 1, but his last three outings have been shaky, most recently leaving Saturday's start early due to right arm nerve irritation. Roark brings postseason experience and has pitched well for the A's since arriving via trade from the Reds on July 31. Bassitt has solidified himself as a reliable starter with a strong season. Brett Anderson and Homer Bailey have been solid for the A's and are certainly in the mix for a spot, perhaps even out of the bullpen.
Relief pitchers (8): Liam Hendriks, Blake Treinen, Jake Diekman, Yusmeiro Petit, Joakim Soria, A.J. Puk, Lou Trivino, Jesus Luzardo
Luzardo, Oakland's No. 1 prospect per MLB Pipeline, has lived up to the hype over his first two big league outings. The way the lefty is going, he could prove to be a valuable multi-inning weapon out of the bullpen with his electric arm.