A's roll out projected 'pen arms in Japan
Eight relievers combine for 11 strikeouts in exhibition win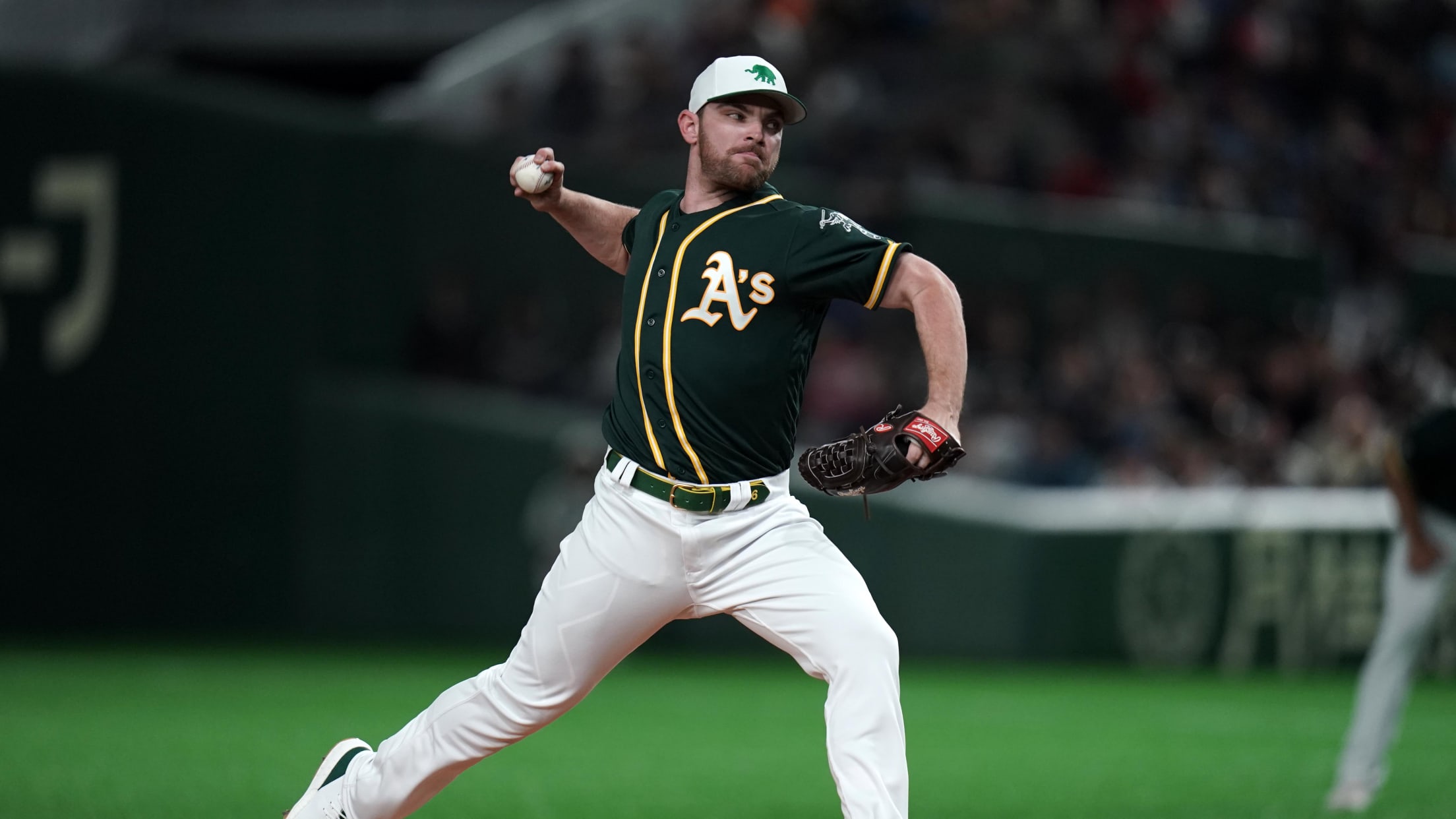 TOKYO -- Khris Davis waved to two young boys holding handmade signs for him as the A's bus rolled into Tokyo Dome. Hall of Famer Rickey Henderson made good on dozens of autograph requests as he strolled down the right-field line during batting practice. Matt Chapman jerseys were spotted in
TOKYO -- Khris Davis waved to two young boys holding handmade signs for him as the A's bus rolled into Tokyo Dome. Hall of Famer Rickey Henderson made good on dozens of autograph requests as he strolled down the right-field line during batting practice. Matt Chapman jerseys were spotted in the stands. "Let's go Oakland" chants broke out during the night.
The A's soaked up the sights and sounds on Sunday. They also won a game, taking down the Hokkaido Nippon-Ham Fighters by a 5-1 margin in exhibition action in front of 26,198 lively fans.
Chapman put on a show, going 3-for-3 and reaching base five times in the victory, which showcased consecutive RBI hits from Davis, Stephen Piscotty and Jurickson Profar in a three-run third inning. Profar added a run-scoring double in the ninth to extend Oakland's lead.
Wanting to give their regular relievers two days off before Wednesday's season-opening tilt with the Mariners at Tokyo Dome, the A's rolled out all eight arms that are expected to land on the roster: Liam Hendriks, Joakim Soria, Lou Trivino, Fernando Rodney, Ryan Buchter, Yusmeiro Petit, Blake Treinen and Frankie Montas.
There was familiarity in this; the A's used an all-bullpen approach in their American League Wild Card Game loss to the Yankees in October. Though they don't plan to replicate this formula during the regular season, they're still open to the idea of using Hendriks as an opener.
"That's something we'll discuss when we get home," A's manager Bob Melvin said. "My guess is at some point in time and maybe towards the bottom of the rotation, maybe not at the top, but it really has not been discussed how we're going to use it at this point."
BALLGAME!
A's 5, Fighters 1.#MLB開幕戦 pic.twitter.com/VynWcuSu8H

— Oakland Athletics 🌳🐘⚾️ (@Athletics) March 17, 2019
Hendriks, who fanned two in a scoreless first inning on Sunday, has had plenty practice in the role. The A's drew much attention -- and criticism -- for starting him in the postseason over a traditional starter.
"Obviously, we finished the season last year the same way. Unfortunately, it didn't work out as well as it did today," Hendriks said. "This is going to be the strength of the season, the bullpen. We're going to ride it all the way."
A's relievers combined for 11 strikeouts against the Fighters, who had heavy support on their side. The hometown crowd showered them with chants customary of Japanese baseball and pounded on drums incessantly.
"I loved it out there, it was awesome," Hendriks said. "Just the constant sound, the constant cheering, it was really cool. No lull moments. It's go, go, go all the time."
Added Davis: "I thought it was pretty similar to home because they have the drums in the outfield as well, and just that beating drum kind of reminded me of Oakland."
"Let's Go Oakland" chants at Tokyo Dome: pic.twitter.com/8X4tGk1WhE

— Jane Lee (@JaneMLB) March 17, 2019
Here's the catch
The A's will have two right-handed-hitting catchers on their roster come Opening Day, and Melvin foresees even playing time for Nick Hundley and Josh Phegley -- at least for now.
Hundley drew the start on Sunday against the Nippon-Ham Fighters, with Phegley slated to get behind the plate for Monday's rematch. It's likely the A's repeat this pattern for the Opening Series against the Mariners, who have plans to start a pair of lefties: Marco Gonzales and Yusei Kikuchi.
"We'll see how we proceed with that," Melvin said. "We're confident with both of them, and we want both of them to play, so I don't think it's going to be one guy getting all the time. Both of them do things maybe a little bit differently. And then maybe just play a hot hand once we get going. We're comfortable with both guys."
International Hundley.#MLB開幕戦 pic.twitter.com/XtjqLOpiEv

— Oakland Athletics 🌳🐘⚾️ (@Athletics) March 17, 2019
Non-roster catcher Beau Taylor, who will begin the season with Triple-A Las Vegas, is also with the team in Tokyo, though he didn't arrive until 6 a.m. on Sunday after encountering visa issues that prevented him from getting on the team charter in Phoenix on Thursday.
Worth Noting
The A's on Sunday teamed up with Gap Japan to host a pregame event for youth from Kids' Door, which supports underserved children. Chapman and Piscotty met with nearly 40 children and signed autographs for them.