Allen: A's catchers 'help each other'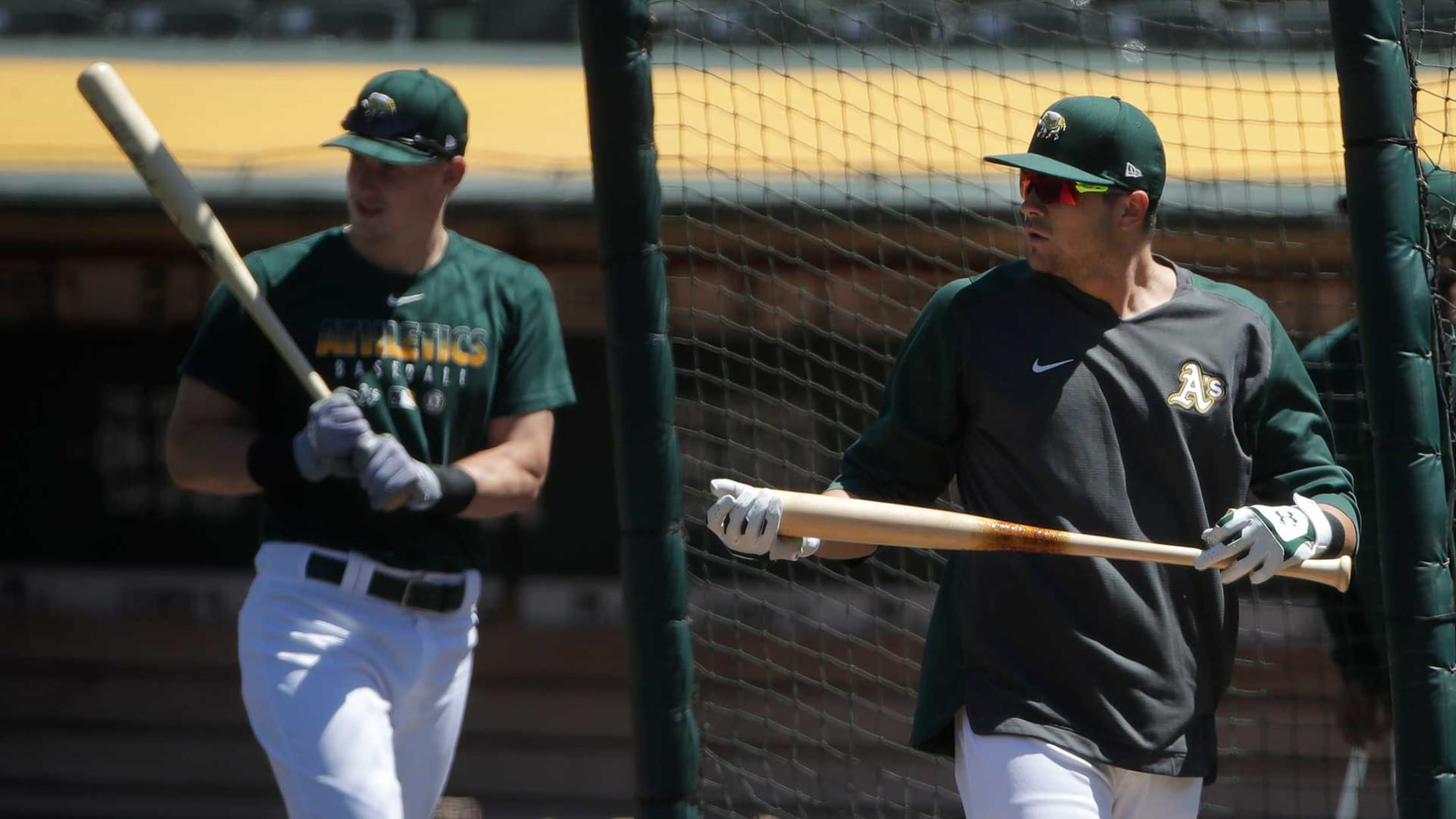 OAKLAND -- Austin Allen finds himself battling with fellow catchers Sean Murphy and Jonah Heim in Summer Camp to see who will receive the bulk of playing time behind the plate for the A's during the regular season. Such competition could create some tension among candidates, but that does not
OAKLAND -- Austin Allen finds himself battling with fellow catchers Sean Murphy and Jonah Heim in Summer Camp to see who will receive the bulk of playing time behind the plate for the A's during the regular season.
Such competition could create some tension among candidates, but that does not seem to be the case with this trio of rookie catchers, based on how they interact with each other. The three catchers often convene during workouts at the Oakland Coliseum, providing advice and observations that could help better each other's game.
"I love Murph and Jonah. They're competitors and great people," Allen said. "We just want to win and help each other get better. There's something each one of us brings to the table that can help us win. We realize that and, at the end of the day, it's not about us. We have to win to stay in the big leagues, and that's all we're focused on."
• Mike Fiers steps into role as leader, while listening
Being a former big league catcher, A's manager Bob Melvin always places an extra emphasis on the position. He makes sure to keep all catchers on the roster in constant communication and in groups while going over game plans with bullpen coach Marcus Jensen.
"The catching position is an important position for me. We force them to have relationships with the pitchers," said Melvin. "Marcus Jensen does a great job with that, going over the opponent and importance of scouting reports. All of these guys have bought into that. They're great in the meetings. There's a lot of information they digest before a game, and they've all bought into that."
Allen is entering his first season with the A's after arriving as one of the players acquired from the Padres in exchange for Jurickson Profar this offseason. With 65 homers over his past three seasons in the Minor Leagues, Allen has long been considered a hitting-first catcher with defensive deficiencies. During the baseball shutdown due to the COVID-19 pandemic, Allen worked on trying to change that narrative.
Maintaining a defensive program developed for him by Jensen during Spring Training, Allen had no shortage of pitchers looking for catchers back home in Orlando, Fla. With Nate Lowe of the Rays and Cleveland's Francisco Lindor among his workout partners over the past three months, Allen worked on hitting and defense about five times per week.
"We came up with a routine during spring," Allen said. "We have stuff we do every day to get the hands going and working on footwork. I was fortunate to have access to facilities and just went to work. I wanted to make sure I was prepared."
Allen's power, and Heim's defensive work behind that plate that impressed the A's during Spring Training, make them both strong options to back up Murphy. Allen said he could see a scenario where all three catchers make an impact, even in a shortened 60-game regular season.
"We believe in our ability. We believe we're one of the most talented catching groups in all of baseball," Allen said. "I don't know if there's a better 1-2-3 punch than me, Murph and Jonah anywhere else. The only way for us to gain experience is to play. The pitchers and coaches trust us to lead the staff and get the job done."
It remains to be seen how many catchers the A's will carry on the roster for the regular season. However the configuration plays out, Allen has seen enough out of the pitchers he's caught so far in Summer Camp to believe the A's have a shot to win it all in 2020.
"From what I've seen, everybody was throwing over the break. Everybody stayed sharp. Everyone is still pretty nasty," Allen said. "Everybody's excited to go. We're looking forward to the season and bringing a World Series back to Oakland."
Pitching depth on display in camp
While the shortened ramp-up to the start of the regular season on July 24 leaves little room to evaluate players who are unlikely to make the Opening Day roster, there have been a few surprising names by whom A's hitters have been impressed.
Jamie Schultz, Jordan Weems and Burch Smith have caught the attention of players and coaches over the past few days in camp. These three relievers are considered long shots to make the Opening Day squad, but they're positioning themselves nicely to receive a call to Oakland should the need for an extra arm arise at any point during the season.
"We always tell our guys anybody has a good chance to be here. All those guys have been very impressive," Melvin said. "They've thrown hard and have good breaking stuff. These are the guys that are really trying to stand out. There are several guys that are just getting ready for a season, and then there's a group of guys that want to make an impact.
"You don't go through the season with the same pitching staff. Even with just 60 games, we'll have quite a few of these guys factor in. It's good to see them on it right away, which can be difficult to do after a long layoff."
A's announce Give-A-Thon
The Oakland A's Community Fund has organized the Camp Coliseum Give-A-Thon, which allows fans to receive limited-edition gifts for donations made to the fund. All funds will benefit local youth organizations.
Fans who donate $40 to benefit the Oakland Parks and Rec camp program will receive a Camp Coliseum Summer Camp T-shirt. An autographed baseball will be gifted to fans who donate $100 to the Boys & Girls Club of Oakland. An autographed jersey of an A's mystery player is available for those who donate $300 to benefit the Hidden Genius Project. The highest donation of $500, which benefits the East Oakland Youth Development Center (EOYDC), will get an invitation to a personal video conference with a surprise A's player or coach.
Fans can donate at athletics.com/donate. Gifts are available while supplies last.