A's designate Fernando Rodney, call up Wang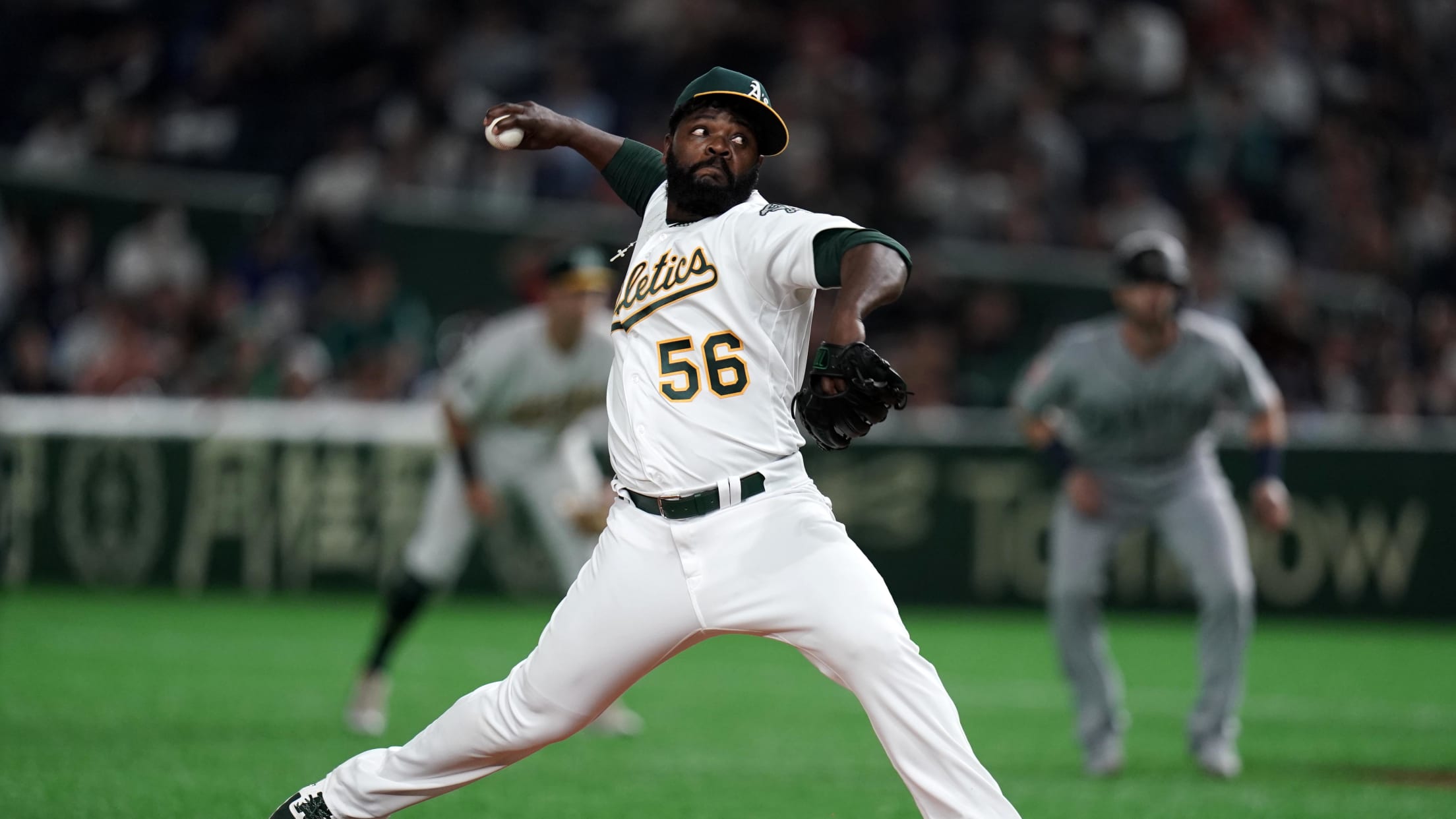 OAKLAND -- Fernando Rodney was expected to contribute in the back-end of the A's bullpen this year, but after a rough start to the year, his time with the club has come to an end. The A's designated Rodney for assignment before Saturday's game against the Mariners after the right-hander
OAKLAND -- Fernando Rodney was expected to contribute in the back-end of the A's bullpen this year, but after a rough start to the year, his time with the club has come to an end.
The A's designated Rodney for assignment before Saturday's game against the Mariners after the right-hander had accumulated a 9.42 ERA with opposing batters hitting .345 off him in 17 appearances. Rodney had a key role in the A's run to the playoffs last year after arriving via trade from the Twins in August and had his $5.2 million club option picked up in the offseason, but he allowed seven runs over his last five outings as his usage became more limited over the past month.
When a player's contract is designated for assignment -- often abbreviated "DFA" -- that player is immediately removed from his club's 40-man roster. Within seven days of the transaction (had been 10 days under the 2012-16 Collective Bargaining Agreement), the player can either be traded or placed on irrevocable outright waivers.
"Obviously some performance comes into play," A's manager Bob Melvin said. "I will say he's not used to pitching in a role like that. He's used to getting regular work, and we were not giving that to him. You have a guy like that who is used to working late in games and he's not getting consistent work, it makes sense to try something different."
Rodney held the title of the oldest current player in MLB at 42 in what was his 17th big league season. Still able to get his fastball up around 95-96 mph, Melvin believes Rodney's stint with the A's will not be his last in the Majors.
"It was a difficult spot for him and put us in a little bit of a difficult spot," Melvin said. "We wish him the best and my guess is he will hook on somewhere. I think there is still something left."
Left-hander Wei-Chung Wang's contract was purchased from Triple-A Las Vegas in order to take Rodney's spot on the roster. His time with the A's as a non-roster invitee was limited due to injury, but Wang pitched well in the Minors as he posted a 3.75 ERA over 16 relief appearances.
"Looks like he could get some lefties and righties and give you multiple innings," Melvin said. "He's pitched two or three innings down there. Gives us a little more distance in the bullpen than it was up until yesterday."
Wang pitched in the Majors with the Brewers in 2014 and 2017 and was teammates with current A's Mike Fiers, Marco Estrada and Khris Davis. He spent 2018 pitching in Korea as a starter.
"In 2017 I was getting a good feel of the role of being in the bullpen," Wang said. "It's been a difficult transition but to come back to the bullpen is something I feel comfortable with and a role I like."
Piscotty scratched
Originally slotted in the cleanup role for Saturday's game, Stephen Piscotty was scratched with a stomach illness. It's bad timing for the right fielder as he's coming off a 3-for-4 night and leads the Majors with his current 23-game on-base streak.
"Especially against lefties it's not ideal," Melvin said. "Earlier today we knew about it and thought he would be able to play but it got worse."