Luzardo, Puk make season debuts in Stockton
A's top prospects impress in first appearances following injuries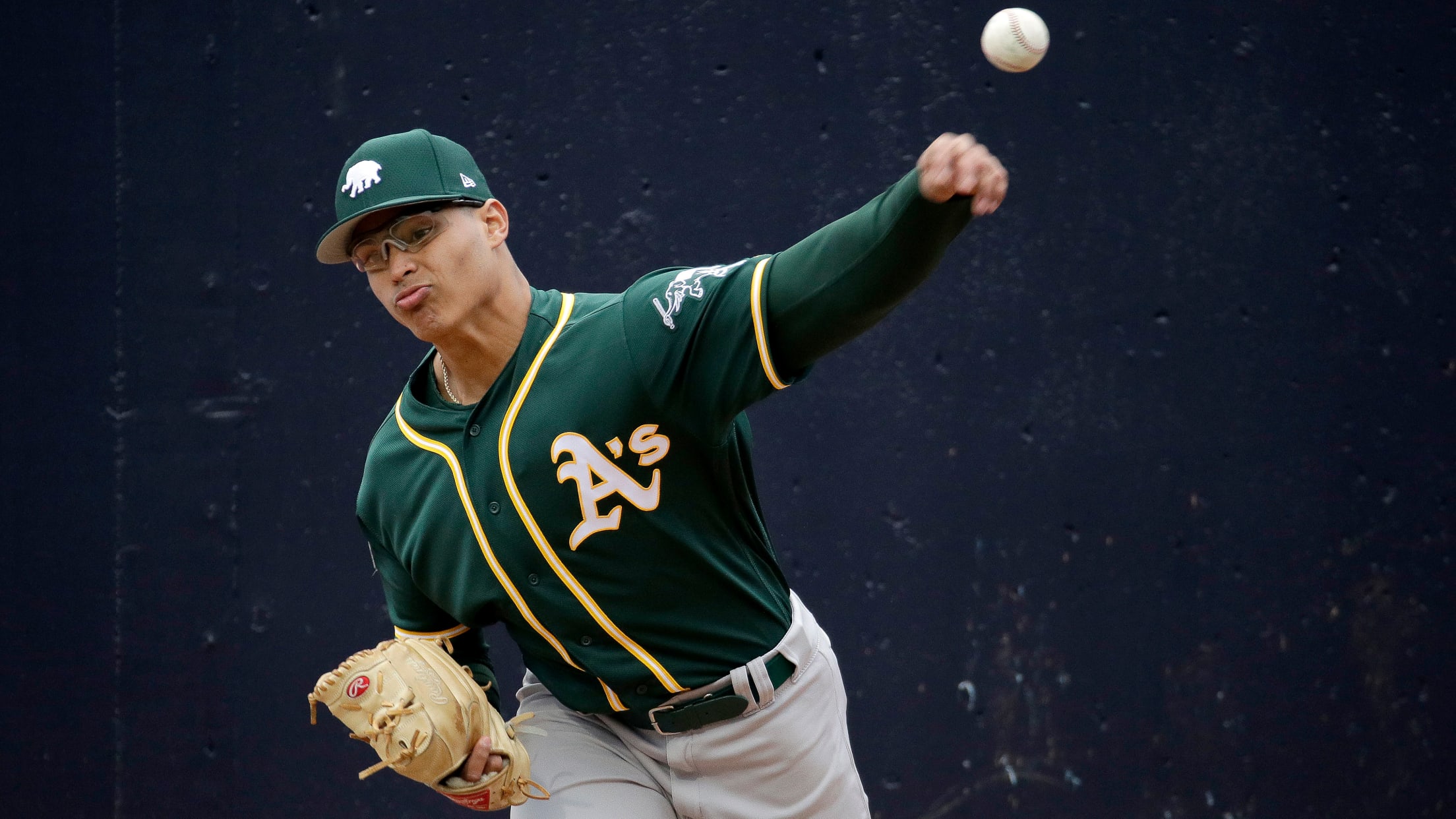 ST. PETERSBURG -- Wednesday brought with it exciting news from Class A Stockton, marking the highly anticipated season debuts for the A's top two prospects, according to MLB Pipeline, Jesus Luzardo (ranked No. 13 in MLB) and A.J. Puk (No. 35) Puk, a first-round Draft pick in 2016 who had
ST. PETERSBURG -- Wednesday brought with it exciting news from Class A Stockton, marking the highly anticipated season debuts for the A's top two prospects, according to MLB Pipeline, Jesus Luzardo (ranked No. 13 in MLB) and A.J. Puk (No. 35)
Puk, a first-round Draft pick in 2016 who had Tommy John surgery on his left elbow in April 2018, fanned four and allowed one run in his two innings on Tuesday night.
Luzardo followed, hurling three scoreless frames in his first appearance since he was sidelined in mid-March with a left shoulder strain.
"They came here knowing they were pitching, so they've just been playing catch and being around the team, high energy, laughing, joking around," Ports pitching coach Chris Smith told MiLB.com. "It's been something they haven't had in a while. They haven't had been around guys, the shagging [in batting practice], the running, the stretch as a team aspect for a while. They've been pretty much on their own, independent. Being around that atmosphere really brings out the little kid in them again and is something that they probably miss more than the actual work itself. Then when they went out to the mound, that's the easy part for them."
Perhaps even more impressive than the results was the velocity each displayed.
"They looked great," A's manager Bob Melvin said Wednesday. "Puk's first four pitches were 99 [mph], from what I understand -- an easy 99 -- and Luzardo was at 97, so everybody was pretty happy with the way things went."
There is no set timeline for the progression of the duo, who will be individually evaluated along the way. Smith did say, however, that the "gloves are off" in terms of limitations, and added he believes Puk and Luzardo will now appear "pretty consistently" for the rest of the season, barring setbacks.
"Talking to them after they came out of the game, what they felt, what they saw, how they feel understanding the buildup for this is so much more than just the outing itself," Smith said. "The outing itself is like a flash in the pan. It happens quick. You get done and want them to really take time to reflect on what they used, what worked best for them in a high-energy situation. They were smiling, joking around like, 'Good, that first one's over with. Now we can build for the next one.'"
Walking wounded
• Chris Herrmann (right knee surgery) will begin the last phase of his rehab when he joins Triple-A Las Vegas, Melvin said. The catcher arrived with the team Wednesday to work out, and he is set to play five innings on Thursday.
Herrmann, who has been on the 60-day injured list since March 19, has yet to appear in a game for Oakland since signing with the club as a free agent in December 2018.
On this date in A's history...
In 1990, Rickey Henderson's steal of third base against the Rangers marked career No. 900 for the future Hall of Fame speedster. In the same game, fellow to-be Hall of Famer Dennis Eckersley walked his first hitter of the season to snap a streak of 52 innings and 186 batters without a free pass.
Did you know?
Tuesday night marked Marcus Semien's 150th consecutive game, an occasion he marked with a 1-for-4 night. The A's shortstop's streak dates back to June 28, 2018.