Manaea gets closer to rejoining A's rotation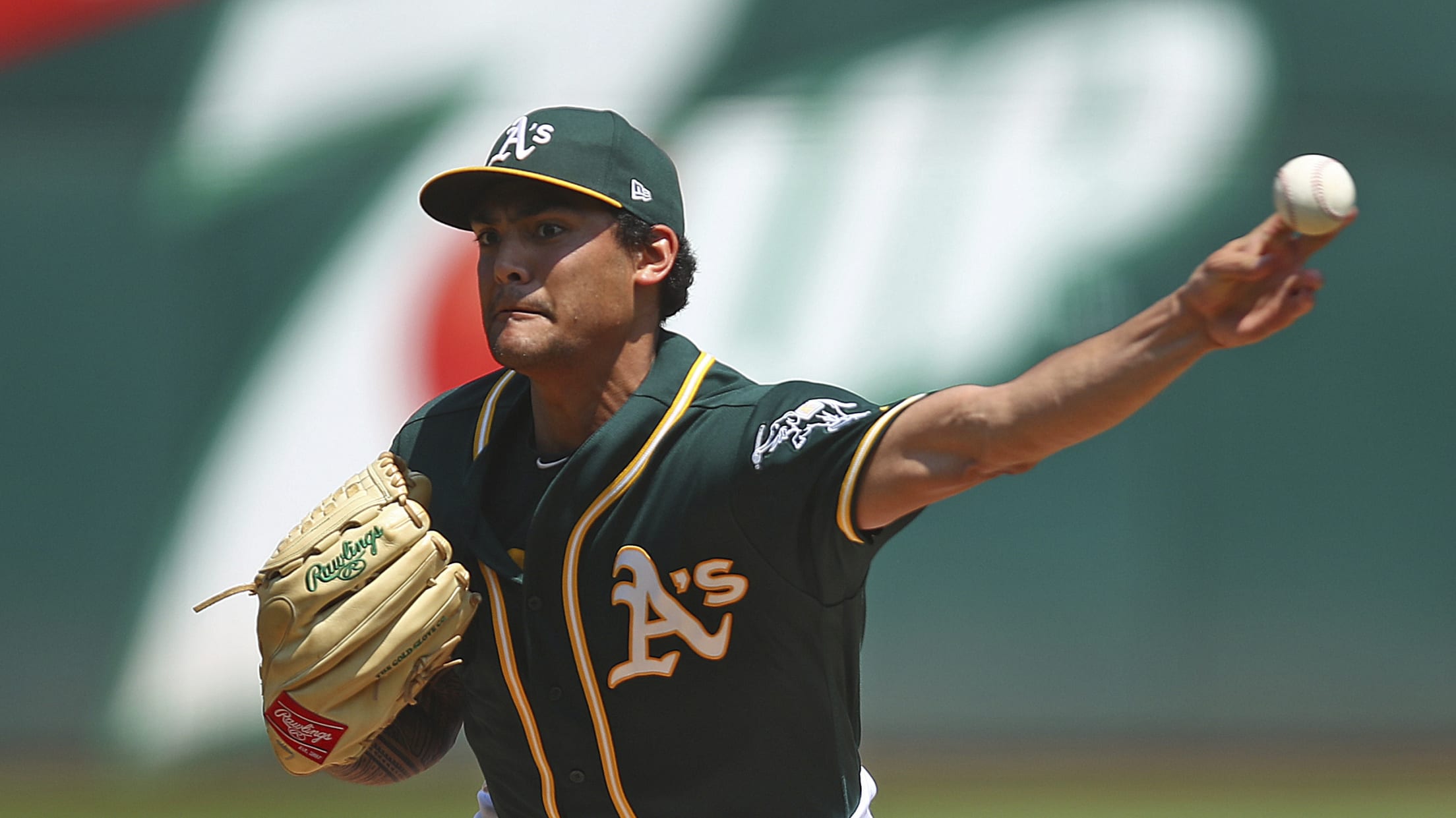 OAKLAND -- With less than a week to go until the July 31 Trade Deadline, all eyes will be fixated on the A's and how they go about addressing their pitching needs. But the addition that could bring the most value might exist through another avenue. A boost to the
OAKLAND -- With less than a week to go until the July 31 Trade Deadline, all eyes will be fixated on the A's and how they go about addressing their pitching needs. But the addition that could bring the most value might exist through another avenue.
A boost to the starting rotation is looming in the Minors with Sean Manaea on the mend. The left-hander felt healthy after throwing 76 pitches at Triple-A Las Vegas on Wednesday. The final line was a bit unpleasing to the eye -- he surrendered five runs (three home runs) on five hits over 4 1/3 innings -- but the A's are taking into account the ballpark in Las Vegas, where balls tend to leave the yard at a high rate due to the elevation.
• Watch MLB Network for around-the-clock Trade Deadline coverage
"Everybody sees the numbers, but it's tough to evaluate performance in Vegas," A's manager Bob Melvin said before Thursday's series opener against the Rangers. "I know at least one of those home runs was what they're calling a 'Vegas home run.' More than anything, he's healthy today and got to the pitch count we wanted."
Manaea's fastball sat around 89 mph for most of the outing, which Melvin said was about where they expected. He struck out seven batters and only walked one, a good sign that he located his pitches well and displayed good overall control.
Now comes the point in his rehab assignment where the results will matter a bit more. Manaea will get ramped up to 90 pitches in his next outing, likely Monday with Las Vegas, and then close to 100 in the start after. If all goes well in those next two, Manaea would be in line to rejoin the A's starting rotation by the second week of August.
The A's would be getting a pitcher who served as the ace of the staff for most of 2018 before undergoing season-ending surgery in September to repair a torn labrum in his left shoulder. It was an impressive campaign that saw Manaea go 12-9 with a 3.59 ERA in 27 starts, including a no-hitter against the Red Sox on April 21 at the Coliseum.
"Who knows what the Trade Deadline will bring. But Sean was the leader of the rotation last year," Melvin said. "Sometimes you can get incrementally better from within and not necessarily just have to make a trade."
Piscotty nearing rehab assignment
Stephen Piscotty took part in running and outfield drills on Thursday afternoon and is expected to head out to one of the club's Minor League affiliates for a rehab assignment over the weekend.
Hundley designated for assignment
Nick Hundley is fully recovered from his left knee surgery, but his return to the Majors will likely have to come with a different club after the A's designated the catcher for assignment before Thursday's game.
Hundley was nearing the end of his rehab assignment with Class A Advanced Stockton, and with Josh Phegley and Chris Herrmann providing the A's a good lefty-righty platoon, there was no longer a spot for him on the roster.
"My guess is he'll end up somewhere else," Melvin said. "We enjoyed our time with him. He's a great personality and a good leader. Has all those qualities of being a catcher that is impactful with the staff and leadership abilities."
Making the Opening Day roster after joining the A's in Spring Training on a Minor League deal, Hundley hit .200 with two home runs and five RBIs over 31 games before originally landing on the 10-day injured list June 8 with back spasms.