Manaea set for sim game, rehab stint may follow
Cotton throws from flat ground; no timetable set for Luzardo's MLB debut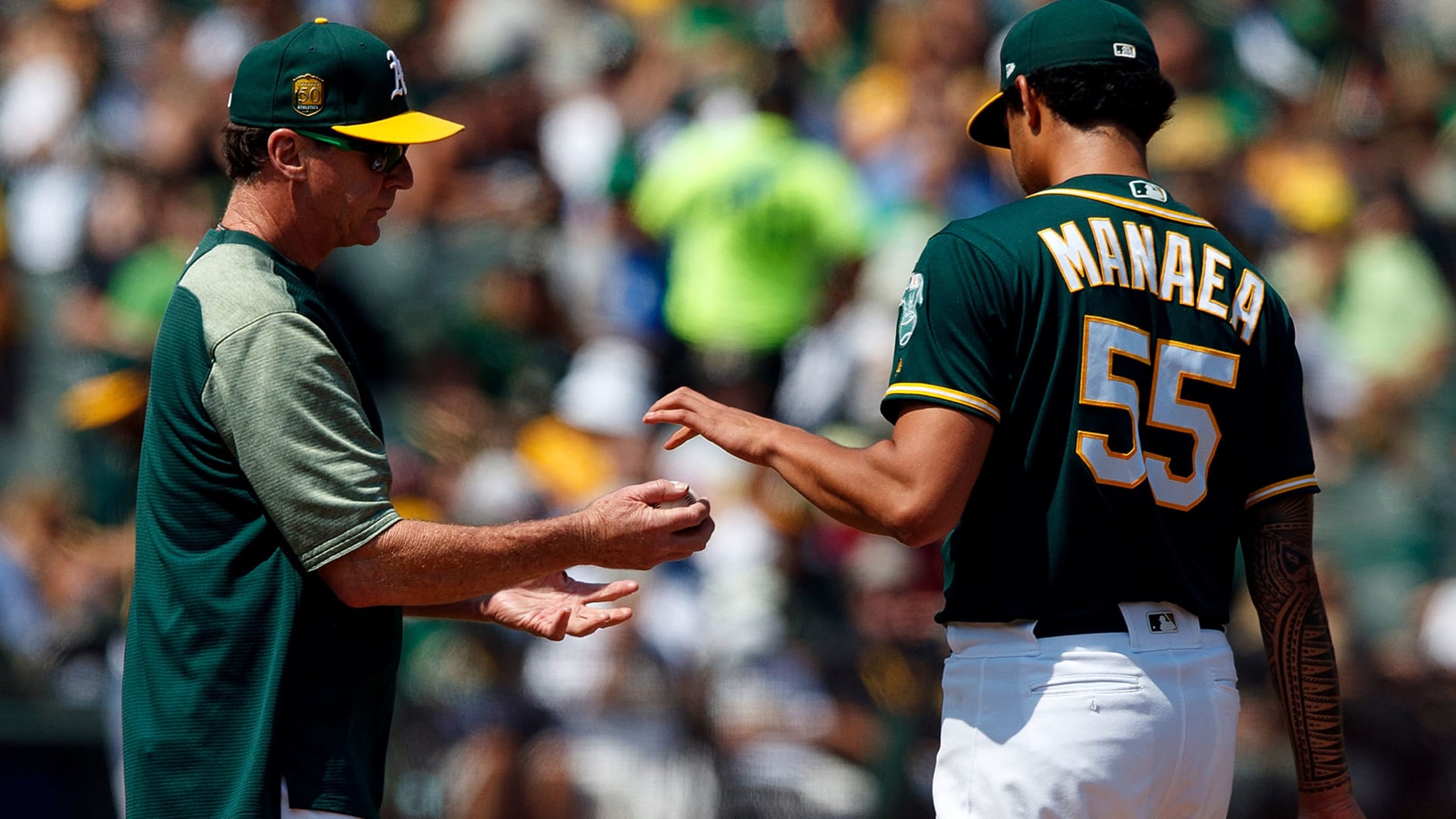 OAKLAND -- Sean Manaea is nearing the finish line on the long road back from shoulder surgery. The left-hander is set to pitch in a simulated game at the A's Minor League complex in Arizona on Thursday, the final step before pitching in Minor League games. "He's going to throw
OAKLAND -- Sean Manaea is nearing the finish line on the long road back from shoulder surgery.
The left-hander is set to pitch in a simulated game at the A's Minor League complex in Arizona on Thursday, the final step before pitching in Minor League games.
"He's going to throw one more sim game up to about 60-65 pitches," A's manager Bob Melvin said. "If all goes well, he'll go out on his rehab assignment."
Manaea went 12-9 with a 3.59 ERA in 27 starts during a 2018 campaign that included a no-hitter against the Red Sox before undergoing surgery to repair a torn labrum. He had targeted the MLB All-Star break for a potential return to the Majors, and the impending rehab assignment would put him right on track to meet that projection.
Cotton throws on flat ground
Easing his way back from surgery to repair a torn tendon in his right hamstring, Jharel Cotton threw a 10-pitch flat ground session on Wednesday and is expected to throw a bullpen session on Saturday.
Also in the final stages of rehab from Tommy John surgery, the A's expect Cotton to pitch this season in a bullpen role.
"His hamstring feels good enough to where he can throw with a little more intensity," Melvin said. "Probably coming along a little quicker with the hamstring than at least I originally anticipated."
No timetable for Luzardo
Set to make his first start of the season at Triple-A Las Vegas after making two rehab outings with Class A Advanced Stockton, A's No. 1 prospect Jesus Luzardo appears to be on the brink of the Majors, but Melvin said the left-hander will need to do more than just build his pitch count up over the next few starts in order to get the call.
"We want to make sure we get him to 100 pitches. But he's going to have to have results, he can't just go out there and pitch," Melvin said. "If the results are there, we will look to try to get him here. I'm not going to put a timetable on it right now."
After dominating at Class A and Double-A in 2018, Luzardo hit a wall as he neared his innings limit at Triple-A last year. He posted a 7.31 ERA over four starts to finish off his season.