Every team's 2020 Spring Training schedule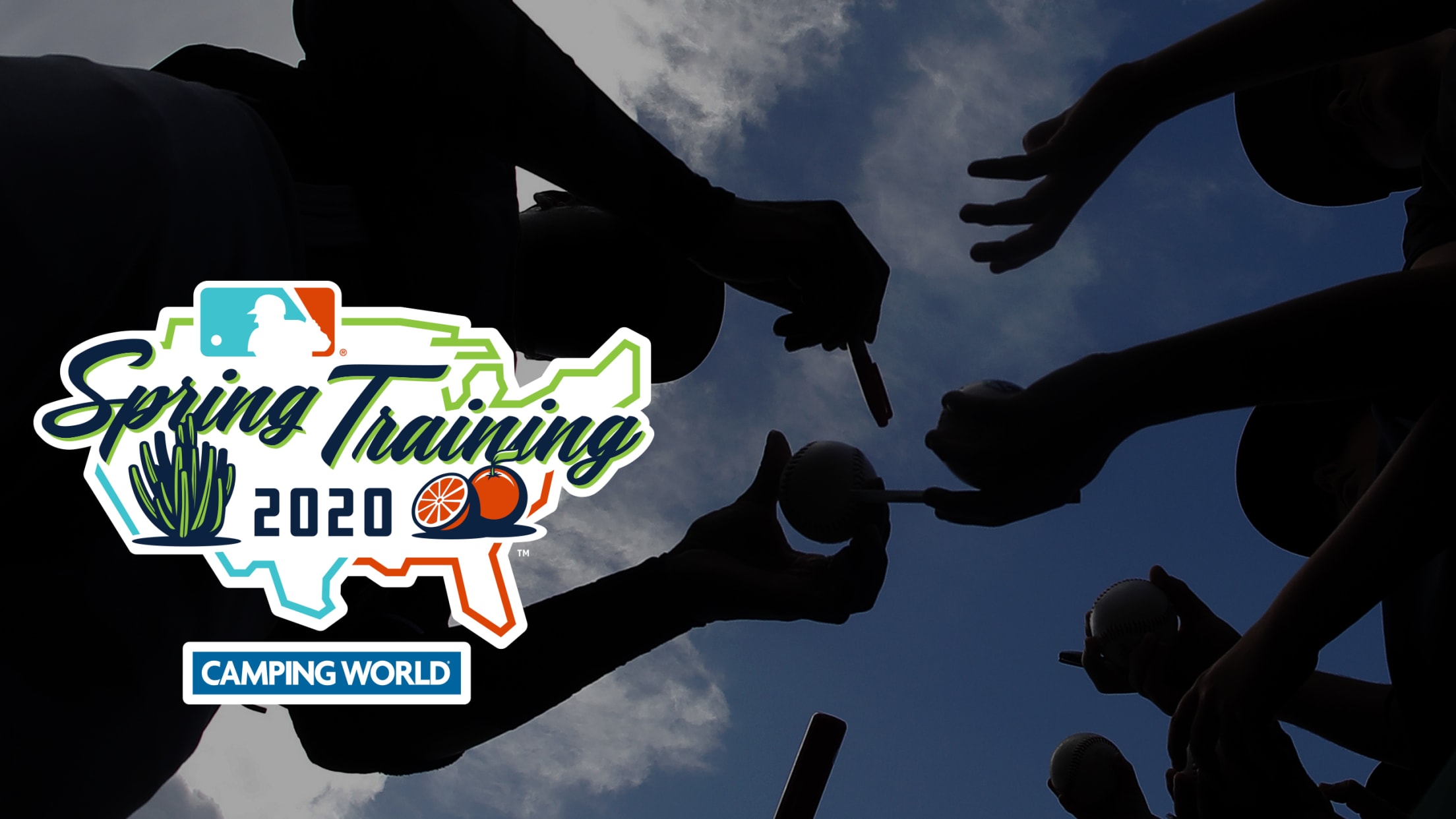 Major League Baseball unveiled the full schedule for 2020 Spring Training presented by Camping World on Monday. The spring slate is set to begin with three games on Feb. 21, and 28 of the 30 Major League clubs in action for Grapefruit and Cactus League games the following day. The
Major League Baseball unveiled the full schedule for 2020 Spring Training presented by Camping World on Monday.
The spring slate is set to begin with three games on Feb. 21, and 28 of the 30 Major League clubs in action for Grapefruit and Cactus League games the following day. The Dodgers and Giants make their debuts on Feb. 23.
• Complete MLB Spring Training schedule
CoolToday Park, the new Spring Training home of the Braves in North Port, Fla., will officially open on Feb. 22, when the club hosts the Orioles. The Braves gave fans a sneak peek at the park when they played a game there last spring.
On March 23, the Rangers will host the first game at Globe Life Field, their new regular season home in Arlington, playing the Cardinals in an exhibition contest.
Three days later, the 2020 regular season will get underway, with all 30 teams in action and 12 divisional matchups among the 15-game Opening Day schedule on March 26.
ANGELS
• First Cactus League/home game: Feb. 22, 2020, split-squad vs. Royals at Tempe Diablo Stadium and at White Sox at Camelback Ranch
Complete Angels 2020 Spring Training schedule >
ASTROS
• First Grapefruit League/home game: Feb. 22, 2020, vs. Nationals at FITTEAM Ballpark of the Palm Beaches
Complete Astros 2020 Spring Training schedule >
ATHLETICS
• First Cactus League game: Feb. 22, 2020, at Cubs at Sloan Park
• First home game: Feb. 23, 2020, split-squad vs. Giants at Hohokam Stadium
Complete A's 2020 Spring Training schedule >
BLUE JAYS
• First Grapefruit League game: Feb. 22, 2020, at Yankees at George M. Steinbrenner Field
• First home game: Feb. 24, 2020, vs. Braves at Dunedin Stadium
Complete Blue Jays 2020 Spring Training schedule >
BRAVES
• First Grapefruit League/home game: Feb. 22, 2020 vs. Orioles at CoolToday Park
Complete Braves 2020 Spring Training schedule >
BREWERS
• First Cactus League game: Feb. 22, 2020, at Rangers at Surprise Stadium
• First home game: Feb. 23, 2020, vs. Padres at American Family Fields of Phoenix
Complete Brewers 2020 Spring Training schedule >
CARDINALS
• First Grapefruit League/home game: Feb. 22, 2020, vs. Mets at Roger Dean Chevrolet Stadium
Complete Cardinals 2020 Spring Training schedule >
CUBS
• First Cactus League/home game: Feb. 22, 2020, vs. A's at Sloan Park
Complete Cubs 2020 Spring Training schedule >
D-BACKS
• First Cactus League game: Feb. 22, 2020, at Rockies at Salt River Fields at Talking Stick
• First home game: Feb. 23, 2020, vs. A's at Salt River Fields at Talking Stick
Complete D-backs 2020 Spring Training schedule >
DODGERS
• First Cactus League game/home game: Feb. 23, 2020, vs. Cubs at Camelback Ranch
Complete Dodgers 2020 Spring Training schedule >
GIANTS
• First Cactus League game: Feb. 23, 2020, at A's at Hohokam Stadium
• First home game: Feb. 24, 2020, vs. D-backs at Scottsdale Stadium
Complete Giants 2020 Spring Training schedule >
INDIANS
• First Cactus League/home game: Feb. 22, 2020, vs. Reds at Goodyear Ballpark
Complete Indians 2020 Spring Training schedule >
MARINERS
• First Cactus League game: Feb. 22, 2020, at Padres at Peoria Stadium
• First home game: Feb. 23, 2020, vs. Rangers at Peoria Stadium
Complete Mariners 2020 Spring Training schedule >
MARLINS
• First Grapefruit League game: Feb. 22, 2020, at Mets at First Data Field
• First home game: Feb. 23, 2020, vs. Nationals at Roger Dean Chevrolet Stadium
Complete Marlins 2020 Spring Training schedule >
METS
• First Grapefruit League/home game: Feb. 22, 2020, split-squad vs. Marlins at First Data Field and at Cardinals at Roger Dean Chevrolet Stadium
Complete Mets 2020 Spring Training schedule >
NATIONALS
• First Grapefruit League game: Feb. 22, 2020, at Astros at FITTEAM Ballpark of the Palm Beaches
• First home game: Feb. 23, 2020, vs. Astros at FITTEAM Ballpark of the Palm Beaches
Complete Nationals 2020 Spring Training schedule >
ORIOLES
• First Grapefruit League game: Feb. 22, 2020, at Braves at CoolToday Park
• First home game: Feb. 23, 2020, vs. Red Sox at Ed Smith Stadium
Complete Orioles 2020 Spring Training schedule >
PADRES
• First Cactus League/home game: Feb. 22, 2020, vs. Mariners at Peoria Stadium
Complete Padres 2020 Spring Training schedule >
PHILLIES
• First Grapefruit League game: Feb. 22, 2020, at Tigers at Publix Field at Joker Marchant Stadium
• First home game: Feb. 23, 2020, vs. Pirates at Spectrum Field
Complete Phillies 2020 Spring Training schedule >
PIRATES
• First Grapefruit League/home game: Feb. 22, 2020, vs. Twins at LECOM Park
Complete Pirates 2020 Spring Training schedule >
RANGERS
• First Cactus League/home game: Feb. 22, 2020, vs. Brewers at Surprise Stadium
Complete Rangers 2020 Spring Training schedule >
RAYS
• First Grapefruit League game: Feb. 22, 2020, at Red Sox at JetBlue Park
• First home game: Feb. 23, 2020, vs. Yankees at Charlotte Sports Park
Complete Rays 2020 Spring Training schedule >
REDS
• First Cactus League game: Feb. 22, 2020, vs. Indians at Goodyear Ballpark
• First home game: Feb. 23, 2020, vs. White Sox at Goodyear Ballpark
Complete Reds 2020 Spring Training schedule >
RED SOX
• First home game: Feb. 21, 2020, vs. Northeastern University at JetBlue Park
• First Grapefruit League game: Feb. 22, 2020, vs. Rays at JetBlue Park
Complete Red Sox 2020 Spring Training schedule >
ROCKIES
• First Cactus League/home game: Feb. 22, 2020, vs. D-backs at Salt River Fields at Talking Stick
Complete Rockies 2020 Spring Training schedule >
ROYALS
• First Cactus League game: Feb. 22, 2020, at Angels at Tempe Diablo Stadium
• First home game: Feb. 23, 2020, at Indians at Surprise Stadium
Complete Royals 2020 Spring Training schedule >
TIGERS
• First home game: Feb. 21, 2020, vs. Southeastern University at Publix Field at Joker Marchant Stadium
• First Grapefruit League game: Feb. 22, 2020, vs. Phillies at Publix Field at Joker Marchant Stadium
Complete Tigers 2020 Spring Training schedule >
TWINS
• First home game: Feb. 21, 2020, exhibition vs. Minnesota Golden Gophers at CenturyLink Sports Complex
• First Grapefruit League game: Feb. 22, 2020, at Pirates at LECOM Park
Complete Twins 2020 Spring Training schedule >
WHITE SOX
• First Cactus League/home game: Feb. 22, 2020, vs. Angels at Camelback Ranch
Complete White Sox 2020 Spring Training schedule >
YANKEES
• First Grapefruit League/home game: Feb. 22, 2020, vs. Blue Jays at George M. Steinbrenner Field
Complete Yankees 2020 Spring Training schedule >