Amid busy offseason, Brewers look toward 2020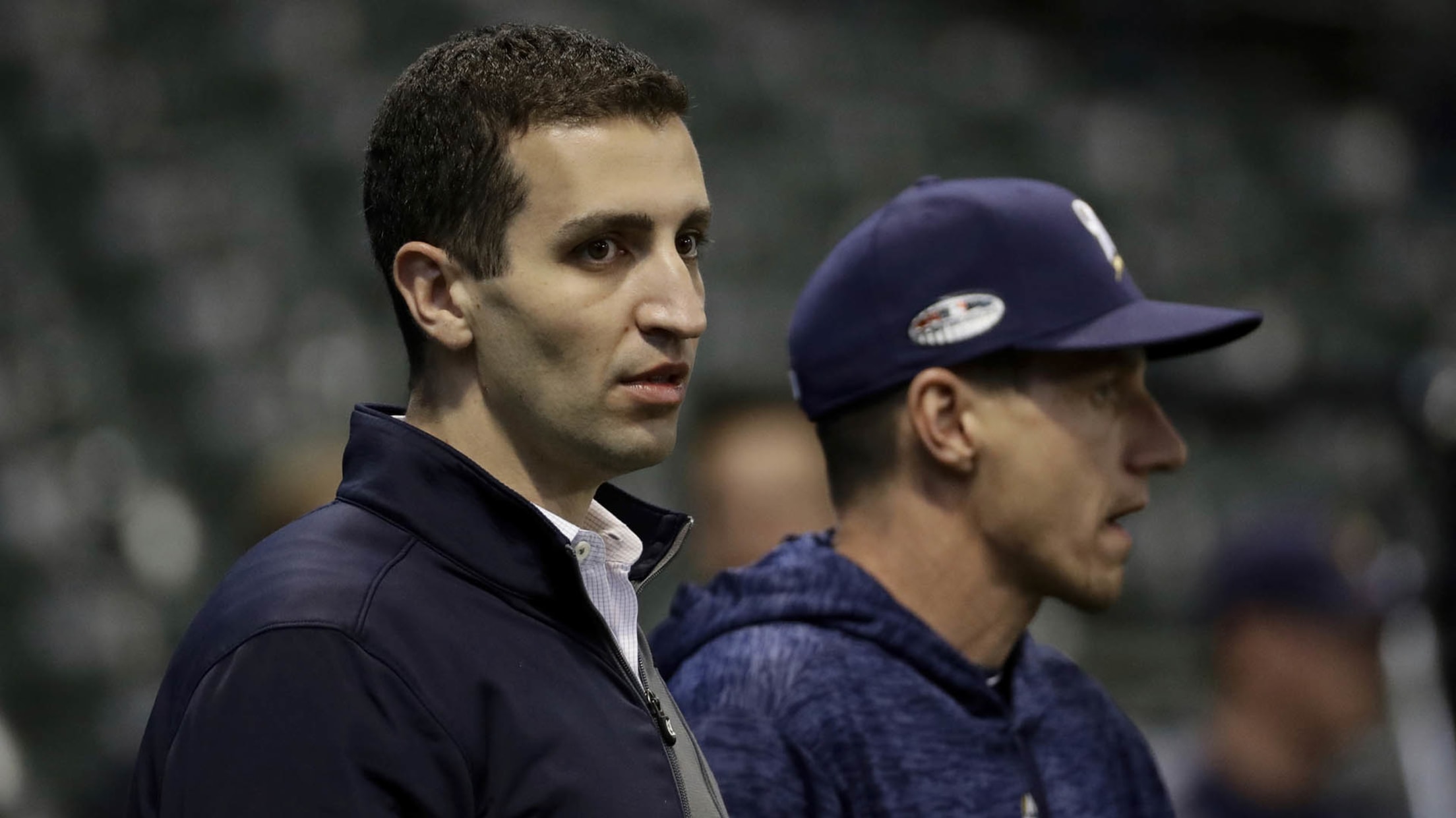 MILWAUKEE -- After a busy finish to 2019, here's a look ahead to what the Brewers have on tap for the start of '20. Key dates • Jan. 26: Brewers On Deck The club's annual fanfest takes place at the Wisconsin Center in Milwaukee, and it has sold out in
MILWAUKEE -- After a busy finish to 2019, here's a look ahead to what the Brewers have on tap for the start of '20.
Key dates
• Jan. 26: Brewers On Deck
The club's annual fanfest takes place at the Wisconsin Center in Milwaukee, and it has sold out in the past. You'll find tickets and more information at Brewers.com/OnDeck.
• Feb. 3: Arbitration hearings begin
• Feb. 12: Brewers pitchers and catchers report for Spring Training
• Feb. 17: First full-squad workout
• Feb. 22: First Cactus League game vs. the Rangers at Surprise Stadium
• March 23-24: Exhibition games vs. the Royals at Miller Park
• March 26: Opening Day vs. the Cubs at Miller Park
Notable departures (with 2019 fWAR)
Yasmani Grandal (5.2), Mike Moustakas (2.8), Eric Thames (1.9), Zach Davies (1.6), Jordan Lyles (1.6 total PIT and MIL), Gio González (1.4), Chase Anderson (1.2), Drew Pomeranz (0.7 total SF and MIL), Trent Grisham (0.6), Junior Guerra (0.3), Matt Albers (0.0), Travis Shaw (-0.8)
Notable arrivals (with 2019 fWAR)
IF Eric Sogard (2.6), LHP Eric Lauer (2.3), LHP Brett Anderson (2.0), OF Avisaíl García (1.8), C Omar Narváez (1.8), RHP Josh Lindblom (n/a), 1B Justin Smoak (0.2), UTIL Ronny Rodríguez (0.2), IF Luis Urías (0.1), Ryon Healy (-0.1), INF Jedd Gyorko (-0.7)
If the season started tomorrow
Lineup
1) Lorenzo Cain, CF
2) Christian Yelich, RF
3) Keston Hiura, 2B
4) Avisaíl García, LF
5) Ryan Braun or Justin Smoak, 1B
6) Omar Narváez, C
7) Eric Sogard, 3B
8) Orlando Arcia or Luis Urías, SS
Starting rotation
Brandon Woodruff, RHP
Brett Anderson, LHP
Josh Lindblom, RHP
Eric Lauer, LHP
Adrian Houser, RHP
Closer
Josh Hader, LHP
THREE QUESTIONS
1. What does general manager David Stearns have up his sleeve for third base?
After acquiring players to fill their openings at catcher (Narváez) and first base (Smoak), the Brewers' most glaring vacancy heading into the holiday break was at third base. Sogard, who signed a one-year deal with an option on the strength of his solid 2019 with Toronto and Tampa Bay, was informed by club officials that he stands to spend more time at third base than he did in his first stint with Milwaukee in '17-18. Healy is another possibility, though he has a Minor League option and is coming off hip surgery, so he's no sure thing to make the Opening Day roster. Stearns will continue to shop for someone to provide production at this position.
2. Will Hader be on the team come Opening Day?
Everyone loves a good trade rumor, and reports that the Brewers were weighing offers for Hader certainly fit the bill. But there is a difference between actively shopping a player and merely being open to offers, and the Crew is probably in the latter camp with Hader. He will cost more starting in 2020 -- Hader is eligible for arbitration as a Super Two and will be a fascinating case -- but he also has four years of control and is exactly the type of dominating, multi-inning reliever that fits Milwaukee's mode of game management. It would be incredibly painful to part with that, and indeed, Stearns set a high bar during the Winter Meetings when he said the Brewers consider Hader the best relief pitcher in baseball.
3. Is that really the end of the Brewers' rotation-building?
Stearns did not close the door on acquiring additional starting pitching in the wake of free-agent agreements with Anderson and Lindblom, but he also said that he felt the Brewers had made significant progress in building the depth necessary to navigate a season. That left open room for interpretation. Is he satisfied that some combination of Woodruff, Anderson, Lindblom, Lauer and Houser, plus Corbin Burnes, Freddy Peralta, Brent Suter and other internal options, constitutes a championship-caliber rotation? Perhaps the Brewers will wait until closer to camp to try to scoop someone up on a short-term deal. Or perhaps Stearns is plotting to add another notable starter but is being coy about it.