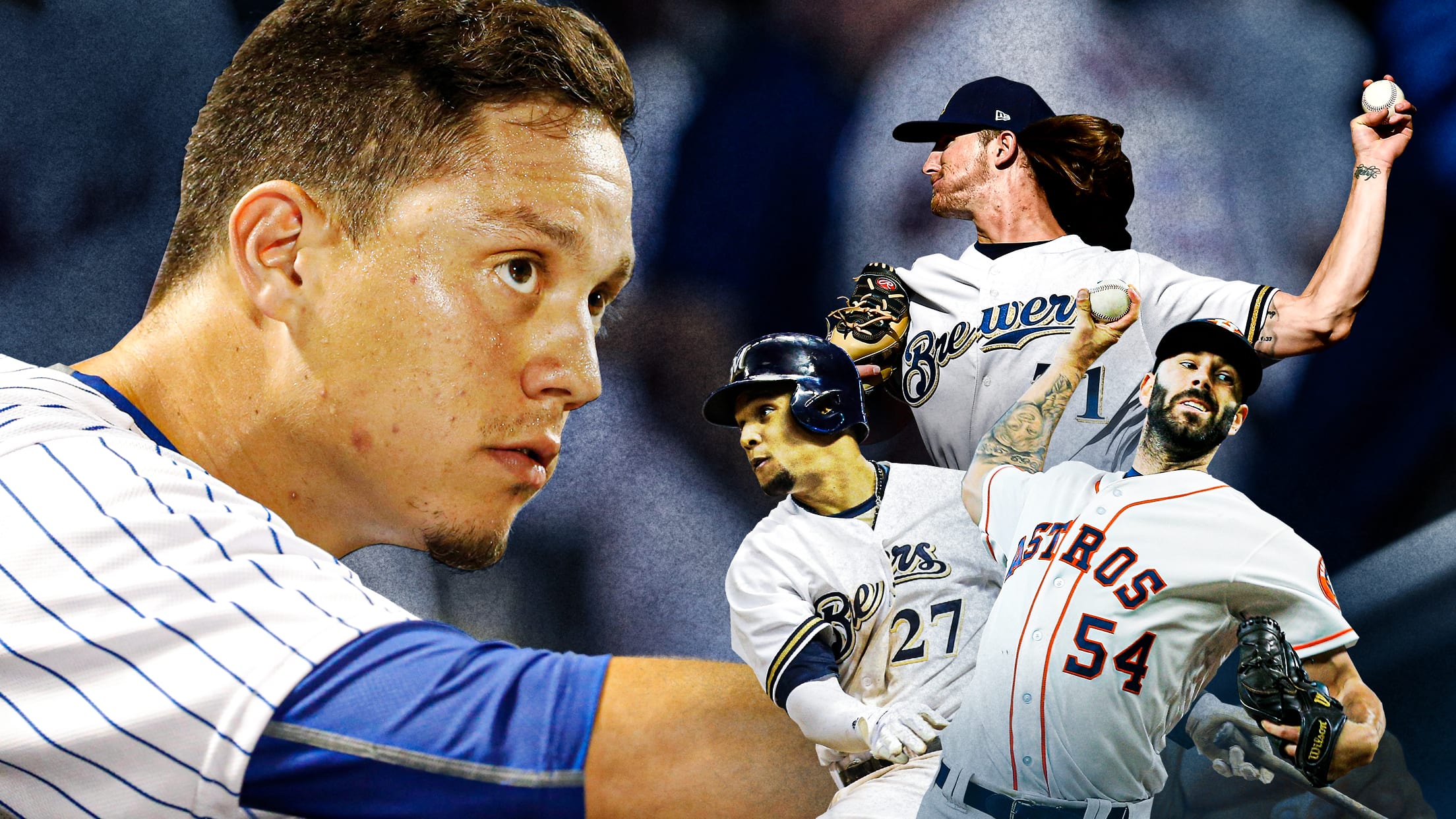 Scroll
How Wilmer's tears changed baseball history
Wilmer Flores cried, and baseball changed.
Many of us watched what went down at Citi Field the night of July 29, 2015, when Flores, then the Mets' 23-year-old homegrown utility infielder, found out he had been traded and tried to hold back tears he couldn't control. It was a rare, relatable glimpse into the human element of the Trade Deadline, a riveting presentation of baseball theater.
That moment, though, is even more important and engrossing with the benefit of retrospect. Whether Flores' tears directly led to his swap getting spiked remains a matter of dispute. But that terminated trade has had bigger repercussions than the vast majority of deals that actually happened. Its ripple effects include the Mets winning the 2015 National League pennant with Yoenis Céspedes, the Brewers landing an uber-reliever named Josh Hader and Mike Fiers joining the Astros team whose sign-stealing scheme he would one day expose.
Here, as told by those who lived it, is a story about an iffy hip, a smashed dinner plate, social media, airplane selfies, loyalty, emotion and a sport forever altered by a broken barter.
(Note: All people quoted below are identified by their team/role at the time of the 2015 Trade Deadline.)
WEDNESDAY, JULY 29, 2015
A deal comes together
The Brewers began the day 44-57, 20 1/2 games back of the Cardinals in the NL Central. The Mets were 52-48, just one game back of the Nationals in the NL East.
Doug Melvin, Brewers general manager: We weren't having a good year, and we were looking to make some moves. Carlos Gómez is one of the players we decided to move on from.
Zack Minasian, Brewers pro scouting director: We still had [Gómez] for another year [2016], so we didn't have to trade him. He was someone we had acquired when he wasn't an established player, and we watched him develop at the big league level and had an emotional connection to him. But we were honest with ourselves and where we were as an organization, and decided we had to start this retooling process.
Melvin: There were a number of teams that showed interest -- Cleveland, the Astros and the Mets.
Sandy Alderson, Mets GM: We were looking for another bat in the lineup, and center field was an area where we thought we could add some offense. The media and the fans were at the point of not just recognizing that need but also sort of demanding that we acquire a bat. I do remember saying that if we got all the way to the World Series and lost it, people would blame that loss on us not getting another bat. So it was that moment in time when we felt we needed to make a statement to Mets Nation.
Adam Fisher, Mets director of baseball operations: Gómez seemed like he was somewhat on the decline, but he was the best fit.
Alderson: In the week leading up to the Deadline, there were three players who were, quote, "available." One was Gómez. One was [the Reds'] Jay Bruce. And the other was [the Padres'] Justin Upton. We were having conversations with all three clubs, but we just weren't making any progress with San Diego and Cincinnati. So we ended up focusing on Gómez.
If we got all the way to the World Series and lost it, people would blame that loss on us not getting another bat. So it was that moment in time when we felt we needed to make a statement to Mets Nation.

Sandy Alderson
Gómez, interestingly, was originally signed by the Mets as a teenage amateur in his native Dominican Republic. The Mets dealt him to the Twins in their 2008 trade for Johan Santana, and he was subsequently dealt to the Brewers for J.J. Hardy prior to 2010.
Gómez: We were in San Francisco, and I knew one of those days, I was going to get traded. Before we got on the plane [to go back to Milwaukee], the manager told me I was close to getting traded.
Minasian: We had gathered intel that Zack Wheeler would be available, and so we just kept focusing on that. It was a little bit scary, because he had just had Tommy John [in March], and one of the things that was kind of ingrained in Doug's mind is that [as GM of the Rangers], he had made a huge trade in the late 1990s, trading Juan González to Detroit, and one of the key players in that trade was Justin Thompson [who had undergone shoulder surgery a few months earlier and never panned out].
Melvin: A 26-year-old left-hander. Thompson just didn't turn out in that deal at all, and we had traded an MVP in Juan González.
Minasian: So the idea of trading an important player for an injured pitcher was a little scary. But we did a lot of research on Wheeler and had a lot of faith in our medical staff.
Wheeler: You hear stuff [about the Trade Deadline], but you're thinking you're on the DL, fresh off Tommy John, so nobody's going to want you. But I guess you learn something every day.
Melvin: We knew Wheeler was one or two years away, but there's always risk with young pitching. And a lot of people liked Wilmer Flores. We thought he could be a 15-20 home run guy. He was young and inexpensive. We talked about him playing third base, and we understood he was a good kid.
Alderson: I don't remember the back and forth and who else was discussed, but it became the combination of the two [Wheeler and Flores]. The one thing about Wheeler, though, is he was hurt, so he wasn't going to be of help to us for the remainder of the season.
Fisher: I think a lot of us [in the Mets' front office] felt Wheeler and Flores was an overpay. Even though it did take Wheeler another year after that to get back, it seemed like a lot. But Sandy was willing to overpay.
A lot of people liked Wilmer Flores. We thought he could be a 15-20 home run guy. He was young and inexpensive. We talked about him playing third base, and we understood he was a good kid.

Doug Melvin
Alderson: Keep in mind we were still [a game] out of first place. It's not like we were going to the whip with a length lead with a couple furlongs to go. We were still behind.
Minasian: We felt we had a good system and that if we could start supplementing it, we could be really competitive quickly. That was the ideal scenario of that trade with the Mets. We thought it was a deal that could help us compete soon.
And then things get weird
Melvin: I used to bring the scouts in for the Trade Deadline to have them in the war room. We thought we had a deal, so we went to a restaurant to celebrate that we had a deal.
Minasian: We went to Carnevore, a really nice steakhouse around the corner from the Pfister Hotel. I used to go there a lot, to the point where I had my own knife there. I remember [assistant GM] Gord Ash asking me how you get a knife. I said, "You come depressed after losses and spend money." So they were always good to me, and they had a basement area that was usually open. They had a TV down there, and I don't remember if it was the actual broadcast or MLB Network going to the Mets game, but we're watching the Mets game as news is getting out about the trade.
Alderson: I hadn't even told the manager that Wilmer had been traded, because I didn't want the manager to treat him any differently. I didn't want to tip it off and, more importantly, I didn't want to play with 24 players.
Terry Collins, Mets manager: Sandy is tight to the vest on a lot of things. I knew Sandy well enough that, if there was a deal, he would have called me and said, "Get this guy out of there."
Alderson: The deal wasn't finalized until sometime during the game. And then it became … unfinalized.
New York Post columnist Joel Sherman first tweeted that the Gómez trade was a "done deal" at 8:57 p.m. ET. Subsequent reports on Twitter indicated that Flores and Wheeler were the pieces going to the Brewers.
Flores: In the seventh inning, I came up to bat, and I got a standing ovation for some reason. I got confused. Then I hit a ground ball, got an out, and while I'm walking toward the dugout, I get another standing ovation.
Craig Counsell, Brewers manager: We were on the plane watching it, watching Wilmer Flores. And it was just very 2010s, you know what I mean? It really was!
Flores: I got back in the dugout, and asked one of my teammates what was going on. Nobody knew. They had no idea. So I asked a friend to look on his phone. I shouldn't say this, and I'm not gonna say who it was, but he went to the clubhouse and looked at his phone and came back and said, "You've been traded." Then I went myself and checked my phone. That's when I saw the news. And then I came back to play defense.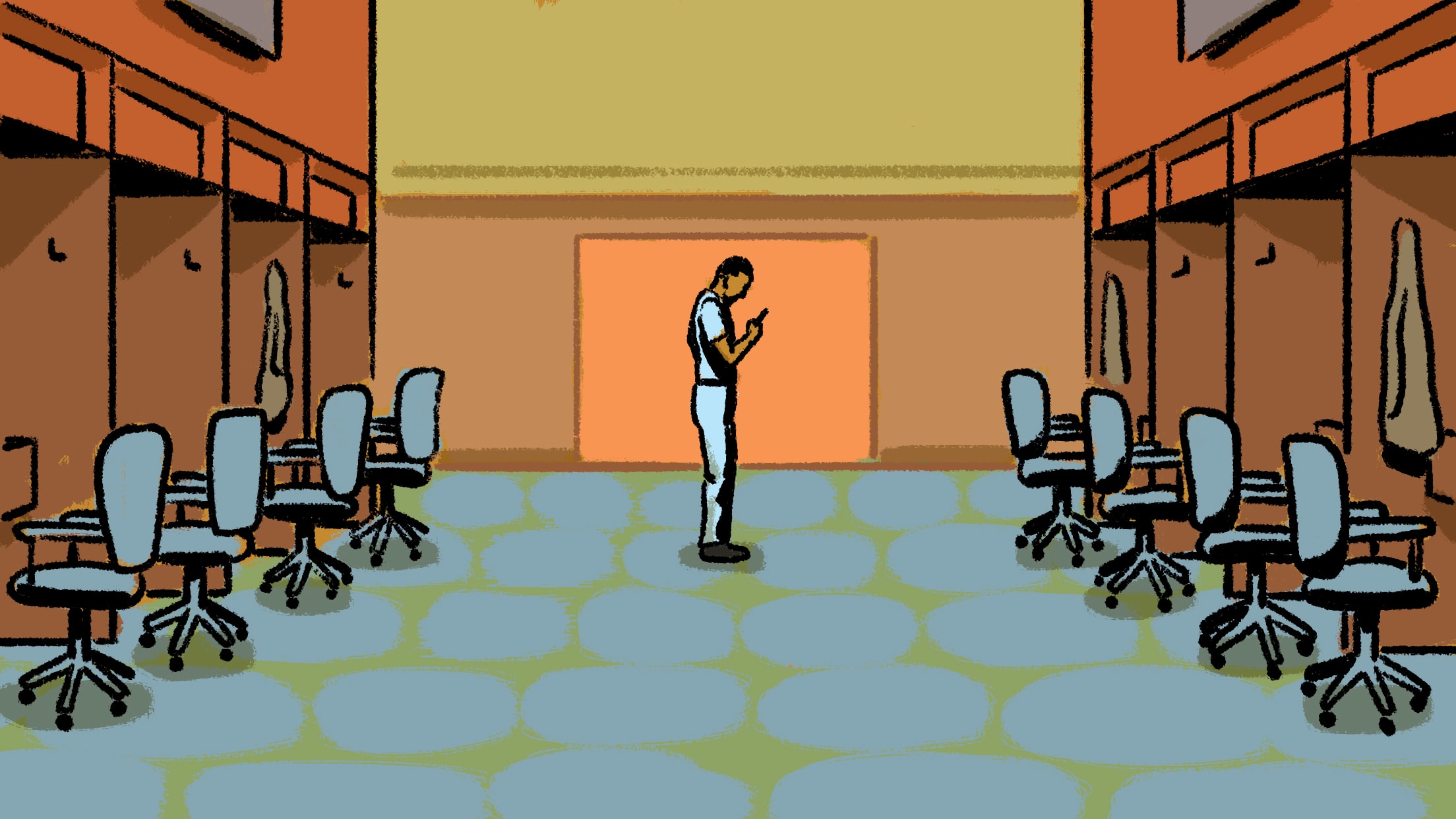 Collins: David Wright was injured at the time, and he comes out of the clubhouse saying, "Hey, it's all over the TV that Wilmer has been traded!" I said, "David, I don't know a thing about it. You see that phone over there? That phone goes to Sandy. That phone has not rung." So now it's going on, and Wilmer starts crying.
Flores: It definitely caught me by surprise. That was one of the reasons I got a little bit emotional, because I didn't know I could get traded. A lot of players feel that way when you play five or six years in one place, especially the place that signed you for the first time. You come up with all of your teammates, and that's where you want to stay and where you think you're going to play forever.
Daniel Murphy, Mets second baseman: You're feeling a lot of sympathy and empathy for Flo in that moment. He's having to deal with real world, real life problems on a national stage, basically. Here he is, laid bare for the whole world. There wasn't much you could do to make the situation any less raw in the moment.
Collins: He came off the field, and I said, "Wilmer, believe me, if you were traded, I would know about it. You've got to settle down and finish this game up."
Minasian: We're at the dinner table, looking around, wondering why he's still in the game.
Melvin: We thought he was our player. And Carlos is on the airplane thinking he's going to be a Met.
Counsell: I called Carlos to the front of the plane and told him he'd been traded. We were both crying. I was very close with Carlos, beginning as a teammate. It was very sad. And then he went to the back of the plane and told his teammates, and they're taking pictures.
Fisher: So now social media is blowing up. Gómez is on the team plane and his teammates are saying goodbye to him and taking selfies.
Counsell: It was like a going-away party.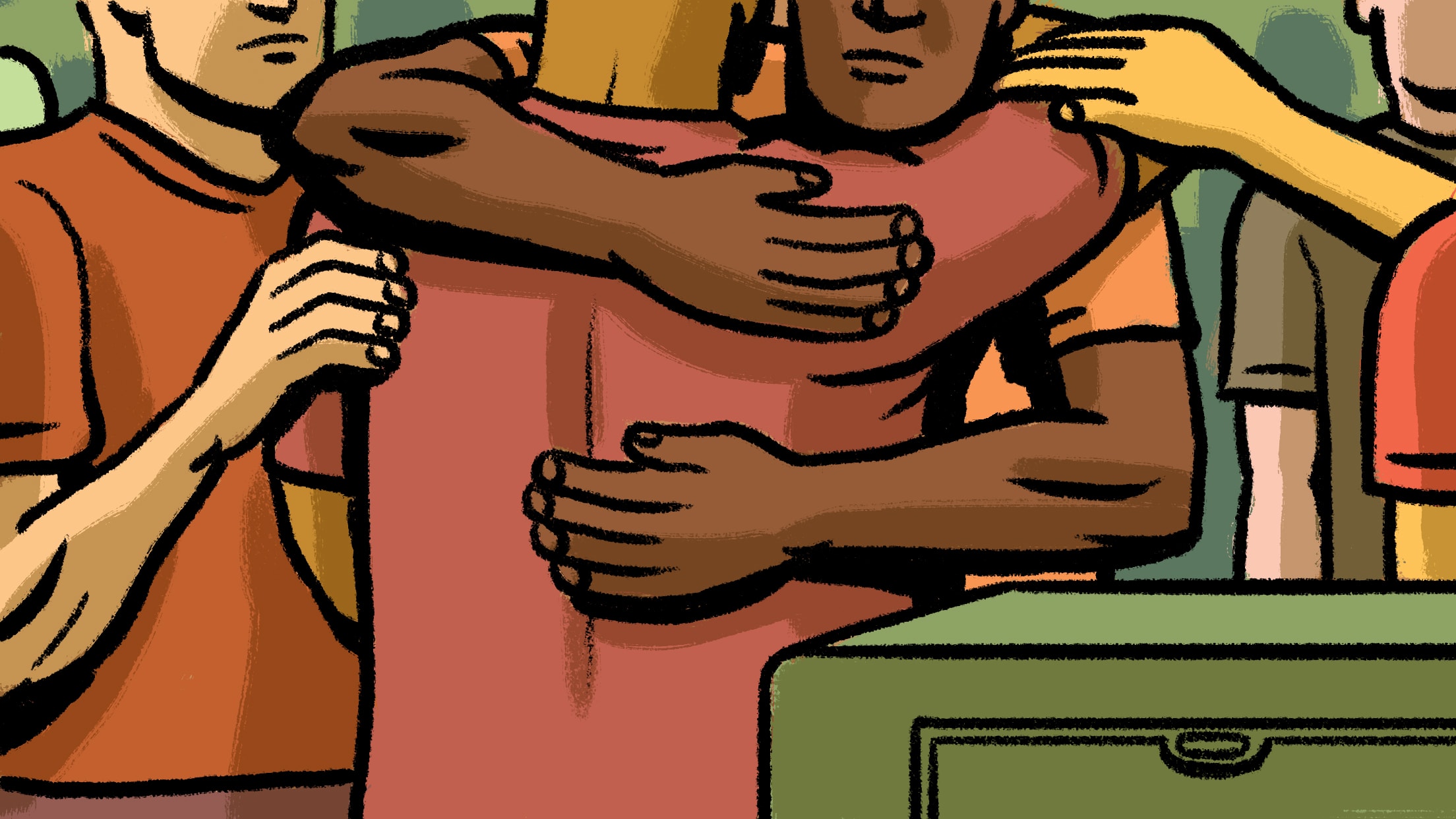 Collins: Finally, Sandy called me and said, "You've got to get Wilmer off the field, he's crying."
Flores: Terry Collins took me out of the game in the [bottom of the] ninth inning. So then I go into the clubhouse, the game is over, and I go into the trainer's room. And [Mets chief operating officer] Jeff Wilpon comes to me and says there's no trade. He says, "Don't worry, there's no trade." I was just confused.
Why the deal fell apart
Fisher: I left the office that night after the game fully thinking the trade was going to go through. But Sandy and [assistant GM] John Ricco went downstairs after the game and met with the doctors, and the doctors let them know Gómez's medicals weren't going to fly, because of his hip. I'm walking to get on the train, and I get word that the deal is dead.
Alderson: I was downstairs in the trainer's room, and that's where the decision was relayed. The doctor -- our team physician, Dr. [David] Altchek -- wasn't at the ballpark, but he reviewed [Gómez's] medicals and made the decision.
(Editor's note: Altchek politely declined to contribute to this story.)
Melvin: We're sitting at the restaurant, and I get a call and Sandy says, "We aren't going to be able to pass Carlos on the physical." I was a little surprised. I said, "You're kidding. We can't make this deal?" And Gord says to the scouts, "Oh, that's just Doug joking again." I got off the phone and said, "I'm not joking. There's no deal." The guys were a little bit upset.
Minasian: I picked up my plate and slammed it on the table. I must have just hit it in the right spot because I cracked it right in half.
Alderson: They were upset. They thought we reneged on them.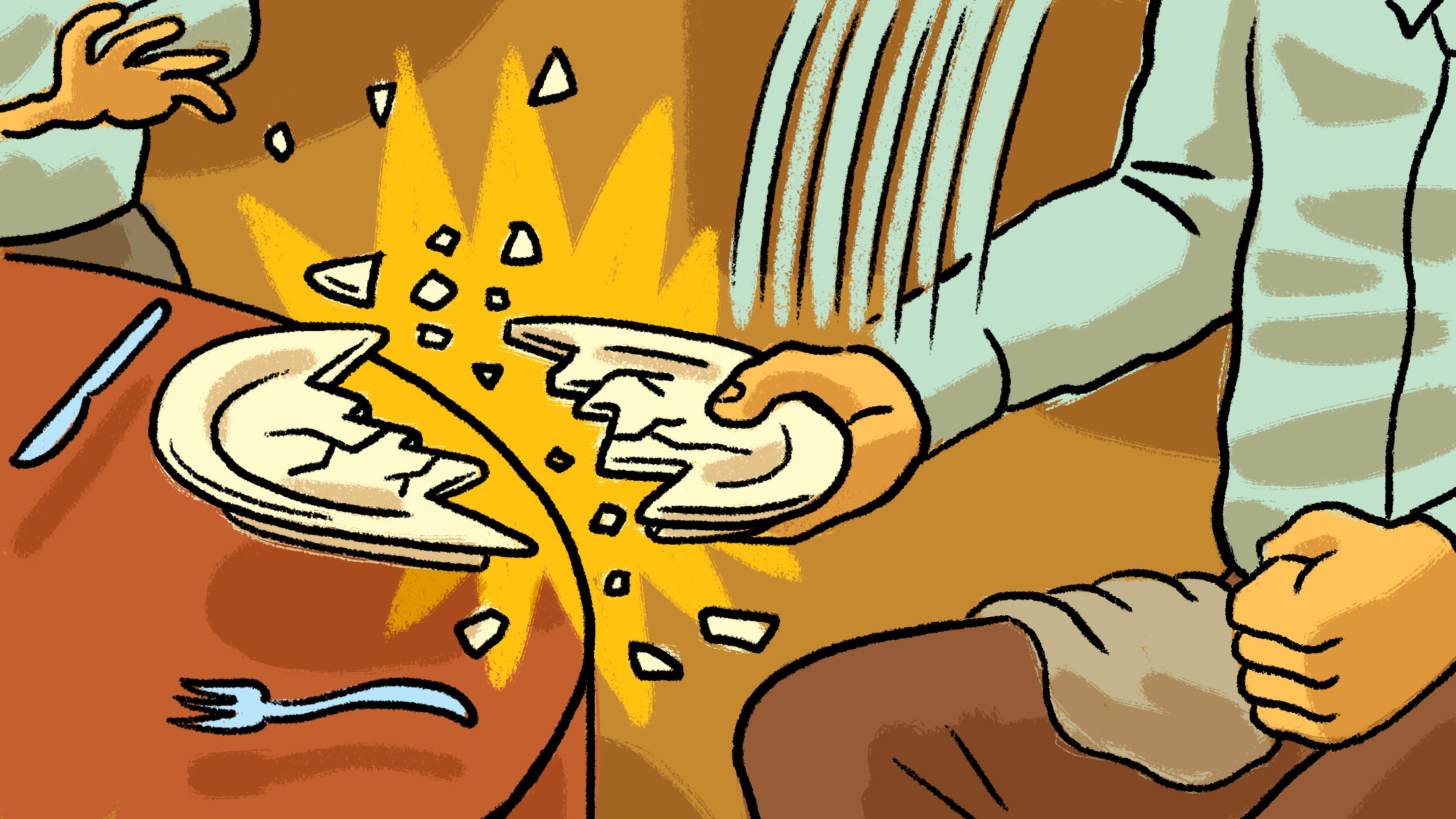 Reports as to why the deal didn't go down varied, ranging from the Gómez medicals to the Wheeler medicals to the Mets asking for relief of some of Gómez's remaining salary to a simple change of heart by the Mets because of Flores' display of emotion.
Flores: I've heard a lot of stories about why the trade didn't happen, that maybe they just decided they didn't want to trade me.
Melvin: When I got the call, we couldn't help but think that had something to do with it. I'm not going to sit here and say that, because I wasn't there [with the Mets]. But if you're watching it, most of our people thought the Mets were reacting to the emotion.
Fisher: There was no conspiracy, no mystery to it. [Gómez] had a clear issue.
Alderson: I didn't really fight it with the doctors. They felt strongly about it. Honestly, I don't recall another situation in my eight years in New York where a deal was killed by our doctors. We had other deals that were derailed because of doctors on the other side, but not in our case. Or at least, not one that had gotten to the point that this one had.
Counsell: I called Carlos back to the front of the plane and said, "It's not happening."
Gómez: In that moment, I felt upset that they were saying something that wasn't true, that I'm hurt when I'm not.
In mid-June, Gómez had undergone an MRI of his abductor muscle and groin. The MRI, which came back clean, had been reported in the media as an exam of the hip.
Gómez: I didn't miss one game because of the hip. I had some inflammation from a diving catch, and it was in my groin area, not my hip. It was just soreness, like from a regular play.
Melvin: We thought [Gómez] was fine. I don't know what happened. Our trainers thought everything was OK. But Sandy said their doctors had some concerns. And that happens.
Alderson: I think Doug Melvin was unhappy, and their owner was even less happy. I don't think it was that year but the year after, we tried to make a deal with the Brewers, and that was a non-starter [laughs]. Which I kind of understood.
Minasian: It was disappointing to not get two talented Major League players. Even more so, the concern was, what does this do to Gómez's trade value going forward? It was going to get out that he failed a physical.
Melvin: I said, "Hey guys, buckle up. We have to be back in the office tomorrow at 9 o'clock, and let's see if we can move Carlos before the [next night's] game."
THURSDAY, JULY 30
The Brewers regroup
Counsell: I always thought Doug Melvin -- and I'm sure Sandy -- did a fabulous job. Both GMs got right back on their feet. They didn't have a lot of time to operate, because the Deadline was coming.
Melvin: It was a quick turnaround, but our guys were on the ball. We had studied Houston.
Minasian: Houston had sort of crossed the bridge where, all of a sudden, they're a super-competitive team. We thought they were in a good position to give up young players and make a push for the playoffs, so we started scouting them early. We had six different observations of Josh Hader [at Double-A Corpus Christi] and, if I remember, the last one was on July 27 and the scout was Cory Melvin, Doug's son. He saw him up to 97 [mph] in a two-inning stint, and then we got word that [Astros manager] AJ Hinch wanted to bring Hader up and have him throw out of the bullpen. So he was definitely one of our main players of interest.
Hader: We were in Midland, playing the A's organization in the Texas League. There was a rumor beforehand that I might get dealt. I had been traded before [by the Orioles for Bud Norris in 2013], so I was prepared for it.
Minasian: When Houston asked for Gómez's medicals, I knew we had a chance for a deal. When we started talking to Houston, Houston had the idea of exchanging medicals right away.
Melvin: [Houston GM] Jeff Luhnow and I agreed to exchange physicals before we even exchanged names.
Minasian: Credit to Houston. They were aggressive.
Melvin: Hader and Domingo Santana were the two main guys in the trade. I kept trying to get Brett Phillips, and Jeff had asked about [Mike] Fiers.
Fiers: I still had another full season before arbitration, so I would have thought Milwaukee would have kept me. But we had a lot of young pitchers coming up, and I was a little older [30] at the time, and they weren't trying to win.
Melvin: I said, "Jeff, we can expand this deal. I'll include Fiers, but I would love to have Phillips and one smaller piece to make it a 4-for-2 trade." So we went back and forth on about six to nine names, and then we agreed on Adrian Houser and some international bonus money. We had it done around 5 o'clock, when the team was coming off from batting practice.
Gómez: They said, "Go-Go, you've been traded." I said, "Again?"
Counsell: We went through the whole thing again.
Gómez: I'm emotional, because I'm thanking them for the opportunity to be the player I am. But my reaction was like, "How can [the Mets] say to the baseball world that I'm hurt when, a couple hours later, some team gives up some of the best prospects in the organization for you?"
They said, 'Go-Go, you've been traded.' I said, 'Again?'

Carlos Gómez
Fiers: I was sitting in the hot tub [laughs]. Someone came in and said, "Hey, Counse wants to see you in his office." They just sat me down and told me I was going with Gómez to Houston. It wasn't that emotional to me. The Astros were in first place at the time, and we weren't going to make the playoffs, so I was just really glad to go to a team that had a chance to go to the postseason.
The Mets reassess the market
Alderson: Wheeler was in Port St. Lucie, [Fla.], rehabbing from his elbow surgery. And he calls me up.
Wheeler: I really loved being in New York, and I wanted to be part of that team and organization and win some ballgames with them. I knew there was something special with us starters there, and I wanted to be a part of it. So, me and my agent talked, and he said, "If you want, you can call [Alderson]." It's not very common, if at all. But I was like, "You know what? What is there to lose?"
Alderson: He said, "I know I'm hurt, but I really don't want to be traded. I really want to stay with the Mets."
Wheeler: I wasn't trying to persuade him, because obviously, it is a business. I recognized that then, and I recognize that now. It's their job to make the team better, whatever the cost. But I just wanted to let him hear from me that I really loved playing there and wanted to be there.
Alderson: I wish I were a little more detached, but, you know, that had an impact on me. I pretty much said, "Don't worry about it. Won't happen again." So that had an impact on how we went about [the rest of the Deadline discussions].
Fisher: Basically, Sandy zeroed in on Upton.
Alderson: We played a day game against the Padres that day, and it was a bizarre game. I think there were two rain delays, and we had a two-run lead in the ninth inning and lost the game. It was incredibly deflating right after having lost the Gómez deal. And I think the biggest consequence of that game was not to us and our morale but to the Padres, who had renewed hope that they might have a shot at the playoffs. So basically, Upton came off the table.
Fisher: The price for Bruce was prohibitive. So that was not as serious as we got to Deadline day.
FRIDAY, JULY 31
The Mets find their man (for real this time)
Alderson: Until that point it wasn't well known -- and I don't know whether [the Tigers] had even mentioned the possibility -- that Céspedes was available. I think they made a last-minute decision to make him available.
Collins: The day of the [Trade] Deadline, we had heard Céspedes might be available, so I called [Detroit manager] Jim [Leyland] and said, "Are you guys going to move him?" He said, "I believe we are. And Terry, I'm telling you, this guy's a great player." My concern was whether he could play center. Jim said, "He's been playing left for us, but I don't see why not. He's athletic as heck." So I just relayed that information to Sandy.
Fisher: You know Sandy and "Moneyball." Céspedes did not fit our approach. That's a really big thing when you're adding a big bat to the lineup. And he also famously wouldn't play any position other than left field for the Red Sox [in 2014]. That's why he hadn't been on our radar until that point.
Alderson: Detroit was insisting on Michael Fulmer, who was our top pitching prospect and a guy we really liked. Some of our guys thought his performance was even better than [Matt] Harvey's a couple years before. Detroit kept insisting that's who they wanted. The second guy they insisted upon [right-hander Luis Cessa], we didn't feel as strongly about.
Fisher: Sandy basically spent a whole day trying to get Fulmer out of the deal. But it was pretty clear he was going to do whatever it took to make his team better. If they weren't going to take anyone but Fulmer, Fulmer was going to be in the deal.
Alderson: Twenty minutes before 4 [p.m.], we said, "OK, we'll give you Fulmer and Cessa," and the deal went through just a few minutes before the Deadline.
THE AFTERMATH
A love-Hader relationship
Gómez: When I got traded, my first question was, "Did you guys get really good players for me?" Because I had good feelings for that organization and wanted them to do better.
Minasian: You have to hope to be fortunate in some cases, because we only know so much. I think the Brewers' player-development staff working with those guys and being open-minded and excited to work with them helped.
Hader: Really, they didn't try to change much when I came over, which was nice. But they did make me more consistent in my delivery.
Melvin: We had questions on Hader. Baltimore traded him, and Houston was willing to trade him, so I kept asking, "Why is this? Have we done our due diligence?" And people said, "He's going to be a reliever." Well, there are a lot of relievers. So what level of reliever is he going to be?
Counsell: I would guess the Astros probably didn't think he was a starter. That's why they traded him. We thought he was a starter. So maybe they were right. But the way he got stronger, his fastball became arguably one of the most special pitches we've seen, as far as swings and misses. He developed. He got better. Going in shorter stints really helped change who he was, because he's got one special pitch, and he can let it go full octane in shorter stints.
From 2017-19, Hader made 151 relief appearances covering 204 2/3 innings for the Brewers. In that span, his strikeout rate (44.6%), WHIP (0.85) and opponents' average (.146) were all tops among relievers. He was voted the Trevor Hoffman National League Reliever of the Year in both 2018 and '19.
Melvin: He's turned out to be a really good reliever. Outstanding.
Counsell: We got Hader, we got Adrian Houser, who's going to be a starter for us, we got Domingo Santana, who hit 30 homers for us [in 2017], and we got Brett Phillips, who ended up being Mike Moustakas for us [in a 2018 trade with the Royals]. So it worked out pretty well for us.
Gómez: I feel happy for the Brewers.
Nearly four years after his potential trade back to the Mets fell apart, Gómez returned to his original team on a Minor League deal in 2019. He hit just .198 in a 34-game cameo before being let go in July, but he did hit a dramatic homer in a comeback win against the Nationals in May. He is now retired.
A Céspedes for the rest of us
Collins: At that particular time, we were battling, trying to hang in there. When a deal like that is made, the entire attitude and atmosphere in the clubhouse changes. Immediately.
Flores: We were chasing the Nationals, in second place. And we just took off.
Alderson: We made the deal on Friday, and Céspedes didn't show up until Saturday. But Friday night, Wilmer hits a home run in the 12th inning to win the game. That was unbelievable.
Collins: You talk about storybook. That got us going.
Alderson: Oddly enough, [the non-trade] was one of the greatest things that ever happened to Wilmer. He will be remembered in Mets lore forever. And it was great for Wilmer, because it gave him a chance to show his own attachment to the organization, and it led people to learn about his own personal story.
Flores: Fans want to know that you care. When they find out you do, it makes it a different relationship.
Oddly enough, [the non-trade] was one of the greatest things that ever happened to Wilmer. He will be remembered in Mets lore forever.

Sandy Alderson
Murphy: For us to keep him was big, because he ended up playing shortstop in the World Series after Ruben Tejada broke his leg. We were happy to keep Flo, and we were definitely happy to get Ces.
In his first six weeks with the Mets, Céspedes put up video game numbers -- 17 homers, 10 doubles, three triples and a 1.048 OPS in 188 plate appearances.
Collins: Ces was a difference-maker.
Flores: He was Babe Ruth.
Gómez: The Mets, for that moment, got one of the best outfielders. And he proved it for them. He carried that team.
Murphy: No one expected Yo to do what he did. But he came in and got a hit in his first at-bat. And after a game or two, he just went crazy. We caught fire from there and made a run to the World Series.
Alderson: It was Céspedes and also, out of nowhere, Daniel Murphy started swinging the bat with power. It all came together.
Collins: Sandy had made other deals, too, to go get Juan Uribe and Addison Reed and Tyler Clippard. And you've got to give credit to our ownership group. They stepped up. Those are the kind of deals that put you over the top.
Fisher: It's worth paying the price of a player like Fulmer. He has a long injury history, but, you know, he wins the [2016 AL] Rookie of the Year and is a Cy Young contender. He was better than we thought he was going to be. But at the end of the day, no one's thinking twice about the way it worked out.
Alderson: If we had won the World Series, it would have been an immortal story. Now it's less so. Nonetheless, it was a great couple months.
The Mets re-signed Céspedes that winter and extended him again the winter after that. The latter extension has proved regrettable. Céspedes played just 119 games in 2018-19, leading Alderson to quip, "Don't buy a boat if you can't afford the gas. If you're going to sign a player for that amount of money, make sure you buy insurance."
Alderson stepped down from his post with the Mets in the middle of the 2018 season while battling cancer. The following winter, the Mets conducted interviews to choose his replacement. One of the final three candidates? None other than Doug Melvin.
Fiers catches fire … and then sets one
Fiers: Any time you get traded, especially midseason, you want to put on a good show for that team and show why you got traded.
Gómez: We were excited. The Astros believed we could help the team to get better.
Fiers: I had a couple rough starts. Not rough, just mediocre. To go to a first-place team and not perform, you put so much pressure on yourself, and that's what I did. But then I threw a no-hitter in my third start. I had 63 pitches through three innings with three walks and then ended up throwing a no-hitter. So it was a great experience for me and for that team that was on a postseason run. And it helped that Carlos went over there with me.
Gómez: We were in the right spot to make the playoffs. And in the playoffs, we played the extra [Wild Card] Game against the Yankees. I hit a big homer. We probably win the game because of that. And then we played Kansas City [in the Division Series], and I hit a really big homer [in Game 4] while playing hurt. I wasn't supposed to play because of an oblique tear. But then Kansas City came back and tied the game that we were supposed to win, on an error [by Carlos Correa], and we lost. If that doesn't happen, we're probably in the World Series against the Mets.
The following August, the Astros released Gómez in the middle of a 2016 season in which he had a paltry .210 average and .594 OPS, leading to his brief return to the Mets.
Fiers: In Milwaukee he was an everyday player. Houston is a very analytical team, so he didn't get the at-bats he was getting in Milwaukee. He's a competitive, emotional guy. He sat many times when there was a righty, and I don't think he ever had to do that before. I think it took a toll on him. I don't think he really liked the way they ran things over there.
Gómez: I did not do my job, and I got released. How can I be upset? So I don't have anything negative to talk about that organization. We had some problems when I was there, but nobody needs to know about that.
Sometimes, however, internal issues do become public. Had the Astros' side of the 2015 Gómez trade ended there, it wouldn't be especially notable. Gómez obviously didn't factor into the Astros' 2017 World Series run, and neither, in the playoffs, did Fiers, who was left off the postseason roster after struggling late in the regular season.
But in a November 2019 article in The Athletic, Fiers was the whistleblower who called out his former Astros teammates for a sign-stealing scheme that became the biggest baseball scandal in a generation.
Commissioner Rob Manfred (at Cactus League media day in 2020): Mike did the industry a service. I do believe that we will be a better institution when we emerge at the end of this episode. Without a Mike Fiers, we probably would have had a very difficult time cleaning this up. … I have a real problem with anybody who suggests Mike did anything other than the right thing.
Gómez: I have my personal memory of Fiers. He was a good teammate. He has his own reasons why he said what he said about the Astros.
Alderson: Loyalty is a dangerous thing. It's an important quality, but you have to be careful that it doesn't supersede other qualities like moral courage and integrity.
Fiers: Who knows what would have happened if I had stayed in Milwaukee?
Wheeler: Things would have been a little different, huh?
Melvin: After all the Astros stuff came out, someone joked with me, "You affected all this stuff!" I said, "What do you mean? I've done nothing today. Nothing!"
Minasian: It's crazy how it all panned out.
Alderson: It is crazy. Maybe the Astros will blame all of this on a Mets team doctor somewhere.
Flores: Things happen for a reason. That's just how it is.
credits:
Anthony Castrovince has been a reporter for MLB.com since 2004. Read his columns and follow him on Twitter at @Castrovince.