Inbox: Arcia out to make impact in pivotal 2019
Beat reporter Adam McCalvy answers fans' questions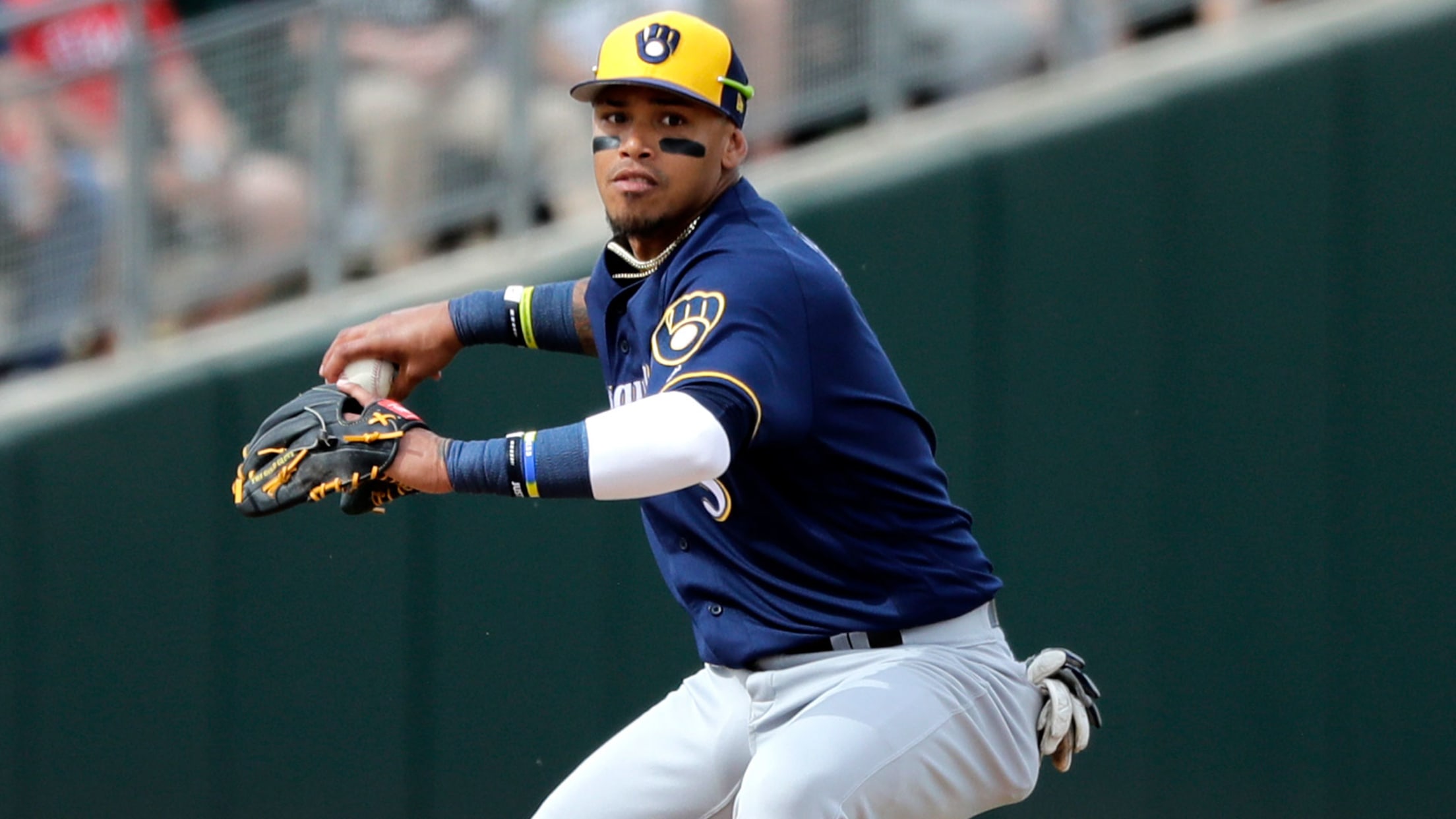 If you had to choose one, which player has the most to prove coming into this season? -- @daycmunro on Twitter Jimmy Nelson is too obvious. Maybe Matt Albers, too. I'll go a different route and say Orlando Arcia, who has produced to the tune of 74 weighted runs created
If you had to choose one, which player has the most to prove coming into this season?
-- @daycmunro on Twitter
Jimmy Nelson is too obvious. Maybe Matt Albers, too. I'll go a different route and say Orlando Arcia, who has produced to the tune of 74 weighted runs created plus (wRC+) through two-plus seasons in the Major Leagues, and drew a demotion to the Minors last year before coming back up to the bigs and finding success at the plate in the postseason. His defensive prowess is well-known, but at some point Arcia will have to hit a bit. And with the club's No. 5 prospect per MLB Pipeline, Mauricio Dubon, coming, and Brice Turang (No. 3) behind that, the leash isn't limitless.
One thing to note: Arcia is still only 24 years old. He has done a lot of learning in the Major Leagues.
Does Jake Petricka have a chance to make the Opening Day roster? He's a hard thrower, and I could see him in a late-inning reliever role.
-- @SteveStreator on Twitter
A good chance, I would say, in light of Bobby Wahl's ACL injury and Jeremy Jeffress' shoulder issue. Petricka has a power arm and a heavy sinker, which could play nicely at hitter-friendly Miller Park. He does have a Minor League option, so there could be some up and down this season as the Brewers shuffle the staff in order to provide manager Craig Counsell with fresh arms. So even if he is not on the initial 25-man roster, you can bet Petricka will be up soon.
Is Corey Ray the first OF up if injury occurs in the OF?
-- @agent_steinjj on Twitter
I would probably give Tyrone Taylor that title by virtue of Taylor's extensive professional experience and his success last season at the Triple-A level. Taylor was also very impressive in big league camp before the Brewers optioned him Wednesday to the Minor Leagues, with a home run among four extra-base hits in 29 at-bats.
Taylor will start the season at Triple-A San Antonio with Ray and another outfield prospect, Troy Stokes Jr. If history holds, all three will play all over the outfield, which allows the Brewers to select the hottest bat when a need arises, instead of being tied to a player at a specific position. That flexibility makes it difficult to predict who would get the first call.
It's worth noting that Taylor and Stokes are on the 40-man roster. Ray would have to be added. That's another factor in the decision.
Those kids are in a decent position to contribute at the big league level this season. Ryan Braun has required a stint or two on the injured list in recent years, and it looks like Ben Gamel will be the only extra true outfielder on the initial 25-man roster. It looks like a good year for opportunity in the outfield.
Saw Jeffress looks doubtful to be on the Opening Day roster. How soon could they expect him back?
-- @ZacBellman_WNY on Twitter
What's the plan/timeline for Jimmy Nelson now that CC said he won't be on the Opening Day roster?
-- @RyanBooj on Twitter
I put these questions back to back because they highlight the trouble with injuries. When a pitcher gets hurt, it's natural to ask when he'll be back. But when club officials answer and we report the answer, and the pitcher doesn't hit the target, fans get upset. See: Nelson, Jimmy.
So, the answer for both depends on how their arms respond. Nelson will pitch every fifth day, though there could be some leeway because the Brewers want him to pitch in "A" games, and other pitchers need innings, too. His next outing is to cover parts of three innings Saturday, so there is still some significant building-up to do. Jeffress has a few more days of flat ground work ahead of him before he gets back on the mound. Then, if his velocity looks good, he would pitch in a game. Then he would pitch in multiple games. It's all going to depend on health.
Walker McKinven was recently promoted to be the Brewers' "manager of Major League strategy." What does that role entail? This might be something the organization doesn't want to discuss, but I think fans would appreciate a feature article/profile about him and his new role. It seems significant.
-- @BillBatterman on Twitter
My basic understanding of Walker's role is that the job title changed, but the job is similar. He travels with the team and assists in advance scouting and game-planning, meaning he works closely with the pitchers and catchers. He's in the news this spring because the Brewers have him in uniform in the dugout, where he has a better perspective and can communicate in-game with the men with whom he'll be working all year.
Many clubs have front office officials in similar roles these days, working essentially as a liaison between the data analysts upstairs and the players and coaches downstairs. That's the key to mining this information; once you have the data, how do you communicate it in a way that makes sense to the player and can be acted upon? In part, that's McKinven's job.
By the way, Walker got some face time earlier this spring when Brewers bench coach Pat Murphy sent him to the mound to make a pitching change.