10 biggest trades in D-backs history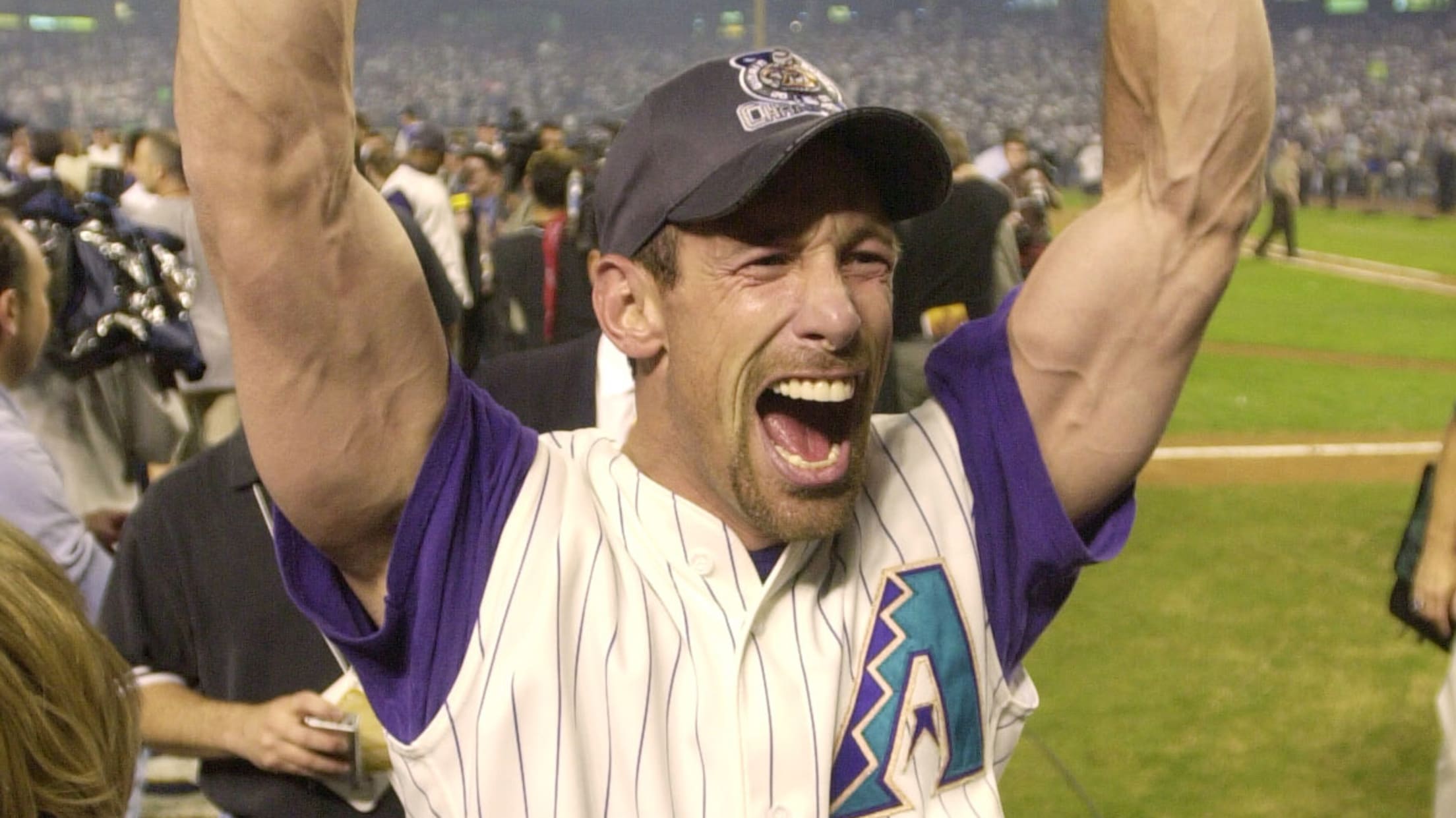 (DAVID J. PHILLIP/AP)
Some trades turn out great. Others look good at the time, yet turn out poorly. And some, like No. 7 on this list, look bad when they're made and get worse with time. Here's a look at the 10 biggest trades in D-backs history: 1. Going Gonzo D-backs got from
Some trades turn out great. Others look good at the time, yet turn out poorly. And some, like No. 7 on this list, look bad when they're made and get worse with time.
Here's a look at the 10 biggest trades in D-backs history:
1. Going Gonzo
D-backs got from Tigers: OF Luis Gonzalez
D-backs gave up: OF Karim Garcia
Date: Dec. 28, 1998
Garcia was a hot young prospect that the D-backs had selected in the Expansion Draft in 1997, while Gonzalez was a 31-year-old veteran in the middle of a solid if not spectacular career. Gonzalez led the National League in hits in 1999, helping the D-backs win 100 games in the franchise's second season. Then, in 2001, he hit 57 homers and delivered the game-winning hit in Game 7 of the World Series off Yankees closer Mariano Rivera.
2. Schilling for Lee
D-backs got from Phillies: RHP Curt Schilling
D-backs gave up: 1B Travis Lee, LHP Omar Daal, RHP Nelson Figueroa, RHP Vicente Padilla
Date: July 26, 2000
The D-backs were hoping that acquiring Schilling before the Trade Deadline would help them repeat as NL West champs, but the team struggled down the stretch and missed the postseason. The trade, though, paid big dividends the next two years as Schilling won 22 games in 2001 and 23 in 2002. Schilling shared 2001 World Series MVP honors with Randy Johnson and won 58 of his 107 starts in Arizona.
3. Dan Haren trade, pt. 2
D-backs got from Angels: LHP Patrick Corbin, LHP Tyler Skaggs, RHP Rafael Rodriguez, LHP Joe Saunders
D-backs gave up: RHP Dan Haren
Date: July 25, 2010
Interim GM Jerry Dipoto reaped quite a haul in trading Haren, while at the same time saving the money left on the right-hander's contract. With the D-backs mired in last place, the deal helped accelerate their rebuilding plans. Corbin would go on to make two All-Star appearances for the D-backs and become a rotation mainstay, while Saunders played a pivotal role on the 2011 team that won the NL West. Skaggs was eventually dealt by the D-backs a couple of years later.
4. Upton moving on
D-backs got from Braves: SS Nick Ahmed, RHP Randall Delgado, INF Martin Prado, INF Brandon Drury, RHP Zeke Spruill
D-backs gave up: OF Justin Upton, INF Chris Johnson
Date: Jan. 24, 2013
This is a deal that still splits the D-backs fan base. Upton was the No. 1 overall pick in the 2005 Draft and looked to be a fixture in Arizona after signing an early lucrative contract extension. General manager Kevin Towers soured on Upton, however, and made no secret of the fact that he was shopping him following the 2012 season. That led to a rupture in the relationship, and by the end of it all, the team felt as though it had to make a deal. Prado was average for the D-backs, while Delgado never lived up to his billing as a top-end starter, and Drury was dealt to the Yankees prior to 2018. Ahmed, however, became a Gold Glove starter at short for the team.
5. Ice Man acquired
D-backs got from Marlins: RHP Matt Mantei
D-backs gave up: RHP Vladimir Nunez, RHP Brad Penny, OF Abraham Nunez
Date: July 8, 1999
The D-backs surprisingly led the NL West in June of '99 before slipping into second place as the calendar flipped to July, and there were fears they would fall further without a closer. GM Joe Garagiola Jr. wasted little time acquiring Mantei, who saved 22 games for Arizona and was a big reason the D-backs won 100 games and the division title. Injuries would limit Mantei after that, but he did manage to pitch for the D-backs for six seasons. Of the prospects dealt to the Marlins, only Penny would make a big impact in the big leagues.
6. Missing out on Scherzer
D-backs got from Tigers: RHP Edwin Jackson
D-backs got from Yankees: RHP Ian Kennedy
D-backs gave up: RHP Max Scherzer, LHP Daniel Schlereth
Date: Dec. 8, 2009
Concerned about Scherzer's durability given his violent delivery, the D-backs, who needed additional pitching, dealt him in order to acquire Kennedy and Jackson. The deal paid off in the short term for the D-backs as Kennedy went 21-4 in 2011 to help the D-backs win the NL West. Jackson tossed a no-hitter for the team in 2010 and was used later that year to acquire Daniel Hudson, another key contributor in 2011. Scherzer, however, is building a case for the Hall of Fame.
7. Shelby Miller deal
D-backs got from Braves: RHP Shelby Miller, LHP Gabe Speier
D-backs gave up: RHP Aaron Blair, OF Ender Inciarte, SS Dansby Swanson
Date: Dec. 9, 2015
Having already spent $206.5 million to sign Zack Greinke a week earlier, the D-backs went all in for 2016 and acquired Miller. The trade, which was heavily criticized at the time, has been a disaster for the D-backs. Miller struggled so much in 2016 that he was demoted to the Minors at one point and then, after a promising start to 2017, he needed Tommy John surgery. Inciarte, meanwhile, has become a key cog for the Braves and Swanson, the No. 1 overall pick in the 2015 Draft, is now an established everyday shortstop.
8. Dan Haren trade, pt. 1
D-backs got from A's: RHP Dan Haren, RHP Connor Robertson
D-backs gave up: LHP Brett Anderson, 1B Chris Carter, OF Aaron Cunningham, LHP Dana Eveland, OF Carlos Gonzalez, LHP Greg Smith
Date: Dec. 14, 2007
The D-backs won the NL West in 2007 and believed they had the core of a championship team in place. In order to put them over the top, GM Josh Byrnes acquired Haren to pair with Brandon Webb at the top of the rotation. The D-backs parted with a lot of talent in the deal, with Gonzalez having the biggest impact, and that doesn't even take into account that Arizona had to deal outfielder Carlos Quentin to the White Sox to get Carter, who the A's wanted in the deal. While the D-backs would not win the division in 2008 thanks to a Manny Ramirez-led midseason surge by the Dodgers, Haren did pitch well for the D-backs and ended up bringing a good return in 2010.
9. Big Unit to the Big Apple
D-backs got from Yankees: LHP Brad Halsey, C Dioner Navarro, RHP Javier Vazquez and cash
D-backs gave up: LHP Randy Johnson
Date: Jan. 11, 2005
Johnson wanted to be traded following the 2004 season, and the D-backs accommodated him, hoping that Vazquez could be a top of the rotation type of starter and betting on the upside with Halsey. Vazquez lasted just one year with the D-backs, but upon being traded to the White Sox, he was able to net Arizona Chris Young, who manned center field on some good D-backs teams. Halsey did not develop as hoped, and the team would eventually acquire Johnson back from the Yankees.
10. Trumbo trade
D-backs got from Angels: OF Mark Trumbo, RHP A.J. Schugel
D-backs got from White Sox: OF Brandon Jacobs
D-backs gave up: LHP Tyler Skaggs, OF Adam Eaton
Date: Dec. 10, 2013
After finishing at .500 in 2012, the D-backs were desperate to add more power to their lineup. They wound up paying a heavy price to do it. Though injury issues hampered Skaggs early in his career with the Angels, he became a rotation regular. Meanwhile, Eaton became one of the game's top outfielders. At the time, the D-backs were playing Eaton at center and had A.J. Pollock coming up. Rather than shift Eaton to one of the corners, they paid a heavy price for a year and half of Trumbo.