Fan safety continues to be the top priority at Chase Field. To ensure the safety of our guests and to provide an expedited ballpark entry process and enjoyable fan experience, a clear bag policy is in effect. The Arizona Diamondbacks reserve the right to inspect any items brought into Chase Field. ALL BAGS ARE SUBJECT TO SEARCH.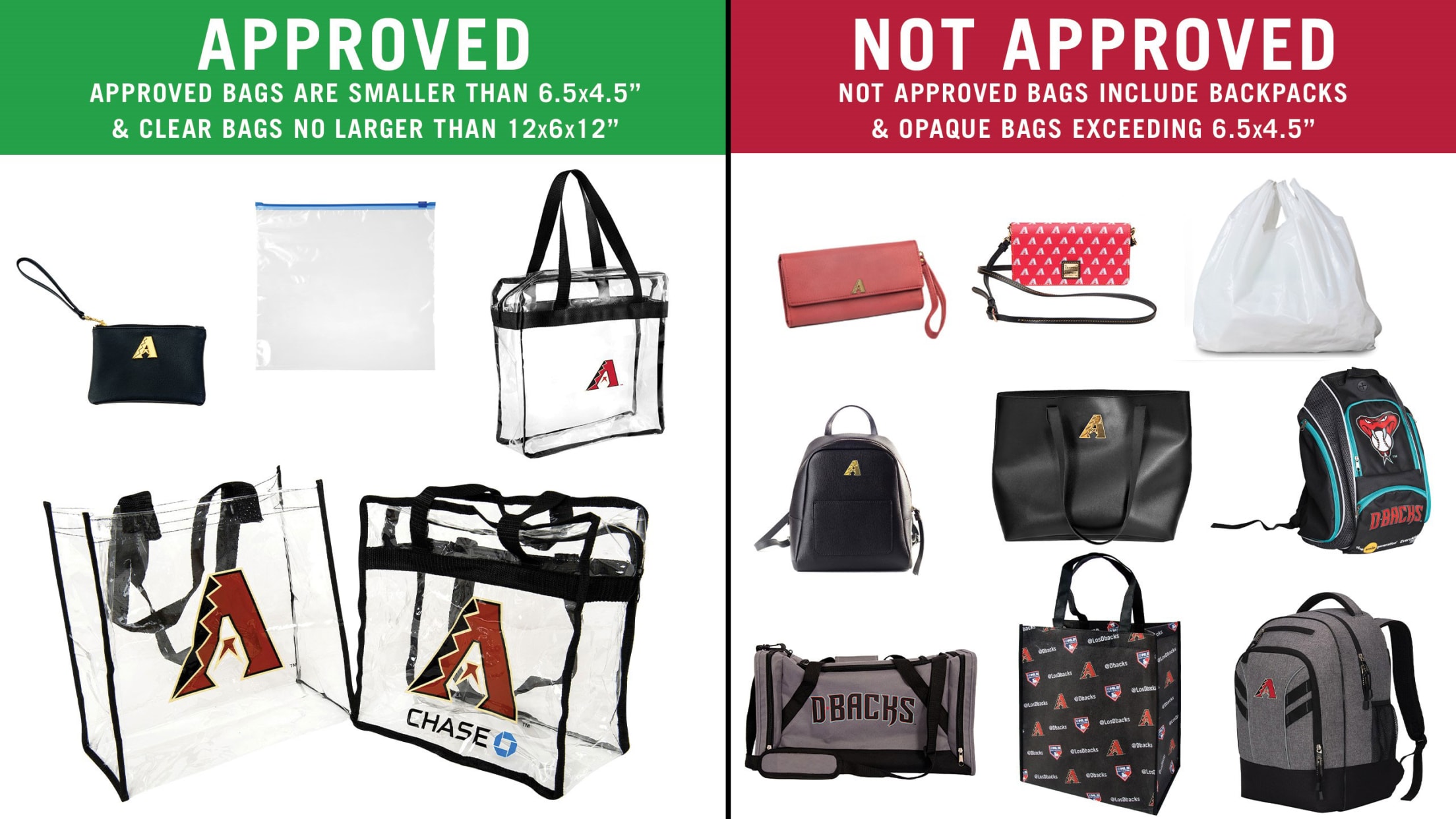 Approved Bags and Examples
Approved bags include:
Clear Bags (Plastic, vinyl or PVC) with no obscured interior pockets
Cannot exceed 12" x 6" x 12"
Plastic Storage Bag (Re-sealable, clear)
1 Gallon
Small Clutch Bags/Wallets
No larger than 6.5" x 4.5"
Approximately the size of a hand with or without a handle or strap
All small clutch bags/wallets within your clear tote bag MUST FIT the approved dimensions above (6.5" x 4.5")
Seat cushions without pockets, zippers or concealable areas
Cannot exceed 18" wide
Clothing and blankets are permitted if carried loosely or in an approved clear bag
Not Approved Bags and Examples
Not Approved bags include:
Backpacks
Bags and wallets exceeding the size of a small clutch bag (6.5" W x 4.5" H)
Non-approved seat cushions
Luggage of any kind, computer bags, camera bags, briefcases, fanny packs, cinch bags or any bag larger than the permissible size (6.5" W x 4.5" H).
Binbox Storage Lockers
The D-backs have teamed up with Binbox to provide a secure, convenient storage option for fans with non-approved bags to store for a fee. Users are able to access and pay for their Binbox locker through the Binbox app on their Smartphone (Android and iOS), offering a contact free solution. Once purchased, the locker is opened on demand by the user's phone, no waiting in line.
Frequently Asked Questions About Clear Bags
Q: Why have the Arizona Diamondbacks adopted this policy?
A: The Arizona Diamondbacks strive to be a leader within Major League Baseball. As such, we continuously review our public safety and stadium security policies to provide the safest and most enjoyable experience possible. The Team has determined that limiting the size and types of bags permitted enhances public safety and allows fans to access the stadium more efficiently by speeding up the screening process.
Q: What other venues and events are limiting bags and/or adopting clear bag policies?
A: The National Football League has had a clear bag policy for all their venues since 2013. Prior to the start of the 2016 athletics season, clear bag policies had been enacted at 31 of 65 universities comprising the Power 5 Conferences according to a Nov. 2016 article in Athletic Business. Locally, State Farm Stadium, Arizona State University, the University of Arizona, Northern Arizona University, and Ak-Chin Pavilion all have clear bag policies.
Q: How does this new policy improve public safety?
A: Prohibited bags in and around the facility will be highly visible and easy to identify allowing security and law enforcement to identify potential suspicious items. Additionally, a clear bag is more easily and efficiently searched at the gates. This reduces the likelihood of incorrect bag searches which could result in weapons or other prohibited items entering the stadium.
Q: What effect does this new policy have on my game day experience?
A: Limiting the size and type of permitted bags allows fans to complete the screening process more quickly. Staff will be more efficient and effective when checking bags which means less time guests must wait in line at the gate. Less time at the gate means that guests will be able to spend more time inside enjoying all the amenities that Chase Field has to offer.
Q: How many bags can each person bring into the stadium?
A: Each fan may carry one bag that is clear plastic, vinyl, or PVC no larger than 12" by x 6" x 12" or a one-gallon clear plastic freezer bag (Ziploc bag or similar). Additionally, fans may also carry a small clutch purse no larger than 4.5" x 6.5", with or without a handle or strap, that is subject to search.
Q: Am I able to bring in food and beverages?
A: The Arizona Diamondbacks have elected not to change our existing food and beverage policy at this time. Non-flavored/non-carbonated water in sealed, plastic bottles, empty plastic water bottles, sealed single service juice boxes, formula, baby food and small food items are permitted. No metal or glass containers for food or beverages will be permitted. Thermos containers or those similar in style will not be permitted. Any food item should be brought in an approved clear bag.
Q: Are diaper bags permitted?
A: Families with diaper bags may carry them into the stadium if they are smaller than 11" x 11" x 15" in dimension. Diaper bags are subject to inspection before being admitted to the stadium.
Q: Are seat cushions allowed to be carried into the stadium?
A: One-piece foam seat cushions no larger than 18" are permitted.
Q: Can blankets be carried into the stadium?
A: Guests may bring blankets; however, they must be carried over the shoulder and are subject to inspection.
Q: What happens if I show up to the stadium with an unapproved bag?
A: Guests carrying unapproved bags will be asked to return them to their vehicle. Complimentary, disposable clear plastic freezer bag will be available at several locations around the stadium perimeter, so guests may transfer their belongings to an approved bag. Empty, non-approved bags will still not be allowed into the stadium and must be returned to the guest's vehicle.
Guests arriving via mass transit (bus or light rail), taxi or ride share vehicle (Uber, Lyft) with unapproved bags may take advantage of storage lockers. Storage lockers are available on a first come first serve basis. Please note that all items being stored are subject to inspection. The Arizona Diamondbacks will not check or store items at the gates and are not responsible for items left behind, lost, stolen or damaged. More information about storage lockers is coming soon.
Q: I have items that are medically necessary and will not fit into the approved bag, what should I do?
A: Exceptions to the Chase Field Prohibited Items list may be made for medically necessary items. Guests should proceed to one of the ADA screening lanes located at Gate A or E. All items are subject to search and may be denied at the discretion of Chase Field Management.
Guests with medical or other special needs are encouraged to contact our Disability Services Manager at 602.462.6163 in advance of attending a game/event.
Q: Where can I purchase a compliant bag?
A: Clear bags are available for purchase at the Chase Field Team Shop. One-gallon clear plastic freezer bags (Ziploc or similar) are considered compliant bags.