D. Baxter the Bobcat
Presented by Cold Stone Creamery
D. Baxter the Bobcat was unveiled to the world on June 23, 2000, at Chase Field. The idea for the mascot came from Brantley Bell, son of former second baseman Jay Bell, who explained to his dad that the team should have a "BOB" cat as a mascot since the team played in the BOB (Bank One Ballpark). Bell informed management about his son's idea and Baxter was born.
Today, Baxter has won over D-backs Nation and baseball fans everywhere through his crazy antics, and being the most fan friendly mascot in sports. In addition to his numerous game day responsibilities, Baxter also serves as an ambassador for the D-backs organization, venturing off the field to visit hospitals, schools and other community events throughout the Valley and the state of Arizona. Over the course of the year you can find Baxter performing at over 400 appearances a year in addition to D-backs home games!
Be sure to catch Baxter at every D-backs home game at Chase Field this season where you can visit him each game during the 4th inning at his Den, which is located in the Sandlot on the Upper Concourse. There, Baxter signs autographs and poses for pictures with all of his adoring fans. When you're finished, you can go play on the slides, practice your baseball skills on Futures Field, or take batting practice in the batting cages all located right outside of Baxter's Den.
D. Baxter's Stats
MLB Debut: June 23, 2000
Weight: Over 200 pounds
Hat size: 22 3/8 - Thank You New Era for the Official Caps
Resides: Baxter's Den at Chase Field
Community Appearances Per Year: More than 300
Hobbies: Working on my T-shirt toss, practicing my Cumbia & Salsa dancing, meeting D-backs fans in the community, and always working on my "Fur Ball"
Friends: D-backs Organist Bobby Freeman, Gorilla, Big Red, Beto el Coyote, Howler, Sparky, Wilbur, Stryker, Scorch, Louie the Lumber Jack
Foes: Lou Seal (Giants), The Swinging Friar (Padres), Dinger (Rockies), rival NL West fans everywhere
Favorite Toy: Pivoting Sticker Brush (Gotta' keep the hair fresh)
Favorite Foods: Carne Asada, Fish Tacos, Pizza, Chips & Salsa and Apples with Peanut Butter on game days
Favorite Songs: D-backs Swing, Back in Black, La Vida es un Carnaval, Cat Scratch Fever
Favorite Books: The Cat in the Hat, "Hairy" Potter
Favorite TV Station: Animal Planet, Fox Sports AZ to watch the team when they are on the road, Telemundo, MLB Network, and Univision
Favorite Broadway Play: Cats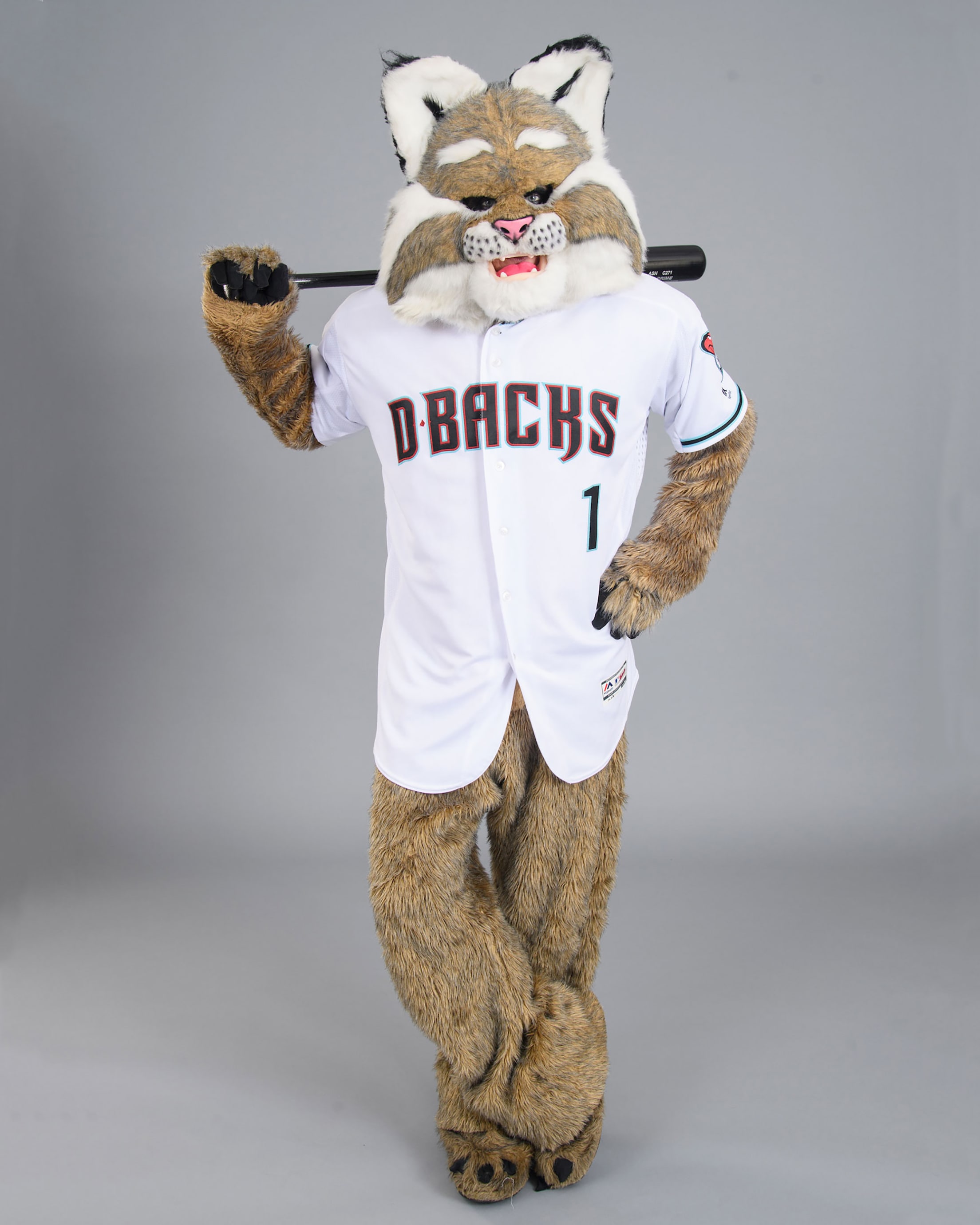 Request Baxter
Whether he is starting off charity walks or adding excitement to a fair or festival, Baxter loves spending time with D-backs fans in the community!
Nationally chartered 501(c)3 non-profit charities are eligible to receive complimentary appearances at their events. Your Federal Tax ID number must be included to be eligible for a complimentary visit. Failure to include this information could lead to being charged as a private event.
While Baxter's schedule is limited, your next event will be considered on an individual basis. Appearances must be booked no less than two (2) weeks prior to your event. Please note all requests are fulfilled based on availability, so submitting a request does not guarantee a Baxter appearance at your event.
To request Baxter for your charitable event, please email [email protected] with the following information:
Name of Event
Event Date
Non-profit Organization Name
501(c)3 Number
Event Start and End Time
Event Location
Expected Attendance
Event Contact Name
Event Contact Phone
Event Contact Email Address
A D-backs representative will contact you regarding your request.
Thank you for requesting support from the Arizona Diamondbacks for your upcoming event.