D-backs' top manager: Gilbert's take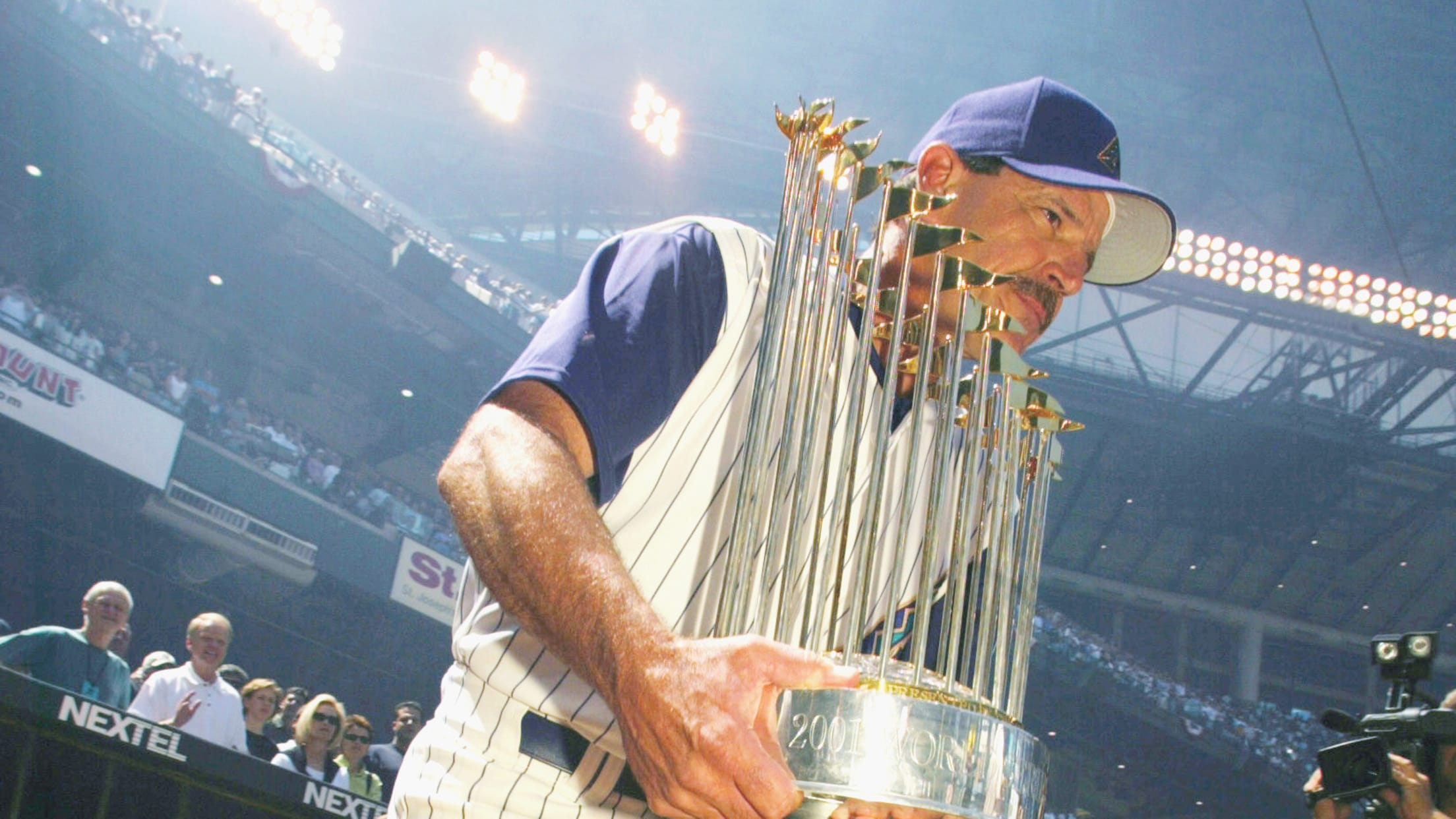 No one loves a good debate quite like baseball fans, and with that in mind, we asked each of our beat reporters to name the best manager in the history of their franchise, based on their career while managing that club. These rankings are for fun and debate purposes only
No one loves a good debate quite like baseball fans, and with that in mind, we asked each of our beat reporters to name the best manager in the history of their franchise, based on their career while managing that club.
These rankings are for fun and debate purposes only … if you don't agree with the order, participate in the Twitter poll to vote for your favorite manager.
Now that we've wrapped up our player rankings, we're taking a look at managers this week. With that in mind, who do you think is the best manager in @Dbacks history?

— Steve Gilbert (@SteveGilbertMLB) June 15, 2020
Here is Steve Gilbert's choice for best manager in D-backs history: Bob Brenly
PHOENIX -- Bob Brenly stood in the home clubhouse at Tucson Electric Park in the spring of 2001 and addressed the D-backs for the first time as a full squad.
In his hands, Brenly held a thick three-ring binder. He told his team that these were the rules of Buck Showalter, who was fired at the end of the 2000 season.
Then he dumped the binder in the trash.
Brenly reached into his pocket and pulled out a cocktail napkin on which he had written two team rules:
• Be on time
• Play hard
It was a stunt, to be sure, but it also was Brenly's way of making sure his players knew that things were changing.
Showalter was hired by managing general partner Jerry Colangelo in the fall of 1995, more than two years before the D-backs would take the field, and Showalter's attention to detail and demanding ways helped an expansion franchise get off the ground.
After finishing 65-97 in 1998, general manager Joe Garagiola Jr. added free agents that included Randy Johnson, Steve Finley and Greg Swindell, and the team won 100 games in 1999. The D-backs took a step back in 2000, and the feeling was that there was too much tension in the clubhouse under Showalter.
Brenly was brought in for a breath of fresh air and provided just the right touch for a veteran-laden group, most of whom were looking for their first World Series ring.
"He was the right guy at the right time for us," D-backs outfielder Luis Gonzalez said.
While he studied the numbers and matchups, Brenly also managed from his gut. In Game 7 of the World Series he elected to start Mark Grace at first base even though Erubiel Durazo was having a better Series.
Brenly explained that he liked Grace's ability to make contact, his defense as well as his experience, and the move paid off when Grace collected three hits and started the game-winning rally in the ninth inning off Mariano Rivera.
With so many players in the latter stages of their careers, Brenly did a marvelous job of mixing and matching his lineups. He used 123 lineups during the regular season and had a different lineup in 15 of the team's 17 postseason games.
The result was great production from his bench -- 14 pinch-hit homers -- while also keeping his starters rested.
"He knew how to handle us," Gonzalez said. "He had a good feel for when a guy might need a day off and how to keep everyone involved. He guided us, but he knew he didn't have to control everything we did."
In the end, Brenly's style paid off in a World Series title, and it is that success that has him atop the list of D-backs managers.