D-backs' Top 5 lefty starters: Gilbert's take
No one loves a good debate quite like baseball fans, and with that in mind, we asked each of our beat reporters to rank the top five players by position in the history of their franchise, based on their career while playing for that club. These rankings are for fun
No one loves a good debate quite like baseball fans, and with that in mind, we asked each of our beat reporters to rank the top five players by position in the history of their franchise, based on their career while playing for that club. These rankings are for fun and debate purposes only. If you don't agree with the order, participate in the Twitter poll.
Here is Steve Gilbert's ranking of the top five left-handed starters in D-backs history. Next week: relievers.
• D-backs All-Time Team: RHP | UTL | RF | CF | LF | SS | 3B | 2B | 1B | C
1. Randy Johnson, 1999-2004, '07-08
Key fact: Johnson is the lone D-backs player elected to the National Baseball Hall of Fame.
When the D-backs signed Randy Johnson to a four-year, $52 million free-agent contract following the 1998 season it was greeted with some skepticism in the game. Johnson was 35 years old at the time, and the D-backs were coming off an inaugural season that saw them lose 97 games.
History, however, remembers the deal as not only the best signing in D-backs history, but quite possibly one of the best free-agent pitching contracts ever.
Here are some of Johnson's accomplishments over those four seasons:
• He earned four National League Cy Young Awards.
• Johnson helped Arizona to a World Series championship in 2001. He was named Series co-MVP, pitching in relief in Game 7 -- one day after starting and winning Game 6.
• Johnson's win totals were 17, 19, 21 and 24.
• Johnson easily led baseball in innings pitched with totals of 271 2/3, 248 2/3, 249 2/3 and 260.
• In 1,030 innings, Johnson fanned 1,417 and had an ERA+ of 187.
Injury limited Johnson to 18 starts in 2003, but he was outstanding in 2004, somehow winning 16 games for a team that went 51-111.
Johnson not only is the best left-hander in D-backs history, he is also their best-ever player.
2. Patrick Corbin, 2012-13, '15-18
Key fact: Corbin ranks second among D-backs left-handed starters in bWAR (10.8).
Patrick Corbin was acquired by the D-backs in the 2010 deal that sent Dan Haren to the Angels. He made his Major League debut in '12 and became the team's top starter in '13, when he went 14-8 with a 3.41 ERA over 32 starts.
That earned Corbin the Opening Day nod in 2014, but in his final spring tune-up, he tore his ulnar collateral ligament and had to undergo Tommy John surgery.
It took Corbin a little while to regain his form after he returned, but he became a dominant pitcher for the D-backs before leaving following the 2018 season to sign a six-year, $140 million deal with the Nationals.
3. Robbie Ray, 2015-present
Key fact: Ray ranks third in D-backs franchise history with 955 strikeouts.
Give Robbie Ray another year, and he probably passes Corbin on this list. He has been a strikeout machine for the D-backs, ranking third in baseball from 2016-19 with 11.86 strikeouts per nine innings. Only Chris Sale and Max Scherzer posted better marks.
Ray was acquired in 2014 from the Tigers in a three-team deal that sent Didi Gregorius to the Yankees, and he became a mainstay in the rotation beginning in '15.
Ray is eligible for free agency following the 2020 season.
4. Omar Daal, 1998-2000
Key fact: Daal was part of the package the D-backs sent to the Phillies in July 2000 in exchange for Curt Schilling.
Omar Daal is another shrewd pick from the 1997 Expansion Draft, as the D-backs snagged him from the Blue Jays with the 31st pick. After splitting time between the rotation and bullpen in the team's inaugural 1998 season, Daal made 32 starts in 1999 and went 16-9 with 3.65 ERA as the D-backs won 100 games and the NL West title. Daal had an ERA+ of 146 in 1998 and 125 in 1999.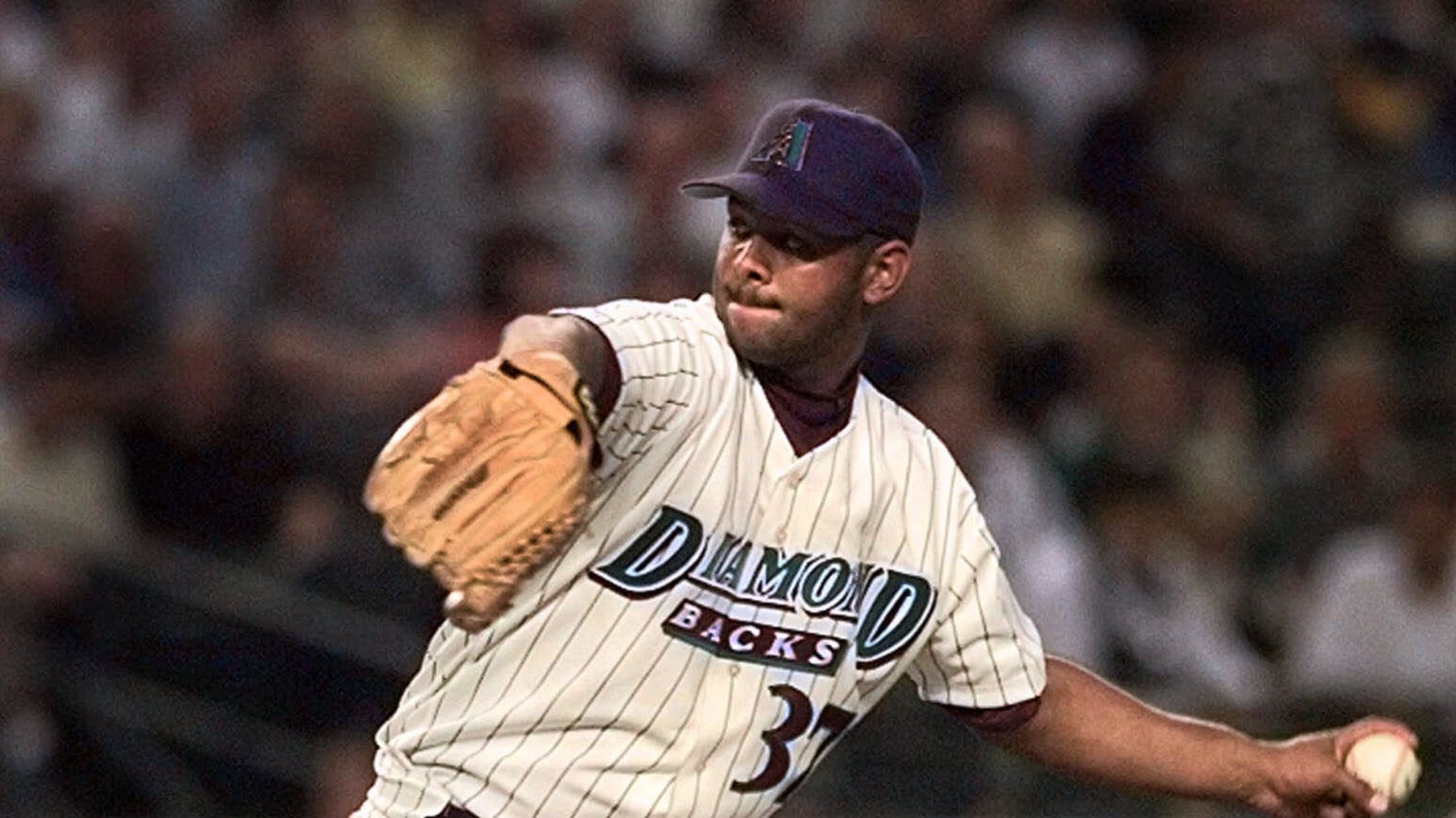 5. Doug Davis, 2007-09
Key fact: Davis led the Majors in starts with 34 in 2009.
Let's be honest, watching Doug Davis pitch was not always pretty. There always seemed to be traffic on the bases, and it could sometimes be a slog for him.
But more often than not, Davis found a way to wiggle out of jams, and he always took the ball and logged innings. And they were effective innings at that -- he posted an ERA+ of over 100 in each of his three years with the team. His best year came in 2007, when he helped lead the team to the NL Championship Series.